STORY HIGHLIGHTS
The Bucs' aggressive approach in free agency was fueled by the desire to deliver a winning team sooner rather than later
The team is hopeful that G Carl Nicks will be able to take the practice field during the offseason program
Adrian Clayborn is likely to get the first shot to start at left end as the Bucs' sort out their depth chart

The Tampa Bay Buccaneers could have taken a slow-burn approach to free agency, letting the biggest deals fall out elsewhere around the league and then hunting for bargains to fill a variety of roster holes. They did not.
The Buccaneers attacked the 2014 free agency as aggressively as any team in the NFL, nabbing highly valuable players early and often. They took part in the early feeding frenzy on big names and then kept right on shopping, getting quality and quantity. The team's approach came as a surprise to many – including, to some extent, your author – but in retrospect it makes perfect sense once you learn the underlying philosophy that was driving it.
Head Coach Lovie Smith was hired on January 2, just a few days after the Buccaneers finished a 4-12 season. General Manager Jason Licht came aboard 19 days later. Together, they evaluated the team roster and formulated a plan that was presented to ownership. The plan was backed by what one might call a mission statement, which was fully embraced by everyone from the Glazer family on down. That mission statement: Win now, because Buccaneer fans should have to wait no longer.
"Lovie and I and our staff, and the Glazer family, we're all on board with the same plan," said Licht during this week's league meetings in Orlando. "We thought it would be unfair to ask the fans to be patient with us. We wanted to go out and sign as many good players as we could this year to help our football team, make it competitive this year and strive to win the championship this year.
"We did not want to go back [and say], 'Hey, give us a couple years.' We're going to do it as soon as we can; the fans deserve it. I found it in this two-month period that the fans are so passionate in Tampa, so we want players that are just as passionate as the fans. And we succeeded with that, at least."
While new first-string quarterback Josh McCown is 34, the Buccaneers mostly signed players who can realistically be expected to spend their peak years in red and pewter. Rather than searching for that one veteran player who could put a playoff-caliber team over the top, the Bucs sought to remake as much of the depth chart as possible with players who could be part of a long-term foundation. But they were most interested in the product they could put on the field in 2014.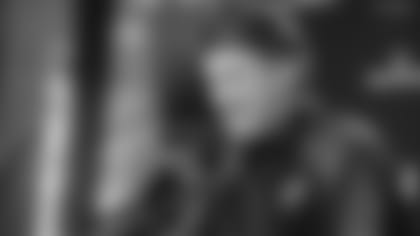 After thoroughly evaluating the team, GM Jason Licht believed it would be unfair to ask Buc fans for patience during a lengthy rebuilding process
"We're not trying to put a 'Dream Team' together or a quick fix," said Smith. "We're trying to improve our ball club and we addressed some areas. One of my first statements was that I couldn't wait for the day when the Tampa Bay Buccaneers were relevant again. There's no rebuilding. You look at every position and you evaluate every player on your team and see if you need to improve that position. If we think we do need a lot of improvements in a lot of areas, I think you do owe it to your fans – and not just our fans, but everybody who loves the Tampa Bay Buccaneers – to do that. That's what we've done. We're going to do the same thing in the draft.
"We've addressed a lot of issues, but we're just trying to catch up with the rest of our division. Carolina had a heck of a run. Ron Rivera did a great job with them last year. There's Mike Smith (in Atlanta), Sean Payton (in New Orleans). We know what they're going to bring leading their football teams."
The Bucs have sought to match their fans' passion with their aggressive approach to free agency, but no season has ever been won in March. The team still must prove that its new-look roster can translate into victories. For now, however, the Bucs have a plan and are sticking to it in an effort to maximize their chances of satisfying the fan base in 2014.
"There's the offseason, and then there's the season," said Buccaneers Co-Chairman Joel Glazer. "But we're excited about the changes that have been made. I know Jason and Lovie feel good about the players, a certain type of player that we've brought in. And we were 4-12 last year, so we can't just still. This team needs some drastic changes, and we want to get back into the upper echelon of the National Football League. This is the way they thought we had to go about it, so we support what they want to do."
The Buccaneers signed two new offensive line starters among their free agency haul, with Anthony Collins stepping in at left tackle and Evan Dietrich-Smith at center. That front line could also get a major boost from within if Carl Nicks can return from his foot injuries and re-establish himself as a dominant inside presence in 2014.
Nicks has been limited to nine starts in two seasons since signing a lucrative free agency deal with the Buccaneers in 2012. He saw action in just two early-season contests last fall while battling a series of complications arising from an initial toe injury the year before. If he is to return to the field this coming fall, the first step could be taken in the spring when the Bucs' offseason program begins.
Licht says the Buccaneers are "still hopeful" that happens in the coming months.
"We're gathering all the intel that we have there, with all the doctors that we've sent him to," said Licht of the team's potential starting left guard. "He's been rehabbing. Things look promising, but we're crossing our fingers and hoping for the best."
Having seen Nicks at One Buc Place frequently over the last two months, Smith knows that any delay in the lineman's return won't be due to a lack of effort.
"I know he's rehabbing right now," said Smith. "I've seen Carl quite a bit. He's one of the guys that is in town that I have had the opportunity to speak with at times. It's really no more than that. I know Carl has worked extremely hard to get back out on the football field, and that's all we can ask for right now."
Like any coach, Smith will seek to foster competition at every spot on the depth chart, before and during the season. Still, as was evident immediately after the signing of McCown, Smith also acknowledges that each of those spots needs a starting point, a name to initially put at the top of the list. At the league meetings on Wednesday, Smith addressed a few of those depth chart questions.
LEFT END: With Michael Johnson stepping in as the new starter at right defensive end, last year's starter at that spot, Adrian Clayborn, will get the first crack on the opposite end. Others who could feature prominently in the left end competition include Da'Quan Bowers and Will Gholston. " Odds are Adrian will go out there first on the left side," said Smith. "From there, though, once we start working with them, they tell us who should be right, left, who should play, who should dress. We're going to pay close attention. I also tell them, I'm 55-years old so my hearing is just OK. My sight, though, we're going to go with what we see. And that will determine everything. Normally it's all clear for you once it's all said and done."
Smith say William Gholston and Da'Quan Bowers will also be in the mix at LDE. — Roy Cummings (@RCummingsTBO) March 26, 2014
RIGHT GUARD: This position, previously held by Davin Joseph, does not necessarily have a clear leader as of late March. Smith confirmed on Wednesday that Dietrich-Smith will be the center, which means the current competitors for the spot to his right include Jamon Meredith (re-signed on March 11), Oniel Cousins (signed from Cleveland as an unrestricted free agent), Patrick Omameh and Jason Foster. "I can't give you a good answer for that," said Smith on the current first name on the list at right guard. "I've talked about some of the positions coming in like our starting rotation at quarterback, but most of the others I think right now I'll just say everybody will get an opportunity. We have some options at the position and we'll just kind of let it all play out. The offensive line, even though there's been a lot of subtraction, I like the additions that we've added and George Warhop is an excellent offensive line coach and we'll get a good group together."
RUNNING BACK: There's little question, of course, that Doug Martin will be the starter if he is fully recovered from his 2013 shoulder injury, and Smith confirmed on Wednesday that Martin should be ready for the offseason program. Still, Smith has also pointed to the team's impressive depth at tailback as a positive note, as he believes in getting several ballcarriers involved in the rushing attack. So the question at this position has more to do with what percentage of the load Martin will be asked to carry. Fantasy football drafters will probably appreciate Smith's answer. "We're going to lean on one guy but I like the rotation," said the coach. "I think you have to have a bell-cow. [Martin] is ours. At the running back position, there's enough reps to go along. We want three guys we feel comfortable with. Two will play but it's not a rotation that where every series we're going to have a different guy in there. No, we'll have a starter then we'll have a backup that will give him quality backup minutes."
NICKEL BACK: You won't find this position on the standard depth chart, but Smith considers the nickel back to essentially be a 12th starter on defense. In his eyes, second-year player Johnthan Banks and recent free agency acquisitions Alterraun Verner and Mike Jenkins are all starters heading into the offseason program. What has not yet been determined is which one of the three is most likely to play in the slot. While former Buccaneer great Ronde Barber made a living out of starting on the outside and then moving into the slot in nickel packages, Smith says his team will not cross roles in that manner. The two players who start at left and right cornerback will stay on the outside in the nickel, with the third corner coming into the slot. There is even a coach specifically assigned to teaching the nickel back role to all the potential candidates, as Senior Defensive Assistant Larry Marmie will take on that assignment. His charges could include any of the three listed above as well as Danny Gorrer, Anthony Gaitor, Rashaan Melvin and Leonard Johnson. "Our nickel position is a position in itself. We have a coach, Larry Marmie, that will coach only it and every second he has will have guys in the nickel room being coached at that position. As far as who that will be, that's still up for debate right now. We have options, some that [were] mentioned and others that we have on the football team."
FULLBACK: Smith acknowledged that the role of the fullback has been waning in recent years but said there is still a place for that position in the Bucs' offense. The two-back set might not be especially prominent in the Bucs' attack, so any potential candidate would also need to contribute in other ways, such as on special teams. Tampa Bay effectively has no proven fullback on the roster after the free agency departure of Erik Lorig, with late-2014 signee Lonnie Pryor the only player thus designated. Second-year man Mike James has been lauded as a very versatile player in the mold of former Buc Earnest "Insurance" Graham but Smith does not intend to use him as a lead blocker.
Coach on Mike James: He's a tailback, not a fullback, and a very good one. — Scott Smith (@ScottSBucs) March 26, 2014
QUARTERBACK: Again, McCown has been tabbed as the starter to begin the process, pushing 2013 starter Mike Glennon to #2. The depth chart question here is not who's at the top but how deep it will go. In other words, will the Bucs use a high draft pick to draft a quarterback despite the recent signing of McCown and the 2013 third-round pick used on Glennon? Smith, whose next appointment after the league meetings in Orlando was to attend the Pro Day workout of Texas A&M quarterback Johnny Manziel, says that adding to that position with the seventh overall pick is an option the team is still considering. "Yes, we are," he said. "I guess if there is something positive that comes out of being a new staff coming in is that you get an early pick to be able to add a good player. As I talk about Mike and as I talk about Josh, we have all positions on the table. I'm leaving here to go watch Johnny Manziel's workout. We have a lot of different options we can go with. In the end it will all fit together from what my experience has shown me."