STORY HIGHLIGHTS
The Buccaneers and Nike began the team's uniform re-design two years ago with no specific deadline set
A concerted effort was made to produce a uniform that was not only aesthetically pleasing but also ground-breaking in a variety of ways
Among the elements unique to the Buccaneers' uniform in the NFL is a reflective trim around the numbers

The first substantive uniform re-design in the Tampa Bay Buccaneers' history came just before the team's 22nd season. Another 17 years passed before the second big change, but there's no need to look for a pattern in those numbers.
In fact, the new look could have come in year 38 or year 40 instead, and the franchise would have been just as satisfied. The Buccaneers made the enormous decision to unveil new uniforms on Monday not only because the time was right, but because the design was right.
The Bucs first approached Nike more than two years ago to initiate a uniform overhaul. The process has been ongoing since, quiet but intense. The only acceptable outcome was a new look that paid homage to the team's past and retained much of what Buccaneer fans love about the previous uniforms but at the same time set a new standard for innovation. Time was not an issue.
"We started this process a couple years ago and, really, because we had a uniform that everybody was very happy with, we were never in a rush," said Buccaneers Co-Chairman Edward Glazer, who worked closely with Creative Director for Football Todd Van Horne and his Nike design team throughout the process. "It was always, 'Let's take our time, and until we get something that we all feel great about, let's move forward at that point.' We worked with Todd over the years and looked at a lot of different designs and continued to meld and tweak and get to a point where we all look at each other and say, 'That's it. That really encapsulates the past, the present and the future."
No design concept was overlooked in the process, no innovation left unexplored. Since there was no specific end point to the process, there was no reason to cut any corner.
"We worked on literally hundreds and hundreds of different options and it was every nuance over a couple years," said Van Horne. "We weren't in a rush, we didn't feel like there was a particular deadline. It was just, 'When is it right?' And that's when it was revealed. It was very much an artistic application of a process and it was very much a collaboration. We brought in innovative techniques that maybe are not a part of Mr. Glazer's world, and he brought in the point of view that he really sees for the vision."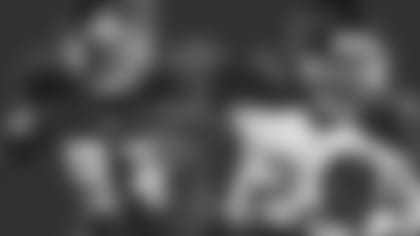 The Buccaneers will be the only team in the NFL with a chrome facemask in 2014
Whether it's 17, 22 or 40 years in the making, a uniform re-design is a seminal moment in the history of an NFL franchise. It draws the attention of every fan and is, rightfully, held up for close scrutiny. Since any change in the team's look was going to be such a critical move, the Buccaneers wanted to take advantage of it as thoroughly as possible. That meant working hard to come up with elements to the design that would be wholly identifiable with Tampa Bay. Glazer and the Buccaneers' management wanted something that would truly stand out in the competitive NFL landscape.
"If we were going to take on the monumental task of refreshing our look, then we also wanted to focus on innovation and setting a new standard for professional uniforms," said Glazer. "Quite frankly, we wanted to break new ground and set our organization apart from all others. We feel confident the uniforms we revealed today meet that high standard."
The uniforms are indeed unique. They are the only ones in the NFL with a separate bar of color on the shoulders and sleeves, and one of the few with asymmetrical logo elements. The new font for the numbers and names was custom-made. The face mask on the helmet is chrome, a first in the National Football League. And perhaps most strikingly, the numbers are outlined with a reflective trim, an eye-catching feature that belongs solely to the Buccaneers.
"We always were searching for something that was unique and special, and something that was breaking new ground and hadn't been done before," said Van Horne. "This was one of those innovations that you see in daylight and say, 'Wow, that feels really special,' and then under flash photography directly on it you catch that surprise element where it really comes to life."
Added Glazer: "When you get a chance to really see this in person, it's a spectacular element to our jerseys. It's unique to us. Under certain conditions, certain lights, flash photography, it's just unbelievable. It's another surprise that I think the fans are going to be happy about as they see it in person. We're very proud of it."
The Buccaneers, in fact, are proud of the new uniforms in their entirety, thrilled by their new look, excited about their technological advancements. They took their time to get it right, and in the end, the timing proved almost perfect. With the hiring of new Head Coach Lovie Smith in January, the team believes it is on the cusp of another era of great success, just like the one that opened with a new coach and new uniforms in the mid-1990s.
"We just felt that all great novels had different chapters in them," said Glazer. "We had the first chapter with the white and orange [and] we had a great second chapter with all the success we had in the second uniform. We just felt it's a new generation now. It's been a long time, and we have a whole new generation of fans and we felt, 'Let's start a new, exciting chapter in Buccaneer history – new coach, new look – and hopefully replicate all the success we had in the last jerseys.'"