STORY HIGHLIGHTS
Hardy Nickerson, now the Bucs' LBs coach, was the team's first big free agency signing and still one of its most successful
Nickerson expects Tampa Bay's latest free agent additions to succeed because they are good fits for the team's systems
Dane Fletcher, the lone linebacker among the Bucs' recent signees, could fill a variety of roles in Tampa

Last year, just before the start of the NFL's 2013 free agency period, NFL.com posted this list: "Top 20 free-agent signings in NFL history."  The title was a little misleading but the timing was perfect.
That NFL.com photo essay came on what was essentially the 20th anniversary of unrestricted free agency in the National Football League.  That, of course, is why all 20 signings on the list were from 1993 or later; the first 70-something years of NFL history didn't feature true free agency.  The #1 player on the list was Reggie White, which was also fitting.  Not only did White launch the lawsuit that was the catalyst for the first Collective Bargaining Agreement between owners and players but he also was the highest-profile player to move teams that year and an absolute superstar for his new team, the Green Bay Packers.
There's a Tampa Bay signing on that NFL.com list: Simeon Rice, the Arizona Cardinals' defensive end who became the final piece in Tampa Bay's legendary defense when he signed in 2001 and comes in at #19.  That is indeed one of the Bucs' finest moments in free agency, along with such gems as Brad Johnson, Michael Pittman and Vincent Jackson.  For the title of best free agent signing in Buccaneers history, however, it would get a stiff challenge from the 1993 import of linebacker Hardy Nickerson.
Like White, Nickerson was among the first players to take advantage of the opportunity to freely shop his talents on the NFL's open market.  Unlike White, who was already a big-name star in Philadelphia, Nickerson was a lower-profile solid performer in Pittsburgh, a player who was probably significantly underrated and just moving into his prime.  In other words, he was exactly the sort of player free agency was supposed to set, well, free.
"As I look back, being among the first group of unrestricted free agents, man, things happened so fast," Nickerson recalled.  "I just remember going through the season, having my last season in Pittsburgh in 1992, and having the ruling that, 'Hey, there's going to be unrestricted free agency for veteran players.'  I was like, 'Yeah, that's great!'  The night before, waiting on free agency to strike, was kind of like sitting up waiting on Christmas…[then] becoming a free agent, taking a couple trips and coming down here to Tampa and falling in love with the place."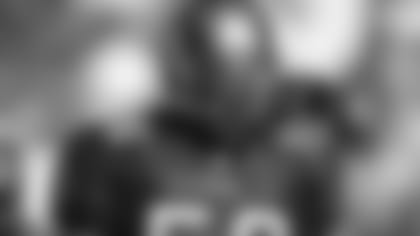 Hardy Nickerson joined the Bucs during free agency's infancy in 1993 and immediately emerged as a Pro Bowl middle linebacker
In his new home, Nickerson instantly blossomed into one of the NFL's best middle linebackers, setting a team record with 214 tackles in 1993 and earning the first of his five Pro Bowl trips.  He and John Lynch, a third-round pick later that spring, were the first two pieces in what would become a dominant defense in Tampa.  That defense, in fact, nearly carried one of the league's least productive offenses all the way to the Super Bowl in 1999, Nickerson's final year with the Buccaneers.
Nickerson wrapped up his stellar 16-year career with two seasons in Jacksonville and one in Green Bay, and has since gained experience in both the broadcasting and coaching fields.  In January, he got a call from Lovie Smith, his former boss with the Chicago Bears, where he was the linebackers coach in 2007.  Smith wanted Nickerson on his staff again, and Nickerson just happened to be ready to get back into coaching.
What followed, for Nickerson and every new man on Smith's Buccaneer staff, was weeks of intense study and evaluation of the existing roster.  The idea was to be ready with a very specific blueprint when free  agency – roughly the same system Nickerson helped introduce in 1993, with a bit more polish – hit in March.  The Bucs attacked that open market from its opening hours, eventually signing 13 players (so far) and addressing such pressing needs as quarterback, defensive end and cornerback.
Such a large influx of newcomers through free agency, which over two decades has proved to have as many pitfalls as successes, begs the next question: Will the Bucs be able to translate that "winning" effort in the spring into actual wins in the fall?
Nickerson was able to make that transition personally in 1993, and he thinks this new group 21 years later will do the same, thanks to the good planning of Smith and General Manager Jason Licht.
"What's important is fitting the guys to what you do, and I think that's what we've been able to do," said Nickerson.  "That's what Lovie and Jason were able to do, I think.  We've gotten guys that fit what we do, which sets them up to have success."
Licht and Smith looked for good fits for the team's offensive and defensive schemes, but also for men who fit a certain profile in terms of how they approach their work.  They knew it was their job to identify the right players to add to the roster, but that from that point on it would be up to the players to make sure they took advantage of their new opportunities.  From his own experience, Nickerson knows that primarily means a lot of hard work and dedication.
"As a free agent, I wanted to come in and just be the best player I could possibly be and work as hard as I could to influence the team and try to get it back on a winning track and set a new mindset, a new attitude," he said.  "Those are the things that I was concentrating on as a free agent, especially when I got here.  I feel pretty proud about the fact that I did get a chance to play with a lot of those guys [from the Super Bowl team].  We were very close one year, '99.  Seeing those guys – I wasn't here when the guys won the Super Bowl, but it was a great feeling because I felt like I had a lot to do with it."
Nickerson even got a new face in his meeting room during the free agency shopping spree.  Dane Fletcher, a linebacker who played his first four seasons in New England and was used in a variety of roles, was among the first group of players the Bucs targeted out of the gate in free agency.  At first glance, Fletcher would seem to be a candidate for the starting strongside (SAM) linebacker spot as well as a certain contributor on special teams, but the defensive coaches may actually have additional possibilities in mind.
"What we liked in Dane Fletcher is the fact that he's a very versatile player," said Nickerson.  "He does a lot of things well.  In certain situations, he's been a pass-rusher.  He's been down in the box with his hand down.  He's been a stand-up guy as a SAM linebacker.  He's been a MIKE linebacker.  He's been a WILL linebacker.  He's shown that he has some rush ability, coverage ability, so he's shown that he can do a lot of different things.  We felt like that would really help us."
Fletcher was an undrafted free agent in 2010 who converted from defensive end to linebacker upon reaching the pros.  He got five starts with the Patriots in 2011 and also had a pair of sacks in both 2010 and 2012.  Like Nickerson in 1993, he could be ready to step out of the shadows and into a more spotlighted roll now that he's found a new home through free agency.  The same idea could apply to such new Bucs as defensive tackle Clinton McDonald, quarterback Josh McCown and tackle Anthony Collins.
Nickerson believes these brand-new Bucs will experience the same post-free agency success he did because they are a good fit in Smith's schemes.  Oh, and because they happen to be quite talented.
"I think the key is just looking at the guys that have been signed as free agents, they're all good football players," said Nickerson.  "When you bring in a good football player, not much is going to change.  Those guys, they're going to be football players no matter what, and they'll show people that they are good football players no matter what.  I think the guys that we brought in are good football players."