The Tampa Bay Buccaneers enter the 2017 campaign with something they've never had before: A third-year quarterback who started every game in his first two seasons.
In fact, that franchise first for Jameis Winston is not a particularly common thing in the NFL as a whole. Since the 1970 AFL-NFL merger, there have only been nine instances of a quarterback starting every game in his first two seasons, the first such player being Peyton Manning in 1998 and 1999. It's definitely a more recent phenomenon; the other eight have all occurred since 2008.
That early stranglehold on the starting job suggests a certain level of competency (and good luck in the injury department), and indeed the other eight names on the list are a fairly accomplished bunch: Manning, Joe Flacco, Andy Dalton, Cam Newton, Russell Wilson, Ryan Tannehill, Andrew Luck and Derek Carr. Most if not all of those men could be considered "franchise quarterbacks," which is something the Buccaneers have been searching for since…well, forever.
Obviously, Manning is the most accomplished of that bunch (so far). After his first two seasons and 32 starts, the future Hall-of-Famer had a mostly impressive batch of early-career numbers but obvious room for improvement. The same can be said for Winston. Compare some of their stats after their respective first two NFL campaigns: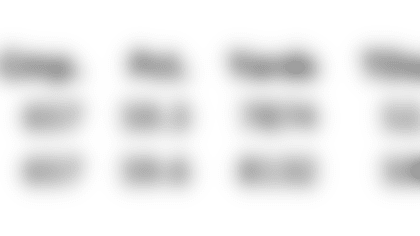 Now, if we're cherry-picking one quarterback with which to compare Winston, the choice of Manning is a doozy. It would do a disservice to a 23-year-old quarterback still very early in his professional development to make a direct comparison to a five-time NFL MVP. The point is simply that Winston is off to a promising start, and there's reason to hope that he will grow into one of the league's elite passers. Not even the great Peyton Manning dropped into the NFL as a fully-formed star, though it didn't take him long to get there.
So, after Winston laid some very good groundwork in his first two seasons, what is the next step in his development? With the Buccaneers' 2017 training camp just about to begin, that's the penultimate topic in our One Dozen Debates countdown to the unofficial start to the season on Friday. We've already covered a number of topics, from the uncertain depth chart at safety to the presence of *Hard Knocks *to the coexistence of Cam Brate and O.J. Howard, and now we're examining one of the key issues that will determine the Bucs' fortunes this season. On Friday, we'll launch one final debate, and that will take us right into the start of football on July 28.
We may not have all the answers just yet, but we'll try to define the issues. Read along with us and each day you can let us know where you stand on each debate.
*Debate #11: What's the next step for Jameis Winston? *
From his typical gym-rat point of view, Winston wants to get better at everything. It's a process that is never complete.* *
"My goal is to get better every year and as long as I'm getting better every year, I'm improving," said Winston during the offseason. "As long as I'm improving, the whole team is getting better. Scratching the surface – I just want to do my job. I want to win football games and I want to be playing for the Bucs for a long time.* *
"I'm just going to do my job – that's what I have to do. I have to do what it takes to help us win games, and nothing more. We have great players on this team who help me out, so I've just got to do my job, focus on what I have to do, lead here and there and win some football games."* *
However, that speaks more to the "how" of Winston's improvement; what we're discussing here is "where" that improvement will be. And one area is obvious, just as it was for Manning: Turnovers.* *
Manning's 43 interceptions in his first two years were heavily weighted to his rookie season, when he threw 28 of them. In the 1999 campaign, he nearly cut that number in half and the Colts went 13-3. Winston's 33 picks are split pretty evenly between his first two seasons, but the 18 he threw last year are more than the Buccaneers would like to see, obviously. Manning had another 23-pick season in his fourth year but eventually settled into a five-year groove (2003-07) in which his TD-INT ratio was almost exactly 3-1. It's likely that if Winston has a 30-touchdown, 10-interception season in 2017, the Buccaneers would be very pleased with that
The reduction of turnovers won't come from an attempt to change Winston's fundamentally aggressive approach to the game, although learning how to apply that aggression more selectively will help. That, of course, comes with experience, which is piling up rapidly for the young quarterback.* *
"Part of the problem is he's such a competitive individual, that's what makes him so great," said Buccaneers Quarterbacks Coach Mike Bajakian. "You don't want to coach the aggressiveness out of him. The big thing is he's got to do a better job of understanding situational football. I know five of those [2017] interceptions came on third-and-10-plus, where our chances of converting on that are statistically 20 percent or less. He's got to understand that, 'Hey, we don't have to make a big play on every play.' There's certain situations where we just maybe need to check it down, add a couple yards to the punt and make the other team's offense go a little bit further. He's getting a better and better understanding of that, and that's part of a growth process that he's gone through since Day One. He's a smart player, he understands that. I think sometimes it's just getting caught up in the moment."* *
In a sense, the answer to this issue circles back to what Winston said above: He simply needs to continue improving every aspect of his game. Bajakian explained how some very specific work in practice can help a quarterback be more precise with his throws.* *
"That's what we've emphasized, is making sure ball location is precise," said Bajakian. "But the timing of his release, his drop, mechanics obviously play a big part of that, his release mechanics play a big part of that. He's worked on all of it and continues to work on all of it and improve on all of it."* *
There's little doubt that Winston can make every throw in the playbook. His strong arm has already made him a very dangerous passer in the intermediate range; he throws the deep out pattern very well, and that's a deceptively long pass to make, often into a tight window near the sideline. The Buccaneers used the offseason to surround Winston with such potent targets as DeSean Jackson and O.J. Howard – adding to the presence of Mike Evans – but Winston wants to make sure he's helping them succeed rather than relying on it being the other way around.* *
"Precision is always the ultimate goal," he said. "You want to be precise on everything. Accurate is good, but not good enough. So, always being pinpoint can help the quarterback out, can help the receivers out, especially not putting them in difficult situations, putting the ball right on the money. That is what the quarterback always wants to hear is that he is precise or he is accurate. We don't want to hear that our receivers are doing all the dirty work for us.* *
"The more precise you are, the less you turn the ball over. It goes hand in hand."* *
Two statistical areas that may reflect improvement by Winston in 2017 are completion percentage and yards per pass attempt. He didn't exactly struggle in either area in 2016 but surely has potential to improve them. Winston's completion rate was 60.8%, compared to the league average of 63.0%. There may be a bit of a cap on how high this can go, however, based on the Buccaneers' offensive approach under Dirk Koetter; this isn't the West Coast offense and Winston may always be asked to make more lower-percentage throws.* *
However, it's easy to see how Winston could add to his yards per attempt. Last year he finished with a mark of 7.21, which was a little above league average but ranked just 15th among qualifying starters. That will improve if Winston and his teammates get better at hitting on the long pass; last year, the Buccaneers had a passer rating of 67.7 on balls that traveled more than 20 yards downfield in the air, which ranked 22nd among all teams. With Winston's arm strength, the Bucs should probably be able to move up that list. Obviously, the additions of Jackson, a big-play machine, and Howard, a true seam-stretching tight end, were made in the service of adding more explosive plays to the offense.* *
It's hard to imagine that the Buccaneers could be much happier with what Winston – who again, is still only 23 years old – through his first two seasons, particularly when you add how quickly he has become a respected team leader. The future looks bright, and it almost certainly will be if Winston continues to improve on an annual basis. In 2017, he could take a very big step forward.* *