STORY HIGHLIGHTS
The Bucs came back from their bye week rejuvenated and ready to start a season rebound one step at a time
Losses by the other three NFC South teams on Sunday kept the Bucs in the division race despite a 1-5 record
Tampa Bay coaches used the extra time to break down what has happened and devise a plan for the next 10 weeks

On Monday morning, the Tampa Bay Buccaneers, fresh off a rejuvenating bye week, took the field for a 30-minute walk-through as a prelude to a 90-minute full-speed practice in the afternoon. According to defensive tackle Gerald McCoy, it was the "best walk-through we've had since [training] camp started."
Now, as signs of an impending Buccaneer turnaround go, that's not quite a shining grail in the sky. But it's a start, and that turnaround has to begin somewhere.
McCoy knows that a tight walk-through won't mean much to anyone outside of the walls of One Buccaneer Place, even if he was personally heartened by the crispness of the communication, the attention to assignment detail and even the pad level on simulated hits. But he expected that start to carry over into the team's bonus practice on Monday afternoon, and then into the beginning of the typical work week on Wednesday as the Bucs get ready for a visit from the Minnesota Vikings.
McCoy said it was "the energy" of the team that felt different after a mentally-cleansing break that followed a surprising and disappointing 1-5 start to the season. Now, he says, they need to direct that new dose of energy properly. It's an oft-repeated motto, but one the Bucs think they have to follow in order to get their season back on track, piece by piece.
"It's a one-game-at-a-time mentality," said McCoy. "We can't play Minnesota today. We've got an off day tomorrow. We can take advantage of the opportunity we have today at practice. That horn will blow at 1:30 [for practice] and we've got to go from there. When the horn blows and practice is over, we'll be in meetings after – take advantage of the opportunity. And then when we get off the field, get your body right. Tomorrow, rest – get off your feet. We just came off a bye week. I'm sure people went to see their families or did something. Now that we're back to business, tomorrow, get off your feet, come back ready Wednesday."
McCoy said that Head Coach Lovie Smith spent his morning meeting with the team stressing a few specific ways they need to change their mental approach to the season. Neither McCoy nor Smith wanted to share the exact specifics of that message, but it didn't take a whole lot of explanation. In fact, Smith wants more actions than words going forward.
"As I talked with our football team, it's not like it was some foreign language I was talking to them in, everyone got what I was talking about," he said. "They know what we need to do, but the talking part, we need to do less of that. It's what we do out on the football field one day at a time, one play at a time – that's the message. If there's a message [it's], 'One good play at a time,' and it's as simple as that."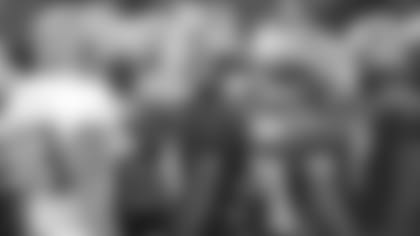 Even a crisper-than-usual walk-through can be the starting point for a new outlook on the season
In part, that means not devoting too much attention to what is actually a somewhat encouraging situation: Despite their rough start, the Bucs are still just two wins behind the leaders in the NFC South with 10 weeks to go. All three of their NFC South foes lost on Sunday while the Bucs were enjoying their weekend off (and probably watching a lot of that action in Baltimore, Detroit and Green Bay. Furthermore, the Bucs still get another crack at each of those three division opponents, with two of those three games coming at home.
But the Bucs won't get back to .500, or into the division race, without first moving from 1-5 to 2-5, so the rest of the division standings are irrelevant if they can't take care of the next piece of business. On Monday morning that was a walk-through. On Sunday, it will be the visiting Vikings.
"We've got to take it one game at a time," said tackle Demar Dotson. "It's a brand new start. We keep saying that, but this is an opportunity. Because as bad of a start that we had, we're still in it. That's a good thing right there."
Even less helpful than looking too far ahead is wasting any time worrying about the six weeks that came before the bye. Buccaneer players knew they had to use the bye week to break from that disappointment and come back fully refreshed, mentally as much as physically.
"Just take a deep exhale and let all that go," said defensive end Michael Johnson of the way the Bucs were able to take advantage of the bye. "Come back in refocused and fresh and just take it one day at a time."
Now, if we're talking hoary old expressions like, "We're taking it one game at a time," than we should also throw out this one: "Those who fail to learn from history are doomed to repeat it." That is, there are reasons the Buccaneers started the season 1-5, and those things must be addressed. Smith and his staff haven't forgotten that, of course; while the players were getting a much-needed break, the coaches were spending some extra time breaking down everything that had happened leading up to the bye and formulating a plan for the next 10 weeks.
Now they need the players – who still believe they make up a very talented NFL roster – to follow that plan with more precision going forward.
"It is good to go back and look at some of the things you did early well, some of the success we had early and we did do that, but we also [looked at] the things that we didn't do as well," said Smith. "It was just a full critique of what we've been doing and then the things you really like, we're concentrating on what we did to get it that way. That's what you do when you have a chance to take a break, you analyze all of that and you get your plan together going forward. We feel comfortable with our plan going forward and how we're going to turn this around."
They're going to start by getting one good play against the Minnesota Vikings, one strong drive, one of those fast starts to a game that has been so elusive this year. Then they'll take the next step.