STORY HIGHLIGHTS
The Bucs expected special teams to be a winning edge in several games in 2014, but the opposite has happened so far
The defense needs to take advantage of pass-rush opportunities when Gerald McCoy is double-teamed
Some of Tampa Bay's early-season struggles have persisted longer than Lovie Smith and his staff expected

Lovie Smith met with the press on Monday afternoon, less than 24 hours after the Tampa Bay Buccaneers lost to the Atlanta Falcons, 27-17, at Raymond James Stadium. In the interim, Smith had an opportunity to review the tape from that game, meet with his team and gain a more detailed understanding of what unfolded on Sunday afternoon.
So, upon further review, here are a few things Lovie Smith and the rest of us learned from – and/or what new questions were raised by – the Buccaneers' ninth game of the year.
1. Tampa Bay 's opponents are winning the special teams battle too often.
Lovie Smith believes in winning games with special teams – not every game, but some.
Since there are such a high percentage of NFL games that come down to a few plays in the fourth quarter – that essentially defines seven of the Buccaneers' nine games so far in 2014 – it stands to reason that the kick-and-return game would occasionally swing the balance in such tight affairs. Smith is used to that swinging his way; he believes his teams can add a win or two a year with the third phase of the game.
The 2014 Buccaneers, however, have yet to do that, and it's even fair to say that special teams were the difference in a couple of their losses. There's little doubt that a blocked field goal, a deflected punt and a crucial penalty on a field goal attempt hurt the Bucs' efforts in Cleveland, where they lost by five points in Week Nine. This past Sunday, several poor punts and a long kickoff return by Devin Hester definitely made a difference for the Falcons. Smith said on Sunday night that his kickoff team was absolutely trying to avoid letting Hester run the ball out, and they knew they had a proven touchback weapon in Michael Koenen. But it didn't work out that way and Hester's 48-yard return just before halftime allowed Atlanta to break a 10-10 tie going into the break.
Of course, the Bucs' 1-8 record is an obvious indicator that things have not gone consistently well in any of the game's three phases. Still, failing to get an edge on special teams was not what Smith expected from his team this year.
"We're disappointed in where we are and just about everything we're doing," he said. "I can't say that we're pleased with any area. We haven't won any games with our special teams. Special teams have really hurt us in a couple [of games]. Yesterday, we knew it was a great returner we were going against – he had one big return against us [in Week 3]. We were able to get one punt return for some positive yards."
There is still time for the Buccaneers to turn special teams into an advantage, and they have some very promising players that make their living in the kick-and-return game. Rookie kicker Patrick Murray has proved to be a weapon from long range, return man Marcus Thigpen provided a spark with a 53-yard punt return Sunday and wide receiver Russell Shepard is an outstanding gunner in punt coverage.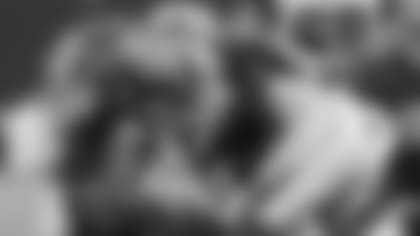 The Bucs' coverage teams kept Devin Hester in check for most of the game, but not a key moment just before halftime
"Just keep working through it," said Smith of the team's approach to turning it around. "Michael Koenen will be the first guy to tell you he needs to punt the ball better – a lot better. Just like everything else, we'll keep working in those areas."
2. The Bucs have to make opponents pay for focusing their attention on Gerald McCoy.
In the locker room after Sunday's game, defensive tackle Gerald McCoy revealed part of a conversation he had with Atlanta quarterback Matt Ryan after the game. Ryan said the Falcons made an effort to double-team McCoy on every snap, even as he tried to beat the strategy by moving all around the defensive line. The Falcons didn't have to face McCoy in the teams' first meeting in Week Three – he was out with a fractured hand – but they obviously remembered his three-sack game against them in Tampa last year. If that was indeed the Falcons' plan, it was relatively effective; McCoy had just one quarterback hit and the Bucs as a whole sacked Ryan only once.
McCoy is definitely an impact player, and perhaps the best defensive tackle in the game. He was an Associated Press All-Pro in 2013 and he's the highest-graded pass-rusher among interior linemen by Pro Football Focus, and by a healthy margin. But sometimes a great player has to help his team indirectly, by absorbing so much attention that his teammates are in a better position to succeed. That has certainly happened at times this season with wide receiver Vincent Jackson, for instance.
The Bucs will surely get plenty more days of sacks and disruption by McCoy, but some Sundays they're going to need the actual stats to come from other pass-rushers while McCoy is dealing with extra blockers. That's what they needed against the Falcons, but it didn't' happen. The team was admittedly without starting right end Michael Johnson, but plenty of other linemen had a chance to step up and make an impact play at a key moment.
"We're getting some double-teams inside and when you get into one-on-one situations we need to win more of those and if we're not doing that, there's something wrong," said Smith. "But that's the best you can get is a one-on-one situation against an offensive lineman and we need to win our share of those. On the other end though, we have to win our share of the one-on-ones there too, the coverage part. Again, we're not doing a lot of things as well as we eventually will."
3. Some of the Bucs' main struggles have persisted longer than Smith and his staff expected.
When asked on Sunday for his reaction to the fact that the Bucs have lost five games this season in which they held a lead in the fourth quarter, Smith had an interesting reaction: It meant that the Bucs were in fact good enough to be in position to win most of their games.
It's a valid point. It is also valid – and Smith would surely not disagree – that the Bucs' 1-8 record is an accurate barometer of the strength of the team because they've lacked the crucial ability to make the key plays to seal those victories. More specifically, they've struggled in a couple key areas – e.g. third-down defense, ill-timed penalties, turnover differential – that continue to be the difference in those tight contests.
It wasn't an enormous surprise when a team with a lot of new parts on the roster encountered those struggles early on. The Bucs started the season 1-3 in the first month but, thanks to the overall state of the NFC South, were still very much in the division title picture. They didn't expect those same problems to still be keeping them down two months later.
"When you're 1-3 or so, it sounds a lot better than when you're 1-8 right now," said Smith. "You assume that you're going to clean up those things and that's a part of what you use to talk about as a young program. That's where we are right now. We're in the last half of our football season and we should've cleaned up a lot of these things that we need to."
Amazingly, the Bucs are still only three games behind the NFC South leaders, though that's a much bigger mountain to climb with seven weeks to go. There are obviously not going to be many people who still consider Tampa Bay to be playoff contenders, given its record, but while the possibility still exists, that will remain Smith's target.
"You know, we haven't been in two games; the rest of the games we've played, we've had opportunities," he said. "Whether it be from just not being able to make a play, penalties, just doing something out of the realm of what good football teams do – whatever the reason, that is why we're here.
"[There is] a lot of football left to go in our division. You just kind of look at where we are and not a whole lot has changed from what I said last week about how we stack up. Even with all we've done and what little we've done so far, there are still opportunities if we change things. That's where I am as a coach. We have Washington coming up this week. Eventually we're going to get over the hump, but we're not there yet."