STORY HIGHLIGHTS
The Glazer Family Foundation's Vision Mobile continues to bring much-needed eye examinations and free glasses directly to students in need
During a recent trip to Cleveland Elementary, every student who was examined was found to need glasses
Since it first hit the road in 2009, the Vision Mobile has provided free corrective glasses to nearly 5,000 children

The future leaders of Tampa Bay are seeing more clearly than ever before thanks to the Glazer Family Foundation Vision Mobile.
The Vision Mobile, introduced in 2009 by the Glazer Family Foundation, is an eye examination facility on wheels that travels to Title 1 elementary Schools to provide free screenings, comprehensive vision exams and prescription glasses to children. The health initiative has remained a prominent effort of the Glazer Family Foundation, which helps better the lives of children and families by establishing lasting, impactful programs throughout Florida communities.
The 2013-14 school year has seen a commitment to just that, as the number of schools visited by the fully-equipped eye examination 'RV' has more than quadrupled from years past.
This year, students at 60 Hillsborough and Pinellas County schools will have benefitted from a Glazer Family Foundation Vision Mobile visit, setting a new benchmark for the far-reaching initiative to combat a growing health concern for the region's youth.
The Glazer Family Foundation's dedication to improved vision services has also been enhanced through a new partnership with the Essilor Vision Foundation, a national nonprofit that is committed to eliminating poor vision and its lifelong consequences. Essilor brings its expertise in vision services and products to bear by providing on-site staff who exam the students and then make the prescription glasses right in the Vision Mobile.
Last week, the Glazer Family Foundation ramped up those efforts, with Vision Mobile stops at Cleveland Elementary and Cypress Creek Elementary, where more than 100 new pairs of eyeglasses were provided to students at no charge.
At Cypress Creek, in Ruskin, Florida, where the student population exceeds 1,100, the need for vision services cannot be overstated.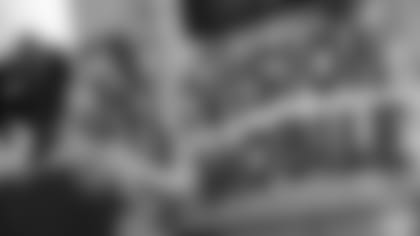 Students have their eyes examined and, often, their glasses made right on site when the Vision Mobile visits their school
"Due to where we're located, our socio-economic status is low, so a lot of kids don't get to visit the eye doctor," said Michelle Nguyen, a licensed practical nurse at the school.
Complete with a doctor's examination room and the necessary tools to produce prescription eyeglasses on site – many within the same day of the examination –the Glazer Family Foundation Vision Mobile clearly provides a critical service. Add the kid-friendly features of authentic Tampa Bay Buccaneers player and cheerleader uniforms for students to try on, as well as interior images that mimic the Buccaneers' locker room and Raymond James Stadium, and it's no surprise that the Vision Mobile is always a popular hit.
"The kids…they love it!" added Nguyen. "I have students who don't need glasses that want glasses. They're faces light up. They feel like they're really independent. On top of that, they're protecting their vision and getting the glasses that they need to do better in school."
Cypress Creek Elementary Assistant Principal Michelle Tranten was almost at a loss for words when asked to express her gratitude for the Glazer Family Foundation's support.
"I don't know what to say about it other than the program is just phenomenal," Tranten said. "[The Foundation] provides glasses that are much-needed for students who otherwise possibly couldn't afford them or have the access to get the glasses."
Though smaller in size than Cypress Creek, Cleveland Elementary's need for vision services was equally pressing – and for good reason: every single student that was examined last week for vision struggles was approved for new glasses.
Registered Nurse Nicole Charlot serves as the school's head nurse, and couldn't hold back a smile when sharing her favorite reaction from a kindergarten student when trying on glasses for the first time. Exclaimed the student: "I can see everything!"
Since 2010, the Glazer Family Foundation Vision Program has carried out more than 9,500 screenings and nearly 5,300 eye exams and produced almost 4,900 new prescription eyeglasses for children in need. As the 2013-14 efforts continue, successful weeks like these carry out the program motto by "Seeing the future one child at a time."