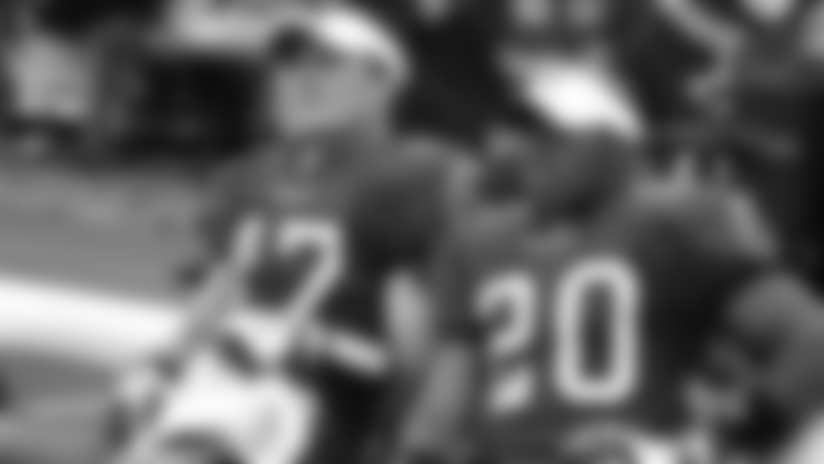 John Lynch and Ronde Barber are two of the best players in Bucs history, but what if you had to choose which was the better draft pick?

In 1984, the Cincinnati Bengals selected Maryland quarterback Boomer Esiason in the second round of the NFL Draft, with the 38th pick overall. Esiason would be a full-time starter by his second season, and by 1988 he would lead the Bengals to within one historic Joe Montana drive of a Super Bowl victory. Over 14 NFL seasons with Cincy, the New York Jets and Arizona, Esiason would throw for nearly 40,000 yards and just under 250 touchdowns.
Thirteen years later, the Miami Dolphins selected Akron defensive end Jason Taylor in the third round of the draft, 73rd overall. Taylor is now the Dolphins' all-time sack leader by a margin of more than two-to-one; with seven more last year in his second stint in Miami, he pushed his career mark in that category to 124.0. In 2006 he was the NFL's Defensive Player of the Year and in 2007 he won the Walter Payton Man of the Year award.
Two outstanding players whose NFL careers overlapped for exactly one season, in 1997. And two teams, the Bengals and Dolphins, who clearly got everything they could hope for and more out of their respective draft-day investments. But here's the question: Which was the better draft pick, Esiason in the second in 1984 or Taylor in the third in 1997?
It's the National Football League that happens to be asking this question, among a nearly infinite number of versions of the same question. As Buccaneers.com noted two weeks ago, the NFL is attempting to identify the top 75 draft picks of all time in recognition of the league's 75th draft, which kicks off on April 22. Or rather, the NFL has set up a system on NFL.com to allow you to make that determination.
The complicated format the NFL has devised leads to some fascinating comparisons, such as Esiason versus Taylor. Though Bengals and Dolphins fans probably make the decision easily, more impartial selectors might find it difficult. And no sooner have you made that choice, when you're confronted with a decision between two Hall of Famers like linebacker Lawrence Taylor (second overall by the Giants in 1981) and tight end John Mackey (second round, 19th overall by the Colts in 1963.
If you choose to participate in the selection process (Click here to go there right now), you'll find an endless stream of such randomly-generated matchups. Sometimes two players who seem largely incomparable - say Terrell Owens versus Bobby Layne - will turn up, and other times you'll find a very straightforward comparison. Who was the better pick, for instance, among these two running back selections: Jim Brown (sixth overall by the Browns in 1957) and Tony Dorsett (second overall by the Cowboys in 1977)?
There are 320 draft picks in the competition at this point, a list generated by NFL.com editors, who chose 10 players from each team currently in the NFL. Any two of those players can come up, slot machine-style, at any click of the mouse. The process can become addictive; you can continue to choose among picks as long as you wish.
Once you have made at least 10 votes between matchups, the system generates a list of your top 10 players. Early on, it is fairly random; if, for instance, you draw Sammy Baugh in two different votes in the early going and vote for him both times, he is suddenly first on your top 10 list. The league will eventually pool all of the top 10 lists from among the users who cast votes in order to identify the top 75. From that list, the top 10 will be announced during the 2010 NFL Draft.
Here's the best part: Every so often, a Buccaneer player pops up in your matchup. Obviously, one option is to vote for a Tampa Bay player every time he appears. However, these matchups can be intriguing as well. The author's first matchup including a Buccaneer was Derrick Brooks versus Houston Texans wide receiver Andre Johnson. Brooks was the choice, but it's not easy to dismiss how well the Texans did with the third overall pick in 2003.
The system also puts the onus on the voting fan as to the criteria for selecting a winner in each matchup. Is it simply a matter of picking the player who, in the fan's estimation, had the best career? Or should one take into account the value of the actual draft pick involved? For instance, the author was randomly given this choice at one point: Cleveland tight end Ozzie Newsome, taking 23rd overall in 1978, or Jets defensive tackle Joe Klecko, who was a sixth-round pick just one year before. Newsome is one of the top tight ends in NFL history but Klecko once had 20.5 sacks in a single season and was voted to the Pro Bowl at three different positions. Should we give the Klecko pick added weight because he cost only a sixth-round choice?
Such decisions are up to you, should you choose to participate. Just keep in mind, once you start, it's hard to stop. In fact, hold on while the author clicks again...Andre Reed vs. Jordan Gross. And again...Jackie Slater vs. Mel Blount. And again...
Oh, man! John Lynch versus Ronde Barber! Now what?