The Tampa Bay Buccaneers' young guns teamed up once again in Sunday's season opener against Chicago, as the team's first touchdown of the season – shocker! – was a 13-yard pass from Jameis Winston to Mike Evans.
Evans, a 2014 first-round pick by the Buccaneers, just turned 24 less than a month ago, on August 21. Winston, a 2015 first-round pick, will turn 24 next January. Their scoring connection on Sunday was the 28th touchdown catch for Evans and the 51st touchdown pass for Winston. They make for a rather unique and extremely promising pair of teammates – no NFL team has ever before had an under-25 quarterback and an under-25 receiver reach the 50-TD-pass and 25-TD-catch plateaus together.
Evans is already in the all-time top 10 for most touchdown catches by an NFL player before the age of 25. He's seventh on the list and one of only two in the top 10 who can still move higher before his birthday. The Bucs' star wideout has all of 2017 to pad his stats, while the Giants' Odell Beckham will turn 25 on November 5.
Most Receiving TDs Before Turning 25, NFL History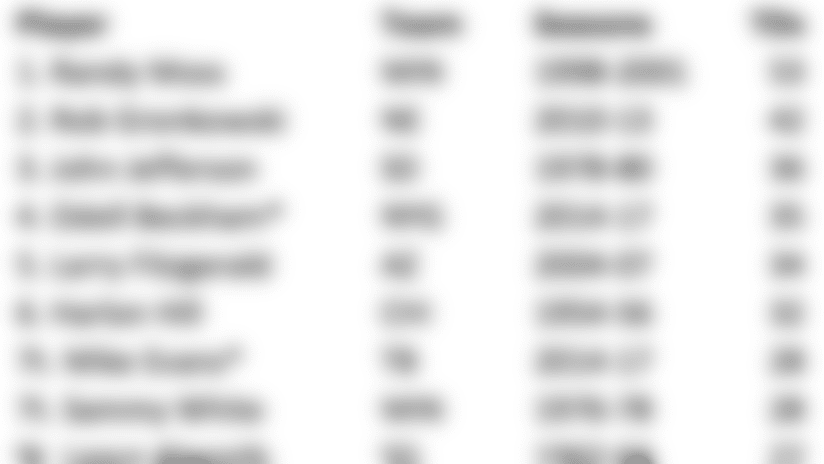 Evans finished with 12 touchdowns in both 2014 and 2016. If he gets even two-thirds of that total in 2017 (which would be eight, meaning he'd add seven more to his total) he could leapfrog both Hill and Fitzgerald into fifth place.
Winston isn't quite as high on the under-25 passing touchdown list, as he currently ranks 13th. However, he too has all of the next twoseasons to add to his total and could crack the top five before the season is over. He and Tennessee's Marcus Mariota, who turns 25 on December and has 46 touchdown passes so far, are the only current quarterbacks on the top 20 of that under-25 list who can still add to their totals. They are chasing this top four:
Barring injury, Winston seems like a lock to pass Manning, Bledsoe and Stafford and will have a shot at Marino's all-time mark.
Evans led the Buccaneers with seven catches for 93 yards in Sunday's win over the Bears. That meant he narrowly missed recording his 13th career 100-yard outing. However, that was also the fifth time he's concluded a game with a yardage total between 90 and 99 yards, giving him a total of 17 games out of 47 in his career in which he has surpassed 90 yards. That's already almost an all-time franchise record.
Most 90+-Yard Receiving Games, Career, Buccaneers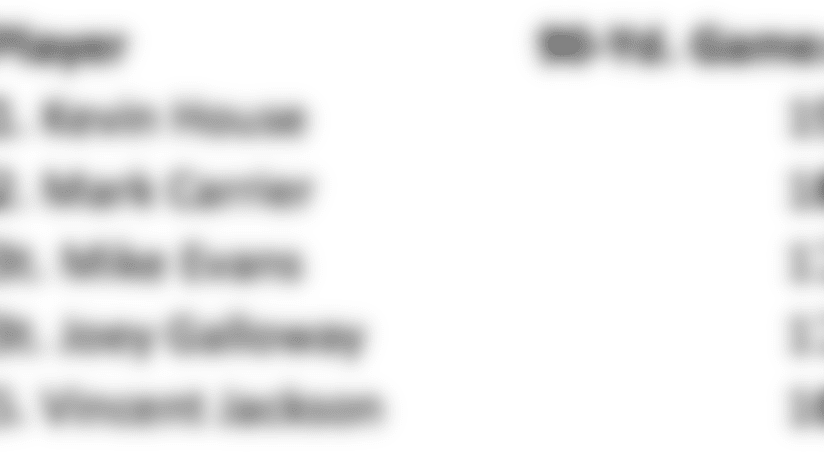 Evans matched Galloway's total in 19 fewer games played. His percentage of 90-yard outings out of his total games played as a Buccaneer is easily the highest among his fellow prolific receivers.
The Buccaneers head to Minnesota this coming weekend for their second game of the season. Evans will probably crack the franchise's all-time top 10 in receptions before leaving the new U.S. Bank Stadium. He needs just four more catches to pass Galloway for that 10th spot.
Most Receptions, Buccaneer History
Evans is already seventh on the Buccaneers' all-time receiving yardage list, and while he's a good bet to climb as high as third by the end of his fourth season, it would take a career game to move up a spot on Sunday.
Most Receiving Yards, Buccaneer History
Last season, Evans led the entire NFL with 81 receiving first downs, which was 15 more than the next-highest player (the Colts' T.Y. Hilton, with 66). There was a larger gap between Evans and second place on that chart than there was between second place and 19th place.
Evans secured those 81 first downs on 96 total catches, meaning 84.4% of his grabs moved the chains. That, too, was the top mark in the entire NFL. Here were the top five: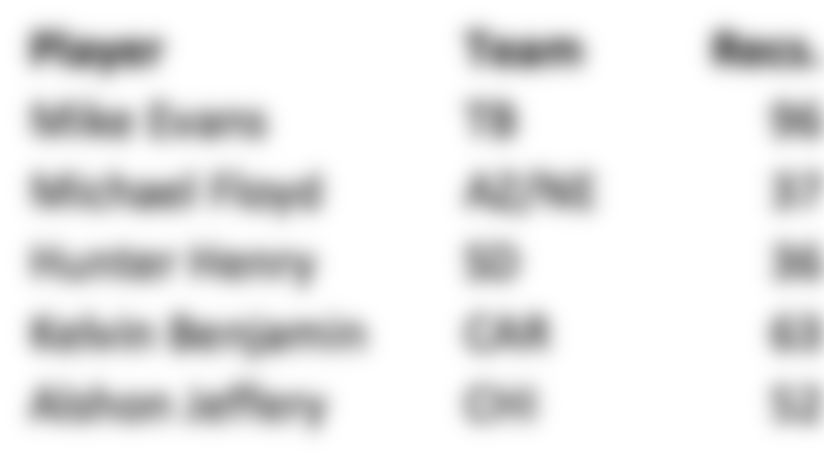 Of Evans' 96 catches last year, 28 of them came on third down…and all 28 resulted in first downs. He and Miami's Kenny Stills were the only two players in the NFL to gain first downs on all of their third-down receptions, and Evans had more than twice the number of third-down grabs as did Stills. Only 10 players in the NFL even gained first downs on 90% of their third-down catches, and Evans was the only one of those 10 to do so on 20 or more receptions. Here's that top 10 from 2016: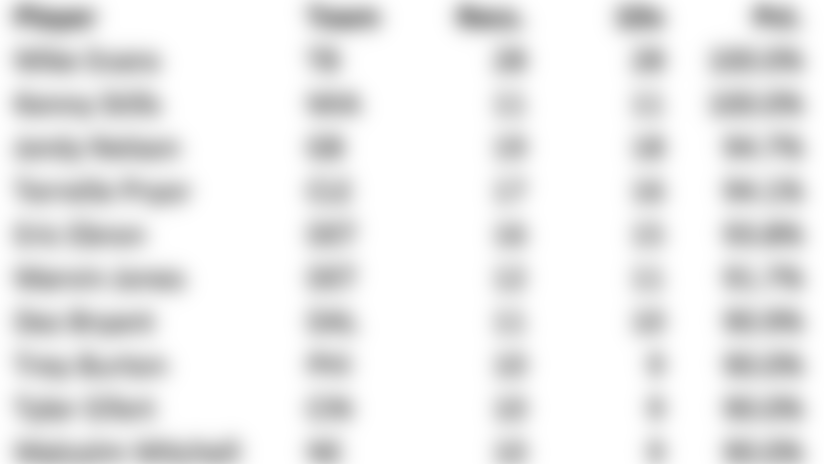 Evans picked up right where he left off in Sunday's opener against Chicago. All seven of his receptions produced first downs, including three that came on third down. Even though he has only played one game due to the postponement of the Bucs' original opener in Miami, Evans is already the only player in the NFL with a 100% first-down rate on at least seven catches.