If you're anything like me, for the last month you have been completely engrossed in the World Cup. Though the United States has exited the tournament, we'll still be tuning in this afternoon to watch Brazil and Germany duke it out to see who will reach the final match.
I'll be the first to admit it, I am among the masses that only pay attention to soccer roughly every four years and rarely, if ever, really understand anything that is going on. While I'm fine with the former (having quite a bit of NFL and Buccaneers content to fill the void), I find myself a little disappointed being the sports fan that I am yet not having a firm grasp on soccer.
Call it being an American or being an American Football fan, I have a hard time sorting out football offsides vs. futbol offsides, red and yellow flags vs. red and yellow cards, tackles vs. slide tackles and the like. And I try to avoid the conversation of diving entirely. But perhaps the most confusing bit about the World Cup is the system and schedule itself: eight groups determined by the likes of a weekly lotto drawing; three-point wins, one-point ties and deciding point differentials; mixing it all up again in the knock out round.
So, like any good football fan and spreader of knowledge would do, I sat down with pen and paper in hand and put it in terms I could more easily understand: the NFL. It was that that ultimately led me into this exciting parallel universe we're about to discuss. In the spirit of the World Cup semifinals, I present this alternate timeline: What if the 2013 NFL Season wasn't run in our traditional NFL fashion, what if instead, the year was set up like the World Cup?
To avoid too many alternate realities and versions of the 2013 season, seeding was done rather simply. The NFL already has eight tidy groupings of four teams. They will act as our Groups.
In the World Cup, each of these teams will play each other. A win will count as three points, a tie (no overtime) will count as one point and a loss counts as nothing. Conveniently enough, in the NFL each divisional team will play two games against each team in its division. So, we follow the same rules-of-thumb. A win against a division rival will count as three points, a tie (any game that was tied at the end of regulation, regardless of overtime winner) would count as one point, and nothing for a loss.
The following chart shows just how every division turned out. On the left, you'll find their 2013 results in actuality with the playoff teams marked by an asterisk. Then our World Cup alternate reality record and point total to the right. Two Groups, the AFC West (Group D) and NFC South (Group G), needed to go to a tiebreaker determined by the point differential through all division games.
*  Group Record
Points
AFC East
(12-4)
Patriots
(4-1-1)
13
(8-8)
Dolphins
(2-4-0)
6
(8-8)
Jets
(2-3-1)
7
(6-10)
Bills
(3-3-0)
9
AFC North
(11-5)
Bengals
(3-2-1)
10
(8-8)
Ravens
(2-3-1)
7
(8-8)
Steelers
(4-2-0)
12
(4-12)
Browns
(2-4-0)
6
AFC South
(11-5)
Colts
(6-0-0)
18
(7-9)
Titans
(2-3-1)
7
(4-12)
Jaguars
(3-3-0)
9
(2-14)
Texans
(0-5-1)
1
AFC West
(13-3)
Broncos
(5-1-0)
15
(11-5)
Chiefs
(2-3-1)
7
(9-7)
Chargers
(2-3-1)
7
(4-12)
Raiders
(1-5-0)
3

  Group Record
Points
NFC East
(10-6)
Eagles
(4-2-0)
12
(8-8)
Cowboys
(5-1-0)
15
(7-9)
Giants
(3-3-0)
9
(3-13)
Redskins
(0-6-0)
0
NFC North
(8-7-1)
Packers
(3-2-1)
10
(8-8)
Bears
(2-3-1)
7
(7-9)
Lions
(4-2-0)
12
(5-10-1)
Vikings
(1-3-2)
5
NFC South
(12-4)
Panthers
(5-1-0)
15
(11-5)
Saints
(5-1-0)
15
(4-12)
Buccaneers
(1-5-0)
3
(4-12)
Falcons
(1-5-0)
3
NFC West
(13-3)
Seahawks
(4-2-0)
12
(12-4)
49ers
(5-1-0)
15
(10-6)
Cardinals
(2-4-0)
6
(7-9)
Rams
(1-5-0)
3

OT games count as tie 
WIN GROUP
2ND IN GROUP

Tiebreakers by Point Differential *
Chiefs over Chargers: 22-5
Saints over Panthers: 51-50
Your Group winners are marked in orange while the second place team is yellow. What we have now is a 16-team playoff rather than a 12-team, but most interestingly, the fact that playoff seeding is based exclusively on division schedule definitely shook things up.
In the AFC (Groups A-D) the San Diego Chargers get kicked out of the playoffs finishing just 2-3-1 in Group D. Having only a 5 differential in their six Group games, they lost the tiebreaker with the Chiefs who managed 22 in the group. Much to my surprise, the 6-10 Bills and 4-12 Jaguars snuck into the playoffs as three of their wins came against division opponents. Yes. The 4-12 Jags make the playoffs.
Remarkably in the NFC, none of the division winners in reality finished first in their division in our alternate universe! The Dallas Cowboys and Detroit Lions both make the playoffs based on their Group wins. Unfortunately, the Buccaneers failed to make it out of Group G, but there was an important tiebreaker in the division with the Saints barely edging out the Panthers with a one-point higher differential.
And on we go to the Knockout Rounds. Like the World Cup, things get a little dicey here with all kinds of moving and shaking going on. First place from Group A faces second place from Group B, first from B goes up against second from A, etc.
Not confusing now at all, right? To determine the outcomes in our parallel NFL universe, we followed this relatively simple formula.
*If the teams played head-to-head, the game winner becomes the alternate universe game winner.
**If the teams played each other head-to-head twice and each won a game, the winner will be determined by point differential in the two games combined.
*If they did not play at any time head-to-head, 2013 season point differential will determine the winner.
So, without further ado, I present to you, the outcome of our World Cup alternate reality of the 2013 NFL season.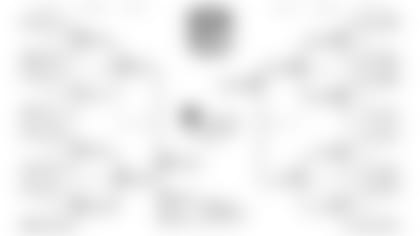 Interestingly enough, we still have an NFC team facing an AFC team. The 49ers are moderately pleased since in the World Cup universe, we crown a 3rd place team. And to out-interesting that, we have a rematch of the actual Super Bowl XLVIII. In our alternate universe, it is just as lopsided and shocking as reality, with the Seahawks over the Broncos 43-8. Sorry Broncos fans, that even happened in a pretend world.
While the Buccaneers didn't make the World Cup Playoffs last year, we've got quite the 2014 season to look forward to, and potentially our own playoff trip in this and all parallel universes. In the meantime, feel free to use the charts and information above to mix up the Groups to create your own alternate reality and see if you can unseed the Seahawks as World Champs. Feel free to send your results to Scott Smith @ScottSBucs. I'm sure he'll love them.