STORY HIGHLIGHTS
The bye week offers the Buccaneers an opportunity to re-evaluate every corner of the roster
Tampa Bay has not yet established a consistent rushing attack, and that remains a primary goal
The Bucs' defense needs big plays such as sacks and turnovers to thrive

The Tampa Bay Buccaneers lost to the Baltimore Ravens on Sunday, 48-17. There is nothing about that outcome that a Buccaneer coach or a Buccaneer fan would consider "good." Sure, you could probably find a bright spot or two if you were so inclined, perhaps the continuing emergence of the Bucs' rookie pass-catchers or Mike Glennon and the offense showing some life in the second half.
We're not going to do that. Not only would that be tone-deaf, it would also constitute looking back, and with the bye week now upon us, it is better to look forward.
Because, you see, there is a lot of football still to be played this season. There' s no use in pretending that a 1-5 record is the setting for a playoff run, but a 1-5 record does mean that there are 10 games still to be played. Even in defeat, even in lopsided defeat, the Buccaneers have shown they still have fight in them. That fight is going to make them seek the best possible outcome from those 10 games. Perhaps along the way it will become a season worth investing in.
"We're one-and-five," said tight end Austin Seferian-Jenkins, one of those aforementioned rookies who could make a difference in the second half. "We have a bye week. We still have a lot of the season to go. There's still a lot of the football to be played. Unfortunately, we're upset now. We're a little down where we're at, but the good thing about the NFL is that there is a lot of football to be played and we still have a good chance to do something special this year. It's frustrating right now, as it should be, but we still have a great opportunity to do some good things this year."
That's what the Buccaneers must strive to prove, beginning with another home game on October 26, this time against the Minnesota Vikings. Can the Bucs come out of the break on a better note, much as they have after halftime in several games this season? That will be the goal. To reach that goal, it might help to focus on the following four things during the bye week.
1. Determine where the roster needs work.
After Sunday's loss, Head Coach Lovie Smith conceded that, "We're not as talented as we need to be in some areas and sometimes you can pick on that a little bit."
Smith and General Manager Jason Licht took over as the Bucs' new leadership team in January, inheriting a 4-12 team. They attacked the roster very aggressively, using both free agency and the draft to add talent to many areas on the depth chart. That process continued right up until late August, when a deal was swung with the New England Patriots to acquire Pro Bowl guard Logan Mankins.
It would be nice if those efforts had made every position on the depth chart a notable strength, and if there had been no injuries to complicate matters. It would be nice, but that does not appear to be the case. Smith was asked after Sunday's game if the Bucs' struggles on defense were a matter of a talent shortage or players having difficulty learning the scheme.
"Well, I think it's probably a combination of both," he replied. "We have to look at it that way. First off, it starts with us. What you see is what you coach. So for us, we have to do a better job of coaching up what we have. And then, talent-wise, again, it's becoming a habit a little bit now. It's happened too many times, so we do have to make improvements and look at our roster, and any other. We have a week. The good part about it is we have a bye week coming up. We have a little bit of time to see what direction we need to go. But, of course, we need to change course."
This issue is a little bit about the next 10 games and a little bit about the seasons to come. Some shuffling of the depth chart could help, some scouring of the waiver wire could help, but teams don't often find significant roster solutions during October or November. Still, it is always good to determine what your shortcomings are and devise a plan to solve them, even if it might take longer than the next 11 weeks to get it done.
2. Clear their heads…and heal their bodies.
Obviously, it would have been nice to take some momentum into the bye week, and to not have a disappointing loss occupying the players' minds for two weeks. Either way, though, the bye is a time for the players to recharge their batteries and recuperate their aching body parts. Both will be important for Tampa Bay this coming week.
The Buccaneers will gather on Tuesday and Wednesday, and while there are practices scheduled for those days, they won't be particularly long or grueling. There will be film review on Tuesday, as well, because some lessons must be learned from Sunday's loss. Once those things are taken care of, the Bucs will have a few extra days to unwind and to evaluate themselves. There aren't many players on the roster who would say they can find nothing on which to improve when it comes to their own play.
"We'll watch the film and learn from it," said Glennon. "We have a couple extra practices to get better, but we have to find out what we need to do to get the win. You know, we'll have extra time to do that. We're not going to give up. We're going to stay with it. We still have a good football team, but we just need to play better. It's the bottom line."
For most teams, the chief value in a bye week is adding a little extra time to the recuperation period for key players who are out with injuries. The Buccaneers got linebacker Mason Foster and wide receiver Mike Evans back on Sunday, but also went into the game without starting cornerback Johnthan Banks, who hurt his neck in New Orleans. He and safety Dashon Goldson (ankle) could return to action in Week Eight against Minnesota, as could linebacker Jonathan Casillas (hamstring) and defensive end Larry English (hamstring). Rookie running back Charles Sims, who was hit by a significant ankle injury in the preseason and ended up on the injured reserve/designated to return list, is also nearing the time when he can officially come back from that list.
"First and foremost we have to get healthy," said cornerback Alterraun Verner. "We definitely have had our share of injuries in these first six games, so most importantly people have to get healthy because we are going to need them for the long haul. And like I said, just thinking about what you can do to get better and help this team out. It could be little things like spending more time in the film room, or going harder in practice, so this is the time to reflect but also get away and clear your mind and know that right when we get back we got to focus in and we got to win some ballgames."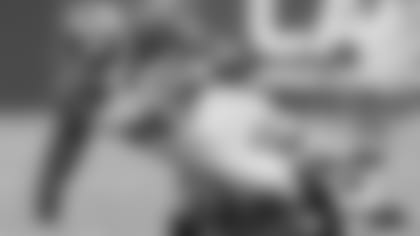 RB Bobby Rainey and the Buccaneers hope to field a more consistent rushing attack after the bye week
3. Figure out the running game.
It remains surprising that the Buccaneers have not been able to establish their ground game with any consistency. Last week, after the rushing attack contributed relatively little to an overtime shootout in New Orleans, several players and coaches echoed the belief that most of the problems came down to one player out of 11 breaking down on a majority of running plays. If that's the case, it would seem to be an issue that can be solved, but it was clearly not solved before the Baltimore game.
There is a little extra time to figure that out now. There is time to review game tape and determine which types of running plays are working best, and when is the right time to call them. There is time to determine the best way to spread the work between Doug Martin and Bobby Rainey.
The elements are there. Smith and his staff refer to the Buccaneers as a "running team," and they clearly want to build an offense around a consistently strong rushing attack. Martin and Rainey are young and fresh, and they've both proved they can put up big numbers in the NFL. The offensive line is experienced and laden with players who have succeeded elsewhere.
The Buccaneers are not going to give up on their goal of being a running team, so they have to figure out how to make it work. The bye week gives them a chance to do that.
4. Find the impact plays on defense.
If the running game is an offensive staple of a Lovie Smith team, then turnovers are part of his team's DNA on defense. And the offseason acquisitions of Michael Johnson and Clinton McDonald indicate how much importance the new regime would put on getting to the opposing passer.
Sacks and turnovers…that's what the Bucs need on defense to stop the bleeding. The Bucs had just one takeaway on Sunday, and it was the result of a botched snap long after the outcome was decided. They did not have a sack against Joe Flacco; in fact, they didn't have a single QB hit, while Baltimore had 15. That statistic alone could explain most of why the Buccaneers were on the losing end of a lopsided score.
Smith firmly believes that takeaways can be taught, and his track record as an NFL coach backs that up. So far in 2014, it isn't happening. Tampa Bay has six fumble recoveries and four interceptions – seven of those 10 takeaways have come in two losing efforts – and only 35 points off turnovers. The pass rush showed signs of life with five sacks in the first half at Pittsburgh, and has had none in the 10 quarters of play since.
Adrian Clayborn is lost for the season, and that doesn't help. But Johnson, McDonald and Pro Bowl defensive tackle Gerald McCoy are still there, and Johnson and McCoy are getting healthier after early injuries. Smith's scheme works best when the front four is able to get pressure on a consistent basis without the help of blitzes, and he reiterated after Sunday's game that the team is committed to that scheme. For it to work, the Buccaneers need to find more impact plays on defense, and perhaps the bye week will give them time to figure out how to make that happen.