Sitting down with the new Buccaneers' defensive lineman, Mitch Unrein, I heard him say the word 'luckily' a lot. 'Luckily' he got a call from the Denver Broncos after being released following his first training camp in the league with the Houston Texans. 'Luckily' he has an athletic family and five older siblings that toughened him up as a kid. 'Luckily' his now-wife agreed to go on that blind date seven years ago. But entering his ninth season in the league… 'luck' may have nothing to do with it. Get to know defensive end Mitch Unrein in this edition of Behind the Buccaneers.
Carmen Vitali: So the first time you played against the Bucs – you went in as fullback for a play?
Mitch Unrein: "I did, yeah. It was back in 2012. It's funny that I remember that. It was December 2, I believe. 2012. Obviously, if I'm remembering that date specifically, it was a big play in my career. I had been running fullback for about a month prior to that and I would just lead-block on plays. Then they had me start running some pass plays in practice and I was not expecting for them to do it when it got down to the goal line – or the one-yard line. It was the first drive of the game, so I wasn't expecting to get my number called for a pass. Sure enough, they called it and I went in there. I didn't really have time to get nervous or anything. Peyton Manning was in the huddle, he called the play – one of the greatest to ever do it. I ran out into the flat and luckily nobody covered me, I was wide open and he floated it up to me and I caught it."
That's pretty incredible to say that as a defensive lineman, you caught a pass from Peyton Manning… for a touchdown.
"It was crazy. I never thought getting into the NFL as a defensive lineman – that's the last thing you think would ever be possible. Catching a touchdown pass from a quarterback, especially one of the greatest quarterbacks ever. It's something I'll always remember. I actually still have that football in my house. I had Peyton Manning sign it. I remember going up to him that next week after they had the ball painted up for me and everything. I felt like a little kid going up to him like, 'can you sign my football for me?' [laughing]. That was Peyton's first year in Denver. This was after we had that run with Tim Tebow and those comeback wins. I've been a part of some crazy seasons in the NFL. It's been fun. But I'm really glad I'm here now."
Well it had to be kind of special to start your career with Denver because you're from Colorado. Did you grow up a Broncos fan?
"I did, yeah. I grew up a Broncos fan. We weren't huge on going to games or anything. I'm the youngest of six kids, so financially it was kind of out of the question for my parents to take six kids to a Broncos game. We mainly just watched them on TV. But it was a dream come true, especially for my family to be an hour away to come and drive down every game. I know before every game I'd always see them before I walked in the locker room. I had relatives from all over the state that would go and just tailgate – they wouldn't necessarily go into the game. But there were probably 40-50 people at every tailgate before every home game. I had a big fan base, which was really cool. Now they get to go and fly out to nice places – spend a week or a few days down here in Florida or when I was in Chicago. So they're getting to travel a little bit more, which is really nice."
Are you the best athlete in your family?
"You know, I wouldn't say that. I really wouldn't. Both my sisters swam in high school, one went onto college to swim. She was a three-time All-American swimmer. She only swam one year in college then she became a nurse, so she was really good. Two of my brothers played college ball as well, they were just kind of affected by injuries. I was lucky enough to stay healthy, stay on the field and luckily I had the genetics to get bigger and stuff like that. My brothers are a little more slender than I am so luckily I had the ability to put weight on. I think that's what really helped me.
I'm the youngest, they toughened me up. Back in the day I wasn't thanking them for that but now I am just because they made me who I am today. They made me tougher, work harder, all that stuff and that's something my parents always preached to us. Nothing is ever going to be handed to you, you have to work for everything you get."
Then you went on to be a Wyoming Cowboy.
"Yeah, I actually walked on up there. Didn't get a scholarship. I came from a small town of like 3,500 people, graduated with 98 kids in my high school class so they really didn't think I had the ability to play at the Division I level. But I went up there, I was kind of undersized coming out of high school. Earned a scholarship and started my last three years up there and then came in the NFL. I was hoping I'd get drafted in the later rounds but that didn't happen. Then I went to sign a free agent deal with the Houston Texans, went to camp with them, they released me after final cuts so I went home and I was there for about six weeks and I had a part time job. I was cleaning sewer lines believe it or not for a company. I'd work a half day, work from six to noon. Then go work out. Then I'd go help coach at my high school.
So I was doing that and living at home like, 'man, I'm out of college, I'm still living at home, I need to get my life together here.' Luckily, the Denver Broncos called me and they were like, 'hey, can you be down here in two hours for a physical?' Passed my physical and next day I was practicing and the rest is history. I've been in the league ever since. It was a really frustrating time when I was home for those six weeks. I was thinking about just, 'hey this might not be my journey' and thinking about hanging it up but luckily my agent was just like wait, wait and luckily I got that call.
Went to Denver, was there until 2014. Then signed a two-year deal with the San Diego Chargers. Unfortunately, I was only there for about two weeks of the regular season before they released me. But then Chicago called that same day. That was a hectic time as well. I feel bad for my wife for how many times she's had to move. She's been a saint. That was a stressful time as well. I got the call from [the Bears] and I was on a plane. I got released on a Thursday and that night I was on a red eye flight out to Chicago. I was like, 'see ya, babe. I'm off to Chicago.' She's like, 'ok, I guess I have to move everything.' But then we were out there for three years and now I signed here."
Ok, but I want to talk about your wife because she's awesome.
[Mitch's wife, Corey Cogdell, is an Olympic trapshooter. She's originally from Alaska and has competed in three Olympic games for the USA, taking home two bronze medals.]
"She's way cooler than I am. That's what I always tell people. It's always nice when someone is talking to me about football and they find out I play in the NFL. I'm like no, no, no. I always throw her under the bus. I'm like, 'well, did you know that my wife is a three-time Olympian?' Then they start talking to her and I'm off the hook. I really throw her under the bus. But she throws it right back. She throws me under the bus a lot, too, when people know who she is and they don't know who I am. She does the same thing. That's a little game we play when we meet somebody new."
"We actually met on a blind date. A family friend of mine had met Corey because she was dating a guy that Corey knew. The first time she met Corey, she was like, 'I have the perfect guy for you.' Corey thought it was kind of weird but then the girl told me that she was going to set me up on a blind date and I was like all right. We went on the blind date and we've been together ever since. That was right after my first year for Denver so after my practice squad year. Corey tells me she didn't want to go on that blind date because she knew I was an athlete in the NFL and she's heard stories about guys in the NFL and things like that so she was kind of hesitant to go on the date. But it's crazy how things work like that. [Corey and I] have been together for seven years now and coming up on our fourth year of marriage."
How do you two balance your hectic training schedules? I have to imagine that's a challenge.
"It's crazy. I think it's good that we both understand what it takes to be an elite athlete. So when she says, 'hey, I've got to go train' or do this or that or fly somewhere, I have respect for that. It's not the greatest thing. I'm not going to have my wife here for a while, it's tough but I understand what it takes for her to do that and I want her to be as successful as she can be in her sport. We really try to help each other out as much as we can. If she has a bad day shooting or something, I understand what that feels like because say I have a bad practice or game or anything, she gets that as well."
Yeah, I guess that's not something you'd think about right away but both of you do know what it takes to be at this level of your craft, whatever it may be.
"We know the sacrifices that it takes. But it's been fun. Unfortunately, I haven't gotten to go to the Olympics to watch yet. In 2016, she made it down to Rio and I tried to get out of some training camp for a few days and Coach wouldn't let me. I got to watch her on TV, which was awesome. She won a bronze medal, which is so cool. It's just a great time. She's going to try to go to 2020 in Tokyo, so hopefully I can go to that one."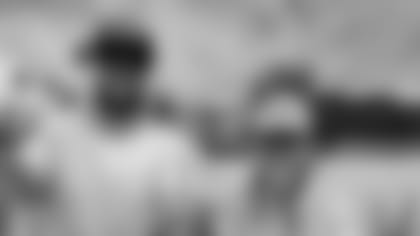 When you first found out she was a trapshooter, were you intimidated at all?
"I think most guys probably would be, but I grew up hunting and stuff like that so it wasn't anything foreign to me. I thought it was actually really cool, to tell you the truth. I'm like yeah, she's kind of a bad ass. I thought it was attractive. She's a gorgeous woman and she can shoot guns? You don't see that every day. That was pretty cool and now it's an ongoing joke, everyone's like, 'hey, you better watch out, you can't run from her' [laughing]."
Do you guys go shooting together?
"Yeah we do. The great thing is about Tampa as well is there is a shooting club that she goes to that's like a half an hour north of here so she was super pumped. In Chicago, we didn't have a place for her to train so she'd have to fly back to Colorado and fly back. She can shoot year-round here, which is really nice."
You two have a French bulldog I see from your social media?
"Yep, Magnus. When I saw him, they're just little muscular dogs and for some reason he just looked like a Magnus to me. I like watching World's Strongest Man competitions, so I don't know if you've ever heard of a guy named Magnus Ver Magnuson. He was a World's Strongest Man. I think he won the title a couple years but he's an older guy. He's done now but [the name] just stuck. He's the nicest little dog. That's Corey's little child right now until we have kids. It's nice when she's gone having the dog to hang out with. We're actually looking to start a family soon so that'll be fun."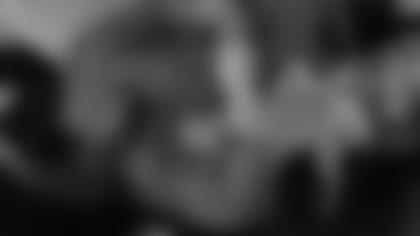 That's so exciting. Do you like Tampa so far then?
"Yeah, I love it here. We live up around the Seminole Heights area so it's really nice there. We're close to a bunch of restaurants and things to do. It's nice."
It was nice of you to sit down with me. Looking forward to seeing you in red and pewter this season.
"No problem, thanks so much."