The Buccaneers signed defensive end and avid World Wrestling Entertainment fanatic Vinny Curry just weeks after he had won Super Bowl LII with the Philadelphia Eagles. Since then, he has made a name for himself among Bucs fans this offseason on the field, but what about off of it? I sat down with Vinny to get to know the New Jersey native a little better and on behalf of Bucs fans, I had to find out: if he were to enter the ring, what would his wrestler name be? This is Behind the Buccaneers with Vinny Curry.
Carmen Vitali: First things first, I know you're a huge WWE fan.
[At this point Vinny's eyes lit up, probably expecting I actually knew something about wrestling and was going to ask him about it. I had to disappoint him on the former, but enlisted the help of a friend who is both a WWE fan and Vinny Curry fan incidentally enough, to consult on the following wrestling questions.]
You went to Wrestlemania this year, how was it?
Vinny Curry: "It was cool. I go every year. I have a son now so I brought him and he enjoyed it. Just to have him a part of Wrestlemania – something I always wanted to go to as a kid, it was cool."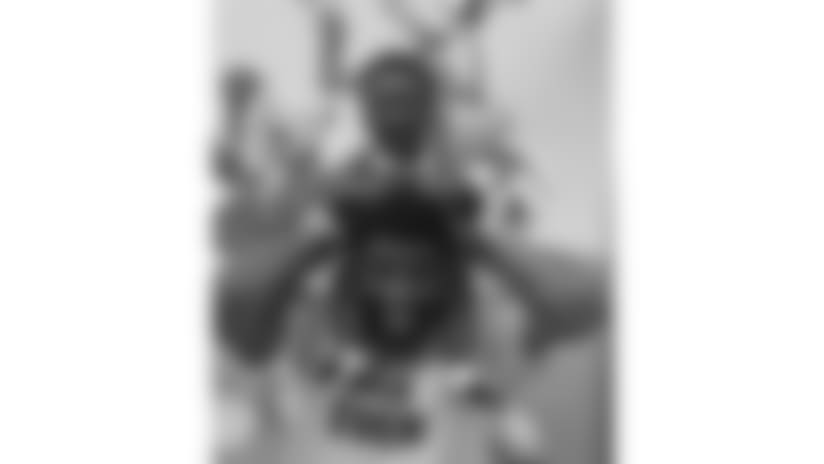 So he's going to grow up a WWE fan?
"Oh yeah. He has no choice."
What were your thoughts on AJ Styles vs. Shinsuke Nakamura?
[Laughs at my question clearly knowing I had help]
"I thought it was a cool match. I'm a big AJ fan and Shinsuke is a great. But I thought it was a cool matchup. I thought it was going to be a little longer. But it was all right."
What got you into WWE in the first place?
"My dad. He's a big wrestling fan. And now I'm passing it to my son. Third generation."
Do you remember anything about the NWO [New World Order]?
"Oh yeah. What part do you want to know? That's everything I've been trying to imitate as far as they were a crew that couldn't be reckoned with. It's kind of like playing defensive line. The defensive line on every team is a crew that can't be reckoned with at any level; high school, college or in the NFL. And I went to Marshall. They do the 'Herd' sign [holds up his hands to show me the symbol] and it's like the NWO sign as well."
If you had to choose, what would your wrestling name be then?
"Oh man. Natureboy Flee."
Taking a cue from Ric Flair. Is he your favorite wrestler?
"Yeah, he's one of them. I like him, Triple H, Shawn Michaels, Bret Hart."
Ok, well then you have to explain to me what 'Flee' is because it's all over your social media.
"Flee was just a nickname that stuck when I was in college. It's another word for swag. Instead of saying, 'I'm fresh' you say 'I'm flee right now.' I'm Mr. Get Flee."
Instead of saying, 'I'm fresh' you say 'I'm flee right now.' I'm Mr. Get Flee.
Do you have any plans to use that name and get in the ring?
"I mean, maybe five years from now. It's a huge jump. The things those guys put their bodies through night in and night out, I have nothing but the utmost respect for them."
Well Patriots' tight end Rob Gronkowski got a shove in there during Wrestlemania 33.
"Oh yeah, I wouldn't mind doing that. I'm a dare devil… on the field."
Switching gears a little bit, you have your alma mater Marshall's football locker room named after you now, which was a recent occurrence. How cool is that?
"Some days words still can't even describe it. That was the first thing that happened this year. The Marshall locker room. Then winning the Super Bowl. Then the journey here. This has been a great year for me."
You aren't wearing number 75 now with the Bucs, you switched to 97 but I wanted to get the story behind why you wore 75 in Philadelphia for so long considering that's not a defensive line number, usually.
"I wore it just to represent the 75 people that died in Marshall's plane crash. It was my token of appreciation to a community for everyone being so nice and taking me under their wing throughout my five years in college. I wanted to bring it to the league and start something special. Somebody had that number here and so I didn't want to be that guy to take someone else's number so I'm wearing 97. Ninety-seven is actually the first number I ever wore playing organized football, which was back in '96 – '97."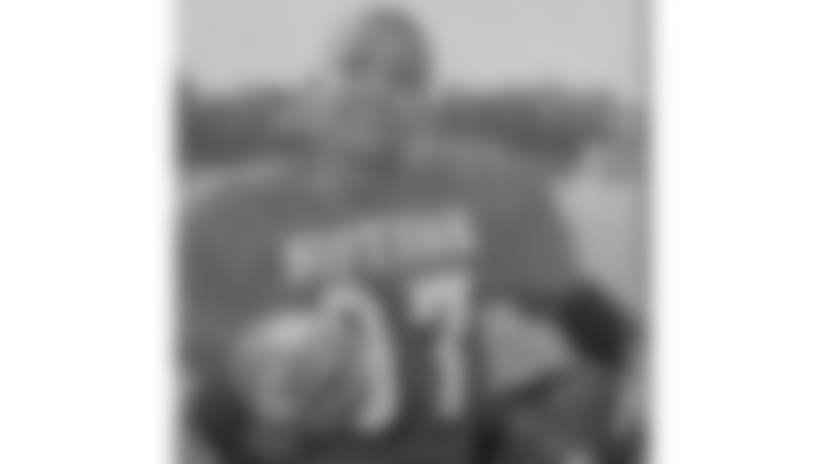 Ninety-seven is actually the first number I ever wore playing organized football, which was back in '96 – '97.
Was it all football from there?
"It was all football before then but Pop Warner is expensive so I had to take what I could get."
You're from New Jersey, which I feel like isn't a huge football state.
"Yeah, but we were those teams that got into tournaments and snuck up on people."
Growing up you had five siblings right? Where do you fall in there?
"I'm dead in the middle."
Did they all play sports?
"No. Actually, my little sister swam and did softball. As far as basketball and other types of sports, no. It was just my little sister and me."
And you had your son just a little over a year ago. How's he?
[Like the proud father he is, he whipped out his phone to show me the lock screen – a picture of his son, Noah. He proceeds to show me more pictures of them at Wrestlemania and even just pics from around the house.]
How has he changed your outlook or perspective on everything?
"I used to take everything to heart. I used to wear my emotions on my sleeve. I'm still passionate about everything I do but having him, man, you can just look at him and nothing else matters in that moment. He's starting to talk more. He gives me that 'Dada!' His first word was 'Mama' but he says 'Dada' now more. That's his go-to. He mocks me. The way I laugh. He does the same exact thing. And he's a big baby. He's huge."
I'm still passionate about everything I do but having him, man, you can just look at him and nothing else matters in that moment.
Do you think you'll get him into football?
"Yeah, yeah. I mean, he's been to the Super Bowl, couple practices, like it's around him. Hopefully he's into sports because I feel like, especially playing football, it builds character."
How special was it then to be drafted by the Philadelphia Eagles and get to stay in the area you grew up in for so long?
"It was very special. At the end of the tunnel was the Super Bowl win. I'm excited for this new chapter. Hopefully we can bring that same Lombardi Trophy here. We got a good enough team and a good enough staff to do it. You just gotta believe."
Yeah, you guys have an entirely new room almost. What do you think about Coach Buckner?
"Coach Buck is the man. He shoots you straight. It needs to be that way."
Is it really cool to come down here with fellow former Eagle Beau Allen?
"That's super cool. It's just crazy because I played with Lavonte [David] in the Senior Bowl. I played with DeSean [Jackson] in Philly, too. DeSean actually was big for me because I played with him as a rookie. That's my guy. But to accomplish a Super Bowl with Beau was really cool."
And our home opener this year is against Philly. How is that going to be?
"It's going to be amazing. It's going to be great. We are going to Wreak Havoc. It's going to be fun. First things first, we have to take care of the Saints."
And with that we concluded, but not before Vinny made sure I knew his WWE fandom was real by showing me his WWE tattoo on his arm. It was next to the phrase 'Born to Lose but Built to Win' which is his own personal mantra. We could have probably spent another 20 minutes on his tattoos alone but one thing was for sure – Vinny has come a long way and shows no signs of stopping yet.