Of the 80-plus players who saw action for the Tampa Bay Buccaneers on Friday night in the team's preseason opener in Jacksonville, 19 rookies. Those players ranged from first-round pick Mike Evans to undrafted free agents like cornerback Keith Lewis, who is trying to become the first Virginia-Lynchburg product ever to make it in the NFL. For all of them, it was their first professional game, and thus an unforgettable moment.
That first game was videotaped by the Buccaneers from several different angles, and Tampa Bay coaches spent Saturday breaking down the results. It's hard to keep an eye on every rookie when the action is live, but the game tape will provide plenty of evidence for the men who have to decide which 53 players from the current list of 90 will stick.
"Some guys, we took notice of, simple as that," said Head Coach Lovie Smith. "In the first preseason game, playing the starters only a few reps, we had an opportunity to get video on a lot of players, which is good.
"Special teams are very important and we got to see some of the guys…when you don't tackle and you don't do a lot of live stuff, you really don't know who really likes to hit and who will hit if they have to. That's what we're able to see with some of our players. We are pleased with some of the play that we got from that game. Quite a bit of the play we're pleased with. It's just that some of the players that didn't play as well, it kind of sticks out a little bit."
Smith touched on other topics besides the team's newest players during his day-after-game briefing on Saturday. Those discussions are below.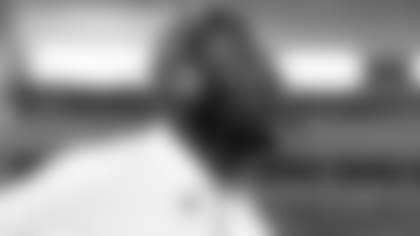 Lovie Smith watched 19 rookies compete during his first game on the sideline as the Bucs' head coach
Opening Statement:
"Of course we have one football game under our belt, which we wanted to get to fairly quickly, to see exactly where we are. We were able to do that with this football game against Jacksonville last night. Have to keep in mind what the goal of the preseason is: to get ready for the Carolina Panthers. With that, we wanted to put our guys in position to just kind of let them play. We didn't have an extensive game plan or anything like that. The plays that you saw last night, probably a lot of them you won't see a little bit later on when it really counts. With that being said though, there are some things that we like from this first preseason game. Some of the players we thought would play a certain way did that. Some of the players we thought would play a little bit better didn't play as well as we'd like. That's kind of where we are right now. As you look around the league, there's not a lot of great football being played the first preseason game of the season, anywhere, and we're kind of part of that. Can't wait to get back to the practice field tomorrow. We do have some things to correct, which normally, in every year I've been in the League it's been that way. We'll get back to the field tomorrow and go from there. We had a few injuries, which you normally have. Hopefully none are serious, none really to talk about right now. We'll go over the injury list tomorrow. Again, as I talk to you right now, I haven't talked to our players, so I'll be pretty general with the comments I make to you until I talk to the football team."
On: positive takeaways from last night's game:
"A lot of encouraging points from last night. You have to look at the way we started the game. We chose to defer, wanted our defense to play first. Gerald McCoy, best player on our team, was that and played that way right away. Lavonte David – a lot of guys on the defensive side that you expected to play well, did. It's good to get some of our young corners action while we're out there. Johnthan Banks played well. Rashaan Melvin, coming off the IR list played good ball. Major Wright – defensively there was some good play. On the offensive side of the football, I know you want to ask about 30 offensive line questions right now, so let's go into the offensive line right away. Demar Dotson played well. He had the penalty that really hurt us, most of those aren't normally called. His play, he's been that way throughout. He's not the only one, of course Evan [Dietrich-Smith] played well. We didn't play as well at the guard position as we needed to, but we needed to see them in that role."
On: if the offensive line allowing pressure was due to assignments or individual battles:
"I think it was a combination of both. It comes down to one-on-one game, period. We didn't handle some of those situations. What you want to see in the preseason – it's not like their best players you're going to try to double them. You want to put guys on an island to see how we could perform one-on-one and we got beat a few times, especially inside at the guard position. But we got beat on the outside also too by some of our better players. That will just kind of get their attention a little more."
On: if he is pleased by the performance of defensive lineman Da'Quan Bowers:
"Pleased. He did some good things, but as I talk about, let's not get too alarmed by some of our play inside at the guard position, you can't get too high on what happened with some of the better plays too. Everybody had flashes. Da'Quan has had flashes throughout and we had that with a few other players. We had opportunities. That's what the team gets a chance to see on how the game can go any way. Early on, we had opportunities; you have to make the most of them. We had three balls in our hands. They got one and they scored a touchdown on it. Penalties kill you. We had Austin Seferian-Jenkins, big play, great play by him, should be a highlight we're looking at, but it was called back. We had a couple of those and that's what you learn from the first preseason game. Normally there's a big improvement from preseason game number one to preseason game number two and that's what we plan on doing."
On: if the offense was on par for what he was expecting:
"We didn't play as well offensively as we will play. That's the answer I will give you. We didn't play as well [as I hoped]. You like to play great ball every time you go out. It doesn't happen that way though, especially the first time. We have new players playing together, it just doesn't happen that way. That's where we're at right now. We didn't play as well this first preseason game. We'll play better this next week."
On: quarterback Josh McCown's performance:
"It was tough, but we got a chance to evaluate Josh under tough circumstances. That's why he's a mobile quarterback. Sometimes you have to move around a little bit. Josh will learn. He took a hit as he scrambled one time – can't take that hit. We'll have better protection for him and he'll be able to have more success."
On: the interception McCown threw:
"He was under pressure. Any time you throw a pick, it's bad, period. There's a lot of people involved with it. We look to the route: was the split right, was the receiver exactly where he needed to be? Of course there was pressure and of course Josh was a part of that also. All of that comes into play."
On: his reaction to the game:
"I think it was your typical first preseason game of the season, for both teams. Jacksonville is not printing up Super Bowl tickets either. This is what you get. You play a lot of guys and some things you like, some things you don't. I wish I could give you a lot more, guys, but there's not a whole lot more besides that. It's preseason game number one, that's what we had."
On: the injury to wide receiver Robert Herron:
"We think he'll be ok. We're hoping that, because, take Robert for instance, had one really good catch, could have made another. That's kind of how it goes with rookies in general. We didn't really get a chance and the plan wasn't to play Mike Evans an awful lot, didn't get a chance to really see him, but we'll have things and plays to try and showcase some of the other guys coming up this week."