Offensive Coordinator Byron Leftwich is an anomaly in more ways than one. On a staff that boasts decades upon decades of coaching experience, he has three years. With experience comes age, and where his head coach is 66, Byron is 39, the youngest of the coordinators here and probably one of the younger offensive coordinators in the league. But when you talk to him, when you listen to his football philosophy and when you take in his demeanor, you get it. There may be pretty stark differences but he just simply fits.
His office is right next to Head Coach Bruce Arians, much like his all-time spot in a chair next to BA's desk in Arizona after Byron first got into coaching. Before he was in that chair, he was over BA's shoulder as a backup quarterback to Ben Roethlisberger in Pittsburgh. So while he may technically only have those three years of experience as a coach, he's had years more playing the role of player/coach and taking in everything BA has taught him. And he's moving on up (from sideline to chair to office) for good reason. You can tell how cerebral he is, how meticulous he is – right down to how neatly written each play on his whiteboard is.
Byron is a quarterback, through and through. It's part of what makes him such a great coach. So where do you start with a guy like that? The highlight reel, of course.
I want to dive in here talking about one particularly memorable game you had during your Super Bowl season as a backup with the Steelers. You came off the bench against the Washington Redskins at halftime and played completely lights out. Tell me about that experience?
The biggest difference when I became a backup was just getting yourself ready to roll. I was used to warming up, going through everything and getting things going. That was the first time in my career where when I had to play, it had to be [snaps fingers] right now. It was different. I would always tell Ben [Roethlisberger], hey if you get hurt – stay your a— down [laughs]. Give me some time to warm up. And that was mine and his rule. Don't get up and leave off the field and I have to go in, because I know BA and he's gonna call the deep ball. Let me get three, four, five throws in and then I got it from there. We would always joke about that because as many times during the year, he would get up slow and I'm thinking I'm going in, and Charlie Vasher would be like NOPE. There were a lot of instances where he may have missed 10 plays so I would use Charlie as my gauge, like Charlie, you tell me when it's my time. It was a running joke in the meeting rooms.
That game, I knew before the half. I was just excited to play with that team because I knew how good we were. I knew the players we had. I knew the defense that we had. You in that mindset with a team like that, I want to play and be out here with these guys. It was an exciting time for me. I mean, I was around some good defenses in Jacksonville but that defense was historically the best ever from a statistical standpoint. You think about that right? As the quarterback, that defense allows you to play with a certain freedom that I was never able to play with back in the day, especially the players that they had on offense: Santonio Holmes, Hines Ward, Rashard Mendenhall, Nate Washington, Heath Miller.
[While saying they were the best defense in the history of the league could be debated, it indeed rivaled that of the Steel Curtain in the 70s and even the '85 Chicago Bears. The 2008 Pittsburgh Steelers defense allowed just 13.9 points per game, good for the best mark in the league that year by far. They allowed only 12 passing touchdowns that year and just seven touchdowns on the ground.]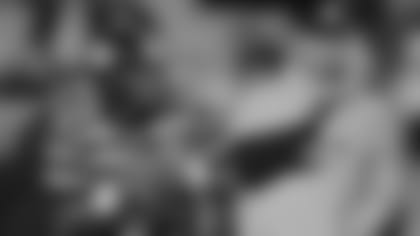 You've been on the flipside as well, where you were the starter and you said in your press conference, you've been 'through the blender.' How has that shaped what you tell your guys that you're coaching now?
I just understand what they're going through. I understand their mindset and their thought process when it goes well, when it don't go so well. I know what they're thinking when they have a good game and they go home. I know what they're thinking when they have a bad game and go home. You can relate to it. This is a unique position. Very few people get to play the position that we play, so I treat it that way. It's a demeanor, it's how you handle that position, which is always different. Just having the ability to actually go do that, but like I tell them. I was a franchise quarterback on top of the world, right? Then I went to become a backup but I won a Super Bowl as a backup. Think about that. You never dream of it that way but the feeling is the same. To win a Super Bowl, no matter who you are, the feeling is the same as if you threw the game-winning touchdown. It really is. It's one of the best things because we've been dreaming of this our whole lives. Who gets to say, what I used to dream when I was five, six, seven years old really happened? That's why you see guys at the Super Bowls getting emotional, you see all those things that come out of those players because these things have been in the works and in these guys' heads over two, three decades already. So you've been dreaming of this forever. You make it to the NFL, yeah that was a dream, but then there's football to be played. The big dream is the one you closed your eyes at night, woke you up three o'clock in the morning, chest beating, man I just want a touchdown in the Super Bowl. That's everybody's dream. Even the offensive linemen [laughs]. All those things going through your mind – it was the best feeling I ever had.
But you played baseball and basketball in high school, too. When did you know it was football?
I loved football. When I was younger, I might have been better at basketball, to be honest with you. I scored 69 points in a basketball game.
What? Was there like a mercy rule in place? How old were you?
[Laughing] that's how I got down back in the day. I was probably 16. It was actually AAU and I ain't even going to name the people we were playing against because I don't want to embarrass them. Some of these guys went to play in the NBA and all that, so I'm gonna keep my mouth closed. They tried to beat me up after. [Washington] D.C. just being D.C.
But football was the first love?
Yeah, I grew up watching the Redskins, watching Joe Theismann, it was a football city. We grew up, we watched football every Sunday as long as I remember. Literally. As long as I can think back, I been watching football or playing that electrical football set. Remember those back in the day? Kids don't even know about that now, right? We played that every Sunday. Woke up on Sundays to run around and watch NFL Today. Watch the little glowing man running. These are the things I remember as a kid. I loved the game so much. I remember Sunday nights, the show Dallas. My mother used to watch it. In the beginning credits they showed the stadium for like two seconds. Me and my brother used to run in my mother's room, they'd show us the stadium, then we'd run right back out. That's all we wanted to see. We just wanted to see this stadium. Then me and my brother we broke into RFK [Robert F. Kennedy Memorial Stadium, where the Redskins played] one day, we were just football fanatics, we loved the game, we loved the Redskins so much.
That must have made coming in against your team even more crazy in that last game we just talked about.
Oh yeah, and I had to get like 60-something tickets. The time before I had to get 110 tickets. I'm a backup and I STILL gotta get 57 tickets but that was good that I had the opportunity to go out there at home in front of the people that have watched you play junior high school, high school. That's always fun anytime you get the opportunity to play and do that.
What was that support system like for you growing up?
It was really just me, my mother and my brother. That was my support system. We are as close as they come. I'm a momma's boy. I talk to my mother every day. We've had that relationship for a very long time. I mean, it was just us three. We were in the inner-city D.C. getting through how we got through.
And you got to go to college not too far from them at Marshall. Did that closeness play into the decision to go there? Or was that just where you got recruited?
You have to think back then, them coaches were scared to come in and recruit. They didn't want no part of that. This was the time of, 'Sh-t, I'm not going in there. I'll stay out in Maryland and Virginia because there are plenty of football players out there.' But if you were an inner-city kid, schools weren't coming in there – and I thought I was good. I thought I was real good. I should have had offers from a lot more places but Marshall stuck with me. I had a chance to go to Maryland but then Duffner got fired [yep, THAT Duffner].
Gosh, this world is so small.
I remember playing in the passing tournament and Duff [then the head coach at the University of Maryland] was like, 'My goodness, kid. You have no clue how good you are.' That's the first thing he ever said to me. And I didn't. I was just throwing the ball but we did a passing league out at University of Maryland with 150 teams and we won the damn thing. An inner-city team won the whole damn thing playing against everybody. We were so raw but we were talented. None of us knew, though. There were a lot of guys that could play on Sundays on that team. It didn't work out that way but trust me, there were a lot. Back then in the city, people weren't really going to college. A lot of us – we would just go to high school and then that was it. We were the beginning of people going to school and as that happened, more universities were going inside D.C. and Maryland. Now you look at it, we do have guys on Sundays. A lot of guys that grew up in my same neighborhood and same city playing in the National Football League, so you know how that makes me feel [he says as a big grin spreads across his face]. The feeling to see that many people from where I'm from get their opportunity to play in the National Football League. That was really unheard of back in those times.
Sounds like you opened a door there.
So I have to ask you, I'm watching the highlights of that game at Marshall where you played through a broken leg and your offensive linemen are carrying you between series. Why in the world do you come back in that game? What was going through your head?
You gotta think though, this is the time where as a player, you kinda controlled if you played or not. You try that right now…
Well, yeah but it was broken!
[Exclamation added so you know how incredulously I was looking at him and the tone of voice I was using because this was one of the best stories I had ever heard.]
I mean, I couldn't do no more to it. It was already broken. My leg snapping in half, that was what I was scared of, because my tibia was cracked like three, four sets of ways. I knew… [throws his hands up] ok, I don't know. We were just really trying to win. I promise you. We didn't even know what we were doing. Nothing was ever said, I never had to say lift me up. They just said, come on. We didn't even know what was happening and we go to the next play, we're on the bus after the game, we go home.
Could you imagine if that happened now with social media?
That's what I mean. After it was over, everyone was sad that my leg was broken. I remember thinking man, this may be my last time with the fellas. I felt as though I messed something up because I knew how good we were. I was like sh-t, I can't believe I just did this. We woke up the next morning, because nobody knew it was broken at the time. Once it happened, I didn't want the whole, man he had a broken leg and they let him back out there? thing to get out because there was no stopping me from going out there.
I mean, I know you hear guys that go to the sideline and say put me back in, but you actually went all the way to the hospital and came back…
Yep. I just wasn't ready to finish like that. I really wasn't. I was in the Heisman Trophy race and those guys wanted me to win it. They were like hey, nobody is going to touch you, you're going to win that Heisman. That's how they were talking about it at the time. So I'm like alright, let's go get it then. We just had that mindset, really. It felt like I let them down, it was an eerie feeling. But then I came back and played two weeks later with it broken. Everybody thought I was crazy. I was supposed to be a high draft pick, like what are you doing? We didn't know back then.
Did you get like a hit upside the head from your mother or something? I probably would have if I were her.
[Laughs] no, my mother walked on the field and tried to get me to come off the field during the game, though. My brother had called my mother and was like, 'Ma, go get him off this field because he's going to try to play. Do not let him play.' I didn't know this at the time. In his mind, he's thinking it's the end. So as I walked on the field [after coming back from the hospital, mind you] my mother was there in the end zone. She grabbed my arm. I was like, Ma, you can't be on the field. That's the first thing I said to her. She was like, 'What are you trying to do?' At that time, though, I was the only one who knew my leg was broken. So I wasn't about to tell her, oh my leg broken. I just told her I was ok.
She really tried to physically stop you?
Yes. If you watch the documentary on that year, you see her on the field.
How did she react when she did find out it was broken?
She said she knew something was wrong. She's been around me, she knows when something's up. Guess that's part of being a momma's boy, huh?
For a guy that loves the game that much then, you walked away from it for a little bit.
Yeah. I had to, though. I had to see if there was anything else other than football. When you've been doing it this long, when you retire, you're like man, I've been in team meetings for over 20 years. So now, what am I gonna do? You get out there and you realize, there isn't a lot to do that you want to do [laughs]. I was good in the summertime because I was living in D.C., so in the summer I could play golf. I played golf Monday through Thursday.
Shocking. A BA protégé that likes golf.
[Laughs] Well Friday through Sunday, I was just all about football. I'm just thinking about football. When it would get cold, I told BA I would watch football all the time. Me and him would talk after a game when he was in Arizona and just by knowing him, we could talk about plays, because I could see it through the TV and tell what was happening with him. Hell, one year, two years after I retired, BA tried to call me and get me to come play when Carson [Palmer] got hurt. I was like, shhh. No way. I've been retired for two years. He said, 'I don't care, it's the same stuff.' I almost did it. But once you stop playing, that tough guy-ness, that thing that you have with you to get you through aches and pains, leaves you the second you stop playing. I wanted to heal up, get rested up, play a lot of golf and then it got to the point where I had to do something, but what am I gonna do next? There was opportunity that came my way before BA, but the fact that it was BA… he would always tell me, 'Just come see it. I want you to see it, let me know if you like it or not.' So, I went out there and within 48 hours I was hooked. I had this relationship with the game that wasn't going nowhere, regardless of what I was doing. I'm sitting in the house every day and that relationship ain't going nowhere, the game is always gonna be talking to you. Once I got back, I was like, I can do this. Then BA was just like, 'Hey, let's talk about it. I'm not letting you go home.'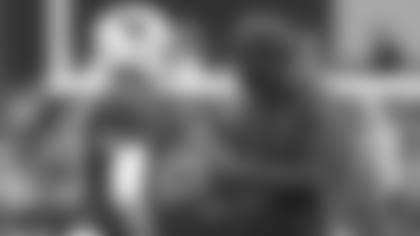 What was that singular thing that made your decision to be a coach then?
First day, I'll never forget it. I'd been in Arizona probably 15-20 minutes, I pull up in the facility and they're meeting. He introduced me and the first thing he said to me was, 'Speak. If you see something, speak.' So I remember sitting in the back with him, which ended up being my all-time seat, and I didn't say anything at first but as I'm watching, it's all coming back [snaps both his fingers one after the other in the air]. Should we do this? Should we do that? We used to do it this way, why is that that way now? And the back and forth started. Then I was in. I was in from the get-go. I knew within the first two days I wanted to do it because I never knew what it consisted of. I knew the time coaches put in, the work they put in. You see how much they go through to get us players ready to play. They use every minute that they have to try and put us in position so we could be successful. You gotta have respect for that. But you never really knew what they did. Then you realize, you can put him there and him there and you can control that? Oh, that's fun. And I've been hooked ever since.
What is about BA and your relationship with him that has kept you with him this whole time?
It started with football. He saw football the way that I saw football. When he would teach it and talk, I was like, sh-t, yes. I want to do that every time. He allows you freedom, especially if you can see it. If you can see it and have an understanding of what it is, he just says go. He doesn't believe in holding you back. It started with football but then you get the human being. He shows you that he cares. Then it opens you up to be able to do a lot of different stuff.
Well now that you're in it, how has your family adjusted to this coaching lifestyle?
It's good because my mom, she's still in D.C. and she ain't going nowhere. It's better for me now to get back to the east coast. I'm closer. Same time zone. You'd be amazed at how difficult that is. I have an eight-year-old boy. Soon-to-be wife. That's another thing, FaceTiming with him and it's like 4:30 a.m. where I am in Arizona but you want to catch him before school. He doesn't want to hear that daddy tired so he expects every morning to FaceTime on his way to school. Daddy has to be up and so I would wake up around four and that would get my day going.
Between Keith and Todd's Peloton bikes and FaceTime dates, it seems we have a lot of early risers on this staff now.