The Buccaneers have scheduled an introductory press conference on Wednesday for their recently-hired offensive coordinator, Dave Canales. The press conference will begin at 1:00 p.m. ET at the AdventHealth Training Center and will be carried live on Buccaneers.com.
The Buccaneers named Canales, previously the Seahawks quarterbacks coach, their new offensive coordinator on February 17. He replaces Byron Leftwich, one of nine coaches with which the Bucs parted ways on January 19. Canales spent 13 seasons on Pete Carroll's staff in Seattle in a variety of roles and was most recently instrumental in the breakout campaign enjoyed by quarterback Geno Smith, the NFL's 2022 Comeback Player of the Year.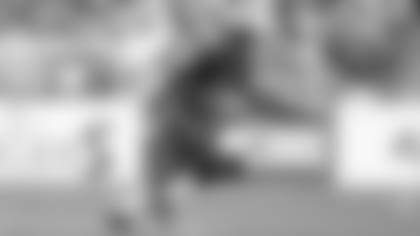 The Pro Football Hall of Fame selected two cornerbacks to be part of its Class of 2023, and both have ties to the Buccaneers. While Rondé Barber played his entire 16-year career in Tampa, Darrelle Revis played a total of 11 NFL seasons, one with the Buccaneers in 2013.
Revis was selected for the Hall of Fame in his first year of eligibility. He becomes the 11th figure in the Hall who has ties to the Buccaneers. Barber, Lee Roy Selmon, Warren Sapp, Derrick Brooks and John Lynch played all or their majority of their careers for Tampa Bay and Head Coach Tony Dungy held that position for six years in Tampa before adding another seven at the helm of the Indianapolis Colts. Ron Wolf was the Buccaneers' vice president of football operations from 1976-78, while guard Randall McDaniel spent his final two seasons (2000-01) in a Buccaneers uniform. Quarterback Steve Young also played two seasons for the Bucs (1985-86) and wide receiver spent his final season (2004) as a Buccaneer after 16 years with the Raiders.
A first-round draft pick in 2007, Revis played his first six seasons with the New York Jets before coming to Tampa in a trade in 2013. The Buccaneers relinquished the 13th-overall selection in the 2013 draft plus another conditional pick that ended up being a fourth-rounder in 2014 after Revis was released the following spring for salary cap reasons.
In his one season as a Buccaneer, Revis started all 16 games and recorded 50 tackles, 1.0 sack, two interceptions, 11 passes defensed, two forced fumbles and one fumble recovery. He was voted into the Pro Bowl at the end of that campaign, marking the fifth of his eventual 11 all-star selections. He was also a four-time Associated Press first-team All-Pro selection.
After his lone season in Tampa, Revis signed with the Patriots in 2014 and helped them win a championship, as New England defeated Seattle in Super Bowl XLIX. He earned his final AP All-Pro nod that season while recording two interceptions and 14 passes defensed. Revis then returned to the Jets for two more seasons before finishing his career with a final campaign in Kansas City.
In all, Revis played in 145 games and 142 starts and produced 496 tackles, 29 interceptions (three returned for touchdowns), 139 passes defensed and four forced fumbles. He earned the nickname "Revis Island" for his ability to shut down a portion of the field in single coverage.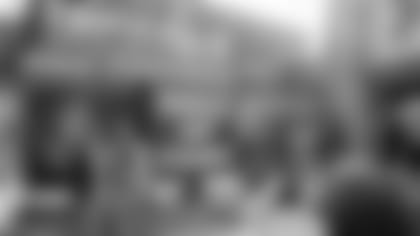 Is this the year the Pro Football Hall of Fame opens its doors to Ronde Barber? The answer will be revealed on Thursday night.
The 12th Annual NFL Honors show is set to air on Thursday, February 9, on NBC and NFL Network, beginning at 9:00 p.m. ET. The show will also be streamed live on Peacock. As has been the case since the NFL Honors show debuted in 2012, one of the most anticipated announcements of the night will be the newest class of inductees for the Hall of Fame. Barber, the Buccaneers' legendary playmaking cornerback, is one of 15 modern-era finalists for that honor; up to five will be chosen to make up the Class of 2023. This is Barber's sixth year of eligibility and his third consecutive year as a finalist.
If Barber is voted in, he will become the fifth player in the Hall who spent all or the majority of his career with the Buccaneers, joining Lee Roy Selmon, Warren Sapp, Derrick Brooks and John Lynch. Barber played 16 seasons, all with the Buccaneers, and is the only player in NFL history to record at least 40 interceptions and at least 25 sacks. He is also fourth in league annals with 14 non-offensive touchdowns and is the only player ever to start 200 consecutive games at cornerback.
Among the other awards and honors to be announced on Thursday night are the Walter Payton NFL Man of the Year, the AP Most Valuable Player, the AP Coach of the Year and the AP Defensive Player of the Year.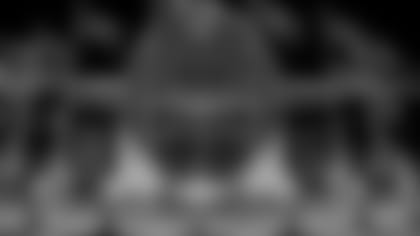 After a quiet weekend, the Buccaneers are expected to continue their search for a new offensive coordinator this week. The team moved on from nine assistant coaches on January 19, including Offensive Coordinator Byron Leftwich, and are now in the process of filling those open spots.
Between Wednesday, January 25 and Wednesday, February 1 the Bucs conducted interviews with seven candidates for their OC position, beginning with Denver Broncos Passing Game Coordinator Klint Kubiak. Next came Minnesota Vikings Wide Receivers Coach Keenan McCardell, Jacksonville Jaguars Passing Game Coordinator Jim Bob Cooter and Cincinnati Bengals Quarterbacks Coach Dan Pitcher. Last week, the process continued with interviews of University of Georgia Offensive Coordinator Todd Monken, New York Giants Quarterbacks Coach Shea Tierney and New Orleans Saints Passing Game Coordinator Ronald Curry. Two of the seven have previous ties with the Buccaneers, as McCardell was a wide receiver on the 2002 Tampa Bay squad that won Super Bowl XXXVII and Monken was the team's offensive coordinator under Head Coach Dirk Koetter from 2016-18.
At least 11 NFL teams will have new offensive coordinators in 2023, and some of those positions are starting to get filled. The New England Patriots brought back Bill O'Brien for that role, while the New York Jets hired former Denver Broncos head coach Nathaniel Hackett to be their play-caller. Hackett replaces Mike LaFleur, who didn't take long to find a new home as the Los Angeles Rams' offensive coordinator. After mutually parting ways with Kellen Moore so that Head Coach Mike McCarthy could move into the play-calling role, the Cowboys named Brian Schottenheimer their new OC. Moore landed a new gig the day after leaving Dallas, signing on as the Los Angeles Chargers' OC.
The Buccaneers, Washington Commanders, Baltimore Ravens and Tennessee Titans all have head coaches in place but are still seeking their new offensive coordinators. The Arizona Cardinals and Indianapolis Colts are still in the process of hiring new head coaches, who would then presumably bring aboard new coordinators.
Tom Brady's Wednesday morning retirement announcement means the Buccaneers will definitely be searching for a new starting quarterback in 2023. That retirement also could give the Bucs some more room to maneuver in that effort and any other attempts to sign or re-sign free agents.
Due to the automatically voiding seasons on the end of Brady's contract, the Buccaneers were due to absorb a roughly $35 million "dead cap" hit on their salary cap in 2023 had he continued playing this season, whether in Tampa or elsewhere. The Bucs still must account for that hit, but if he is designated as a post-June 1 retirement it can be spread out over the 2023 and 2024 seasons. Brady's dead cap hit in that scenario would be roughly $11 million this year and roughly $24 million in 2024.
According to Spotrac, the Buccaneers are currently projected at nearly $56 million over the cap in 2023. They must become compliant with the recently-finalized cap figure of $224.8 million by March 15.
CLICK HERE for more on Tom Brady's retirement announcement.