STORY HIGHLIGHTS
Tampa Bay's defense has shaved its points allowed nearly in half over the last five weeks, ranking among the league's best in that span
DT Gerald McCoy believes the improvement started with a conscious attempt to adopt a new attitude
Statistically, the key may lie in how much better the team has been at getting off the field on third down

As we noted on Monday in our "Stat Shots" rundown of notable numbers from the Chicago game, the Tampa Bay Buccaneers' offense has started to produce much better results on third down, which has led to more sustained drives and better offensive numbers all around. The same is true of the Buccaneers' defense, but in the other direction.
Following a 48-17 thrashing at the hands of the Baltimore Ravens in Week Six, the Bucs found themselves surrendering 34.0 points per game, the worst mark in the NFL. In the six weeks and five Buccaneer games since, however, Tampa Bay has allowed just 19.2 points per game, the seventh best mark in the NFL. That has unfortunately translated into just one victory, but Tampa Bay has had a chance to win all of those games and a much improved defense is a big reason why.
Defensive tackle Gerald McCoy, one of the cornerstones on that defense and a player with at least one sack in four of those five games, speaks regularly with a former Buccaneer great at his position, Hall of Famer Warren Sapp. Since the arrival of Head Coach Lovie Smith, McCoy is now playing in a system very similar to the one that Sapp helped mold into one of the all-time great defenses, so the two have been able to compare experiences very directly. It isn't what the Buccaneers wanted, but it also isn't a big surprise that it has taken a little while for the current team to begin excelling in the new system.
"That was echoed from all of the vets, the guys who played before us who were great in this defense or even just people who've played in this defense before," said McCoy. "They said it's going to take time. You heard it from every different place. Even when I saw Ronde [Barber] during camp, he said it will take time. I've seen [Derrick] Brooks, [he said] it will take time. Talked to 99 [Sapp] – it will take time. Guys who have been in this defense, they know it takes time. It really is an attitude that those guys had that changed everything."
In fact, McCoy thinks it is a change in the attitude of his team that has spurred the much-improved play on defense.
"I think our attitude's been different," he said. "[In] Washington, I talked to the defense about being consistent as a unit throughout the game and then we played well. Then I talked the same way and said, 'Hey, are we going to be a one-hit wonder or are we going to be consistent?' The true measure of a man's mental toughness is consistency. You want to work to be consistent. The greatest anything is consistent, whether it's a restaurant, a person's stats, your momma's cooking – if it's great, it's consistent. I think we're just working to be more consistent and our attitude has changed."
Defensive Coordinator Leslie Frazier surely loves to see his players showing more confidence, but he also points to some more concrete indicators of why the team has been far more stingy on defense over the last five weeks. The biggest difference in his mind has been the Bucs' ability to get off the field on third down, which manifested itself in Chicago in the Bears' 204-yard offensive performance, with 10 drives of four plays or fewer.
"Probably the biggest [stat] was our third-down percentage," said Frazier. "I think we're in the top five of the league over the last five weeks. That one had kind of been a thorn in our side and we've really gotten better there. To hold the team that we played this past Sunday to 25 percent, that was a big deal for us."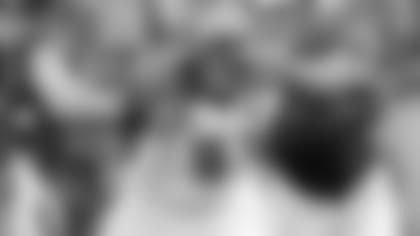 The Bucs have been far better on defensive third downs in the last five weeks and DT Gerald McCoy thinks that started with the adoption of a new attitude
Through their first six games, the Buccaneers allowed opponents to convert nearly 50% of their third down tries (38 of 77). In the last five outings, that total has dropped precipitously to 35.7%. That's actually seventh in the league in that span, which is obviously quite good. The Bears were just four of 16 on third-down tries last Sunday, and that could have been enough to produce a low-scoring victory, but two third-quarter turnovers inside Tampa Bay's 20-yard line led to a pair of very short scoring drives.
On Tuesday, quarterback Josh McCown said that he felt bad for Tampa Bay's defense, believing they had put forth a winning effort only to be undone by those two big turnovers. However, Buc defenders believe that didn't have to be the end of the story. The Bucs had played reasonably good red zone defense for most of the season but saw Chicago go three-for-three in scoring touchdowns inside the 20 on Sunday. Turn a couple of those TDs into field goals and the Bucs might have still pulled it out.
"The NFL is a tough game and you're going to be put in tough situations," said McCoy. "The greatest defenses were able to hold teams in that situation to three points, so we have to be better in that aspect. After a while it just becomes who wants it more at that time, and we lost that battle twice – can't allow that to happen. We've got to hold teams to field goals. In tough times, you've just got to stand up and that's where we have to grow. In situations like that, as a unit, we have to grow and hold them to field goals in those times."
Tampa Bay's defense has certainly been growing and improving in several key categories in recent weeks. A few more improvements and it just might begin to translate into more victories.