STORY HIGHLIGHTS
Mike Evans is a big and physical receiver but he's finding worthy opponents at the line
Evans is also learning that beating the press has as much to do with technique as strength
The addition of pads to practice should change the dynamic at the line

Mike Evans, six-foot-five and somewhere north of 220 pounds, is a member of the Tampa Bay Buccaneers' new super-sized corps of pass-catchers already nicknamed the "Dunkaneers." He is adept at fighting off defenders for contested passes and he was drafted seventh overall in May because he's expected to create mismatches with smaller defenders.
Given his stature, one would think that the line of scrimmage would be his domain. Try to press a receiver of his size, who also has the speed to get downfield in a hurry if he slips by, and you're asking for trouble. The problem is, this is the NFL, and even cornerbacks of average size know how to deal with big receivers at the line.
Evans found that out on Saturday when he encountered a worthy opponent in Pro Bowl cornerback Alterraun Verner, who checks in at 5-10 and 186 pounds. The rookie from Texas A&M is eagerly working on all aspects of his game to speed his transition to the NFL, and getting off the line against press coverage is one of the most important issues.
"It's really technical," said Evans. "[Wide Receivers] Coach [Andrew Hayes-]Stoker, we work releases all the time. Even in walk-through we work releases. I found out today, Alterraun was right there and he didn't budge. I gave him so many moves and he didn't budge. So you've got to be real technical and give it all you've got.
"At this level, every inch matters. You need that inch to make the catch. Any separation you can get is great."
This particular issue will be taken to another level on Sunday when the Buccaneers put the pads on for the first time in 2014 and prepare to get physical with one another. It was hand-to-hand combat on Saturday; on Sunday, it will be a full-body competition.
"We haven't put the pads on yet so I can't fully tell, but from what I've seen you can get the hands on a little bit…not too much, for the rules' sake," said Evans. "They're real technical out here. They're real smart, for a reason.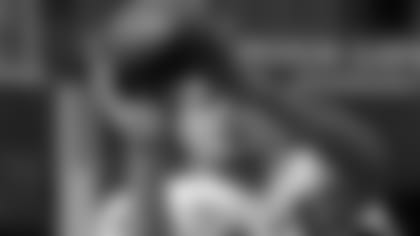 WR Mike Evans is looking forward to putting the pads on Sunday
"It will just give us a real good look, a good game look. They can get their hands on us and we can get our hands on them. So it's going to be fun."
Evans also thinks that the additions of pads will change the dynamic of that battle at the line of scrimmage.
"Absolutely," he said with a sly smile. "It will be easier."