STORY HIGHLIGHTS
The Bucs want more speed on offense but still have to sort between several intriguing candidates
He'll face tougher defenses in training camp, but QB Josh McCown's accuracy has been impressive so far
The cornerback position is still hard to call after so many players missed mini-camp due to injury

Everyone loves summer vacation, and that includes the 90 players who will go to training camp as Tampa Bay Buccaneers on July 25.  Those players worked very hard from the start of the Buccaneers' offseason training program in April to the last day of the team's mandatory mini-camp last week.  Their gains were real, their work took its toll and now they are beginning a well-deserved six-week break before the start of that training camp.
As educational administrators will tell you, however, they should be careful.  The American school system sticks by its summer-vacation tradition, and probably always will, but research suggests that most students take a step back – as much as two months of grade-level equivalency lost – during those carefree weeks off.  Buccaneers Head Coach Lovie Smith would like to see his roster avoid that sort of backsliding in the weeks to come.
"We had a successful offseason program, but now it's about that next step," said Smith.  "We can't take off five weeks, four weeks or whatever it is and then just come here to training camp and just get in shape during training camp; those days don't work anymore. You have to keep training your body year-round and guys realize that. Now we throw them a bone, you don't have to get up and be here at eight o'clock in the morning, seven or whenever they come around, you can sleep in and now it's on you. Nobody is watching. How important is football to you? And I think it's pretty important to our guys."
Of course, all 32 teams in the league are facing the exact same situation, so it's anybody's guess as to which clubs will do the best with their summer reading lists.  That possibility of educational backsliding also adds a grain of salt to our analysis of what has taken place at Buccaneers headquarters over the past three months.  Still, there is something to be said for end-of-the-year report cards, as well as what our eyes tell us on the practice field in June.  So, that said, here are five mandatory mini-camp developments that seem quite relevant:
1. There is some intriguing speed on the roster, but we still don't know how it will play.
Tampa Bay's new offensive coordinator, former Cal Head Coach Jeff Tedford, might have said 3,000 words at his introductory press conference, but the ones that made a lasting impact were, "speed in space."
Buccaneer fans will be happy with any variation of a high-octane offense, and it's already clear that this year's attack will feature a gang of very-big pass-catchers.  That's good.  But it would be really good if there was also a dangerous speed element to the offense, and there are some interesting possibilities.
Wideout Robert Herron, the sixth-round pick out of Wyoming, looks promising, with the caveat that receivers have the deck stacked in their favor during non-contact offseason practices.  That disclaimer notwithstanding, watching Herron run a quick slant out of the slot and snatch a hard pass out of the air without slowing is encouraging.  He's not the only one; rookie receiver Solomon Patton, an undrafted free agent from the University of Florida, looks like he's gliding when he's cutting over the middle of the field, and he has speed to burn, too.
Then there's Jeff Demps.  To this point, the Bucs seem to be using him mostly as a running back, and the results are sometimes eye-opening.  It is especially important here to remember the non-contact thing, but there are moments in practice when Demps takes an offset handoff, starts in one direction and then suddenly bursts upfield through a gap that look quite promising to this admittedly untrained eye.
Wide receiver Chris Owusu has shown explosion to his game, too, and rookie first-rounder Mike Evans is both big and fast, though a hamstring strain slowed him during the offseason.  There are speed elements to the Buccaneers' 2014 attack, but very little of it is proven.  Mini-camp looked promising but we still need to see if this year's Bucs – the ones who actually take the field for 300-700 snaps – are going to stress opposing defenses with their jets.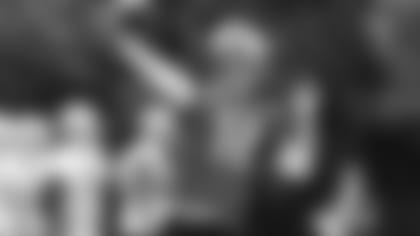 QB Josh McCown could find a few more speed weapons in the Bucs' offense than had been present previously
2. Josh McCown can fit the ball into a tight window.
Skeptics of the world unite!  I am not here to disband you.  In fact, I will be the first to say that we are prone to building too much optimism off practice performances, especially when there is no contact allowed.
But we all know that by now, right?  I mean, nobody thinks that your team's secondary is a disaster when 75% of passes are completed during WR-DB one-on-ones at your practice.  We can filter what we see through the lens of allowable competitiveness.  We don't anoint our third-string quarterback the next Matt-Schaub-hidden-gem if he tears apart a third-string secondary in May.
So, take it as you will, but new Buccaneers starting quarterback Josh McCown looked particularly adept at dropping passes into tight spaces between coverage last week.  When it came to timing patterns, particularly on the sideline, McCown often slung darts that looked like they were headed to empty space before the targeted pass-catcher suddenly sprinted into the picture.
You skeptics are still hanging around, and you should be.  No, there was no pass-rush to speak of in these drills, and a comfortable quarterback is an accurate quarterback.  I'm not saying anything I saw in June proves that McCown will be a prolific quarterback this fall.  But what I did see looked quite promising.
3. Gerald McCoy is serious about this leadership thing.
Listen, hiring a Kona Ice truck to ply your teammates with snow cones at the end of the last offseason practice doesn't prove that you're a great leader.  It is generous and thoughtful, but shaved ice alone isn't going to make you brothers-in-arms.
But you have to take these things in context, step back and view the bigger picture, in which a perfectly-timed gesture isn't just one man showing off his largesse, but a team leader knowing which buttons to push, and when.  That's not cynicism; McCoy's hiring of the Kona Ice truck last Thursday is far from the most important piece of leadership he will provide over the next one, two or five years, but it is a clear indication that he's actively thinking about that role.
Since arriving in Tampa as a first-round pick in 2010, McCoy has never shied away from being a team leader.  Some can chafe under that role if it's thrust upon them; some can try too hard.  For McCoy, it seems to come naturally, and that was evident once again last Thursday when the Kona Ice truck pulled up at One Buc Place.
4. We know nothing about this defense yet.
The Tampa Bay Buccaneers didn't have a particularly good defense in 2013, nor would you expect they did given their 4-12 finish.  The Bucs finished 21st in yards allowed and 21st in points allowed, which is good symmetry but not a particularly effective way to win games.  That said, there were some promising elements, most notably a pair of first-team Associated Press All-Pros in McCoy and linebacker Lavonte David.
When Lovie Smith stepped in as head coach in January, bringing with him a sterling reputation for constructing strong defenses, it was generally believed that he inherited a promising core of players.  Beyond McCoy and David – superstar-caliber players at perhaps the two most important positions in a Cover Two D – there were safeties Mark Barron and Dashon Goldson, cornerbacks Darrelle Revis and Johnthan Banks, defensive end Adrian Clayborn and middle linebacker Mason Foster.  The Bucs moved on from Revis in their offseason roster reshaping but replaced him with Pro Bowler Alterraun Verner.  That same process also brought stud defensive end Michael Johnson and pass-rushing defensive tackle Clinton McDonald.
On paper, the Bucs appear to have the makings of a very stout defense.  Johnson and McDonald would seem to upgrade the pass-rush and pull attention away from McCoy, who may be on the cusp of supernova stardom.  The addition of Dane Fletcher and the re-signing of Jonathan Casillas creates a very intriguing competition to form the best possible three-man linebacking crew.  Barron is a great bet to break out in his third season and Goldson could return to his San Fran All-Pro status if he avoids the penalties and fines that plagued him in his first year as a Buccaneer.
It looks promising, and there were moments during mini-camp, even with four or five of the team's top cornerbacks sidelined by injury, when the defense was a suffocating presence.  They had no pads on, however, and there was no intentional contact.  Will the Bucs' defensive backs be the physical presence around the line of scrimmage they need to be to excel in this defense?  Are Barron and Goldson hard-hitting difference makers?  Is McCoy about to go off.
It all looks good on paper.  However, last week's mini-camp proved just how little we know until the pads go on and the hitting begins.
5. Questions answered…well, not so much.
Before the start of last week's offseason-capping mini-camp, we proposed five camp storylines on which to keep an eye.  This came with the usual caveats; to wit: "As Head Coach Lovie Smith has said on multiple occasions, there is only so much his staff can evaluate when the players are in shorts and avoiding contact. There will be no final decisions made on starting jobs or roster spots this week. Still, we can gather some evidence pertaining to the following issues that must be resolved before the start of the season."
So, did we gather that evidence?  Eh…kinda.
Let's go down the five questions that were posed before the start of camp and see if we have any more clarity a week later.
(1) How will the cornerbacks sort out? Oh, man, we know nothing more than we did before last week began.  This is a really bad place to start.  On one hand, we have the apparently strong performances during mini-camp by Danny Gorrer and Rashaan Melvin, and to a somewhat lesser extent Deveron Carr.  I suppose we could say that those three distinguished themselves, and it's true, but it's hard to get a real read on the cornerback depth chart when so many players are nursing minor leg injuries.
For the most part, Alterraun Verner, Johnthan Banks, Mike Jenkins and D.J. Moore had to observe from the sideline this past week.  There's a very good chance that three of those four will make the roster, and the Bucs could even keep all four.  I'm personally a fan of Rashaan Melvin; still, it's probably not wise to read too much into the coaches' comments during a week when so many principle players are out due to injury.
(2)Who will plug the gaps in the offensive front?
At this point, we're basically asking who will start at left and right guard.  We're not much closer to knowing those answers than we were week ago,  but we did get this bit of evidence at mini-camp: rookie Kadeem Edwards saw first-team work at left guard while second-year man Patrick Omameh continues to get a long look at right guard.
We also heard Carl Nicks say that he expected to be ready to go for the start of training camp, with Lovie Smith echoing that optimism.  There's a long way to go before we know the answer to this question, obviously.
(3) How quickly can the quarterbacks excel in Jeff Tedford's offense?
Well, as noted above, Josh McCown looked quite good last week.  Mike Glennon acquitted himself nicely, as well.  Offseason rules favor the offense, so we would expect something along those lines, but the quarterbacks could have struggled.  We'll avoid putting too much stock in what happened at mini-camp as far as McCown and Glennon are concerned, but they both seemed to exhibit a good grasp on the offense.
(4) Who will join the Lavonte David Trio on stage?
In other words, with David entrenched at weakside (WILL) linebacker, who will complete the 4-3 LB group at the middle (MIKE) and strongside (SAM) positions?
Our presumption is that Mason Foster, Dane Fletcher and Jonathan Casillas will be three players battling for two spots.  We'll have to wait and see if that is accurate, but this past week it was the status quo, with Foster (MIKE) and Casillas (SAM) taking most of the first-team snaps alongside David.  I don't think that in any way ends the competition for Fletcher, who came to Tampa under the assumption that he would have a real shot to win the MIKE job.
(5) Will the offense have any use for a fullback?
Grade: Incomplete.  There wasn't nearly enough information at mini-camp to let us know if the Bucs would make a point of keeping one of the two fullbacks on the roster – Lonnie Pryor and Jorvorskie Lane – or press tight ends and tailbacks into service in different formations.
Jeff Tedford's offense remains something of a mystery at this point.  We'll know more after training camp, including whether or not Pryor and Lane are fighting for an actual spot on the depth chart.