STORY HIGHLIGHTS
Winning was an important goal on Friday night in Jacksonville, but the team is more focused on getting ready for the Panthers
Tampa Bay's defensive line looked dominant early and stayed strong when the second wave came in
Concerns about the Bucs' offensive line bore out in the opener but there is still time for the right answers to surface

In the locker room after the Tampa Bay Buccaneers' preseason opener in Jacksonville on Friday night, Lovie Smith told his team this: "Any time they're keeping score, we want to win."
In that regard, the Buccaneers failed to hit their mark, dropping a 16-10 decision to the Jaguars on a night in which neither team could maintain much offensive momentum. Of course, it's as obvious this year as in any other preseason that winning, while a worthwhile goal, isn't necessarily the most important pursuit. These four outcomes in August won't have any bearing on the 2014 playoff race, but the evaluations and improvements the Buccaneers make certainly will.
As Smith put it about 15 hours later, in his day-after-game press conference back in Tampa: "Have to keep in mind what the goal of the preseason is: to get ready for the Carolina Panthers."
This wasn't meant as an excuse for his team's loss. Smith spoke about the team's shortcomings on Friday night and, most significantly, acknowledged that the offensive line – still a work in progress – struggled. But he sees his team's first outing as more of a learning experience than a reason to panic or, conversely, to put too much stock into the things that did go well.
In fact, the play in the trenches on Friday night pretty much distills that entire line of thinking. With the two teams combining to put about 160 players on the field but probably only tapping into a very minor portion of their respective playbooks, the chances of a clean and proficient game were slim. As such, it's hard to take away too many concrete lessons. An objective observer could probably say this about the Buccaneers' first live effort on Friday night, however: The offensive line looked like a legitimate concern while the defensive line looked strong and deep.
Smith would like us to take even those two fairly evident observations with a grain of salt, however, and he's right. Friday night was merely the first step in the process. So, as dominant as Gerald McCoy appeared to be and as well as a second-team unit including Da'Quan Bowers, William Gholston and Steven Means kept on the pressure, we need more evidence before we can declare that unit a certain strength.
"As I [said], let's not get too alarmed by some of our play inside at the guard position, [and] you can't get too high on what happened with some of the better plays too," said Smith on Saturday. "Everybody had flashes. Da'Quan has had flashes throughout and we had that with a few other players."
Means had the Bucs' lone sack and, indeed, both Bowers and Gholston "flashed" on several occasions. Gholston had a stretch in the second quarter in which he seemed to be involved in nearly every play as the second-team defense turned back two drives that reached well into Tampa Bay territory. Gholston was actually unsatisfied with his own play after the game – largely because he didn't get the quarterback on the ground – but he acknowledged that the team's D-Line depth looked good overall.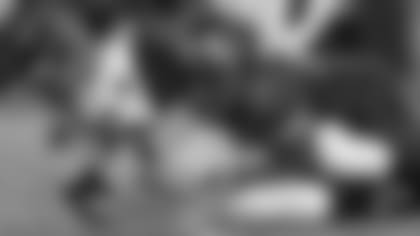 Second-year DE Steven Means had the Bucs' lone sack of the evening on Friday in Jacksonville
"As a front, I feel like we set a new line of scrimmage consistently, and that's one of the goals that we reach for," said Gholston. "I think we showed that the rotation [was strong]. That's the whole thing we preached before we came out here – no drop off."
Quarterback Josh McCown and Tampa Bay's starting offense was on the field for four drives in Friday's game. Again, it's a little bit difficult to assess that crew's performance given the limited game plan, but it was clear that constant pressure on McCown was a problem. Just as he doesn't want to read too much into the great play of the defensive front, Smith isn't ready to pass judgment on the offensive line yet, either.
"Don't overreact is what I would say," he said. "Let it play out a little bit through the preseason. When you come out to practice after the first preseason game, don't start printing up the Super Bowl tickets or cutting everybody on the team. Just let things play out a little bit; that's what preseason games are for. The first live action this football team has had was last night. From there, give us a little bit of time and then we will see what we need, if we need something else."
Click here for more of Coach Smith's thoughts on Friday's preseason opener.