STORY HIGHLIGHTS
If the Bucs could swipe players off their division foes' rosters, who would be the best picks?
There are some surprising names dotting Tampa Bay's recordbooks, including David Greenwood
Can you identify the Buccaneer whose middle name is Donraphael?

When I was growing up there was a thing called The Book of Lists.  The Book of Listswas awesome.
There apparently was a new volume published as recently as 2005 but, really, the world doesn't need it anymore.  What we used to call The Book of Lists we now call "the internet."
What was fascinating to 12-year-old me about this book was the incredible variety and randomness of the lists included.  "10 People Who Died Laughing."  "33 Names of Things You Never Knew Had Names."  "10 Animals That Have Eaten Humans."  Oh, and there was always a sports section.  As a sports-obsessed boy in a single-parent home, with a mother and sister who most definitely did not share that obsession, I'd be thrilled by input from any source.  There were three or four television channels and only so many airings of "Wide World of Sports" or "This Week in Baseball."
And, of course, no internet.  What Book of Lists publishers David Wallechinsky and Amy Wallace must have foreseen in 1977 is now a truism proved every day on the internet: People love lists.  In fact, it's now such an obvious and accepted fact that half of the list-based articles you read start off with an apologetic acknowledgement by the author that "people love lists."  I did it myself about 10 days ago.
Well, let's apologize no more!  Wallechinsky and Wallace were pioneers and 12-year-old me loved them for it.  It's right and good to love lists. Lists, lists, lists!  (Okay, maybe not this list; it's a little silly.)  So this Monday, with training camp on the horizon and a list of 90 players striving to become a list of 53 players, we will celebrate The List.  Presenting, in honor of the Book of Lists: "Seven Lists You Didn't Expect to See on Buccaneers.com."
Six players we would kidnap from the other NFC South teams if we could.
The Buccaneers snatched Carl Nicks away from the Saints when he surprisingly hit free agency in 2012; that was an opportunity too good to pass up, as it appeared to improve Tampa Bay's own roster while weakening a division foe.  (In reality, Nicks hasn't had the opportunity to contribute much yet due to terrible injury luck while the Saints have rolled on just fine with free agent replacement G Ben Grubbs.)  It may be a while before the Buccaneers get another opportunity to get that two-sided advantage by taking a star player away from a division foe in free agency…but what if we didn't have to wait for free agency.  Here are six non-quarterbacks that would do the Bucs the most good if they could find a way to kidnap them from their division rivals.  We will be taking into account what the Buccaneers already have on their depth chart when making these picks…and again, no quarterbacks, because that would be too easy.
1. Saints DE Cameron Jordan
The Buccaneers have a presumptive pair of defensive end starters in Michael Johnson and Adrian Clayborn, and some intriguing possibilities for the pass-rushing rotation.  However, you can never have too many productive edge rushers, especially ones that are a safe bet to hit double digits in sacks.  Add Jordan to the Johnson-Clayborn duo and now you don't have to worry as much about whether or not such players as Da'Quan Bowers, William Gholston and Steven Means are going to make the leap this year.  In addition, you'd be removing perhaps the most important piece of Rob Ryan's underrated and still-improving defense in New Orleans.  It's your class one-bird, two-stones scenario.
2. Falcons WR Harry Douglas
Why Douglas and not Julio Jones or Roddy White?  Glad you asked.  Give me the choice of any Falcons receiver in a vacuum and I'm taking Jones; that's a no-brainer.  But remember that we're adding these kidnapping victims to the Bucs' current roster.  If you have Vincent Jackson, Mike Evans and Julio Jones, how do you get all three of them on the field enough.  None of those three should be non-starters, and it's quite possible that all of them would take offense to being squeezed out.  Presumably the third man would have to be Evans, given how much more proven Jackson and Jones are on the NFL level, but do we really want to slow down Evans' development by limiting his snaps?  I don't.  So give me Harry Douglas, who has thrived both as a third receiver and as a starter when injuries bumped him up.  All Douglas did last year when Jones missed much of the campaign was catch 85 passes for 1,067 yards.  Douglas would immediately move to the top of the Bucs' competition for the third-receiver spot.  And since that's the role he's presumably looking at this year in Atlanta with Jones and White healthy again, there shouldn't be any egos to juggle.
3. Saints G Jahri Evans
A perfect marriage of need and Pro Bowl talent for the Buccaneers.  No spot on Tampa Bay's depth chart is more unsettled heading into training camp than right guard, Davin Joseph's old domain.  Evans, who is about a month away from turning 31 and is thus still comfortably in his prime, has started 126 of a possible 128 games for the Saints over the last eight years and is working on a streak of five straight Pro Bowls.  He's also been chose Associated Press All-Pro in four of those years.  Add Evans to a line that includes LT Anthony Collins, RT Demar Dotson, C Evan Dietrich-Smith and – if things go well – LG Carl Nicks and you might suddenly be looking at one of the NFL's best offensive fronts.  And any move that can help Saints opponents get to Drew Brees faster is a good thing, too.
4. Panthers LB Luke Kuechly
With all due respect to Cam Newton, Ryan Kalil and Thomas Davis, this is Carolina's best player.  No matter who the Buccaneers had in their linebacking corps, you would almost be obligated to find a way to work Kuechly into the mix.  In this case, it might not be that hard.  There are high hopes for fourth-year middle linebacker Mason Foster in the Buccaneers' new defense, and free agent addition Dane Fletcher is eyeing that job as well.  But this is a thought exercise, and if Kuechly was on the roster he would surely be starting at MIKE.  One suspects Foster or Fletcher could become an impact player at strongside linebacker if necessary.  Kuechly and Lavonte David might be the two best young linebackers in the NFL.  Imagine them playing on the same defense.  Imagine the sobs of Panther fans.
5. Falcons CB Desmond Trufant
Atlanta's secondary is not one of its strongest assets…at least it wasn't last year and it will have a lot to prove in 2014.  Trufant, however, showed a lot of promise as a rookie after being drafted in the first round in 2013.  The Bucs selected Johnthan Banks 21 picks after the Falcons took Trufant, and it's not yet obvious which one will prove to have the better NFL career.  But that's not really a problem.  Give me both of them, plus Mike Jenkins, and now I feel a lot better about the strength and depth of the Bucs' secondary behind Pro Bowl CB Alterraun Verner.  In the process, you're potentially causing the Falcons a ton of trouble.  Trufant appears to be the surest thing in the Atlanta secondary behind S William Moore; take him away and the Falcons will need a lot of other things to go their way.
6. Panthers DT Star Lotulelei
Carolina did an outstanding job of addressing the weak link in their defensive front in last year's draft, using their first two picks on Lotulelei and Purdue's Kawann Short.  All of a sudden, the interior line was much more stout and the Panthers' front seven became one of the best in the NFL.  If we've already pried away Kuechly and now we can weaken the defensive line by taking Lotulelei, it's worth it just for that.  In the process, you'd be creating one of the most dangerous three-man DT rotations in the NFL with Gerald McCoy and fellow newcomer Clinton McDonald.  Believe me, there would be plenty of snaps to go around for all three.
Four things you don't expect to happen this season but theoretically could.
1. Mike Evans puts up the best season ever by a Bucs rookie receiver.
"Wait a minute," you say.  "Why wouldn't we expect this from Evans, who was drafted with the highest pick the franchise has ever used on a receiver?"  Good question, thanks for contributing.  What you must remember is that Michael Clayton (the previous holder of that 'highest-WR-pick' note) caught 80 passes for 1,193 yards and seven touchdowns as a rookie in 2004.  That is a huge season for a rookie receiver.   In fantasy terms, that's about a 160-point season, and as my fellow Buccaneers.com contributor Andrew Norton pointed out while guest-writing in last week's One Buc Mailbag, there have been only 15 100-point fantasy seasons by rookie receivers in the last five years.  If you told me Evans was going to start his Buccaneers career with 70 receptions, 1,000 yards and five scores, I'd take that in a heartbeat…and it wouldn't be close to Clayton's 2004 season.  The difference is, Clayton was operating in a vacuum thanks to Joey Galloway injuries and the slow fade of the great Tim Brown.  Evans will be Vincent Jackson's sidekick, and it's much more likely that Jackson goes 80-1,200-7 than his rookie partner.  Still, it could happen, if opposing defenses decide to roll coverage to Jackson.  And if Josh McCown is as good at throwing passes only his super-tall receivers can catch as he was last year in Chicago.  And if Evans stays healthy and is fully ready for the NFL game.  That's a lot of ifs, but it is theoretically possible.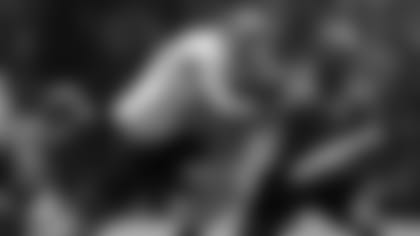 It would take a huge season for Mike Evans to break Buccaneer rookie records at his position, but it's not out of the question
2. Lavonte David is the NFL Defensive Player of the Year.
"Whoa, whoa, whoa," you say.  "Slow your roll there, Scott.  Your homer-wear is showing."  First of all, "homer-wear?"  Just who are you, fictional antagonist?  Second of all, I'm not the one who brought this subject up.  Mike Tanier, the NFL writer I keep trying to get you all to follow through my "Read and React" series, wrapped up his offseason review of the Buccaneers with this Bold Prediction: "Lavonte David is currently the NFL's Player Who Does Not Get Enough Credit. After Lovie is done with him, he will be Defensive Player of the Year."  Tanier doesn't specifically say he means this will happen in 2014, but why not?  He's already an AP First-Team All-Pro, and you can go right ahead and consider that as a short list of candidates for the Player of the Year Award.  Last year, David joined Rodney Harrison as the only two players in league history have at least 100 tackles, 6.0 sacks and five interceptions in the same season.  He's fun to watch and he fills up a stat line; shades of Derrick Brooks, the 2002 DPOTY.  Yes, the Bucs will have to be very good in 2014, especially on defense, for David to have a shot at the award (and in that scenario he'll have to outshine teammate Gerald McCoy) but it is theoretically possible.
3. The Buccaneers double or even triple their national-TV exposure in 2014.
"The schedule is set," you say.  "After the Week Three Thursday night game in Atlanta, it's all one o'clock Sunday starts for the Buccaneers."  That was a far less creative quote by you this time, but it is also ignorant of one fact: Flex scheduling.  The Buccaneers are indeed scheduled for 13 straight Sunday 1:00 p.m. games beginning in Week Four (and not counting the bye week).  None of those games will play before a full national audience.  However, look at Tampa Bay's opponents from Weeks 14-16: Detroit (Dec. 7), Carolina (Dec. 14) and Green Bay (Dec. 21).  The Panthers and Packers have to be considered prime NFC playoff contenders, and the Loins are a dark horse possibility given all of their offensive talent.  If the Buccaneers are in the hunt, too, any one of those three games could be critical to the playoff stretch run.  If so, they could be "flexed" into Sunday night games, or at least late-Sunday affairs that see a lot more exposure around the league.  The NFL doesn't normally go crazy with its flex-scheduling opportunities, but it is theoretically possible.
4. Tampa Bay has one of the NFL's best return games.
Kevin O'Dea had a variety of jobs during his six years on Tony Dungy's staff in Tampa, but when the Bucs went to Jon Gruden in 2002, O'Dea ended up in Detroit as the special teams coordinator, and that has been his main focus ever since.  In 2002, he helped Eddie Drummond, an undrafted rookie, tie for fourth in the NFL in kickoff return average (26.0).  Drummond would eventually develop into a Pro Bowl return man.  In 2006, O'Dea reunited with Lovie Smith in Chicago, as the special teams coordinator, and guess who walked through the door that year but Devin Hester?  Yes, we want to avoid giving a coach too much credit when he inherits a player as special as Hester was as a return man in his prime, but it's still worth noting that the Bears were outstanding in that phase of the game under Smith and O'Dea.  O'Dea inherited another special return man when he moved to the New York Jets in 2008 and got to work with Leon Washington.  That was Washington's third NFL season, and is it would turn out his first and only campaign in which he earned All-Pro honors, averaging 10.4 yards per punt return and 25.6 yards per kickoff return and leading the NFL in all-purpose yards.  It's not yet clear whether the Buccaneers have a player that O'Dea can mold into the same sort of return ace, but special teams are a special point of emphasis for Smith's staff.  If it can be done, it will be…it is, as they say, theoretically possible.
10 increasingly surprising Buccaneer middle names.
Warren Carlos Sapp
Hardy Otto Nickerson
Cecil Ellord Johnson
Greg Lafayette Roberts
Keith Tellus Browner
Errict Undra Rhett
Anthony Leguinn McDowell
Mazio Denmar Vesey Royster
Tyji Donraphael Armstrong
Edjaun Cinclair (E.J.) Biggers
Five players the Bucs never got a chance to draft but we wish they had.
Yes, in theory, the possibility of trades makes any player in any draft available to any team.  Practically speaking, however, there are always going to be potentially great players that a team simply can't get its hands on due to draft order.  The Buccaneers, for instance, would have had to mortgage the farm this spring if they had been intent on prying Jadeveon Clowney away from the Houston Texans.  So, putting aside the possibility of trades, these are five players the Bucs never had a crack at and really could have used.
1. Calvin Johnson
The Buccaneers picked fourth overall in 2007 and they were rumored to be enamored of Georgia Tech wide receiver Calvin Johnson.  Those rumors were probably true.  The rumors that the Bucs and Lions, picking second, at least discussed the idea of a trade very well may be true, also, but of course Detroit wasn't all that motivated to give up the shot at Johnson.  The Bucs also needed pass-rush help badly, so it certainly made sense to eschew such a trade, which probably would have cost most of their four top-68 draft picks.  Unfortunately, most of those four picks (Gaines Adams, Arron Sears, Sabby Piscitelli, Quincy Black) didn't work out.  Johnson, the player the Bucs never had a chance at, is one of the best receivers of all time.
2. Barry Sanders
You could actually take your pick from the 1989 draft, in which the Buccaneers picked sixth.  Before they were even on the clock, four eventual Hall of Famers were gone: Sanders, Troy Aikman, Derrick Thomas and Deion Sanders.  The Packers, who picked second, can rue that list, as they selected infamous draft bust Tony Mandarich, but the Buccaneers never got a shot at those four.  Sure, you would happily take each and every one of those players on your team, no matter who else you have, but it's the electric Barry Sanders who would have been particularly intriguing for the Buccaneers.  Their backfield was Lars Tate and William Howard.  Sanders would go on to terrorize Tampa Bay for a decade, so just not having to play against him would have made that pick worthwhile.
3. Chris Doleman
The Buccaneers obviously wanted pass-rush help in the spring of 1985.  Lee Roy Selmon, who led the team with 8.0 sacks the year before, was retiring due to a neck injury and the rest of the team had accounted for 24.0 sacks in 1984.  They ended up with Ron Holmes at #8, and Holmes was a decent NFL player.  He had 19.0 sacks over four seasons in Tampa and another 17.5 in four more years with the Broncos.  But he was the third defensive end off the board, and the first two are now in the Hall of Fame.  Let's assume the Bucs didn't have even the slightest chance at Bruce Smith, who went first overall to Minnesota.  Still, they could have hoped that Doleman would make it past the Vikings and just four more picks down the list.
4. Jonathan Ogden
I'm not sure that the Buccaneers would have drafted Ogden, who went fourth overall, even if they had the chance.  That was Tony Dungy's first draft and he seemed intent on getting defensive help up front first.  The Bucs chose DE Regan Upshaw 12th and DT Marcus Jones (later turned DE) 22nd, and perhaps they would have opted for Simeon Rice if they had a top three pick.  The funny thing is, Rice is one of three players drafted before Upshaw that year who would end up on the Buccaneers' Super Bowl team – Rice, Keyshawn Johnson and Rickey Dudley.  Still, Upshaw was a decent player but he was not really a difference-maker in the long run; the Bucs built a great defense without him.  The Bucs could have bookended Ogden and Paul Gruber for four years and then had Ogden for years after Gruber's 1999 retirement.  No, the Bucs weren't likely to draft a left tackle when they had Gruber around, but in retrospect wouldn't you find a way to make it work?
5. Dan Marino
No list of this variety would be complete without this entry.  I've written about it many times in the past so a quick summary will do here: Bucs want to draft Bethune-Cookman DE Booker Reese in the first round in 1982; phone snafu leads to Bucs instead drafting G Ray Snell; Bucs respond by trading 1983 first-round pick to Chicago for Bears' 1982 second-round pick; Doug Williams departs after 1982 season in contract dispute; Bucs do not have a first-round pick in the most loaded first round for quarterbacks in NFL history in 1983.  That pick for the Bears ended up being #18 overall, which they used on WR Willie Gault.  Even if the Bucs still had that pick, they would have missed out on John Elway, Todd Blackledge, Tony Eason and Jim Kelly.  But Marino would slide to the Dolphins at #27; here's betting he never would have made it that far South in Florida had the Bucs been holding the 18th pick.
Three ways a Buccaneers fan could utilize time travel.
Your brilliant but selfish little sister has invented a time machine.  She will not let you use it, droning on and on about causality loops, butterfly effects and little things like rendering the reality that we know non-existent.  You've secretly watched her type in her password, however, and you have enough time (ha!) to make one trip while she's at softball practice. You know she'll change the password once she realizes you used the machine, so you only get one shot at this.  As a Buccaneers fan, you have decided to use this one trip to alter franchise history. Here are three suggestions of what you can do with that time machine.
1. Change the third-quarter play call on third-and-15 on Sept. 14, 2003.
Very early in the 2003 season, I was told by a player I'm not going to identify that he thought the '03 team was even better than the one that had just won the Super Bowl.  It sure looked that way on opening day when the Bucs dominated the Eagles, their 2002 NFC Championship Game foe, in a 17-3 Monday night victory in Philly.  The next week, however, brought a demoralizing 12-9 overtime loss at home to Carolina in which all the Bucs had to do to win the game was make an extra point at the end of regulation (it was blocked).  That game hurt, emotionally, but there was certainly plenty of time to right the ship.  Unfortunately, there was a bad physical moment in that game as well.  Rugged FB Mike Alstott caught a short pass and was rumbling down the field when he went down in a heap of players.  One of those players was WR Joe Jurevicius, who was providing a downfield block.  Alstott and Jurevicius collided and, while it wasn't totally obvious at the time, the injuries the two players suffered would severely compromise both for the rest of the year.  That certainly wasn't the only reason the Bucs followed up their Lombardi Trophy with a 7-9 campaign, but in retrospect it felt like the beginning of the troubles.
2. Shout, "He's taking off his glove!" on Sept. 24, 2000.
Coming off a narrow loss in the 1999 NFC Championship Game, the Buccaneers expected to be Super Bowl contenders again in 2000.  And they were certainly in the mix, going 10-6 and winning a Wild Card berth behind the NFC Central-leading Minnesota Vikings.  On the final weekend of the season, the Bucs missed a chance to take the division title when Martin Gramatica missed a field goal attempt at the end of regulation in Green Bay and the Packers eventually won in overtime.  Of course, the Bucs would have already been at 11 wins had they not let one slip away in Week Three against the New York Jets.  Tampa Bay led that game, 17-6, with five minutes to play.  Jets RB Curtis Martin caught a touchdown pass to make it a one-score game with two minutes to go, and FB Mike Alstott fumbled for the Buccaneers, giving the Jets a chance.  The winning score came on a trick play with one minute to go: Martin took a handoff and swept right, then pulled up and threw an option pass to Wayne Chrebet for the touchdown.  Had someone noticed that Martin took the glove off his right hand before the play, the Bucs might have reacted to the misdirection more quickly.
3. Fix the phone lines on April 27, 1982.
If you read the list above, you know where I'm going with this.  The Bucs' draft blunder in '82 was the result of communication problems between team headquarters in Tampa and the team's representative in New York.  That would never happen these days, but technology was decidedly inferior in 1982.  If we could go back and make sure that the Bucs' rep in NYC hears that John McKay wants to draft Booker Reese, we could set in motion a series of dominoes that might seriously lessen the pain of the next 15 years.  On the other hand, if there's any chance that this change would erase the Super Bowl victory in 2002, I'm suddenly no longer on board.  You know what?  Your sister was right!  Stay away from that time machine.
Six days that aren't as good as Sunday during Buccaneers season.
Wednesday
No NFL football.
Friday
A good day for the most part, but no NFL football.
Monday
Some NFL football, but it's still a Monday.
Thursday
One NFL game, with a few extras on Thanksgiving.
Saturday
Late-season NFL football, and college football if you're desperate.
Five unexpected names in Tampa Bay's all-time recordbooks.
RB Bobby Rainey, who joined the Buccaneers as a waiver-wire pick-up last October 22, is the owner of the ninth-greatest rushing effort in franchise history.  He ran for 163 yards against Atlanta and is fully deserving of his spot in Buccaneer annals.  Still, that's a surprise edit for the Bucs' media guide producers, given that they had probably barely heard of Rainey before last fall.
Rainey's name isn't the only one that jumps out at you when you scroll the Bucs' recordbooks.  Sure, you're going to read "Gramatica" and "Alstott" and "Brooks" a lot, but what about Wayne Haddix?  Haddix caught fire in 1990 for a poor Bucs team and scored on three interception returns.  That was the team record for defensive touchdowns in a season for a dozen years until Brooks scored four times in 2002.  It's still the second-highest total in team history.  Haddix isn't exactly an obscure name in Bucs history since he made the Pro Bowl that year, but below you'll find a few players that you might not have realized were franchise record-holders.
1. Tyji Armstrong
In a game against the Los Angeles Rams on Dec. 6, 1992, Armstrong caught a pass down the left seam.  Known more for his blocking (including his after-the-whistle-blocking) Armstrong was huge and chiseled, and at the moment he caught this pass he was struck on both his left and his right by Rams tacklers.  The shots negated each other, the defenders bounced off harmlessly and Armstrong loped down the rest of the field for a touchdown.  That 81-yard score remains tied for the longest ever by a Tampa Bay tight end.
2. Charles Wilson
We've got a Rams theme going here.  On Dec. 11, 1994, Wilson needed just four catches to rack up 176 yards and two touchdowns, scoring on 71 and 44-yard plays in a 24-14 Bucs win.  That game would account for 20% of Wilson's entire output as a Buccaneer, and his highest single-game total as an NFL player, other than this outing, was 75 yards.
3. Stylez G. White, Broderick Thomas and Wally Chambers.
Go ahead, name the statistical category in question here.  Okay, I'll tell you: Fumbles forced.  These three are all tied for the most in a single season in franchise history, each hitting seven in their peak years.  Most Buccaneer fans would probably guess that record belongs to Lee Roy Selmon, Warren Sapp, Simeon Rice or Derrick Brooks.
4. David Greenwood.
In 1996, Donnie Abraham would tie the Buccaneers' rookie record for interceptions in a single season.  Abraham would go on to have a great six-year run in Tampa and, overall, a nine-year NFL career that included 38 interceptions.  The man whose record Abraham tied in '96 was David Greenwood, who was a Buccaneer for exactly one year.  Greenwood had played in the USFL before joining the Buccaneers late in 1985, and he ended up starting most of the season at safety and picking off five passes.  The Bucs cut him the following summer and he ended up playing a total of 11 more games for the Packers and Raiders.
5. Brian Griese.
Griese is far from an obscure name, thanks to a Hall of Fame father and a couple really good years with the Broncos.  Still, most Buccaneer fans I meet remember Griese for his Matt Schaub-esque propensity for the pick-six.  There certainly were a few of those at key moments during his stint as a Buccaneer, but Griese also put up some pretty good numbers at the same time.  Most notably, he completed 69.3% of his passes in 2004, threw for 7.8 yards per attempt (nearly a career high) and tossed 20 TDs against 12 picks.  That all added up to a 97.5 passer rating that remains the best in team history, even better than Brad Johnson's 2002, Josh Freeman's 2010 and Jeff Garcia's 2007.