STORY HIGHLIGHTS
Fourth-year LB Mason Foster is excited about the new responsibilities he will be given in Lovie Smith's defense
As he learns the Tampa Two defense, Foster has the perfect mentor in new LBs Coach Hardy Nickerson
Foster's three interceptions and two pick-sixes in 2013 showed his developing pass-coverage abilities

When Mason Foster visits his coach's office at One Buccaneer Place, he's confronted by the most decorated middle linebacker in franchise history. In the halls of the Tampa Bay Buccaneers headquarters, Foster frequently encounters the only other middle linebacker in franchise history to make the Pro Bowl. When he sits down to watch tape of the Chicago Bears' defense as instruction to the scheme being installed by Lovie Smith's staff in Tampa, his eyes lock onto perhaps the most destructive playmaking middle linebacker of the NFL's last decade and a half.
Hardy Nickerson, Shelton Quarles and Brian Urlacher…yes, you can say the bar has been set pretty high for Mason Foster.
Foster is heading into his fourth year as the Buccaneers' starting middle linebacker, but his first in the Tampa Two defense that first rose to league-wide prominence with the Bucs in the mid-'90s. Nickerson, who was brought back into the fold by Smith as his linebackers coach, was at the heart of that defense until 1999, earning five Pro Bowl berths along the way. When that same defense led the franchise all the way to the Super Bowl championship in 2002, it was Quarles who was patrolling the middle and earning an all-star selection. And of course the Bears' Urlacher – he of the 41.5 career sacks and 22 career interceptions – was a Pro Bowler eight times in Chicago, five of those in Smith's defense.
Foster flashed some of that big-play potential himself in 2013, most notably with three interceptions, two pick-sixes and two sacks, but he could be primed for a much more impactful year. The same defense that set those three above free to make plays all over the field is about to become Foster's new playground. So far, Foster has only been able to visualize himself in that defense in the meeting room, but next week Smith will conduct his first mini-camp with the team, with actual offense-vs.-defense practice sessions. Foster can't wait.
"It's going to be exciting to play in this new defense and make some big plays for this team," he said. "I want to be on the field as much as possible and do whatever I can to help this team win. We've got a great group of guys and you just get that feeling from everybody. Everybody's willing to do whatever they can do and play a part. So I'm excited. I just want to make some things happen."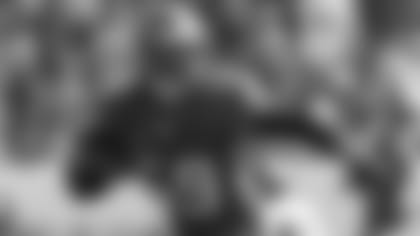 LB Mason Foster contributed three picks and two sacks in 2013 and could be in position to provide more big plays this fall
If he can take advantage of the opportunities for a middle linebacker in the Tampa Two, Foster's game is about to expand in several directions. It's common knowledge that the MIKE 'backer occasionally is asked to provide pass coverage deep down the middle of the field, which requires speed and quick decision-making. Foster is likely to get increased opportunities to blitz this year, which means he could better his identical totals of 2.0 sacks from the 2011, 2012 and 2013 seasons.
"You can get out there, get deep in the middle and make some big plays out there," he said. "I think I've shown that I can run. It's one of those plays where it's more of a read – you get a good read, get a good jump on it and show your athletic ability out there in space.
"Run defense, run-stopping, that's come naturally to me since I was a little kid. But I've definitely been working hard on coverage, understanding passing concepts and what quarterbacks are looking at, what they're trying to attack. I feel like I'm working hard and it's starting to come together."
As for rushing the passer more? Just say when.
"I love it," said Foster of being asked to blitz. "Any time you can get out there and make a sack, big play, cause havoc, pin your ears back and go, that's the reason why you play defense. I'm excited. Everything he's been saying, I'm excited about it."
While Urlacher is just a blur on the screen and Quarles is mostly occupied by other tasks as the Buccaneers' director of pro scouting, Nickerson is in position to be the perfect mentor for Foster. As personable as Nickerson is, he was fiercely proud when he was on the football field, of his own performance and that of the entire defense. He will be tireless in helping Foster achieve the same sort of success.
"It's great," said Foster of learning under a master of his trade. "Just talking to him, person to person, man to man, he's a great guy but an even better coach. There are just little things he can help me with – we haven't even been on the field yet but there's already been little tips here and there that will be really useful, help me make a lot more plays."
Nickerson arrived in Tampa as a free agent in 1993 and immediately set a new team with 214 tackles that season. Tony Dungy, Monte Kiffin and the Tampa Two defense arrived in 1996, and by that point Nickerson had a young teammate in the linebacking corps named Derrick Brooks. Over the next four years, Nickerson and Brooks waged a friendly battle for the team's season-ending tackle lead, and the Buccaneers' defense was all the better for it. In 1997, for instance, Nickerson racked up 194 tackles while Brooks was just behind at 182; in the process, they led the Buccaneers to their first playoff berth in 15 years.
Foster has his own Brooks in Lavonte David, who earned Associated Press All-Pro first team honors in just his second NFL season in 2013. Foster and David, in fact, stayed in Tampa during the first three months of the offseason, before they could partake in any organized activities with the team or the coaches, and worked out together in an effort to be even better in 2014. Meanwhile, the Buccaneers' new management has sought to build better depth at every position, including linebacker, which saw the signing of versatile former Patriot Dane Fletcher. Along with the opportunities provided by the team's new defense, there is also competition for Foster from every corner.
"There's always competition, no matter what," he said. "Competing at all times – you never want to get comfortable at all. So I try to push myself as much as possible. I stayed out here and worked with Lavonte this [offseason], just trying to compete at the highest level. It's all friendly competition, but at the same time that's my brother. You don't want to get beat by your brother."