STORY HIGHLIGHTS
A visit to Hawaii turned Bucs K Connor Barth on to the benefits of paddleboarding
Barth's work on the water complements his more traditional efforts in the Bucs' weight room
Barth is returning from an injury but is the most accurate placekicker in franchise history

Among the workouts that Tampa Bay Buccaneers kicker Connor Barth does to maintain his conditioning during the offseason are the typical sit-ups, push-ups, sprints and stretches. What's not so typical about his routine is that the floor he works out on is liable to tilt abruptly at any time.
That's because that floor is not actually a floor but a paddleboard that he routinely rows out into the portion of Tampa Bay that's just a few blocks from his South Tampa condo. Barth discovered paddleboarding during a trip to visit a friend in Hawaii and has since built a whole workout regimen around the activity.
"It's low-impact training that I can do to counteract what I'm doing in the weight room with the heavy squatting," Barth explained. "It's something I like to do in the offseason because I love being out on the water. It's something different, not always having to do the same thing. I'm big on trying different routines and trying different workouts."
The most accurate placekicker in Buccaneers franchise history, Barth is seeking to reclaim his job after missing the 2013 season due to an Achilles tendon injury suffered in a charity basketball game. He is fully recovered from the injury and has been displaying midseason form on the practice fields behind One Buccaneer Place for the past month. After relying on veteran Rian Lindell in Barth's stead last fall, the Bucs currently have just two kickers on the roster: Barth and first-year free agent Patrick Murray.
The Connor Barth that handled the Bucs' placekicking duties from midway through the 2009 season to the end of 2012 would have little difficulty winning that job and re-emerging as one of the best kickers in the NFL. During that span, Barth hit on 91 of 108 kicks (84.3%) to pass Matt Bryant on the team's all-time field-goal percentage list. He hit 26 of 28 tries in 2012 to set a single-season Buccaneer record at 92.9% and put together a streak of 25 consecutive successful kicks that nearly doubled the team's previous mark.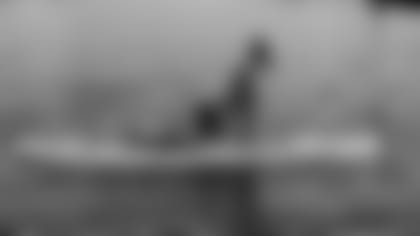 Bucs K Connor Barth has found an interesting way to keep himself in top shape during the offseason
While he's something of a locker room comedian, Barth is serious about his craft and that involves discovering the best workouts to help his kicking game. On his paddleboard, he can work on upper-body strength with fast-rowing "sprints," and he gets significant benefits from the rest of the workout on a still board.
"One of the best things for kicking is your core, to activate that, and stand-up paddleboarding is great for that," said Barth. "It's great for your flexibility and your balance, and leg strength as well. It's kind of a total-body workout that's not going to have the effects that running does, the pounding on your body."
Barth said that the activity is easy to learn and he recommends it to anyone, particularly those who enjoy being on the water. He has taught several kids in his neighborhood how to paddle and says that his parents have taken it up, as well. He sometimes even does his Yoga poses while out on the water.
"I just think it's a fun way to get out on the water," said Barth. "Some people don't like working out, so if you can make it fun – and being out on the water is one of the ways to make it fun – it's a great time."