STORY HIGHLIGHTS
WR Solomon Patton's good work in the return game Saturday has resulted in a depth chart change
While Patton doesn't have typical NFL size, he's got speed, quickness and surprising strength
An undrafted free agent out of the University of Florida, Patton chose Tampa for a specific opportunity

Solomon Patton, the University of Florida receiver who was the Gators' MVP in 2013, didn't hear his name called during the 2014 NFL Draft.  On some level, that had to be disappointing for a young man whose dream it is to play professional football.  Practically speaking, however, it gave him a certain amount of control over where he would try to launch that career.
He chose Tampa.  The Buccaneers had brought him in as one of their 30 allotted pre-draft workouts, and they had kept up a dialogue.  The team's interest was pretty obvious; perhaps the Bucs would have even used their seventh-round pick on Patton if they didn't trade it away in the move that produced fifth-round tackle Kevin Pamphile.
There was a more concrete reason Patton chose the Buccaneers, however: He saw a specific job he thought he might be able to win.  After years of relatively underwhelming numbers from the kick return game, it was certain that Lovie Smith and the team's new coaching staff would be looking at every option to add some spice to that position.  The incumbent returner, Eric Page, was still around and had was coming off a solid season, but he had held the job for just one year and thus wasn't exactly entrenched.
"I kind of built somewhat of a relationship [with the Bucs] over the whole process," said Patton. "That's pretty much what it came down to and I felt like it was a great opportunity for me to come in and fight for that position at returner. Obviously, I would love to play wide receiver. I'm just trying to make plays the best I can and get that chance."
Patton's plan could prove to be a good one.  He certainly hasn't won the Buccaneers' punt or kickoff return jobs yet – Page, Bobby Rainey, Jeff Demps and perhaps a few others are still in the running – but he hasn't lost it, either.  Like many NFL coaches, Smith doesn't see the need to overhaul the "official" depth chart on a weekly basis in August, but he did authorize a few changes to that document this week.  A couple were reflections of obvious reality: rookie WR Mike Evans is finally listed as a starter, as is Patrick Omameh, who opened Saturday's game at right guard and apparently did well.  The only other changes of note were the elevation of Patton to first-team status at both kick return spots.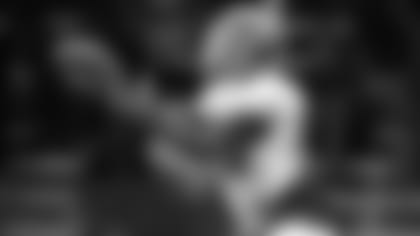 Rookie WR Solomon Patton has made the most of his opportunities since signing with the Bucs as an undrafted free agent
Patton probably didn't see that public relations document on Monday, but there's little doubt he's aware of his improved standing, with two rounds of roster cuts looming.  Buccaneer coaches gave him very positive feedback after he handled a majority of the return duties against the Dolphins on Saturday.
"[They said] that I did a great job on Saturday with all my returns and just taking advantage of every opportunity that I got, and I definitely did that," said Patton.  "I think things went great. I just try to take advantage of every opportunity that I can get. I definitely think I did a good job of doing that Saturday night."
Patton returned kickoffs for the Gators for several seasons before emerging as the team's leading receiver in his senior campaign.  He didn't return punts in games, but he fielded them in practice, and that has given him a certain level of comfort when the ball is in the air.  Catching punts is far trickier than hauling in kickoffs, and like all of the Bucs' return candidates Patton wasn't as sure-handed as he needed to be early in training camp.  He has improved rapidly and had no problem in that regard against the Dolphins.  Patton returned three punts for 32 yards, with a long of 21, and also brought out three kickoffs for 91 yards, averaging 30.3 a pop.  He has worked hard and managed not to get overwhelmed by the leap to the pro level.
"Since day one that I got here, I've made sure every day that I was out early, and even after, catching punts just focusing on looking the ball all the way in," he said.  "I think I did a good job of doing that Saturday also.  Going to Florida and playing in the SEC, I played against a lot of big time players. It's really the same.  Just coming in just like a freshman all over again. You're just coming in trying to learn offense, learn the speed of the game, and that's pretty much it."
Patton's longest return of the night came on a third-quarter kickoff that sailed almost out of the end zone.  The rookie caught it nine yards deep – that's usually solid kneel-down territory – and boldly brought it out, getting a total of 33 yards to the Bucs' 24.  That's only a minor improvement off a touchback, of course, and it's not clear if that will be the team's approach in the regular season, but Patton says he was told very directly that he should be aggressive.
"Our special teams coaches say we bring out everything," he said with a smile.  "We're going to force everybody to cover those returns. I was way back at the back line and I just took it out."
Patton's sub-4.4 speed and his shifty moves made it certain that he would get a look by the NFL.  It was surely his size – 5-9, 177…and he has to work to keep that weight up – that kept him from getting drafted.  But Patton was known as a weight-room stud at Florida, even winning a team award for that aspect of his preparation, and he believes he proved on Saturday that he could take a big hit and jump right back up.
Now Patton wants to prove that he's the right man to fill both of the Buccaneers' kick return jobs in 2014.  He has done nothing so far to hurt his cause.