STORY HIGHLIGHTS
Quarterbacks are the best MVP bet, but will it be either Drew Brees or Aaron Rodgers, as predicted here?
An offensive explosion in Philly and a quick turnaround in Tampa could create some Coach of the Year candidates
There are plenty of defensive rookie of the year options, but can anyone outdo #1 pick Jadeveon Clowney?

It's been 209 days since Super Bowl XLVIII. Nearly seven months of predictions and projections and "Well that was fun… but what is going to happen next year!" Somewhere in the vicinity of 5,016 hours of NFL Draft analysis, trade and free agency talks, fantasy position ratings, power rankings speculations, ups and downs, loves and hates, sleepers and busts, lists and more lists, and countless other NFL forecasts for the season to come.
Yesterday, we finished our fourth and final preseason game and we're less than a week away from the official kickoff of the 2014 NFL season. That gives NFL experts, beat writers, sports pundits, talking heads, Monday morning quarterbacks – and, hey, the two of us, Scott – just six more days of prognostication. Let's put it to good use.
It is my pleasure to host another Point/Counterpoint with Senior Writer Scott Smith. Today, the topic will be the granddaddy of all predictions… the 2014 end-of-season awards. I want to give our takes on Offensive and Defensive Players and Rookies of the Year, Coach of the Year, Comeback Player and of course, our pick for the 2014 league MVP.
I'm out of breath from my big open there, so I'll hand it over to you to begin. Let's kick it off with Offensive and Defensive Rookie of the Year, shall we?
Offensive and Defensive Rookie of the Year
Scott Smith: Sure, whatever you say. But first I think we need to address the elephant in the room.
There appear to be legitimate Buccaneer candidates for at least four of these awards (Offensive Rookie of the Year, Defensive Player of the Year, Comeback Player and Coach of the Year). I don't personally intend to submit a Buc-heavy ballot, and I doubt you do either, but it's fully possible that either you or I (or perhaps both) will include a hometown player somewhere along the way. As long as we make it clear from the beginning that this is not a propaganda piece to pump up our own players, I hope any potential Buccaneer picks will be accepted as our objective opinions.
Well, as objective as possible. I've seen a lot more first-hand evidence of Mike Evans' talents this summer than I have of Sammy Watkins, so my opinion of the former might be a bit inflated.
As it turns out, though, I'm not going to pick either of them. Personally, I don't like taking predicting receivers for this award, because they have to either really blow the doors off (Randy Moss) or hit a season where no rookie backs or quarterbacks shine (Percy Harvin). I'm 100% certain you've already looked this up, Andrew, but I'll say it first: Only seven receivers have won this award in the four-plus decades since the AFL-NFL merger. If I was going to choose a receiver, I think I'd go with Brandin Cooks or Evans, but I'm not. I'm going a little riskier than that:
Blake Bortles. I know the Jaguars said they were going to sit Bortles all season and let him learn behind Chad Henne, after seeing the alternate route fail so abjectly with Blaine Gabbert. Yeah, well, the Bucs said they were going to do the same with Josh Freeman in 2009, then 0-7 happened and plans changed. I think Bortles gets into the starting lineup even quicker than that, despite what the Jags have said, and puts up strong enough numbers to hold off a weak group of running backs.
Defensive Rookie? Jadeveon Clowney. That's a chalk pick, but I am a flat-out believer. I spent enough words on offense (and that elephant in the room), so I'll leave it at that.
Andrew Norton: Here I thought you'd be taking either Cooks or Bishop Sankey as your Offensive Rookie of the Year. I had a whole big thing prepared about percentages and rookie quarterbacks all planned, with a big surprise ending, and you went and ruined it. Now I have to rethink things.
If Bortles does start early, he is definitely the one to beat. While quarterbacks have only won the award seven times, they have taken six in the last 10 years. So, if a QB does well this year, I think the award is his. I think the QB most likely to get some playing time could very well be Derek Carr, but I think I'd be crazy to say he is my pick. (I just want to go on the record having said his name, so perhaps I can pull out the "I [kinda] told you so," at the end of the year.)
I will take Bishop Sankey as my pick. A running back has won 32 times out of the 47 this prize has been awarded. Rookie running backs simply tend to outperform rookies at the other "skill" positions. Currently on the depth chart, he is penned in behind Shonn Greene and Dexter McCluster, but I see him taking over sooner than later. If he can flirt with 1,000 yards, I think the award is his.
At Defensive Rookie of the Year, it is hard to not say Clowney. At least it wasn't for you. But agreeing in Point/Counterpoint is no fun, and I think he will get a run for his money from Steelers linebacker Ryan Shazier. He has 17 tackles this preseason, three passes defensed and a pick. He's been all over the field. Factor in that linebackers have won more than half of the RotY honors handed out (9 of the last 11, mind you) and I think that he will make a big enough splash to overcome Clowney. Maybe.
Comeback Player of the Year
Andrew Norton: I'll continue right along with the Comeback Player of the Year prediction. According to Wikipedia (there is probably a better source, but I'm not made of time, people), this is awarded to the "NFL player who has shown perseverance in overcoming adversity, in the form of not being in the NFL the previous year, a severe injury, or simply poor performance."
Well, Julio Jones only played in five games last season, but still managed 580 receiving yards and two scores. Extrapolated over 16 games that would be 1,856 yards and 6.4 touchdowns. The former is likely a bit high, the latter is actually impossible, but no one is expecting that he have a down year by any means. There are a number of great players that will be in the running for this award at the end of the year, and I think the expectations for Jones are the highest.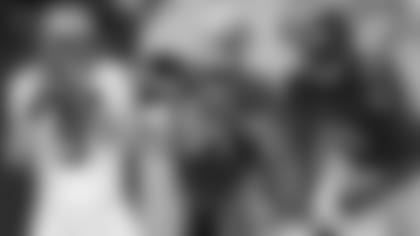 If these prognostications are correct, the NFC South will be bringing home a lot of hardware at the end of the year
Scott Smith: The obvious pick is RGIII, but I'm worried about more injuries, and I feel like I might jinx several of my fantasy teams if I make this pick. So I'll go with DeMarcus Ware, who probably feels like he has something to prove now that he's moved on from Dallas. I don't know if he'll get all the way back to 16-sacks-a-season DeMarcus Ware, but double digits in that category while playing for a team that's in Super Bowl contention should get the job done. You know any team with Peyton Manning on it is going to draw constant attention, so Ware will be playing in a spotlight.
Scott Smith: I like going first because I get to say the obvious thing before you do and get credit for the "analysis." In this case, the obvious thing is that the best formula to win this award is to be the coach of a team that had a poor record last year and makes the playoffs this year, a la Riverboat Ron last year. The next best strategy is to be named Bill Belichick.
Lovie Smith could be that guy, but I'm not going to play my homer card just yet. And, to be honest, I'm not loving any of the other bounce-back candidates. I could just go with Belichick, but that seems too easy. So let's dig a little bit deeper once again and go with Philadelphia's Chip Kelly. The Eagles won the division in Kelly's first year last season and I think they're the favorites again. I think there are plenty of awards voters out there dying to anoint Kelly as the NFL's next genius head coach. If he gets the Eagles from 10 wins to, say, 12 and wows the league with his offense, he'll be a popular choice.
Andrew Norton: I wrote out my answer for Bruce Arians, head coach of the Arizona Cardinals. I noted that they have a solid defense, a strong receiving corps, promising running back and Carson Palmer was solid down the stretch last year. I added that if they can make the playoffs getting out of a very tough division and through the rest of the tough NFC Wild Card contenders, then Arians has to be the pick.
Then, I realized that the exact same thing can be said about Lovie Smith. The Bucs are in an equally tough division, and if they are in Wild Card contention, they need to beat out the strong teams from the NFC North and West. But the defense is absolutely there, the offense has weapons and if the Bucs make the playoffs, Lovie has to be considered a near-lock. Even if the Bucs find themselves just outside of the playoffs, the turnaround from 4-12 to 8-8 or 9-7 is enough to put him deep into the Coach of the Year conversation.
So, I'm going to do it. I'm going to make Lovie my pick.
Offensive Player of the Year
Andrew Norton: Another category owned by quarterbacks and running backs, and even for a running back to make the cut, he has to be nearly record-breaking. A running back could do that this year, but the smart money will be on a quarterback, and I'm putting mine on Drew Brees.
As it has been for so long, the New Orleans offense looks great all around. They got rid of some stars, but replaced them with equally impressive talent, if not better. He has records for most 300+ passing yards in a season, most completions in a season, consecutive games with a touchdown pass, four 5,000-yard seasons and too many more to even count. He's simply very, very good. I see him remaining very, very good this season and pushing even more single-season records with this offense.
Scott Smith: See, I have a slightly different take on this one. I agree that it is an award dominated by quarterbacks and running backs, but I think the running backs have a little bit better of a shot at this one. And that's because the MVP award is even more quarterback-centric.
I've always thought this award was a little silly. If the MVP is always an offensive player, as it has been since Lawrence Taylor in 1986, then isn't this guy also the Offensive Player of the Year? In many cases, yes, as with the last two years (Peyton Manning in 2013, Adrian Peterson in 2012). It probably should be the same guy every year, but I think many voters use this award to throw some accolades to another player who had an awesome year but isn't the MVP. And most of the time, that's a running back. (The strangest year was 2011, when Tom Brady was the MVP but Brees was the Offensive PotY.)
In 2009, Manning won MVP but RB Chris Johnson was the O-PotY. In 2003, it was Manning again at MVP, albeit shared with QB Steve McNair, but RB Jamal Lewis got the offensive award. In 2002, it was QB Rich Gannon with the former, RB Priest Holmes with the latter. In 2001 and 1999, Rams teammates Kurt Warner and Marshall Faulk took those two awards, respectively. In 1996, QB Brett Favre got the MVP, RB Terrell Davis the O-PotY hardware.
That's what I see happening this year. I'll reveal my stunning MVP choice later but, yes, it's a quarterback. So if I'm believing in a Chip Kelly offensive explosion in Philly, then LeSean McCoy's going to be in the middle of it. He cracks 2,000 combined yards (not a crazy prediction as he had 2,146 last year), scores 14 touchdowns and wins Offensive Player of the Year as a consolation prize.
Defensive Player of the Year
Scott Smith: It's the moment of truth.
I'm glad this wasn't the first or second prediction I was asked to do, because I've needed the time to decide if I was going to pull the trigger. And I am.
My Defensive Player of the Year prediction is Tampa Bay Buccaneers linebacker Lavonte David.
Look, I know there are safer picks. J.J. Watt would be the favorite, I assume. You couldn't go wrong with the incumbent, Luke Kuechly…except that actually you probably could, since Lawrence Taylor (1981-82) is the only player ever to win this award back to back. Heck, David's teammate, Gerald McCoy, might even be a less risky bet.
But the good thing about this award is that it's all over the board – the last 10 go LB-DE-LB-S-CB-LB-S-DE-LB. And being just a few years into the league obviously doesn't hurt you, as Kuechly was an NFL sophomore last year. Those linebackers in the last decade were all either middle linebackers or 3-4 pass-rushers, but go back just a few more years and you have Derrick Brooks, David's predecessor as the star weakside linebacker in a Cover Two defense.
Of course, Brooks had a remarkable four defensive touchdowns that year, and the Bucs' defense was far and away the best one in the league. So I think David will have to have some flashy stats and the Bucs will have to be very good on his side of the ball to make it happen. That's asking a lot, but then again last year David became the first linebacker since sacks became an official stat to record six sacks and five interceptions in the same season.
Actually, this isn't that crazy of a pick. Google some prediction lists for this award and you'll see David's name come up on many of them. It seems to be the consensus opinion that he's one of the best defensive players in the league, so I think it's just a matter of him making enough splash plays to catch the voters' eyes.
Andrew Norton: Definitely not a crazy pick, and I'd imagine that most people agree with everyone that you named. A few others could be involved including Darrelle Revis, Richard Sherman, and the much-deserving Earl Thomas, who was a finalist last season.
As you mentioned at the top, we are going to be unbiased in this. We'd love to see Buccaneers take home these top awards, but as far as predictions though, we'd much rather protect our precious egos and get things right than to preach anything we don't believe by naming Bucs every time.
That said, I think my pick coupled with yours should show everyone just how dynamic and impressive this Buccaneers defense is. The Bucs have two very serious contenders for this award, and I'm going to go with the other option, Gerald McCoy.
Did you watch any of the preseason games? McCoy has seen limited snaps and has been absolutely dominant with a sack, forced fumble, tackles behind the line of scrimmage and blowing through constant double teams. Consistently, as well. He has made a play in all three games that made you sit up and just say "Wow." In the preseason. All of this on top of the respect that his performance last season earned him. He is now in the front of the minds of all analysts and announcers, people are starting to know his name, and he somehow looks even better than his 2013 self.
Plus, the last defensive tackle to take home the award? Fittingly, Warren Sapp.
Andrew Norton: Once again you stole a bit of my thunder in your Offensive Player of the Year comments, but we do have a slightly different take. You mention that the MVP is often the quarterback, allowing voters to give the OPotY award to a running back. I view it as a silly process because the MVP should almost always be the OPotY. Which is why, by default, I have to give this award to Drew Brees.
Not much to say that I haven't already, so I'll throw some more stats out just for kicks. Six of the last seven winners have been quarterbacks. Since the 2000 season, the MVP has been the same as the Offensive Player of the Year eight times. Also since 2000, the MVP has played in the Super Bowl six times, however none of them have been on the winning team. The last MVP to also win the Super Bowl was Kurt Warner in 1999. And, since the award's inception in 1957, the MVP has played a position other than QB or RB only three times: Vikings DT Alan Page in 1971, Redskins Kicker Mark Moseley in 1982 (that was just a strange year), and Giants LB Lawrence Taylor in 1986.
Scott Smith: Yeah, you seriously reduce your chances of getting this one right if you don't go for a quarterback. And I shall do the same, but with the correct quarterback: Aaron Rodgers.
I want to point out that Rodgers first won this award in 2011, when the Packers went 15-1 in the regular season but lost in the Divisional Round of the playoffs, not in 2010, when he led them to the Super Bowl championship. The reason I bring this up is that the votes for these awards are cast before the playoffs begin. I would not pick Green Bay as my favorite to win it all, but I do think they'll win the NFC North and be in the playoffs.
And at that point, with others like Brees and Manning and Brady all probably leading their teams to the playoffs as well, it's Rodgers that will be at the top of the quarterback heap. His 2011 season was pretty ridiculous – 45 touchdowns, six interceptions and an NFL-record 122.5 passer rating – and that would be hard to duplicate. But he's the same talented passer this year and he's got plenty of weapons around, and it's not like 2011 was a huge anomaly. All he did the next year was throw 39 touchdowns and eight interceptions.
This year? North of 40 touchdowns, a passer rating pushing 110 and a second MVP award. Book it.
Andrew Norton: Thanks for playing, Scott. I think we've got some solid picks. Take a look around the league at some of the other guys making similar predictions and we seem to be in line, with just a couple sleepers in the mix. Let's take a look again at who we've selected:
| | | |
| --- | --- | --- |
| | | |
| Offensive Rookie of the Year | | |
| Defensive Rookie of the Year | | |
| Comeback Player of the Year | | |
| | | |
| Offensive Player of the Year | | |
| Defensive Player of the Year | | |
| | | |
I'm looking forward to seeing how it all plays out and of course revisiting this list when the NFL Honors rolls around to see just how well we did. Enjoy the next 17 weeks watching our Defensive Player of the Year candidates battle it out.