STORY HIGHLIGHTS
The contributors disagree on the likely Offensive Rookie of the Year recipient but agree that it's still up in the air
There's little debate, however, that Houston DE J.J. Watt is the overwhelming favorite for Defensive Player of the Year
The last month of action for the Green Bay Packers could decide several of these awards

We're 12 games into the season, with four more to go, and the outlook for the 2014 NFL honors is still a bit foggy. A few players have emerged as considerable favorites three-quarters of the way through the year, but for the most part NFL pundits and internet experts seem divided when it comes to these awards.
I'm willing to guess that will be the case when I invite Scott Smith to once again revisit and provide a few updates to the prediction list we've been keeping all season long. [EDITOR'S NOTE: Nope, we agreed a lot more this time.]
So, once again, let's exchange our predictions and a few jabs, starting with possibly the most wide open race of them all.
Offensive Rookie of the Year
Andrew Norton's Preseason Pick: Tennessee RB Bishop Sankey
Andrew Norton's Week Four Pick: Carolina WR Kelvin Benjamin
Andrew Norton's Midway Pick: Benjamin
Andrew Norton's Week 13 Pick: Tampa Bay WR Mike Evans
Both of our previous picks are still alive and Giants' WR Odell Beckham has come on incredibly strong. It doesn't hurt that he made a spectacular grab that will stay in voters' minds for quite some time.
Still, though, I think when the dust settles it will be Evans with the more impressive stat line and that is what will outweigh one of the best catches in NFL history. Currently Evans has 890 receiving yards, 66 more than Benjamin and 191 ahead of Beckham. Evans's 16.8 yards per catch is the highest of the top four rookie WRs and he shares the rookie lead with eight TDs. I think the icing on the cake is big plays. Eighteen of Evans's 53 catches have been of 20+ yards, that is 34%. Not only are those 18 big plays the fourth-most of any NFL receiver and most among rookies, it is also the best big-catch percentage of any receiver with 20+ receptions on the season.
Scott Smith's Preseason Pick: Jacksonville QB Blake Bortles
Scott Smith's Week Four Pick: Bortles
Scott Smith's Midway Pick: Buffalo WR Sammy Watkins
Scott Smith's Week 13 Pick: N.Y. Giants WR Odell Beckham
Don't underestimate the power of "The Greatest Catch Ever." I want to say Evans, too, but I'll let the pessimistic side of me take control on this one and point out that Beckham just beat out Evans for Offensive Rookie of the Month. Beckham did have 10 more catches in November and a few more yards, but Evans had six touchdowns to the Giant receiver's two, and I personally feel that should have swayed the decision in his favor. If it comes down to the wire again, I think Beckham still rides the wave of that amazing catch.
Now, that said, you make valid points that Evans' overall numbers are better, and I love those big-play statistics. Those are gaudy and meaningful. Evans has the lead on Beckham because he was putting up steady numbers early on before his November explosion while Beckham missed a lot of time due to injury. Let's say they both get 300 more yards over the next four games, which is optimistic but also well below their November totals. That would put Evans at around 1,200 and Beckham around 1,000. I think voters, dazzled by The Catch, give Beckham a pass for missing those early games and lean in his direction.
So basically what I'm saying is that Blake Bortles will win. Just kidding – wow, that early prediction worked out well, huh?
Defensive Rookie of the Year
Scott Smith's Preseason Pick: Houston DE Jadeveon Clowney
Scott Smith's Week Four Pick: Chicago CB Kyle Fuller
Scott Smith's Midway Pick: Minnesota LB Anthony Barr
Scott Smith's Week 13 Pick: Baltimore LB C.J. Mosley
Where have you gone, Jadeveon Clowney? A nation of voters turn their lonely eyes to you. Clowney's injuries and lack of, well, much at all opened the door at this award and I don't think anyone has sprinted through it. Kyle Fuller is definitely a good player but his three picks, three forced fumbles and six passes defensed looked a lot better after six games than 12 (okay, he does have one more pass defensed now). Anthony Barr had some serious midseason momentum but likewise hasn't moved the needle much over the last month.
All of which makes me wonder why neither of us has thrown any love in C.J. Mosley's direction yet. I recall that both of us thought Mosley was a total steal in the first round of the 2014 draft, and the Ravens are certainly glad they got him. He has played 817 snaps, very close to 100% of Baltimore's defensive plays, the most of any Ravens defender and the third-most of any inside linebacker in the NFL. Barr is the seventh-rated 4-3 outside linebacker on Pro Football Focus' grading chart, but Mosley is the fifth-rated inside 'backer. According to Stats, LLC, Mosley ranks sixth in the NFL with 102 tackles while Barr ranks 52nd with 70 stops. Barr has four sacks, no interceptions, three passes defensed and three forced fumbles. Mosley has one sack, two interceptions, eight passes defensed and one fumble recovery. Pick your poison.
I'll go with Mosley as Baltimore's defense is better (by points allowed) and he is an indispensable part of it.
Andrew Norton's Preseason Pick: Pittsburgh LB Ryan Shazier
Andrew Norton's Week Four Pick: Fuller
Andrew Norton's Midway Pick: Barr
Andrew Norton's Week 13 Pick: Mosley
I have to agree with you here. You've nicely laid out all of Mosley's stats, but only compared them to one of his DROTY competitors. I'll throw two more names in the ring.
Aaron Donald – You mention the PFF position grading charts, which shows Mosley as an impressive fifth at a very powerful "QB of the defense" position. Is that more impressive than Donald, who is ranked first at his position of DT? That's right. The rookie is beating out Gerald McCoy, Ndamukong Suh, Marcell Dareus and the rest of the NT/DT pack. On the downside, DT stats never jump off the page when compared to LBs, he has 32 tackles and one forced fumble this year, but he does lead rookies with six sacks.
Chris Borland – It is an incredible slim chance that he will win the award because he didn't get a start until Week Seven. But what he's done in his six starts is pretty incredible. One sack, two picks, eight stuffs and 78 total tackles. That is eight more tackles than the next highest NFL player, NO's Curtis Lofton… who has played seven games to Borland's six. His eight stuffs in that time frame also leads the league.
Borland will join the conversation come the end of the year, but Mosley has been producing all year and that should be enough to win it.
Comeback Player of the Year
Andrew Norton's Preseason Pick: Atlanta WR Julio Jones
Andrew Norton's Week Four Pick: Jones
Andrew Norton's Midway Pick: Jones
Andrew Norton's Week 13 Pick: Jones
I'm nervous about the love that Rolando McClain has been receiving just because his comeback story is so remarkable. Then there is the recent utter dominance from Rob Gronkowski to contend with and Arian Foster's numbers are strong, but he's missed a few games this year. But, in the end, this is the one prediction in this column that has been the same all year and darn it I'm going to keep it that way.
Jones is third in the NFL in receptions (82), third in yards (1,169), and is finally starting to find the end zone again (TDs in back-to-back games, five total).
I'll pass it back over to you, Scott. I can't tell if I'd rather hear who your actual prediction is or witness another "three-year-old writhing on the Publix floor because he wants green sprinkles on his free cookie but they only had red sprinkles"-esque tantrum like our last go-round. Let's see what happens, folks.
Scott Smith's Preseason Pick: Denver LB DeMarcus Ware
Scott Smith's Week Four Pick: Indianapolis WR Reggie Wayne
Scott Smith's Midway Pick: Chicago QB Jay Cutler
Scott Smith's Week 13 Pick: Rob Gronkowski
You paint an amusing picture, but you can see in my Midway Pick right there that I went with Jay Cutler as a joke, and the joke was "DOOOOOOOOON'T CAAAAAAAAAARE." That's kind of the opposite of a tantrum.
It is not, however, the opposite of how I feel now. I still DO NOT CARE about this award. Don't think it needs to exist. Not going to waste my time on it. You say Gronk is in the running? Great, that's my pick. GRONK.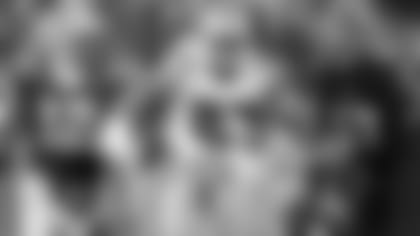 (From left) Green Bay QB Aaron Rodgers, Dallas RB DeMarco Murray and Baltimore LB C.J. Mosley could be hauling in awards at the end of the season
Scott Smith's Preseason Pick: Philadelphia's Chip Kelly
Scott Smith's Week Four Pick: Arizona's Bruce Arians
Scott Smith's Midway Pick: Arians
Scott Smith's Week 13 Pick: Green Bay's Mike McCarthy
I think I may regret peeling off my Arians pick here in the final bend. I'll tell you what worries me, though. After an 8-1 start, the Cardinals lost QB Carson Palmer and then, after a good win over the Detroit Lions, they lost their next two games at Seattle and at Atlanta. Arizona is still tied for the best record in the NFC, but in their brutal division they are also not that far from falling out of the playoff picture entirely. The Cardinals' final four games are against 7-5 Kansas City; at St. Louis against the suddenly very frisky Rams; at home against the rising Seahawks; and at San Francisco when both teams might be completely desperate in Week 17. What if the Cardinals do collapse and miss the playoffs after a 9-1 start? That won't make Bruce Arians any worse of a coach, but I don't think anyone associated with that sort of ending is going to be winning awards.
That concern made me shop around a little bit, and while I considered Chip Kelly and Bill Belichick, I'm going to go with McCarthy. He's never won the award despite all of Green Bay's success, perhaps because voters don't believe it's too hard to win with Brett Favre and Aaron Rodgers under center. There's some validity to that, given the (spoiler alert) MVP level at which Rodgers is playing, but I think it's also a bit simplistic. Everybody loves when Belichick devises the perfect – and often unexpected – game plan and it works brilliantly, as it did when the Patriots ran all over the Colts a few weeks back. Well, this past Sunday, in perhaps the best game of the year, McCarthy's Packers beat Belichick's Patriots and it was a masterful performance that can't all be laid at the feet of Rodgers. Green Bay had its stumbles early this year, but there was a reason that Rodgers famously told all the Packer faithful to "relax" at 1-2. He knew the team was in good hands.
Andrew Norton's Preseason Pick: Tampa Bay's Lovie Smith
Andrew Norton's Week Four Pick: Arians
Andrew Norton's Midway Pick: Arians
Andrew Norton's Week 13 Pick: Arians
I'll stick with Arians, though I have the same concerns as you. There have been a ton of injuries on the Cardinals and while it may very well derail them and knock Arians out as the favorite, the opposite could happen, he could win and make the playoffs, and doing so with backups in many positions would push him over the edge.
If the former scenario happens, my favorite would actually be your preseason prediction Chip Kelly who currently leads his division, has a good chance of winning it and/or making the playoffs and has done so with a backup quarterback who could very well be the most maligned QB in NFL history.
Offensive Player of the Year
Andrew Norton's Preseason Pick: New Orleans QB Drew Brees
Andrew Norton's Week Four Pick: Brees
Andrew Norton's Midway Pick: Denver QB Peyton Manning
Andrew Norton's Week 13 Pick: Dallas RB DeMarco Murray
I hope that you got all the arguing out of your system, because I think we're going to see eye-to-eye from here on out. I will hold out the olive branch to begin with and succumb to the argument you've been making all year. Offensive Player is going to go to the RB, MVP is going to a (spoiler) QB.
The buzz around him has cooled a bit as the Cowboys have come to a halt, but he still has nearly 400 more rushing yards than the next highest back. He's still on pace for more than 1,900 rushing yards and if he gains at least 100 yards in each of the final four games of the season, he will join Barry Sanders as the only running backs in NFL history with 14 100+-yard rushing games in a single season.
Scott Smith's Preseason Pick: Philadelphia RB LeSean McCoy
Scott Smith's Week Four Pick: Dallas RB DeMarco Murray
Scott Smith's Midway Pick: Murray
Scott Smith's Week 13 Pick: Murray
I win! You've seen the light! I want to drop the mic and walk out of the room right now.
Anyway, I agree with you agreeing with my logic and I also agree with the way you presented Murray's stats. You're right that he's not generating as much buzz right now, perhaps because the Cowboys have been swooning a bit. But he just keeps putting up triple digits every week. If the TDs return – he had seven through the first seven games but has just one in the last five – and the Cowboys start winning again, the buzz will return. And what if he has one or two really big games in the last four and challenges that magic mark for RBs, 2000 yards? Buzzzzz!!!
Defensive Player of the Year
Scott Smith's Preseason Pick: Tampa Bay LB Lavonte David
Scott Smith's Week Four Pick: Houston DE J.J. Watt
Scott Smith's Midway Pick: Watt
Scott Smith's Week 13 Pick: Watt
Something tells me you're going to be making the same pick since you used up all your imagination on the cookie-sprinkle thing, so I'll keep this short and leave you some of the juicy stats.
Have you seen Watt's grade on Pro Football Focus? At his position, 3-4 DE, he has a ridiculous overall rating of 75.6, which is easily the highest rating for any player in the league. Now, I'm not 100% sure how the ratings translate from position to position, so I don't know if that makes him that much better than the top-rated QB (Rodgers, 35.2) or the top-rated guard (Marshal Yanda, 37.4). What I DO know is that the next player at Watt's position, is the Jets' Muhammad Wilkerson, at 29.9. That means Watt is rated 152% higher than the next guy on the list. That's by far the biggest gap at any position other than fullback, where only a small handful of guys are rated anyway and the difference is between a 9.8 and a 3.7. Like I said, ridiculous.
Watt's offensive exploits won't factor into this award, but they do serve to bring him added attention. I think this is the easiest pick on the entire list, at least 152% easier than any of the others.
Andrew Norton's Preseason Pick: Tampa Bay DT Gerald McCoy
Andrew Norton's Week Four Pick: Watt
Andrew Norton's Midway Pick: Watt
Andrew Norton's Week 13 Pick: Watt
Watt is so good this year, there are multiple heated Internet screaming matches going on already about whether he should be named MVP, not just Defensive Player of the Year. The MVP award has been handed out 59 times – only two defenders have won.
Again using PFF, Watt has 12 sacks, 33 QB hits and 35 QB hurries. That is unreal. It means he has pressured the quarterback 80 times this year. Junior Galette is the next highest defensive end. He has 56 pressures.
In conclusion, Watt is a pretty big deal.
Andrew Norton's Preseason Pick: Brees
Andrew Norton's Week Four Pick: Murray
Andrew Norton's Midway Pick: Murray
Andrew Norton's Week 13 Pick: Green Bay QB Aaron Rodgers
It could very well be Watt when all is said and done. There is no defensive player in the NFL who is more exciting to watch. And with double and triple teams on him, you have to ask just how many wins the 6-6 Houston Texans would have without him. Still, though, Aaron Rodgers is putting on a season that nearly outshines his historic 2011 MVP campaign.
Through 12 games Rodgers has a 118.6 passer rating, the fourth highest of all-time (the highest being his 2011 MVP season). He is seventh in the league in passing yards (3325) and third in touchdowns (32), but has done so having thrown just the fifteenth most passes, making his percentages incredible. His 8.75 yards per attempt is tops in the league by nearly 0.4 yards per pass. He throws a touchdown 8.4% of the time he lets go of the ball, 0.8% better than any other QB. And his 0.8% interception percentage is 0.5% better than any other QB. That is controlling the offense, controlling the game and certainly, being the most valuable player on the field.
Scott Smith's Preseason Pick: Green Bay QB Aaron Rodgers
Scott Smith's Week Four Pick: Watt
Scott Smith's Midway Pick: Denver QB Peyton Manning
Scott Smith's Week 13 Pick: Rodgers
Man, I was really hoping you'd take Watt so we had the bases covered in what I'm thinking is going to be a two-horse race at the end, no offense to Peyton Manning or Andrew Luck or DeMarco Murray. But you didn't. You flip-flopped, which I know from election-year commercials is a really bad thing a sign of low moral fiber. And you stole my guy in the process.
Hey, at least I was riding the Rodgers train when the season began, while you were backing a quarterback who was four years older and surrounded by a far inferior cast. I'll admit I backed off and tried to get trendy with Watt after the Packers had an underwhelming start to the season, and then I got lured in at midseason by the notion that the Broncos were the league's best team. But I'm back, Aaron. Can we pretend I never left.
On the other hand, I'm glad you stole my pick because that left you to do all the heavy statistical lifting. Those are great points you made, to which I say, 'Ditto.' My contribution to the election posters will be more subjective: Doesn't it just seem like Rodger and the Packers are in the zone right now? They just make moving the ball down the field look so easy. They make third-and-five look so easy. Rodgers is just fully in command right now, and I expect that to continue for four more weeks, making him the unavoidable MVP pick.
Um, unless, that is, J.J. Watt collects eight more sacks and catches four more touchdown passes in the final month. Would you put that past him. He has been picking up serious steam lately; maybe he can ride the momentum to the rare MVP defender this year. I see your stat about how infrequently that happens, but this also happens to be the same year that a pitcher won the MVP award in baseball, which almost never happens, as well. Rodgers is still my pick, but Watt winning it would be a lot of fun.