STORY HIGHLIGHTS
The Offensive Rookie of the Year award could go down to the wire between several strong candidates
Both contributors agree on the obvious choice for the top defensive player
Will the voters split MVP and Offensive Player of the Year awards, or is that all Peyton Manning territory?

We're all familiar with the setup by now. Before the season, I asked Scott Smith to join me in predicting who would take home the NFL honors (Rookie of the Year, MVP, etc.). We revisited (and recanted) our guesses at the quarter mark of the season. Now, we're back at it again at the midpoint of the season in our best efforts to prove Socrates correct in that all we know is that we know nothing.
There have been some unfortunate injuries (see: Defensive Rookie of the Year) and the usual ups and downs of an NFL season that took their toll on our picks. For the most part though, I'd say that we have done a pretty fine job so far. For instance, our Offensive Rookie of the Year and MVP candidates are more than likely to be part of the conversation at season's end.
So, with eight weeks in the books, let's take a look backward and forward to either defend or amend our previous predictions. I'll start things off.
Offensive Rookie of the Year
Andrew Norton's Preseason Pick: Tennessee RB Bishop Sankey
Andrew Norton's Week Four Pick: Carolina WR Kelvin Benjamin
Andrew Norton's Midway Pick: Benjamin
I'll start off by keeping my pick from our last exercise. He is currently neck-and-neck with Buffalo WR Sammy Watkins. They have the same number of receptions (38), same number of touchdowns (five), and are separated by just 2.4 receiving yards per game (with Watkins holding the edge there). [Note: All stats prior to the Thursday night Carolina-New Orleans game.] I'm sticking with Benjamin here because he is just in a more trustworthy system and has been more consistent throughout the year.
I will tell you that I'm cheering for those who fall into the "That Never Happens" category. In our preseason go-round, I mentioned Oakland QB Derek Carr, but didn't have the guts to make him my pick. He leads rookies in completions, yardage, TDs and passer rating, and has just five INTs. But, his team has zero wins and I don't see the Rookie of the Year going to a winless quarterback. Two who should also be in the running but won't be are Cowboys G Zach Martin and Cleveland G Joel Bitonio. Both are top-five ranked guards according to Pro Football Focus and integral pieces to offenses with drastically improved run games this season.
Scott Smith's Preseason Pick: Jacksonville QB Blake Bortles
Scott Smith's Week Four Pick: Bortles
Scott Smith's Midway Pick: Buffalo WR Sammy Watkins
Ugh. Can I just spend my whole space here retching over everything you just wrote? Benjamin is in a "more trustworthy" system because…uh…Cam Newton is the model of consistency throughout his career and the Panthers' O-Line is so not-injured? Carolina has the league's 21st-ranked passing attack and Buffalo is 24th (wow, big difference), and the Bills are averaging 258 passing yards per game since Kyle Orton took over. Co-inc-i-dent-ally (the spaces are for you to fill in with my sarcasm), Watkins has been on fire the last four weeks. Benjamin hasn't been more consistent; he started out hot and then got not-hot. Watkins did the opposite. I'll take the guy who's hot now and – this part is important so make sure you're paying attention, Andrew – is clearly the better player. The only reason anyone would take Benjamin over Watkins now is to try to prove his previous pick was a good one. Which it wasn't.
And please give the Zach Martin Cowboy love thing a rest already. You just threw in Bitonio so you wouldn't look like such a Dallas fanboy. You're right that neither will get anywhere near the award, so let's just stop wasting precious characters on them, please.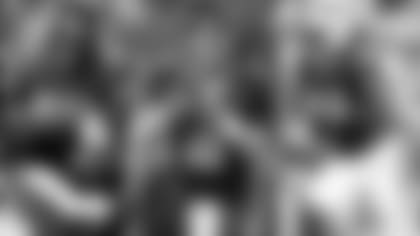 (From left) Minnesota LB Anthony Barr, Denver QB Peyton Manning and Buffalo WR Sammy Watkins could all pick up some hardware after the season
Defensive Rookie of the Year
Scott Smith's Preseason Pick: Houston DE Jadeveon Clowney
Scott Smith's Week Four Pick: Chicago CB Kyle Fuller
Scott Smith's Midway Pick: Minnesota LB Anthony Barr
I'm not going to lie. You gave me this pick, Andrew. I see that he has three sacks, most among NFL rookies, and of course he had the game-winning touchdown at Raymond James Stadium on Sunday. But I think you know more about this than I do, so I won't steal your thunder.
Andrew Norton's Preseason Pick: Pittsburgh LB Ryan Shazier
Andrew Norton's Week Four Pick: Fuller
Andrew Norton's Midway Pick: Barr
Geez. Someone seems a little cranky that his golden boy Bortles threw his league-leading 11th and 12th interceptions on Sunday. And that, despite leading to six points each, they don't count in his touchdown column. And let's not get to fanboy accusations when you're going to laud Murray in just a few paragraphs. Martin should be in discussions because Murray has 418 rushing yards BEFORE contact. That's more yards than all but 13 running backs have this season total.
Where were we? Ah, yes. I'll take Barr as well. Leads rookies in sacks (3), third in tackles (54), he also has three fumble recoveries and is one of two defensive rookies to score this year. Baltimore's C.J. Mosley has 76 tackles and two INTs, so he'll be in the discussion as well, and Fuller isn't out of it, despite a drop-off in stats after suffering a hand injury. Barr has more of a highlight reel at this point, so he gets the nod from me.
Comeback Player of the Year
Andrew Norton's Preseason Pick: Atlanta WR Julio Jones
Andrew Norton's Week Four Pick: Jones
Andrew Norton's Midway Pick: Jones
I'm sticking with Jones. He has fallen in productivity over the last four games (24 recs., 287 yards, 0 TDs), but he is still ranked fourth in receptions and sixth in receiving yards this year, putting him on pace for 100 receptions and 1,450 yards. Again, he is coming off a season cut short by injury in which he had 580 yards. He'll likely fall short of those projected numbers without some kind of help from his offensive line, but it should still be enough of an increase to get him the award, even though a few other offensive contenders are beginning to make strong cases for themselves.
Scott Smith's Preseason Pick: Denver LB DeMarcus Ware
Scott Smith's Week Four Pick: Indianapolis WR Reggie Wayne
Scott Smith's Midway Pick: Chicago QB Jay Cutler
No, Jay Cutler is not really a candidate for this award, even if he was hurt for a good portion of last year (leading to Josh McCown's ascendance and subsequent signing in Tampa). Nor is he getting a lot of what you might call positive press these days. I'm just picking him because, in true Cutler fashion, I dooooooooooon't caaaaaaaaaaare who wins this award. Julio Jones, you say? Fine, Julio Jones. Next year, don't make me pick this one, Andrew. Doing so is more boring than listening to you talk about rookie offensive guards, if that's possible.
Scott Smith's Preseason Pick: Philadelphia's Chip Kelly
Scott Smith's Week Four Pick: Arizona's Bruce Arians
Scott Smith's Midway Pick: Arians
Why change now? The Cardinals have now improved to 6-1 (tied with Denver for the NFL's best record) despite sharing a division with the defending champs and a strong 49ers team. The Cardinals rank 25th in the league in offense and 24th in defense but are getting it done with late-stage Carson Palmer and/or Drew Stanton, while overcoming some significant injuries. Next up for them is a game at Dallas, where you often don't have a shot if you don't have Colt McCoy under center. If they can somehow overcome the incredible Zach Martin and win that game, they get the Rams and Lions at home and could be look at 9-1.
That's all I have to say on that, so let me use my leftover space to point out once again that Sammy Watkins is better than Kelvin Benjamin.
Andrew Norton's Preseason Pick: Tampa Bay's Lovie Smith
Andrew Norton's Week Four Pick: Arians
Andrew Norton's Midway Pick: Arians
Ditto. By the way, did I mention that neither Martin nor Bitonio have given up a single sack so far this season? Or that each has allowed just one QB pressure? Because both of those things are true.
Offensive Player of the Year
Andrew Norton's Preseason Pick: New Orleans QB Drew Brees
Andrew Norton's Week Four Pick: Brees
Andrew Norton's Midway Pick: Denver QB Peyton Manning
Is it unlikely that a quarterback wins Offensive Player of the Year while a (Spoiler Alert) running back takes MVP honors? Yes, it is. It has never happened before. In fact, every time a running back has won MVP, he also took OPotY honors, except in 1993 when Emmitt Smith was named MVP and OPotY went to Jerry Rice.
But, I'm going to call it that way anyways, even though, in all likelihood, the awards would be the reverse of my prediction.
Manning has 22 TD passes to just three picks this year. He's the leader of what looks to be the best team in the NFL by a mile this year. Plus, if he holds this pace, he will have the best season stats of his career in completion percentage, TD percentage and interceptions. It would also be his second-best season in passing yards, passing touchdowns, yards per attempt and passer rating. Not to mention that whole "breaking the NFL career touchdown record" thing. Guys, don't look now, but Peyton Manning is pretty good at football.
Scott Smith's Preseason Pick: Philadelphia RB LeSean McCoy
Scott Smith's Week Four Pick: Dallas RB DeMarco Murray
Scott Smith's Midway Pick: Murray
"Guys, don't look now?" Who are you talking to? I'm just one guy. And if you're referring to the readership, you should probably acknowledge that some of them will be gals. Gee, with your fascinating conversations about offensive guards and your complete dismissal of an entire gender in the NFL fan base, you must be a real hit with the ladies.
I'm going to stick with Murray because that way I can stick with my original logic. When I chose McCoy, assuming he was primed for another gigantic yards-from-scrimmage season, I thought the voters might take this opportunity to split the OPotY and MVP awards to honor two different guys. It's been done fairly often before, and even though I don't agree with the logic, I can understand the impulse. So give me Murray, who leads the league in rushing by a comfortable margin and already has seven touchdowns for the surprising Cowboys.
By the way, if that above paragraph seems vaguely familiar to you, Andrew, it's because I just cut-and-pasted it from our last Point/Counterpoint and changed a few words to keep it up to date. Basically, I plagiarized from a source that already had the right answer.
Defensive Player of the Year
Scott Smith's Preseason Pick: Tampa Bay LB Lavonte David
Scott Smith's Week Four Pick: Houston DE J.J. Watt
Scott Smith's Midway Pick: Watt
There is no shortage of attractive candidates, and my original pick is actually playing lights-out football. Unfortunately, we know David has no shot at winning the award with his team's record sagging and with a relative lack of the big-play stats that he had last year (picks and sacks). A couple guys who are ahead of Watt in the sack race, including Denver's Von Miller and Kansas City's Justin Houston, have to get some consideration, but Watt has a knack for making the big plays that are shown over and over again on the highlight shows. He gets in the voters' brains and stays there.
Andrew Norton's Preseason Pick: Tampa Bay DT Gerald McCoy
Andrew Norton's Week Four Pick: Watt
Andrew Norton's Midway Pick: Watt
Halfway through the season, it can't be anyone besides Watt. What's the over/under on weeks until my Offensive and Defensive Players of the Year star in a commercial together?
Andrew Norton's Preseason Pick: Brees
Andrew Norton's Week Four Pick: Murray
Andrew Norton's Midway Pick: Murray
In case I didn't make it obvious earlier, ladies and gentlemen, I will be sticking with Murray as my MVP. Hopefully acknowledging the entire reader base in that sentence will make up for my egregious use of "guys" in the previous segment. How dare I act so non-progressive. I came off nearly as dated as you using the words "gal" and "Gee" consecutively like some kind of 1930's carnival barker.
Back to the matter at hand, Murray is on pace for 2,108 rushing yards, which would be the new NFL single-season record. He is on pace for 2,586 yards from scrimmage, which would be another new NFL single-season record. I feel that is deserving of MVP.
Scott Smith's Preseason Pick: Green Bay QB Aaron Rodgers
Scott Smith's Week Four Pick: Watt
Scott Smith's Midway Pick: Denver QB Peyton Manning
Back at the quarter pole, I switched my MVP pick from Rodgers to J.J. Watt behind the reasoning that there were so many quarterbacks putting up silly numbers that it would end up lessening the visceral impact on MVP voters of any one of those QB's performances. That is, a 40-TD season or a 4,500-yard season or a final passer rating of 110 used to really stand out but now might not even lead the league. Or be second.
That's still true to some extent. There are still seven quarterbacks with a rating north of 100. There are 12 NFL passers on pace to surpass 4,000 yards this year, and 11 on pace to hit 30 touchdowns or more. There's this one dude on pace for 5,462 yards and 44 touchdowns, and his name is not Peyton Manning. It's Andrew Luck.
All of that said, I do think Manning has separated himself from the pack a bit, largely because, like you said, he's at the helm of the NFL's best team. Rodgers is right behind him and most of their numbers look almost identical. Manning has a 252-250 edge in attempts; 174-169 in completions; 69.0-67.6 in completion percentage; 2,134-2,092 in yards; 8.47 to 8.37 in yards per attempt; 22-19 in TDs; 3 to 3 in interceptions; 119.0-113.6 in passer rating.
Ah, but here's the thing: Rodgers has played one more game than Manning, so it's not really as close as it seems, except in the percentage stats. Manning, in fact, is on pace for 4,878 yards and 50 touchdowns. Combine that with the league's best record when it's all said and done and that's going to be hard to ignore. I don't believe our thinking on this award and the Offensive Player of the Year trophy is all that different, Andrew; I just think you have them backwards.