STORY HIGHLIGHTS
Early injuries have helped a new leading Rookie of the Year candidate emerge
Houston DE J.J. Watt is the Defensive Player of the Year favorite, but will that be his only award?
With 10 QBs on pace to surpass 4,000 yards, the Offensive Player of the Year field will be crowded

A little over a month ago, Buccaneers.com contributor Andrew Norton roped me into a Point-Counterpoint discussion in which we traded predictions for the NFL's postseason awards…you now, MVP, Defensive Player of the Year, et cetera, et cetera. At the end of our back-and-forth, Andrew said, "I'm looking forward to seeing how it all plays out and of course revisiting this list when the NFL Honors rolls around to see just how well we did."
Well, Andrew, why wait? The first month of this season has been so unpredictable (unless, of course, you knew LeSean McCoy would be averaging a sickly 64 yards a game, the Dallas Cowboys' defense would be not completely putrid and Eddie Lacy would be fantasy kryptonite through four weeks), that I'm guessing our predictions have a few blemishes on them already. You ever heard of, "taking your medicine?" Rather than wait for the postseason, let's take a quarter-pole look at how our guesses are holding up to this point.
In other words, I'm flipping the table and inviting you to take part in another round of predictions. Herein, we'll remind the readers of who we originally took for each award and then either stick with that pick or make a new one. If you don't mind, we can do this at the end of each quarter of the season. You don't mind, do you? I knew you wouldn't.
So let me get this started. We'll go down the list of major awards in the same order we did last time, starting with…
Offensive Rookie of the Year
Scott Smith's Preseason Pick: Jacksonville QB Blake Bortles
Scott Smith's Updated Pick: Bortles
I thought this would be a strong way to start the proceedings. Hey, look how confident I am in my original pick! To be honest, that would be a stretch, but I don't see a compelling reason to switch at this point.
My reasoning at the time, if you recall, was that the Jaguars would never stick to their "let-Bortles-hold-a-clipboard-all-year plan." As soon as the season went south, they would do what every team does in that situation and say, "Well, might as well see what we have here." In that respect, I was right, and Bortles looked pretty decent in his debut in San Diego. This could still work out, but just as likely Jacksonville could be so terrible that Bortles has no shot at the award. For now, I'll keep the faith. Let's see it that halfway point. Anyway, who else am I going to pick. (That was meant as a rhetorical question, but I imagine you're about to tell me, Andrew.)
Andrew Norton's Preseason Pick: Tennessee RB Bishop Sankey
Andrew Norton's Updated Pick: Carolina WR Kelvin Benjamin
Alright. I can handle this. It's always fun to go back and see just how off you were about something. Even more fun to go back and see that you got it right. Unfortunately for me, four games into the season, it looks like I might have been a little off on this one. I assumed that Sankey would be the best backfield weapon for the Titans and really the only rookie running back to have any sort of impact. I was moderately right in that he has 5.1 yards per carry. But, he only has 24 of those. His 30.8 rushing yards per game makes him the seventh-ranked rookie, behind two Cleveland Browns and just one spot ahead of your quarterback Rookie of the Year selection.
I will update my selection here. Teddy Bridgewater would be a smart pick. He has just one start, but it was pretty stellar and I think he'll outpace Bortles and the Jags. But instead I'm going to go with the best receiver of a pretty decent cast this year and pick Kelvin Benjamin. He's got 82 yards per game, nearly 20 yards more than the next rookie. He's on pace for 1,315 yards and 12 touchdowns. That would be the highest yardage for a rookie since Anquan Boldin in 2003, who won the award that year. Even if Benjamin finishes 200 yards off that number, I think he could walk away with it.
Defensive Rookie of the Year
Andrew Norton's Preseason Pick: Pittsburgh LB Ryan Shazier
Andrew Norton's Updated Pick: Chicago CB Kyle Fuller
Looked good through two weeks, but has missed two games since due to injury. He's not out of the running, (despite playing just two full games, he is still 6th in tackles for rookies) but it is hard to imagine that he'll make up for the missed games than then some. Unfortunately, this means that I have another changed pick. This article is not doing much for my confidence to this point.
To me, just looking at the stats, this category seems like a first-quarter runaway for CB Kyle Fuller. He has 22 tackles, three interceptions, two forced fumbles and seven passes defensed. That is a tie for the NFL lead in picks and top 10 at his position in the other categories.
Scott Smith's Preseason Pick: Houston DE Jadeveon Clowney
Scott Smith's Updated Pick: Fuller
Listen to you whine about injuries! Well, Clowney went down a lot earlier than Shazier, so I think I've had it a bit tougher. I suppose he could still go nuts when he gets back on the field, but I think it's safer to switch and Fuller is the obvious choice. How fortunate are the Bears to have Fuller step up and play so well after Charles Tillman went down. He's even forcing fumbles like Peanut!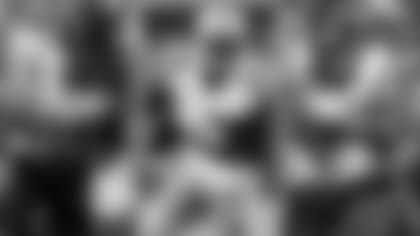 The end of the 2014 season could bring awards for (from left) Chicago CB Kyle Fuller, Dallas RB DeMarcus Ware and Houston DE J.J. Watt
Comeback Player of the Year
Scott Smith's Preseason Pick: Denver LB DeMarcus Ware
Scott Smith's Updated Pick: Indianapolis WR Reggie Wayne
Ware has 2.5 sacks, so I think he still has a shot. The question is, even though this is a nebulously-defined category, will voters think he was down enough in 2013 to be the best comeback story in 2014? I probably should have factored that in a bit more when I made the original choice, as Ware did play in 13 games and have six sacks last year, even if he was nowhere near his former self.
Wayne's case is more obvious: He missed all but seven games last year after tearing an ACL, and he also happens to be 35 years old. As great of a player as he has been throughout his career, would it have been too surprising to see him slowly fade into the sunset? Rather, he's tied for 14th in the league with 23 receptions and 13th with 307 yards. He's on pace for a 92-1,228 season, which one might describe as Reggie Wayne-esque. He's a self-fulfilling prophecy.
Andrew Norton's Preseason Pick: Atlanta WR Julio Jones
Andrew Norton's Updated Pick: I don't need no stinkin' update
I was right in the preseason. I'm still right. Jones played just five games last year and already has 447 yards, three touchdowns and a league-leading 111.8 yards per game. He's not overcoming the age like your pick, but he did play fewer games last year and, if the pace keeps up, will have a 116-1,788 season.
Andrew Norton's Preseason Pick: Tampa Bay's Lovie Smith
Andrew Norton's Updated Pick: Arizona's Bruce Arians
C'mon Norton. Kicking myself because I mentioned him and wrote a paragraph about him in the preseason version of our awards predictions. I had him in a similar boat as Lovie Smith (who could still be in the picture if performances like last weekend keep up), and he has produced a 3-0 team even without his starting quarterback. The NFC West is proving to be a pretty tight division, and Arizona sits alone atop it. Even if he goes 7-6 from here out, he's the frontrunner.
Scott Smith's Preseason Pick: Philadelphia's Chip Kelly
Scott Smith's Updated Pick: Arians
Yeah, I agree. I still think Chip Kelly is very much in the mix, but the Eagles are getting more of a fight for the division from Dallas than expected. If Arizona can make the playoffs out of what is considered the NFL's best division, I imagine it will be viewed as more of an accomplishment than Philly, the favored team in the East, winning that division. Also, I think Arians is well-liked and somebody members of the media will want to vote for.
Offensive Player of the Year
Scott Smith's Preseason Pick: Philadelphia RB LeSean McCoy
Scott Smith's Updated Pick: Dallas RB DeMarco Murray
Obviously, there are plenty of good choices, and I'm going to name a handful of them in a blatant attempt to steal your thunder, Andrew: Murray, Le'Veon Bell, Jordy Nelson, Jimmy Graham, the aforementioned Julio, Antonio Brown, Philip Rivers, Peyton Manning, Andrew Luck and Aaron Rodgers. I'm tempted by Rodgers because I think he's only going to get better and better after a slow start.
I'm going to go with Murray, though, because that way I can change my pick without abandoning my original logic. When I chose McCoy, assuming he was primed for another gigantic yards-from-scrimmage season, I thought the voters might take this opportunity to split the OPotY and MVP awards to honor two different guys. It's been done fairly often before, and even though I don't agree with the logic, I can understand the impulse. So give me Murray, who leads the league in rushing by a comfortable margin and already has five touchdowns for the surprising Cowboys.
Andrew Norton's Preseason Pick: New Orleans QB Drew Brees
Andrew Norton's Updated Pick: Brees
Well, I will admit that this is mostly me being stubborn. Murray should be the favorite at this point. Luck and Rivers have been remarkable in the first month of play. But just to prevent you from having the pleasure of thunder-stealing, I'm sticking to my guns and going with Brees.
Yes, he is 1-3, which is not going to get him any awards, but he still has seven games at home where it is well documented that the Saints are much better. And even with that record and the New Orleans doubters, Brees is still on pace for 4,800 yards and 28 touchdowns, which is not too shabby, friends. Like you pointed out about Rodgers above, I am going to say Brees gets better and better as the year goes on and we see his numbers, especially touchdowns, improve as the year progresses.
Defensive Player of the Year
Andrew Norton's Preseason Pick: Tampa Bay DT Gerald McCoy
Andrew Norton's Updated Pick: Houston DE J.J. Watt
He's the only pick that anyone at this point in the year should make. It's not even that close.
I'd love to say how McCoy is not out of this thing, and I could probably make that argument in any other season. But missing essentially two games, no matter how dominant you were in the other two, is too big a hole to climb out of when you're going up with someone who is plowing through offenses like J.J. Watt. McCoy has been brilliant in his two games, but Watt has been brilliant in four.
Scott Smith's Preseason Pick: Tampa Bay LB Lavonte David
Scott Smith's Updated Pick: Watt
I agree. Do you realize that on the Pro Football Focus positional rankings for 3-4 defensive ends, Watt has a grade of 25.1 and the next closest player is at 9.6? There's a bigger difference between Watt and #2 than there is between #2 (Calais Campbell) and #49 (someone named Joe Vellano). We all saw his 80-yard pick-six against Buffalo Sunday – and that highlight will still be playing in the voters' minds in December, believe me – but he also had nine QB hits in that game. Nine! NINE! Can't you just here E.J. Manuel saying, "Gee, thanks for benching me AFTER the Houston game?" Wait, I need to stop because I need a little more ammo for when I pick Watt for…
Scott Smith's Preseason Pick: Green Bay QB Aaron Rodgers
Scott Smith's Updated Pick: Watt
Yep, I went there. I'll start by acknowledging the historical precedent we're up against here. The Associated Press has been naming an MVP since 1961 (and a "Most Outstanding Player" for the four seasons before that), and it has only gone to a defensive player twice. That's only one more time than a kicker was selected (Washington's Mark Moseley in the strike-marred '82 season). Minnesota DT Alan Page won it in 1981 and N.Y. Giants LB Lawrence Taylor won it in 1986. So why will we have our first defensive MVP in almost 30 years? Well, I think it's precisely because there are so many offensive candidates. Do you realize there are 10 quarterbacks on pace for at least 4,000 passing yards this year? Matt Ryan's on pace for 5,000 and 40 touchdowns. Jay Cutler's on pace for 40 touchdowns. Are you telling me that if Brees throws for 4,800 and 35 for a 9-7 or 8-8 team, or if Rodgers does the same for a Green Bay team that is aced out of the playoffs by Detroit and Chicago (it's possible), that one of those guys will be MVP? Meanwhile, Houston is winning with Ryan Fitzpatrick at quarterback and fading offensive stars in Arian Foster and Andre Johnson. They're winning because of J.J. Watt. If they finish as an 11 or 12-win team, I really, truly, honestly believe Watt will be in the thick of the MVP discussion.
Andrew Norton's Preseason Pick: Brees
Andrew Norton's Updated Pick: Murray
I picked Watt as my defensive player, and I really do agree with your argument and like his chances. But you lost me at a 12-win Houston Texans. They've beaten the Redskins, Raiders and Bills. Let's wait until they get through @DAL, IND, @PIT over the next three weeks before giving them AFC supremacy.
Your argument above is also the reason that I have to change my pick here. With so much quarterback talent, how on Earth can they choose between a hypothetical five 4,500 -yard, 35 -TD QBs? It'll make the award a crapshoot. Instead, perhaps the winner of the Most Valuable Player will in fact have an emphasis on the word Valuable.
Watt is certainly the most valuable on his team, but has the defensive disadvantage here. Two other names pop out at me for "Most Valuable" – San Diego QB Philip Rivers and Dallas RB DeMarco Murray.
You've said that this is a subject that we'll revisit every quarter, and chances are I'll be changing this pick, but for now, I'm certain that that Dallas Cowboys would not be 3-1 without DeMarco Murray, with 99 carries for 534 yards and five TDs. If he keeps that up, he'll be at 396 carries (seventh-most all-time), 2,136 yards (most all-time) and 20 touchdowns (T-11th all-time). Yikes. Maybe you were onto something with Offensive Player of the Year, too.