STORY HIGHLIGHTS
The Buccaneers placed three players on the NFL Top 100 this year but could double that next year
Doug Martin and Michael Johnson are two prime candidates, in our opinion, to make the 2015 list
There are some long shot possibilities on the Bucs' reworked roster, too

Earlier this spring, as the 2014 NFL Draft approached and the mock drafts were raining down from the sky like April showers, I realized that Buccaneers.com needed to get into the act. We needed our own "expert" mock and, frankly, I wanted some help.
So I picked up the big red phone on my desk that only dials one number and reached out to my old Captain's Blog Point/Counterpoint partner, Andrew Norton. He answered on the first ring. "Let's mock," I said, and Norton immediately dropped whatever it is he does around here (which is what, exactly? That's never been clear) and provided the Counterpoint I need.
It went well. As such, I've invited Mr. Norton to join me for some additional Point/Counterpoint discussions, so that he at least gets to do something useful around here every month or so. And I've got the perfectly topical topic: The NFL Top 100.
On Wednesday night, NFL Network revealed the players occupying spots 21-30 on its Top 100 Players of 2014, with the Buccaneers' Gerald McCoy
coming in at #28. That follows the revelations of the past two weeks that NFL players had voted wide receiver Vincent Jackson into the 44th spot and linebacker Lavonte David into the 35th spot. Three players in the top 50 is quite nice, but I think we can all agree that we'd like to see more like six or seven Buccaneers in the full list of 100 next year.
So that's our task today, Andrew. Alternating picks, let's debate which Buccaneers besides McCoy, David and Jackson might make the NFL Top 100 next spring. Given the team's dizzying run through free agency and a draft that produced some new offensive weapons that should be deployed quickly, there are plenty of intriguing choices. I'll let you go first; let's name three candidates apiece. (Personally, I think there's one very obvious first choice; let's see if you take it.)
As for your qualifications to make such projections, Andrew, my understanding is that you got eight out of 10 correct on my recent Bucs I.Q. quiz. If that can be verified, that's fairly impressive.
Andrew Norton: I do plenty of work around here, sir. Just stop raising so many questions. Firstly, thank you very much for the invite; I know how hard it is for you to share the spotlight and sort of…moderately…kind of…slightly slide a compliment my way. Secondly, congratulations to Vincent Jackson, Lavonte David and Gerald McCoy for making it into the top 50 of the NFL Top 100. They are the first Buccaneers ever to do so, and McCoy's #28 stands as the highest a Buccaneer has ever landed on the list. So, kudos to all of four you.
You mention the Buccaneers filling up six or seven of the spots next year, and turns out I have already put up some research to show that it is very possible. Admittedly, having topped out at four players in 2013, a jump of two or three players seems a lofty goal, but it is by no means unattainable. In fact, each year a handful of teams (generally with a fair amount of buzz surrounding them) put up six or more players.
Sometimes that buzz comes from being in the spotlight (see 2011's list noting six Cowboys, who had gone just 6-10 in the previous season). Other times it is built through playoff dominance, i.e., the San Francisco 49ers setting the record with 10 players on the 2013 list following their Super Bowl appearance. With all the work done in the offseason, and the promise of the year to come, a few wins will definitely start putting Tampa Bay in the spotlight.
Like you, I do believe the Buccaneers can get six or more players on the list next year. A very quick and hopefully correct look at the previous lists shows that it has happened at least 14 times. Four teams managed it in 2011, five in 2012, and three in 2013. This year's list (with 20 picks still to come) already has two teams at five players, while the Broncos have seven and the 49ers have eight.
Now to make my first selection. And, honestly, it is quite a difficult one to decide which player to rank first. The Bucs have a host of players capable of making a jump to the list. Doug Martin has already had the spotlight, reaching #57 after his rookie season. Dashon Goldson also made the 2013 list at #96 after his All-Pro 2012 campaign. Carl Nicks has made the list twice (#55 in 2011, #76 in 2012). Including our three from this year, that is already six players who are on the Bucs roster and have previously made the cut.
You mention your obvious choice, and I have a feeling that that person might just line up in our backfield and might just have made the list before. I'll go with Doug Martin.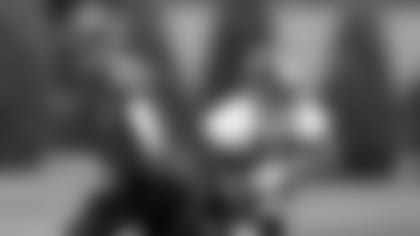 It's not a stretch to predict Doug Martin's presence in the next NFL Top 100, since he nearly cracked the top 50 a year ago
More than 10% of the 380 players selected to the Top 100 have been running backs, 40 of the 380 named, in fact. But that's more of a nerdy number than anything else. In other intangibles, Martin has already made the list in 2013, so being a familiar face doesn't hurt. He also, of course, has a Pro Bowl appearance under his belt, and being known to the masses goes a long way in the voting process. But really, it is what the Dougernaut does on the field that makes him my can't-miss addition to this list.
Despite missing 10 games last season, Martin still has 2,448 yards from scrimmage in his two-year career, averaging out to a pretty remarkable 111.3 yards per game. That 111.3 yards per game over the last two seasons is the fourth-highest mark among NFL running backs behind Adrian Peterson (#3 in 2011, #8 in 2012, #1 in 2013), Jamaal Charles (#33 in 2011, #20 in 2013) and LeSean McCoy (#18 in 2012, #45 in 2013). We can expect to see all three in the top 20 this season.
Back in the lineup and healthy in 2014, Martin is very capable of picking up where he left off after his rookie year. He has a new offensive line in front of him, an explosive group of big receivers around him and capable running backs behind him to ease the workload and keep him fresh. His 2012 season ended in 1,926 total yards, 12 total touchdowns, 49 receptions and (in what turns out to be a pretty solid marker for overall NFL positional success) the second highest running back fantasy points total.
If Martin can even approach these numbers, his popularity and previous experience should be enough to add him to the list. And, I for one, am confident that a 1,500+ total yard, 10+ TD season is completely within the realm of possibility, making him a top NFL running back once again.
I'm just as confident that I have stolen your pick, so back to the drawing board for you, Scott. Who do you have making the Top 100 after this season is up?
Scott Smith: Yeah, that was my guy.  Or, to be exact, the guy I thought was the obvious first pick, and since I handed you the first pick, he was probably not going to be my guy. You've got a lot of fancy research going there, but to put it simply, Doug Martin made it about halfway up the list after his 1,926-yard season in 2012, then dropped off the list last year when injuries clipped his season. There's no reason to believe that he can't hit at least 80% of what he did two years ago, and there's no reason to doubt that would put him right back on the list.
Since I thought there was at least a 40% chance you would connect those very simple dots, I was prepared with a different pick.  I'm going to the other side of the ball and taking Michael Johnson, the Buccaneers' new starting right defensive end. Frankly, I'm a bit surprised Johnson hasn't already made one of these lists.
Johnson had a breakout year for the Cincinnati Bengals in 2012, racking up 11.5 sacks.  Only eight players in the NFL had more that season, and seven of those eight made the Top 100 the following spring.  Only Carolina's Charles Johnson failed to get the votes after his 12.5-sack season (and that actually seems like a bit of an oversight, too).  Johnson's sack total dropped to 3.5 sacks in 2013, but by all accounts he played just as well for the Bengals.  I know that the "by all accounts" qualifier can be lazy (and possibly inaccurate), but if you want a specific account (because all of them would take awhile), check out Pro Football Focus.  Okay, you need a subscription to get to the pages I'm going to link to here, but take my word for it: In 2012, with his 11.5 sacks, Johnson was rated as the 11th best 4-3 defensive end in the NFL by PFF.  Last year, he was ranked fourth among all 4-3 defensive ends.
The Buccaneers obviously agreed with that assessment, making him their #1 target in free agency and landing Johnson just hours into the open market. They believe Johnson can pair with Gerald McCoy to give them the kind of dominant inside/outside pass rush they haven't enjoyed since the days of Warren Sapp and Simeon Rice.
I believe that will happen, and that Johnson's sacks will get back into the double digits. I also believe that Johnson's league-wide profile got a boost from that foray into free agency, where everybody could see that he was one of the most coveted pass-rushers available. If he backs that rep up with 10 or 11 sacks, and if the Bucs win some more games this year, I think he'll be on the minds of his peers when it comes time to vote for the next Top 100.
Boom – short and sweet.  And now back to Andrew Norton for another installment of the Odyssey (now new and improved with stat tables!).
Andrew Norton: Fair. I suppose I was a touch wordy. From now on I will keep my analysis to "by all accounts."
I like that pick. I planned on going defense with my second selection in this exercise and Michael Johnson was one of my two favorites to get the Top 100 votes. The other Buccaneer defender I expect to see mentioned in June 2015 is Alterraun Verner.
Fresh off his Pro Bowl-caliber season in Tennessee, Verner was also a quick acquisition scooped up by the Buccaneers early in free agency. Again, that type of buzz along with a solid performance throughout the season should help build his name and have NFL players remembering it when voting season comes.
Simply by making the Pro Bowl last year, you can start to form an argument as to why he should be on this years list, but dig a little deeper and that stance definitely gets stronger. Take for example Verner's league-leading 22 passes defensed and five interceptions in 2013. That totals 27 total pass breakups, the best number in the entire NFL.
Another solid argument can be made using (again) the wonder that is fantasy football. Thanks to the nerds over at Pro Football Focus, we know that Verner had the seventh-fewest fantasy points per snap scored by players he was defending last season. Those who were unfortunate enough to line up across from Verner last year only gained 579 yards all season long, with only two touchdowns scored.
Combine that with the defense that is shaping up in Tampa and you have a very solid cornerback who will frustrate a lot of receivers this season. With a strong pass rush provided by McCoy and Johnson, a solid secondary backing him up, and defensive-minded Lovie Smith at the helm, expect to hear Verner's name quite a bit in 2014.
P.S. – The 2013 Top 100 list (following Lovie's final season coaching in Chicago) featured TWO Bears cornerbacks making the cut, ranking #69 and #34. So, who knows, maybe we could see Johnthan Banks, Mark Barron or Dashon Goldson from the secondary joining Alterraun Verner next year?
Scott Smith: This is getting tough because I think we've already named the three most obvious candidates. If the three from this year hold on and all three of the above players join them, that's six, and now I'm thinking we might be getting a little greedy. You may be trying to write like Homer, but I don't want us to come off as homers. (I'm trying to set a new record for ancient lit jokes.)
I honestly can't say I've got a pick I feel great about, so I'm going to go with one that might surprise some folks but at least has a solid theoretical backing, in my opinion.  I'll take quarterback Josh McCown.
Before I get laughed off the stage, let me present you with Mr. Nick Foles. Like McCown, Foles wasn't a starter when the 2013 season began, but he eventually got his chance and put up staggeringly good numbers in less than a full season's worth of passing. The two ranked first and third in the NFL in passer rating, in fact (Foles at 119.2 and McCown at 109.0), and also took the top two spots in interception percentage, with McCown leading the way in that one. Both solidified starting jobs to open the 2014 campaign, Foles in Philly where the team said goodbye to Michael Vick, and McCown in Tampa after leaving Jay Cutler's shadow behind in Chicago.
Foles debuted in the Top 100 this year at number 70. Now, I'm not saying it's a perfect comparison, because Foles had 93 more passes last year and a lot more touchdown throws. Foles is also a young player, perhaps at the start of a long run as an NFL starter. McCown is getting perhaps his best shot ever, 12 years into his NFL career.
Still, if McCown were to produce a full season with many of the same stat rates that he accomplished over half of last year – and if, critically, the Buccaneers turn into winners – he could have a shot. People are going to want to vote in quarterbacks; Detroit's Matt Stafford slipped onto the list at #100 this year despite an up-and-down 2013 campaign. Philip Rivers was off the list in 2013 but rebounded all the way to #34 this year after lighting it up for the Chargers last season.
A few weeks ago, I gave my reaction to an article that predicted a 4,000-yard, 30-touchdown season for McCown. I liked the optimism, and mostly shared it, but thought those were awfully high stat plateaus at which to set the bar. Let's say I'm wrong, though, and McCown takes advantage of his "Dunkaneers" receiving corps to put up those kind of numbers. Couldn't he then sneak onto the list between 90-100? Stranger things have happened (cough…Tim Tebow at #95 in 2012…cough).
Okay, I went a little aggressive on that one, Andrew. Let's finish this off in the same vein. Give me one more candidate, but make it something of a deep sleeper. You don't have to be totally convinced that it will happen, but you can lay out the scenario that might make it so.
Andrew Norton:I can get behind that pick. He and the Buccaneers will certainly need a stellar year for that to happen, but it is in the realm of possibility. To add a little more foundation to your point I took a look at the 2013 list. Fourteen of the Top 100 were QBs, the third most of any position behind linebackers and wide receivers. Considering however that there are 32 NFL teams, that means that 44% of NFL teams' starting QBs made the cut that year. With say three starting WRs and 3.5 starting linebackers on each team, their percentages are just 19% and 14% respectively. So, being a starting quarterback definitely gives you an advantage to make the list. Like you point out, "People are going to want to vote in quarterbacks."
So, time to name a sleeper. I'm choosing a guy that I am very big on this year. I think he is going to put up big numbers and be in the running for at least one end-of-season award. However, he is working with a distinct disadvantage of making the Top 100 simply by being a rookie receiver. Yes, I'm choosing Mike Evans.
Even if Evans piles on the stats, he is competing with already established names at the position. Since the list began, only 16 of the 380 players have been coming off their rookie season. Only two of them were receivers.
Last year, San Diego's Keenan Allen put up 1,046 receiving yards with eight touchdowns and didn't make the cut this year. In 2011, Julio Jones posted 959 with eight TDs and wasn't voted in. So, even with a four-digit yardage total and a top-25 touchdown total, there is no guarantee that a receiver will get in, just because they aren't established in the league.
But what if Mike Evans and the "Dunkaneers" are serious this year? What if, as you suggest, Josh McCown performs so well that he makes the cut? What if Mike Evans can land as a top-20 receiver with 1,000+ yards and some remarkable, noteworthy plays? I'm not going to completely count it out.
That's it for me. Looking forward to seeing your selection. If you need me, I'll be retyping the Iliad just in case the boss has installed a keystroke counter on my computer.
Scott Smith: If I rode a motorcycle, I'd have a little custom sidecar built for you, Andrew, so you could ride along with me and do some number crunching any time I made a (probably) valid but unsupported statement. It's so convenient!
If I have to wring statistics out of these lists to satisfy you in this Point/Counterpoint exercise, Andrew, then allow me to point this out: It's not all that uncommon for two receivers on the same team to make the list. In fact, after it didn't happen at all on the inaugural 2011 list, it then happened exactly twice in each of the next three years. Interestingly, those three pairs were made up of six different teams: the Giants and Packers on the 2012 list, the Falcons and Ravens on the 2013 list and the Bears and Broncos on the 2014 list (so far). Even though these lists are published with the players on their current teams, I only counted the pairs if they were both on the same team the year before. So, no credit this year to the Redskins for having Pierre Garcon and DeSean Jackson on the list, since Jackson hasn't yet played for Washington. I did have to be careful; I almost missed the Anquan Boldin/Jacoby Jones pairing for the Ravens in 2013 because by then Boldin was listed as a 49er.
So, maybe if Josh McCown can go all Joe Flacco this year, he can pull Evans onto the list along with Jackson, just like Flacco did with Jacoby Jones. The good news, which you can tell by those pairings coming from six different teams, is that the overall list of receivers from year to year is very fluid. You'll get Calvin Johnson and Larry Fitzgerald every year, and a few others like Wes Welker and Brandon Marshall are common selections, but you also see the list cycle through such players as Jones, Garcon, Alshon Jeffery, Mike Wallace, Hakeem Nicks, Jordy Nelson, Brandon Lloyd, Mike Williams and Dwayne Bowe.
So there you go. Is that what you mean by 'teamwork?' If so, then I have to say, 'Yay…teamwork is tedious!'
Alright, I'll finish it up now with my final pick, and once again we're in deep sleeper territory here.  It's pretty clear that Andrew can see the logic behind an eventual Mike Evans rise into the Top 100 but he's still very skeptical it will happen.  By the same token, I'm going to cast my vote for tackle Anthony Collins.
Andrew tells me that about five offensive tackles make it onto the list every year, and I'm going to take that stat as gospel without looking it up myself. That means Collins is going to have to leapfrog over some pretty entrenched competition, such as Joe Thomas, Joe Staley and Jason Peters. Maybe he can replace Jake Long, who will be trying to come back from last year's late-season ACL injury.
Collins has the talent. He was a pass-blocking demon last year after he finally got an extended opportunity to play. According to Pro Football Focus, he allowed zero sacks, zero QB hits and 12 hurries for a total of 12 pressures allowed on the quarterback in 317 snaps. According to PFF (which gives a little added weight to sacks over the other two types of pressures in devising their ratings) that led to a "Pass Blocking Efficiency" of 97.2. That was the best in the NFL.
I know it's still a long shot, but Donald Penn made the list in 2012 at #97 after having a very good year as the Buccaneers' left tackle.  Maybe Anthony Collins can step in and do the same.