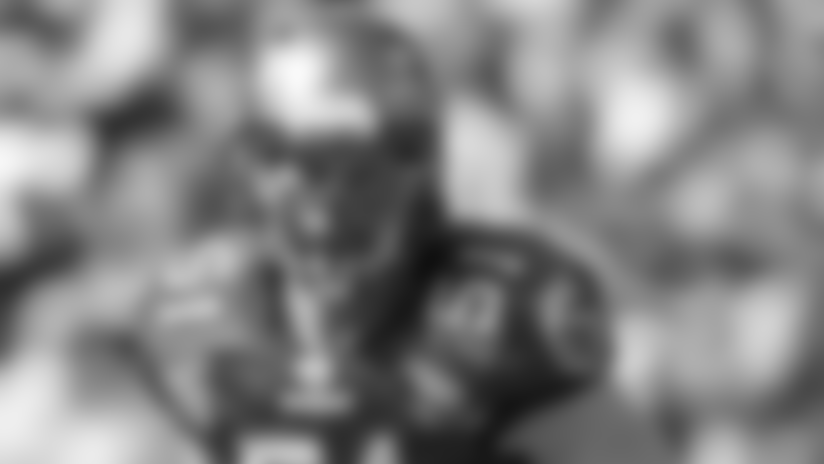 LB Barrett Ruud had a career-high 205 tackles last year as the Bucs employed two different defensive schemes
Football coaches, in their ongoing effort to keep players focused on all the days between games, are fond of this old saw: "Every day you don't get better, you get worse."
It's not only an attempt to keep effort levels high, it's a call for constant self-examination. On most any given day in say, April or June, the only person who can tell if a player has made himself better is the player himself.
So how would Barrett Ruud, the Tampa Bay Buccaneers' starting middle linebacker, evaluate the 119 days of the 2009 regular season? Well, with frankness and candor, first off. Not one for exaggeration or obfuscation, Ruud is pleasantly direct whenever he discusses the Buccaneers or his own career.
The assessment: Ruud was good in 2009. He knows how he can be better in 2010. The best news: The same applies to the Buccaneers' defense as a whole.
There would have been little reason to ask such questions after 2007 and 2008, Ruud's first two seasons as a starter. Tampa Bay, still running Monte Kiffin's Cover Two-based defense (if a constantly evolving version of it), finished second in the league rankings in '07 and ninth in '08. Ruud was clearly one of the top performers on that unit, beginning with his 169-tackle, two-interception starting debut. In 2008, he pushed his tackle total to 178, including 31 more solo stops than the year before, duplicated the two picks and added three interceptions.
Ruud's stats from 2009 look like another upward step, and maybe in some ways they were: 205 tackles (second-most in a single season in team history), plus one more interception. But the Bucs plummeted in the defensive rankings, to 27th, and at some point in the season there was talk about how almost every player on the starting unit, including Ruud, was handling the switch to new Defensive Coordinator Jim Bates' system.
After 10 games, the Bucs were giving up 29.4 points per game and wondering if Bates' system was going to work for them. Head Coach Raheem Morris made the bold decision to take over defensive play-calling duties and run a modified scheme that incorporated aspects of both the old and new schemes. The results were immediate: The Bucs gave up only 17.7 points per game the rest of the way, notched big wins at Seattle and New Orleans and generally looked much more competitive.
Ruud, too, felt more comfortable after the switch, though he felt he had done a good job of absorbing Bates' approach.
"The way I look at it, I've had three pretty good years," he said. "Even last year, I look at the tape and there are plays I want back, but I didn't have a bad year. I watched it pretty closely. But like I said, where I'm at right now, I've got to prove it for a fourth straight year. That's the attitude I'm taking into the year and that's the attitude you've always got to have. There's not much security in the NFL."
After the 2009 season, Morris announced that he would continue as the defensive coordinator in 2010, as well. The improvement the Bucs showed over the last month and a half of '09 should continue, and even pick up pace, because there is time now to give the whole scheme more thought and practice. It will continue to incorporate aspects of the Bucs' mostly zone-based approach from 1996-2008 and the more matchup-oriented thrust of Bates' system.
"We really combined a lot of the two defenses and we have something that's pretty unique now," said Ruud. "I think it's going to work well. Even though we played really, really well at the end of the year on defense, we still made a lot of mental mistakes because we were kind of doing it on the fly. We were kind of like, 'Let's try this, let's try that.' Having a whole year to put it in I think is going to be pretty helpful for us."
Ruud and his teammates are doing classroom work along with their weight room sessions these days, but that assimilation process will really kick into gear when the Bucs start their organized team activity days (OTAs) in May. Still, the team's official offseason program began last Monday, and Ruud was on hand for the beginning. He's going to try to get better every day, as any coach would ask.
"I have a lot of things I want to work on this year," said Ruud. "I wasn't real happy with the way I blitzed last year. That's one thing you can really work on individually, using your hands, trying to be a little more creative. I've never blitzed a ton. But if you get six one-on-one opportunities throughout the year you'd like to be able to get a sack on four of them. It's just one of those things, being able to take advantage of opportunities a little better.
"And obviously we're going to try to incorporate more of the match-type coverage that Jim did, too. I like that type of coverage - you just can't do it all the time. It is a really good defense, but you just can't do it every play. When you mix it up, it really is good to change from zone to match concepts. I definitely want to work on my match concepts a little bit more because that was a little bit new to me. I've always been a zone type guy. If you're a good player, you always evaluate yourself pretty hard every year."