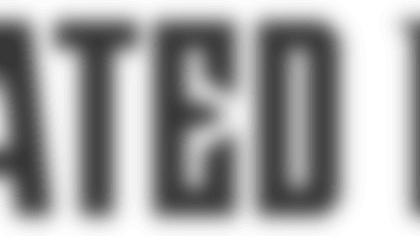 A: "Just to make the team. I knew we had a new coaching staff and they didn't know a lot about me. Honestly, the goal was making the team and making the 53-man roster."
Q: You played on a few different teams over the years and bounced around a lot. Can you talk about the kind of perseverance it takes to keep believing that you can become a starter and an impact player in the NFL?
A: "It takes a lot of perseverance. In life, things aren't going to go your way all the time and people are going to tell you that you're not good enough. You have to have that inner push to prepare. With me, I used a lot of the people telling me that I'm not good enough as motivation.  I used me getting cut and people telling me I'm not good enough as motivation to keep pushing and propelling me to be great. Just because things don't go your way doesn't mean life is going to stop. You have to find a way to make things happen and that's what I did."
Q: When you were named a starter, what did that mean to you?
A: "It meant a lot. Like you said, I bounced a lot between different teams. It's been a long journey and then for me to finally become the starter and play well, it meant a lot to me. I tried not to let the coaches down that believed in my like coach Lovie (Smith), coach Leslie (Frazier)."
Q: Does it mean anything to you to be able to finish the season second on the team with 81 tackles?
A: "I mean, when you're behind a guy like Lavonte that has 150 or something… each game I try to chase him. I put that in the back of my mind, that I have to have so many tackles and try to chase him because he's a great player, he's a Pro-Bowler. He's a great example to follow. He does things the right way so that's what I try to do. I try to keep pushing with him. We pushed each other and I think that's why that group, guys like me, Mason and Lavonte, started gelling together - because we push each other and make each other better every game."
Q: When you look back at your season, how are you going to remember it?
A: "I think obviously it was the best year of my NFL career and a turning point in my career. I went out there and played at a high level and played well. I think it was definitely a turning point and hopefully it springboards me into next year and years to come."
Q: Coming off a great season, what do you have to do to be able to build on that next year and continue to keep getting better?
A: "Just come back in shape and ready to go. I need to keep brushing up on things that were coached and keep working hard. Just keep pushing, just get in the best shape that I can and be ready to go."
Q: You said that coming into 2014 your goal was just making the team. I'd imagine that your goals for this offseason are a little different. How do you think your offseason will be different?
A: "I don't think it's going to be any different. I train hard. I'll train the same way that I have. I came into camp in the best shape of my life last year. I plan to do that this year. My goal is, now that I don't have to… you always have to worry about making the team but that's not my biggest concern. Now my goal changes to hopefully being a starter again and being one of the best linebackers in the league and helping my defense be the best defense in the league."
Q: What can Bucs fans expect from you in 2014?
A: "They can expect a better Danny Lansanah. I'm going to work hard. I'm going to give them something to watch because they're great fans. They welcomed me up with open arms once I got the starting position, I got a lot of support from them. They're definitely going to get a better Danny Lansanah next year. I'm going to strive hard to become a better football player."