VIDEOS


(Opening statement)
"Well, this is an exciting Draft and Combine for us, with the No. 1 pick, but I hope it's the last one that we are here with the No. 1 pick. That's not the goal every year. The season didn't turn out the way we wanted, by any means. It was long and painful at times, for all of us – especially the way we lost a lot of games – last possession or by one score. But despite all that, we were excited about the way some things did end up, and that's the way the team came together and fought and never gave up. We found some pieces that I think we're going to be happy moving forward with, and our draft last year we're very excited about – especially Mike Evans, that we selected with the seventh pick last year. So with that said, we still want to build through the Draft – that's our goal – and to assemble our championship team for the future through the Draft. So that's where we are today."
(On Lovie Smith's comments that at this stage in the process he would be comfortable with Jameis Winston being the face of the franchise)
"We've done a lot of work on all the players in the Draft this year so far, some more than others, and we're very pleased with things that we've found out about all the players that we have under consideration. So that's where we are."
(On when he anticipates knowing who Tampa Bay will draft)
"All options are on the table, in terms of trading the pick, taking the pick. Right now, we'd probably lean towards using the pick, but we're going to let it play out here. We have over two months yet, so it would be a little ridiculous to come out and say, 'Well, this is who we want right now.' We want to use every avenue that we have, every resource that we have in the next two months to make the final decision. But it would be an insult to sit here after two rounds of Draft meetings and watching every play of Lovie and I, or Jon Robinson, our personnel director, Mike Biehl, our college scouting [director], all of our scouts, to watch every play and say that, 'Okay, we have two guys tied at the top.' We have a favorite, but we want to let the process play out."
(On what positions are deepest in this Draft)
"Well, I think there's a lot. It seems wide receiver again, a lot of good players. Running back, offensive line – there's a lot of depth there. Pretty excited about those positions, in terms of the Draft here and how that will play out for next year."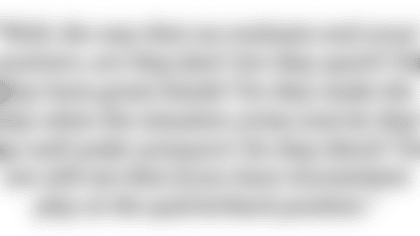 (On evaluating receivers and how inconsistent quarterback play can impact that evaluation)
"Well, the way that we evaluate and scout receivers, are they fast? Are they quick? Do they have great hands? Do they make the play when the situation arises and do they play well under pressure? Do they block? You can still see that if you have inconsistent play at the quarterback position."
(On his impressions of guard Logan Mankins and if he sees him having a future with the Buccaneers)
"Yeah, we think the world of Logan. He's part of the solution, wasn't part of the problem. Having him for another year, the full offseason which he's already told me he wants to be there for the whole offseason, and having him in the room – I think it's going to be extremely valuable to this football team moving forward. Yeah, he has a future with us."
(On plans to meet with either Jameis Winston or Marcus Mariota)
"Yes, yes. We'll have plenty of meetings with them. I don't know if 15 minutes will be enough for either of them. We might get through an incident or two, but we need to dive pretty deep and continue the process on both quarterbacks, and all quarterbacks in the Draft and all players.'
(On if he's referring to Winston and not Mariota when referring to an incident)
"Every player has some things that we want to talk about."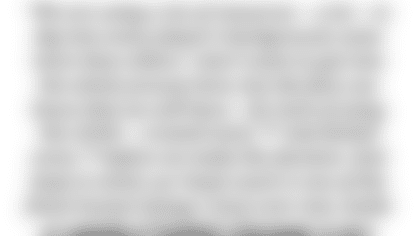 (On the steps he is taking to vet Winston's background)
"We are using a lot of resources – a lot – to dig into every player's background, some more than others. I don't want to get into the whole process here, but the fans can know that we will have – for lack of using the cliché – crossed every 'T' and dotted every 'I' before we make the decision. And keep in mind, our head coach is one of the finest human beings I have ever met, inside or outside of football. Character is very important to him, it's very important to me, so we will make sure that the decision we make is best for the Tampa Bay Buccaneers."
(On the importance of position drills at the Combine)
"We put some value in it. For me and for most of my scouts - and this goes for scouts in general - the tape is the majority of the body of work that you go off of. But, the drills here and the measurements, the 40 and the vertical, they all can kind of cement our feelings about the player, good or bad."
(On the timeline of deciding who to select with the first overall pick)
"Perhaps, but I don't want to set a deadline here, put a false deadline in place right now. We're still two plus months out, so we have a lot of time yet."
(On being cautious about the emphasis of workouts and pro days leading up to the NFL Draft)
"It's always a trap. A lot of mistakes have been made over the past in the league with the fast risers, the guys that come out of nowhere this time of year. We like to- usually your purest evaluation of a player is what you've seen during the fall. You have some juniors or underclassmen that came out that you're behind the 8-ball a little bit on. You're trying to catch up with the rest of the class, but your most pure evaluation comes from what you saw in the fall or on tape."
(On the philosophy of taking a quarterback with the first overall pick regardless of where that player stands on your draft board)
"I don't know about moving him up 20 spots, but if you have a player that you feel is a franchise-level player - quarterback especially - it's tough to pass on, but you have to make that decision. You have to collectively really feel that that player is a franchise-level player, whatever that definition is for you."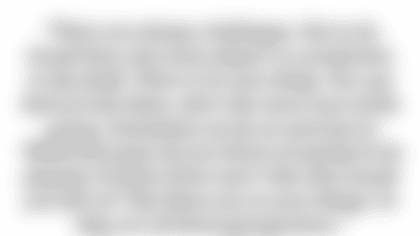 (On the challenges of projecting whether or not a quarterback will be a franchise player)
"There are always challenges. Not to be broad here, but every player is a projection in the draft. There is no sure thing. You can kind of rate them, who's the more sure of the group. Sometimes we do an exercise of 'Which five guys do you know are going to be playing 10 years from now? Like who would you bet on?' But there are no sure things. So they are all kind of projections."
(On weighing the competition of players from non-FBS programs)
"At the core you are still scouting and evaluating his quickness, his feet, his balance his athleticism, his hands and his ability to block. I mean, certain things don't change. It's not his fault he's playing against whatever small school it is. At the core, you still scout him as an athlete and as a football player."
(On why he feels it is uncommon for running backs to be drafted in the first round)
"You know, there's a myriad of reason, probably. The shelf-life has been a concern, I think. You draft a player in the first round, you ideally probably want to get to a second contract. There just haven't been a whole lot of those types of players that teams felt were worthy of that."
(On whether he believes there are any running backs in the 2015 draft worthy of being first-round picks)
"There's some talent there at that position."
(On quarterback Mike Glennon's future with Tampa Bay)
"We like Mike Glennon. We want him to be part of the future. We like Mike Glennon a lot."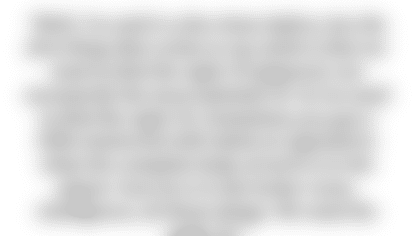 (On what he finds most important in evaluating team building for Tampa Bay)
"Well, I've said it a few times before, but the first thing that comes to my mind is that we need to find the right 53 [players], not necessarily the most talented 53. So we need to find the right 53. Sometimes you get a little enamored with talent as opposed to what the complete body of work is in the player: how he is in the locker room, intelligence, all those things. We need the right 53."
(On what he would like to see if both Jameis Winston and Marcus Mariota go through drills at the Combine)
"I don't want to get specific on a player right now. I think it's really cool, though, that there's chatter now that they are going to both work out and I think it speaks to their competitiveness and things that we know about both of them. As different as those two are, there are a lot of similarities in terms of their winning pedigree and the Heisman, obviously, but they are both ultra-competitors, so it will be cool just to see them compete against each other."
(On whether the draft process is any different in Tampa Bay than in previous organization in which Licht has worked)
"In our case, we [Licht and Head Coach Lovie Smith] make the decision together, but, no. We're still working our tails off and trying to do everything we can to make sure that we make the right decisions for the organization. There is no selfishness at all. That's what I love about this place."
(On any special process a team uses to look into the background of potential draft picks)
"We feel like we have a good process. I feel like we are doing some unique things, but I don't want to get into them, because I don't want the other 31 teams thinking that they – I'm sure that every team is unique and is trying to be on the cutting edge, so we're no different."
(On if Offensive Coordinator Dirk Koetter's relationship with University of Oregon Head Coach Mark Helfrich has benefitted Tampa Bay's scouting of Mariota)
"Yeah, it has. We also have a lot of coaches that have long-standing relationships with other players in the draft, too. So it's helpful, but it wasn't necessarily, it absolutely wasn't the reason we hired Dirk Koetter. We hired him because we thought he was the best offensive coordinator, and not just at the time, but one of the better ones in the league. We are really excited about him. That was our biggest offseason acquisition."
(On what he views as the most important traits for a quarterback)
"Mental toughness, football intelligence, decision-making."