STORY HIGHLIGHTS
Another entry into the Greatest Buc debate affords us an opportunity to appreciate the greatness of Lee Roy Selmon
Each team in the NFC South had a pretty glaring need remaining after the draft, but which one was most pressing?
No single player is a great bet to win the Offensive Rookie of the Year award in 2014, but does Mike Evans have a shot?

The NFL generates a massive amount of online media coverage, a share of which is devoted to the Tampa Bay Buccaneers.  Even the most avid Buccaneer fans might not catch everything that's out there.
That is why I will be taking a weekly look around the web to gather some of the analysis you might have missed.  I'll also provide my own take on those articles; I will "read and react," if you will.
The pieces that caught my attention this week included one from the Bradenton Herald declaring the "Greatest Buc" debate to be no debate; another from ESPN.com that pinpoints the most pressing depth chart needs still remaining for each NFC South team; and a final one debating Mike Evans' chances of winning some postseason hardware.
Keep in mind, the opinions stated below are my own and don't necessarily reflect Buccaneers management, coaches or ownership.
I had a reaction to this article before I even read it.
It's the title.  By now, most sports fans know that sportswriters don't normally fashion their own headlines; they provide the body of the article and an editor generates the title.  This division of labor usually doesn't matter much, except in the infrequent opportunities in which the title suggests something contrary to – or at least misleading about – the story's content.  A recent prominent example came from The Oklahoman, which took the unusual step of apologizing after running a headline calling the Thunder's Kevin Durant, "Mr. Unreliable."
In that case, the article was discussing Durant's troubles in a first-round series against Memphis, including his surprising struggles at the foul line, but the headline seemed to make a larger statement about Durant's career as a whole.  Fan reaction was immediate and angry, and justifiably so because, as the article actually states, Durant has really been more like "Mr. Automatic" throughout his career.
So, back to this piece from Alan Dell.  I knew not to blame him for the title, which drew my first reaction.  The topic has been discussed quite a bit lately thanks to two more Bucs getting into the Pro Football Hall of Fame: Who is the greatest player in franchise history?  Dell's column, in fact, is a reaction to an ESPN.com post by Pat Yasinskas ranking Derrick Brooks as the top player in Buc history, after he had given the #2 spot to Lee Roy Selmon.  Dell is offended enough by the pick not to even specify the "national publication" that made the rankings.
My problem with the title comes before the colon.  "Lee Roy Selmon is greatest Buccaneer of them all," is a completely defensible statement and in fact the rest of the article makes a very good case in support of it.  But, "No debate?"  Really?
In this case, the headline accurately reflects the substance and the tenor of the author's writing.  Dell sees it as no contest, and believes Selmon is being sold short here.  I would say that calling it no debate sells Brooks short, no matter which side of this argument you come down on.  That's especially true when you consider that much of Dell's arguments are based on what Selmon meant to, and accomplished within, the Bay area community.  He doesn't put Brooks in Selmon's category in that arena, with the main argument against Brooks being that "he is only halfway through his life."  Ignore for a moment that Brooks is 41 and Selmon tragically passed away, way too early, at 56.  Brooks has accomplished quite a bit off the field and built a sterling reputation; yes, he's sure to do more but that doesn't take away from what he's already achieved.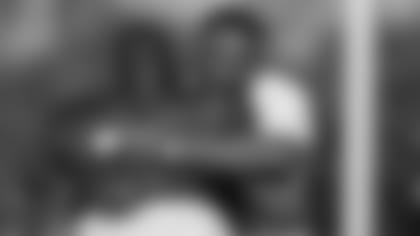 Hall of Famers Lee Roy Selmon (facing) and Derrick Brooks put in important work both on and off the football field
But I'm going to let that debate rest because, after reading Dell's article, I actually had a second reaction that trumped my first visceral reaction to the title.  I may not agree with the author's contention that it's "no debate," but I did come away wondering if a lot of us in the 2010s – myself included – are guilty of being a bit biased towards the more recent generation of players.
I've debated the "greatest player in franchise history" question myself, and like Yasinskas (and probably Dell, though he doesn't specifically say so) it always comes down to Selmon and Brooks.  Dell doesn't find it hard to choose between those two, but I do.  They were both era-defining players, both good enough to win NFL Defensive Player of the Year awards, both the best in team history at their positions, both determined to make a difference in the community, both pleasant to be around.  I think I've reluctantly come down on Yasinskas' side and gone with Brooks because he helped the team win a championship and because he was a first-ballot Hall of Fame selection.  I say, "reluctantly," because I'm loathe to say anything that diminishes Selmon's greatness.
I think it's natural to take two players with nearly equal resumes and unintentionally favor the one you personally saw in action.  I had the great, great, great fortune of meeting Lee Roy Selmon a number of times, and he was every bit the genuine and caring man that Dell describes.  That's not news.  It's what everyone has always said about him.  I've written about Selmon many times; in fact, when he was inducted into the Hall of Fame in 1995 I wrote a game program in which every article was about Selmon in some way or another.  Through those assignments, I've studied his career at length.  I know the numbers and I know what his peers said about him.
But I didn't see Selmon play in person and the Buccaneers weren't even on my sports radar from 1976-84, when he played.  On the other hand, I was in attendance for every one of Brooks' 224 games with the Buccaneers and I can conjure a Brooks highlight reel in my head.  (My favorite remains the game-sealing pick-six against the Rams in 2002 when he simply ran out of the end zone and through the tunnel to the locker room to treat his aching hamstring.)  If I mentally debate Brooks and Selmon and find them almost equally deserving, is it my personal bias that gives the nod to Brooks?  Maybe.  Would I rank Joey Galloway over Kevin House, Lavonte David over Hugh Green, Doug Martin over Ricky Bell?
I don't think that little bit of navel-gazing, nor Dell's eloquent defense of Selmon, would probably change my answer.  If pressed, I think I would still take Brooks, though I'd rather call them 1a and 1b.  But forget about that debate – and forget for the moment about whether or not it is a debate – and let's just take the occasion to once again celebrate Selmon's greatness.  Here's my favorite part from Dell's account:
"The thing about Selmon is that everything came naturally.  He didn't have to work on being a nice guy or go to counseling or sit in the coach's office to learn how to be a good teammate.
"He was the perfect teammate in the game of life.  You can't force yourself to love other people or find the good in others.
"Selmon had a knack for finding the best in people as if he had a homing device in his heart."
Okay, this article was actually posted last Thursday, not this week, but we skipped Read and React last week so I'm grandfathering it in.  That's mainly because I want to play a little second-level game with the choices the author made.
(Plus, a week ago ESPN.com had only posted three of their eight division write-ups in this "Plugging the Holes" series; if you follow the link now, you'll see that all eight are now up.  More time-killing fun for us all!)
The purpose of this series, which is on ESPN.com but uses writers and data from the excellent Football Outsiders site, is to identify the "biggest remaining personnel need of every team, going division by division."  Note the singular; most teams have a couple question marks heading into training camp but Verhei only wants to focus on what he considers the #1 need for each team.
I'm not going to argue with any of his choices.  They seem on point to me.  To summarize, it's a pass-rusher for Atlanta, a center for New Orleans, a tackle for Carolina and "offensive line" in general for the Bucs.  You and I might feel that the author is selling free agency additions Anthony Collins and Evan Dietrich-Smith just a wee bit short, but it's hard to argue that the two guard spots are the most unsettled spots on the depth chart right now.  Similarly, Carolina went into the draft with two massive holes – receiver and tackle, the latter following the retirement of Jordan Gross – and only addressed the first one.  As Verhei points out, at the time of his article, the Saints simply did not have a center they could list first on an imaginary offseason depth chart, so that was obviously a glaring need.  And Atlanta's pass rush was not good at all last year, and the one area that isn't likely to improve from 2013 simply with the return of injured players.
So, let's do this instead: Of those four teams and their identified needs, which are the most pressing.  That is, is the Bucs' unsettled O-line situation more of a problem than Carolina's tackle search, or vice versa.  I'll rank them from four (least pressing problem) to one (most pressing).
This one was easy, thanks to a development between Verhei's post and now.  It was, in fact, the very development that Verhei essentially predicted.  Jonathan Goodwin, who played the past three seasons in San Francisco but was a quality starter for five seasons with the Saints before that, was an unrestricted free agent who was still on the street.  Verhei thought that the Saints might be waiting until June to bring Goodwin back, because doing so keeps that particularly signing from factoring into next year's compensatory draft pick formula.  He was right.  The Saints signed Goodwin on Tuesday and he will now compete with second-year man Tim Lelito for the starting center job.
Lelito was an undrafted rookie out of Grand Valley State last year who did play in all 16 games with two starts as a rookie.  Goodwin is the obvious favorite, though he has 12 NFL seasons and 181 games worth of wear on his tires.  If Lelito wins the job after all by outperforming Goodwin, that's probably a good sign for the Saints.  Goodwin seems like a strong bet to at least be a solid performer, so if Lelito is as well then the Saints will actually have some depth at the spot.
I found the other three teams difficult to rank, but I went with Atlanta here because they appeared to do the most to address their particular problem.  Whether or not those efforts work is another question.  According to Football Outsiders' analysis, the Falcons had the league's worst pass defense last year, and a significant part of that problem was a failure to generate pressure up front.  There's no doubt that the Falcons recognized the same problem because they signed end Tyson Jackson and tackle Paul Soliai in free agency and then devoted the 37th overall pick in the draft on Minnesota DT Ra'Shede Hageman.  They then used a fourth-round pick on pass-rushing linebacker Prince Shembo out of Notre Dame and also picked up a few other lesser-known linebackers with late compensatory picks.
The goal, apparently, was to get much bigger and more stout in the middle, where they were often overwhelmed in 2013.  If those sizeable additions can do a better job of tying up blockers in the middle, that would presumably create more opportunities for the outsiders players to face one-on-ones or even free lanes, even if it's unclear if the Falcons have any elite edge rushers.  There is also the persistent rumor that the Falcons will be using a lot of 3-4 sets in 2014, which would tie in well with the theory above.
Atlanta used the sixth-overall pick in the draft on offensive tackle Jake Matthews; had they not, Verhei might have been writing about that position instead of the other line.  They did not use that pick on a (hopefully) elite pass-rusher, though with Jadeveon Clowney and Khalil Mack already off the board in the first five picks, they might not have really had a viable option at #6, anyway.  Instead, they took the approach outlined above.  It might work; the Falcons have an astute management team.
Tampa Bay: Offensive Line
The Bucs actually put a lot of work into this unit, as well, but a lot of it had to do with departures.  Three starters from last year's line – left tackle Donald Penn, right guard Davin Joseph and center Jeremy Zuttah – were all released or traded in March.  Of course, those three contributed to a rough year up front for the Buccaneers in 2013, so this was probably a necessary change (and a nice cap-saving one, too).  Left tackle and center have already been covered with the signings of Anthony Collins and Evan Dietrich-Smith, and Collins in particular is expected to be a large upgrade.
The draft brought only one potential replacement at guard, however, and as a fifth-rounder Kadeem Edwards might need some seasoning before he's ready to step in.  Jamon Meredith, Oniel Cousins and Patrick Omameh would seem to be candidates to potentially start, but the biggest wild card is Carl Nicks.  If he returns after missing most of the past two seasons and is anything close to his previous form, the Bucs will suddenly look quite good up front.  It's hard to count on that, however, until Nicks gets back on the practice field.
Carolina: Offensive Tackle
Replacing Gross won't be easy, and it was a task the Panthers didn't know they would have until his surprise retirement in February.  That was before free agency and the draft, however, giving the team two avenues to explore in finding a new left tackle.  They took neither, and Verhei cites a story on the Panthers' web site in which G.M. David Gettleman says none of the available options impressed him more than those already on his roster.
Gettleman would know better than I, and the lack of moves would indicate confidence in the team's returning players.  Still, the options Verhei lists seem somewhat underwhelming on paper.  The author thinks the most likely solution is to move the starting right tackle, Byron Bell, to the left side and install either Nate Chandler or Garry Williams on the right side.  Chandler was a defensive lineman until last year and Williams has had a string of injuries over the past three years.  None of the other four players listed as offensive tackles on the Panthers' site – David Foucault, Kevin Hughes, Oscar Johnson and Andrew McDonald – have started an NFL game and all entered the NFL as undrafted free agents.  (Of course, so did Bell, and he's become a regular starters, so they can't be ruled out.)  Also, as Verhei points out, if the right tackle job goes to Chandler than the Panthers will have a new hole at guard, where he started for most of the second half of the season.  That one, however, may have been addressed in the draft with the third-round pick of Trai Turner.
Gee Sanders, did ya roll out of the wrong side of the bed this morning?!  (Or, to be accurate, Sunday morning, when this was posted.)  Hey, if an NFL.com analysts wants to declare our own Mike Evans the ORoY favorite, you don't really have to try so hard to disabuse him of the notion.
Just kidding!  Here's the tweet that prompted Philipse's article:
My WAY too early pick for offensive rookie of the year: TB WR Mike Evans — Daniel Jeremiah (@MoveTheSticks) May 31, 2014
Jeremiah's prediction got Philipse to thinking, and that thinking obviously did not lead him to the same conclusion…for some fairly cogent reasons, I have to admit.  Still, my first reaction to another story that got me going right from the title line, is to agree.  And replace "Mike Evans" with the name of any of his fellow 2014 offensive rookies and I'd still agree.  That is, to say, you can have any one player – including Mike Evans – and I'll take the field and lay you 10-1 odds.  (Note: I'm not good at gambler-speak, so that might not have made any sense.)
Anyway, let's take a moment to look at the reasons the author believes Evans won't get the ORoY hardware (he also lists three reasons why Evans will win, but the conclusion is still negative).  Essentially, there are three: Receivers rarely win this award; Vincent Jackson, the running game and all the other pass-catchers will limit Evans' touches; Evans will need time to learn a complicated Tedford offense.
That first point is true – only three receivers have won in the last 20 years, the author points out – but I think that has more to do with the popularity of quarterbacks and running backs and less to do with receivers being unable to make an early impact.  Percy Harvin won the award in 2009, and since then some of the rookie receivers who have had big years include the Bucs' Mike Williams in 2010; the Bengals' A.J. Green and the Falcons' Julio Jones in 2011; the Jaguars' Justin Blackmon, the Colts' T.Y. Hilton and the Browns' Josh Gordon in 2012; and the Chargers' Keenan Allen in 2013.  No, the majority of rookie receivers don't put up big enough numbers to warrant consideration, but it seems like a couple do each year.  Why can't that be Mike Evans in 2014?  He's got a nearly uncontested path to a starting job and all that attention being paid to Vincent Jackson could actually help him.  Put it this way: Mike Williams had 63 catches as the #2 option behind Jackson in 2012.  Couldn't you see Evans immediately being as good as Williams?
Philipse mentions that Calvin Johnson, Andre Johnson and Larry Fitzgerald all have mantles with ORoY-shaped holes in them.  That really just serves to emphasize the point about circumstances and competition.  Harvin won in 2009 with a receiving line of 60-790-6 (and some additional rushing yards, but probably not as many as you think).  When Fitzgerald was a rookie, he had almost the exact same line – 58-780-6 – but no award because Ben Roethlisberger had a great year and was a quarterback.  (Still is, in fact.)  Andre Johnson threw up a 66-976-4 line in 2003 and didn't win because the award went to…another receiver, Anquan Boldin.  You could see something similar this year – Mike Evans' chances might be hurt less by the fact that he's a receiver and more by the potential exploits of Sammy Watkins.
We'll have to wait and see on Philipse's other two points.  I'm more of the opinion that Evans will get plenty of targets.  The Seahawks were one of the NFL's most run-heavy teams in 2013 but their number-two receiver, Doug Baldwin, caught 50 passes.  I'm also not convinced that the other receivers on the Bucs' depth chart, no matter who they end up being, are going to be strong competition to take targets away from Evans.  Now, if the running backs and tight ends are more involved in the passing game than before, then the author may have a valid point.  As for the notion that Evans may need some time to absorb Tedford's offense and unlock his own potential within it, I'll have to concede that this is possible and that I have no idea if it's true or not.
So let's talk competition.  That same tweet from Jeremiah sparked an "Organic Email Chain" from the Around the League crew on NFL.com and the four participating analysts made no fewer than six different picks for the award, with an additional "sleeper."  Evans is on that list, along with fellow wideouts Watkins and Brandin Cooks, quarterbacks Johnny Manziel and Teddy Bridgewater and running backs Bishop Sankey and Jeremy Hill (the sleeper).
Look, if any rookie quarterback has a decent year for a team that finishes at least .500, he's going to win, barring a Randy Moss-like explosion.  I agree with ATL's Kevin Petra that Cleveland's Johnny Manziel is the best bet to have that sort of year, and so he'd be my pick if I was forced to go against the field.  Still, if Manziel has difficulty adjusting (and/or winning a starting job) and neither Bridgewater nor Jacksonville's Blake Bortles immediately get into the lineup, this could be a year without that quarterback dominance (they've won four of the last six awards).  The first running back taken didn't come off the board until pick #54 – that would be Washington's Bishop Sankey to the Titans – and he might be the only one who inherits a full starter's role with his new team.  The running back position is generally one at which rookies can quickly adjust and get significant playing time, a la Doug Martin in 2012, but there seems to be a scarcity of those, as well.
So maybe this is one of those rare years in which a receiver really can be the Offensive Rookie of the Year favorite and if so, then why not our own Mike Evans?
Okay, probably not.  I imagine you're right, Sanders, but personally I think I'll just enjoy Daniel Jeremiah's confidence for now.