STORY HIGHLIGHTS
Three analysts from popular Buccaneer-related blogs have often conflicting opinions as to what the team will and should do on Thursday night
One analyst believes the best choice for Tampa Bay at #7 will be Pittsburgh DT Aaron Donald
The roundtable participants even offer up some possible outside-the-box scenarios for Thursday night

This year's delayed NFL Draft has given us two extra weeks of analysis, speculation, smokescreens, double-reverse-smokescreens and earnest digging for any real clues as to what the league's 32 teams are planning for next weekend.
That's a good thing, one supposes, if you're an NFL junkie and you're willing to sip from the firehouse that is draft coverage.  It may be a bit confusing, however, when different sources are offering conflicting opinions.  Even if you narrow your focus to one team's draft intentions – say, oh I don't know, the Tampa Bay Buccaneers – there are still countless analysts howling into the void.
For instance, if you like to make the rounds to some of the sites devoted strictly to the Buccaneers, you may have happened on this Pewter Report article suggesting three possible first-round Tampa targets you rarely see in mock drafts: C.J. Mosley, Aaron Donald and Bradley Roby.  Head over to JoeBucsFan.com, however, and you'll see an impassioned plea for a quarterback in Round One.  If you're on the other side of that burning quarterback issue, you might instead enjoy the case that Bucsnation.com makes for selecting Buffalo LB Khalil Mack instead.
Do the folks at these sites know what is going to happen next Thursday night?  No, of course not. My office is a brisk 15-second walk from Jason Licht's and I don't know who the Buccaneers are going to pick.  But these are people who have spent a lot of time thinking about the draft, poring over what Licht and Lovie Smith have said the last few months and reading whatever draft-related tea leaves they can find.  If their opinions sometimes conflict, that only underscores how difficult it is to sort the illuminating from the intentionally-misleading when it comes to the draft.
That is, perhaps, why you draftniks out there seek out so many sources of information.  And that got us to thinking: What if we pulled together some of these various sources and presented them to you all at once, here on Buccaneers.com?  Thus is born our first Buccaneers.com Roundtable, a wide-ranging discussion of a specific topic – in this case, the draft, of course – involving a group of self-styled Buccaneer experts – in this case Scott Reynolds of PewterReport.com, Steve Isbitts of JoeBucsFan.com and Sander Philipse of Bucsnation.com.  I'll also be weighing in with my thoughts from time to time.
First, let's start with some introductions.  Guys, tell us a little about yourself and your site.  Keep it brief, please, because you know the fans care a lot more about Jadeveon Clowney and Sammy Watkins than Scott Smith and Scott Reynolds.
Steve Isbitts, JoeBucsFan:JoeBucsFan.com is run by me and Lee Diekemper, longtime Buccaneers fans who met while writing for The Tampa Tribune. In 2008, after years of discussion, we set out to cover the Bucs daily with a sharply opinionated style. Thankfully, Bucs fans embraced our passionate brand of reporting and analysis. JoeBucsFan.com now enjoys more than 700,000 monthly visits to the site, and Lee and I get to devote full-time effort to covering the Bucs as credentialed media. Life is good.
Scott Reynolds, Pewter Report:I'm Scott Reynolds, publisher of PewterReport.com and Bucs beat writer for the past 19 years. You can follow us on Twitter @Pewter Report. As an organization that follows the Bucs' draft closely, we have been fortunate enough to forecast some of the selections in our annual Bucs' Best Bets, hitting on such picks as DT Gerald McCoy, WRs Arrelious Benn and Mike Williams, FS Ahmad Black, QB Mike Glennon and a dozen others through the year. However, this year's draft is so deep and puzzling as there are so many varying opinions on the talent, it's proving to be quite a challenge to link certain players to Tampa Bay, especially with a new regime in place.
Sander Philipse, Bucs Nation:I'm Sander Philipse, the managing editor of SB Nation's Tampa Bay Buccaneers blog, Bucs Nation, where I'm helped by a great group of guys that includes Leo Howell and Gur Samuel. I've been at the helm of that site for the past three years, and I like to think we've built up a reputation as the place to come for quality Bucs analysis, and to hang out with a great community of Bucs fans. Great, thanks everyone.  Now let's get right to it.
Topic #1: Whither Johnny Football?
There really is only one choice for our opening topic: Texas A&M quarterback Johnny Manziel.  As I mentioned in a recent Buccaneers.com article, the Buccaneer fan base has made two things clear to me through tweets, Facebook posts and article comments: We would be fools to draft Manziel, and we would be fools not to draft Manziel.  There is no other player in this draft who is even close to as polarizing as Manziel, particularly when it comes to the Buccaneers.
The questions for the Buccaneers: Would they, and should they?  You can take the Buccaneers not-too-veiled interest in Manziel at face value or as a smokescreen, but as time has passed I've begun to think that where there's smoke there's at least a little bit of fire.  By that I mean, I would be surprised if the Bucs try to trade up for Manziel, but if he falls to #7 he is at least a serious consideration for the team.  I personally don't think Manziel will fall to seven, but the Bucs would be sorely tempted if he did.
What do you guys think?  Will Manziel make it to #7, would the Buccaneers pounce if he did and, most importantly, is that the right thing for this team at this time?
Let me know what you think and then I'll give you a chance to react to each other's thoughts.
Steve Isbitts:Yes, absolutely the Bucs should -- and likely would -- pounce on Johnny Football at the No. 7 overall pick. And it's the right thing to do.
A new regime, a new offensive coordinator, plus veteran QB Josh McCown eager to mentor, and new young receivers surely on their way to Tampa via the NFL Draft, all add up to the perfect time to draft a quarterback with true "franchise QB" potential.
This is especially important in a division with Matt Ryan, Cam Newton and Drew Brees. Last I checked, quarterback is still the most critical position on an NFL team.
The Bucs' table is set beautifully to draft Johnny Football. Sadly, we at JoeBucsFan.com would be shocked if he's available at No. 7. It's hard to imagine Jacksonville passing on the most talented QB in the draft.
Scott Reynolds:Johnny Manziel is definitely a lightning rod – both as a player on the field and as a draft prospect in the minds of fans and NFL talent evaluators. I can understand why Bucs fans seem split 50-50 on whether Tampa Bay should draft him. His fiery demeanor and leadership skills, and his penchant for making nearly impossible plays with his uncanny improvisational ability is enticing to teams and exciting for fans. But Manziel's lack of ideal size (6-0, 206), his flawed mechanics and his habit of leaving the pocket at the first sign of pressure rather than hanging in there and going through his progressions is a big concern of NFL coaches.
Simply put, Manziel is an unorthodox football player and he needs to have the freedoms he did at Texas A&M to be successful and improvise and create plays that stray away from the playbook. I'm not sure if disciplined coaches like Lovie Smith and offensive coordinator Jeff Tedford want that type of player at the helm of their offense. Manziel's got a strong arm and is more accurate than he gets credit for, and I think his mobility is a plus for Tedford's system. But I wonder if Fresno State's mobile QB Derek Carr isn't a better fit because of his ability to hang in the pocket and go through his progressions. Carr is almost as good an athlete as Manziel is and had an incredibly productive career while leading the nation in TD passes with 50 and passing yards with over 5,000 last year.
I wouldn't trade up for Johnny Football if I was Tampa Bay, and I wouldn't necessarily take him with the seventh overall pick – but wouldn't put it past the Bucs to select him. I like Pittsburgh DT Aaron Donald – or one of the top two offensive tackles in Jake Matthews or Greg Robinson – the best at No. 7, but I could see Tampa Bay being seriously interested in him for a multitude of reasons. He certainly would help the Glazers fill the stadium, put Tampa Bay back in the national spotlight and allow the team to sell the heck out of No. 2 Bucs jerseys – so that's added value in addition to what you are getting on the gridiron from Manziel. And keep in mind that Smith, a native of Big Sandy, Texas, loves football players from his home state, too. I think where there is some smoke there is fire with regards to the Bucs and Manziel.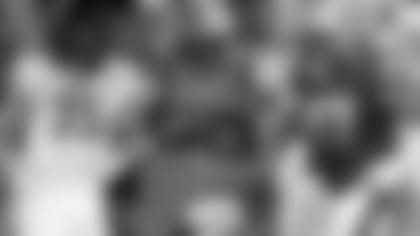 Steve Isbitts thinks the Bucs will tab T Jake Matthews (left), Sander Philipse could see a surprise pick of Odell Beckham (middle) at #7 and Scott Reynolds thinks the team's best best is Aaron Donald (right)
Sander Philipse: It's so hard to project what the Buccaneers want to do. We've seen reports of visits and workouts with at least seven different quarterbacks, including Johnny Manziel and all of the top passers in the draft. Will they take Manziel if he falls there? My gut tells me they will -- he's just the kind of quarterback a defensive coach will fall in love with. Ask any defensive coach about Manziel and they'll talk about how they'd hate to play against him. I think that would be true for Lovie, too.
The one thing that concerns me is Manziel's fit with Jeff Tedford's offense. We don't really know what that offense will look like, but Tedford has always emphasized structure within an offense. Manziel struggled with operating within structure in college at times, and he was at his best when he could improvise. Tedford would have to find a way to harness Manziel's improvisational skill within a structured offense. I don't think that's an ideal fit.
But I agree with you, Scott: I think this is a moot point. I don't expect Manziel to even be on the board at number seven.
Scott Smith: Steve, as much as Josh McCown is ready to mentor a young passer, is he actually ready to hand over the reins right now?  Because, nowadays, you don't often take a quarterback with a top-10 pick and ask him to sit for very long.  Scott, you mention a trio of linemen as good options for the Bucs at #7, while many analysts like a receiver like Mike Evans at that spot.  Are you saying the better option is in the trenches?  Sander, you don't think Manziel is an ideal fit for Tedford; should they make the pick regardless?
Before we move on to the next topic, guys, take a moment if you wish to follow up on anything your colleagues had to say or any of my questions above.  Have fun with this; we're all friends here!
Sander Philipse: Should they take Johnny Manziel? No, I don't think they should. I much prefer Teddy Bridgewater to Johnny Manziel. I think he's more NFL-ready and he displays more of the mental traits NFL quarterbacks have to have than Manziel does, although I do understand those questioning his frame and arm strength. Bridgewater has a very advanced understanding of NFL offense, and that's one of the keys to success.
While I agree with Steve that this is the perfect time to draft a franchise quarterback, I'm just not convinced Manziel's style will translate to the NFL. If you're going to pick a quarterback there, I think Derek Carr might even be preferable to Manziel, at least within Jeff Tedford's system -- as far as we can judge that offense, anyway. That said, if the Bucs love Johnny Manziel, they have to make the pick. You have to stick with what your evaluation tells you, after all.
Steve Isbitts: Scott, to answer your question, absolutely McCown is ready to mentor.  He's a team-first guy and is earning the biggest salary of his career to mentor and/or play.
I believe Lovie Smith promised McCown a chance to win the Bucs'  starting job. He'll get that, no matter what QB becomes a Buccaneer this week. ... I think the Week 7 bye week could be when McCown hands over those "reigns" you referenced.
Scott Reynolds: I think the real surprise will be if Manziel is actually there at No. 7, not necessarily whether Tampa Bay would take him or not. I think it would be hard for a team like Jacksonville, Cleveland or Oakland to pass up a shot at getting a playmaking QB like Manziel that could bring electricity and excitement to down-trodden fan bases to in those cities and instant relevancy to those respective franchises.
Topic #2: Make Your Prediction
This is simple: When it's all said and done, who will be the first player the Buccaneers' select in the 2014 NFL draft?  I'll go first, which is lame, I know, but somebody has to be the moderator here.  I'd love to throw out some kind of groundbreaking pick here, just to set the tone, but instead I'll roll with the masses and say Texas A&M wide receiver Mike Evans.
There is at least a little bit of risk to this pick.  Ever since the Mike Williams trade made wide receiver the obvious #1 need for the Buccaneers, Evans has been the most popular mock draft option at #7.  What came next?  Well, an upswing in Evans' stock, to the point that now I'm seeing multiple opinions that the Bucs would have to trade up just to get him.
So I guess that's the small bit of danger in my pick: I'm saying that at least one and maybe two quarterbacks end up going in the top six, and that Evans is indeed waiting there for the Buccaneers.  Would any of you care to disabuse me of that notion?
Scott Reynolds: Scott, your selection of Texas A&M wide receiver Mike Evans makes a lot of sense for the reasons you state. I'll throw in the fact that Evans is 6-foot-5, 230 pounds and would have a great mentor in Tampa Bay in Vincent Jackson, who is 31 and who may be on the downside of his career. Additionally, there is the notion that Bucs head coach Lovie Smith loves football players from the state of Texas and the fact that former Aggies strength and conditioning coach Dave Kennedy was hired to fill that role in Tampa Bay this year. I'm sure Kennedy has given the Bucs' brass all sorts of intel on Evans, Manziel and Matthews.
I know Smith loves big receivers and had two in Chicago in Brandon Marshall and Alshon Jeffrey. However, I don't know that Evans, who runs a 4.52 in the 40-yard dash, brings enough speed to Jeff Tedford's offense, which puts a premium on fast receivers. Throw in the fact that most of the receivers the Bucs brought in for visits to One Buc Place are second- and third-round options, and I think Evans is almost too obvious of a pick.
I think the ideal pick for Tampa Bay would be Donald, as I stated earlier. No defensive tackle in recent memory has had the production Donald put up in the last two years at Pittsburgh. In 2013, Donald won the Outland Trophy, the Lombardi Award and the Chuck Bednarik Award by posting 59 tackles, 28.5 tackles for loss, 11 sacks and four forced fumbles. He's undersized, but ran a 4.65 at the NFL Scouting Combine and is an ideal fit in the Tampa 2. Pair him next to Pro Bowler Gerald McCoy on obvious passing downs and Tampa Bay could get a much improved pass rush up the middle. Donald would also give the Bucs a great insurance policy in case McCoy were to get injured as the three-technique tackle position is the most vital cog in the Tampa 2 scheme.
But with my wish aside, what I think will happen on draft day is that the Bucs will take a quarterback in the first round. If Manziel somehow falls to Tampa Bay at No. 7, he's hard to pass up. What may be more likely is Bucs general manager Jason Licht trading down and picking up an extra selection or two and drafting Carr in the middle of the first round. I think he's a better fit in Tedford's offense with his pocket discipline, arm strength, accuracy and mobility, and has the character and leadership traits Smith is looking for. Somehow, I could see Carr winding up to be Tampa Bay's quarterback of the future somewhere in Round 1 and the Bucs address the wide receiver position in the second and third round.
Sander Philipse: I think Mike Evans should be available at the seventh overall pick, but that doesn't mean he'll be the Bucs' selection there. One school of thought says that pairing Evans with Vincent Jackson would give the Bucs a receiving corps similar to the 2013 Bears, who gave Josh McCown two huge targets in Brandon Marshall and Alshon Jeffery. The other school of thought says that Evans would make the Bucs too one-dimensional, and that a more explosive, speedy receiver like Odell Beckham Jr. would fit their speed-in-space offense more.
I can see Scott Reynolds' argument for Aaron Donald, but I think Gerald McCoy's dominant presence makes that a very unlikely pick. I don't think Sammy Watkins, Greg Robinson or Jake Matthews will be there for the seventh pick, nor will Khalil Mack or Jadeveon Clowney. I think it's too early for Derek Carr. I'm not sure the Bucs are even all that interested in Teddy Bridgewater or Blake Bortles. That doesn't leave me with a lot of options, does it?
Ultimately, I think the Bucs may be best served trading down, and that is probably what they'd like to do. That's easier said than done, though, because you need to find a trade partner and the right price. So instead, and because I dislike going with the standard pick of Mike Evans, I'm predicting they take Odell Beckham Jr. The LSU receiver is more explosive than Evans, he's an excellent return specialist (filling that hole on the roster), and several national analysts see him as a better receiver than Mike Evans. It's not a common pick, but I think it's exactly who they need to give their offense a boost.
Steve Isbitts: Here's a backwards mock draft to answer the question:
No. 7: Buccaneers select Texas A&M tackle Jake Matthews; No. 6 (Atlanta): Greg Robinson; No. 5 (Raiders): Khalil Mack; No. 4 (Browns): Derek Carr; No. 3 (Jaguars): Johnny Football; No. 2 (Rams): Sammy Watkins; No. 1 (Texans): Jadeveon Clowney.
In a nutshell, assuming no trades, the Bucs will let the draft come to them and not panic. Matthews isn't a sexy pick, but he's a great one
There's no need to draft a receiver here. The draft is very deep at the position.
Scott Smith: Okay, once again I'll give you guys a chance to wrap up that topic with any further reactions you have before we move on.  Scott, it's worth noting that the first draft pick Lovie Smith made to start his tenure as the Chicago Bears' head coach was defensive tackle Tommie Harris, focusing on the three-technique position he considers the most important one in his defense.  Of course, those Bears didn't already have a Gerald McCoy in place, but you make valid points about depth and rotational value.  Sander, as dicey as it is to predict a specific trade by a specific team, the fact remains that a handful of trades do happen every year, and there's reason to believe the Bucs are motivated to get in on that action in 2014.  Do you see a specific trade scenario that makes sense?
Sander Philipse: I think a lot of trade scenarios make sense. We've seen rumors over the past two days that the Bucs could move up for Johnny Manziel -- which I wouldn't be a proponent of, but it would make sense if they really see him as a future franchise quarterback. Trading down with the Lions specifically seems like the most likely scenario. They've been rumored to be interested in a wide receiver, and specifically Mike Evans, and they could target him with a trade up. That would probably net the Bucs a third-round pick, which should get them a little more depth while they'd still have the opportunity to target an excellent player at number ten, whether that's a receiver like Odell Beckham Jr, a guard/tackle like Zack Martin, a linebacker like C.J. Mosley or a tight end like Eric Ebron.
Topic #3: Get a Little Crazy
You know guys, it's sort of amazing – to me, at least – that it's hours before the first round and there's so little consensus outside of the draft room at One Buccaneer Place as to what will happen at pick #7.  Heck, I'm not even sure Clowney to the Texans is a sure thing, and if you can tell me for sure whether or not Cleveland is locked in on a quarterback at #4, I'd be impressed at your connections.
Collectively, we've made a number of predictions and/or recommendations for that #7 pick, and I wouldn't be surprised to see any of them happen.  Thus, it's kind of hard to generate any shock value with your predictions, short of sliding Leon Sandcastle into that spot.
But let's try.  Consider as your canvas not just pick #7 but the entire draft, including trade-up and trade-down possibilities.  Now paint me a picture that would surprise many Buc fans but is still at least somewhat realistic in your eyes.  Even if you don't think it's the most likely scenario, could you see the team trading up to #2 to get Watkins, Mack or Clowney, knowing it would cost an arm and a leg?  Could the Bucs go receiver in the first and second round?  How about a huge trade back, like the one Cleveland agreed to with Atlanta a few years ago when the Falcons wanted Julio Jones?  Is there any interest in a second or third-tier QB like Jimmy Garoppolo or A.J. McCarron?  How about a punter in the third round?  On second thought, scratch that last one.
Here, I'll go first: Houston does indeed start the draft with Clowney, planning on getting a QB in Round Two, or perhaps with a trade up back into the first.  The Rams take Greg Robinson, as many predict.  The Jaguars can't pass on Mack's big-play ability and grab him third.  Johnny Football goes to Cleveland.  Now, it's the Raiders on the clock at #5.  Concerned about holes at linebacker, tackle, cornerback and, yes, receiver, Oakland decides that, as tempting as Sammy Watkins is, they will consider moving back in order to gain picks and fill more needs.  The Bucs come calling, a third-round pick consummates the deal (it cost Jacksonville a fourth-round pick to move from #7 to #5 two years again when the Bucs drafted Mark Barron) and Watkins is a Buccaneer.
Just sayin'.  You never know.
Sander Philipse: If we're going to go crazy, I'm going to go wild. The Houston Texans really want to trade down, and the Atlanta Falcons have been rumored to be interested in trading up, though it's not clear who they'd be targeting. In my scenario, they do: they give up probably their second-round pick, and a future second-rounder to get the first overall pick in the draft and to select the generational talent in this draft in Jadeveon Clowney, who they'd love to shift all over their front in their hybrid defense. They finally have a pass rush, but they still don't have an offensive line who can protect Matt Ryan.
The St. Louis Rams at number two have been linked to basically every prospect I can think of, but I can see a trade down for them -- with the Tampa Bay Buccaneers. Lovie Smith and Jason Licht fell in love with the most unique player in the draft in Johnny Manziel, and they won't take the risk of waiting to see if he falls to them. They want to go up and make sure they get the guy they trust to run their offense for a generation.
To get that trade done they give the St. Louis Rams their 2015 second-round pick -- and quarterback Mike Glennon. Yes, we all know what he did last year, but he just doesn't fit Jeff Tedford's offense, and he's not of much use to them as a third-string passer. Giving up Glennon means limiting the damage done to their depth by this trade up, and gives Jeff Fisher some legitimate competition for Sam Bradford. It makes sense for the St. Louis Rams and Tampa Bay Buccaneers both.
Meanwhile, the Bucs will try to surround Manziel with a strong running game and a good defense along with a quick passing game. Tedford will hope to limit the randomness of his play by building the offense around the run, while developing him into a more disciplined player and using his improvisational skill when the scheme does break down.
I'm not sure that will really work, but it would certainly be exciting.
Steve Isbitts: Hey Scott, if you're begging for a total longshot, I'll give you one:
The Bucs trade down with Detroit (No. 10 overall) for a swap of first-round picks and acquire Detroit's third-round pick and draft Michigan State cornerback Darqueze Dennard. Then the Bucs trade Johnthan Banks, plus their 2014 second-round pick and Detroit's third-rounder to St. Louis for the No. 13 overall pick. The Bucs then draft Texas A&M wide receiver Mike Evans at No. 13. And Tampa Bay finishes up Day 2 with their original third-round pick and drafts quarterback Aaron Murray.
Yes, we're getting crazy. But what's not crazy is we don't know how the new Bucs regime really feels about Banks, and bookend corners of Dennard and Alterraun Verner could be awfully special if the Bucs revive their pass rush.
Scott Reynolds: Scott, if the Bucs came away with Clemson WR Sammy Watkins with their first-round pick the team would be elated because he's a fantastic fit in Tedford's offense, which puts an emphasis on speed and run-after-catch ability. I think a real crazy, dark horse pick for the Bucs at No. 7 – outside of the team selecting Donald – would be Alabama middle linebacker C.J. Mosley. Mason Foster is in a contract year, and while he had a career year with seven pass breakups and three interceptions, including two he returned for touchdowns, Mosley is a special player worthy of top 10 selection.
The athletic Mosley helped the Crimson Tide win multiple national championships with his leadership and playmaking style. He may be the best coverage linebacker in the draft with 24 passes defensed and five career interceptions, including three took back for TDs. Mosley racked up 319 tackles, 23 tackles for loss, 6.5 sacks and forced two fumbles at Alabama, and his playing style reminds me of a cross between legendary weakside linebacker Derrick Brooks and stout middle linebacker Hardy Nickerson, who coaches the LB position in Tampa Bay.
Smith has always had a dominant middle linebacker wherever he's gone from Nickerson in Tampa Bay to London Fletcher in St. Louis to Brian Urlacher in Chicago. Foster is a good Mike 'backer, but he's not dominant.
The Bucs passed on middle linebacker Luke Kuechly in the first round a few years ago to take strong safety Mark Barron. In a draft that doesn't have many great middle linebackers, Mosley is the best, and he and Lavonte David would form a dominant linebacker tandem that would be reminiscent of the days when Brooks and Nickerson were on patrol in pewter and red.
Scott Smith: I asked you guys to get wild, but believable, and I think you did just that.  The best part is, if any of these predictions come true, I can take credit for them because they're posted on Buccaneers.com!
Just kidding.  Thanks to each of you, Sander, Scott and Steve.  I appreciate you participating in this inaugural addition of the Roundtable and I hope we can do it again soon.