STORY HIGHLIGHTS
WR Russell Shepard's big play on special teams late in the Washington game showed what he could bring to the team
K Patrick Murray draws mental toughness from his father, and he got the opportunity he wanted from Lovie Smith
Josh McCown, Vincent Jackson, Gerald McCoy, Lavonte David and Michael Koenen are the Bucs' team captains

Russell Shepard is convinced that his job was still on the line with nine minutes of clock time left in the Tampa Bay Buccaneers' 2014 preseason.
The clock was ticking more ways than one last Thursday night. The Buccaneers were playing the Washington Redskins in their preseason finale, and virtually all of the starters were watching from the sideline as both teams' young reserves got one last chance to audition for the regular-season roster. Cuts would begin the very next morning.
While Shepard is listed at wide receiver on the Bucs' roster, it was probably to his advantage that his team's second-to-last drive of the evening stall before midfield in the fourth quarter. The punt team came on, with Shepard lined up wide to the right as the "gunner." Punter Michael Koenen angled his kick towards the right sideline, where Redskins wide receiver Nick Williams camped under it near the 20-yard line.
Shepard beat his blocker off the line and found himself sprinting free, directly at Williams, whose eyes were skyward. As the ball and the gunner converged on Williams' spot, it looked like Shepard might arrive too early. He could deliver a huge blow to the 'Skins return man, but if he timed it wrong it would be a big penalty, not to mention a dangerous situation for Williams. At the last second before impact, Shepard twisted and lowered his target, stalling just enough without stopping so that he was grabbing Williams' legs after he caught the ball but before he could go anywhere. It wasn't a forced fumble, but neither was it a penalty, as Shepard's instincts allowed him to make a smart and sound play.
"That's why I went low," said Shepard, sounding as if he had had a minute or two to mull over his options rather than making a split-second decision on the fly. "If I went high I would have been early and it would have affected the ball. The biggest thing is I had to give him an opportunity to catch it."
Shepard made that play, and the next day, his phone didn't ring. Neither did it ring on Saturday as the Bucs released the likes of Solomon Patton and Jeff Demps to get down to 53. Shepard, who spent all of his rookie season on the Bucs' roster solely due to his special teams impact, had impressed upon a new coaching staff that he could do more of the same in 2014.
"To be honest with you, that's probably why I'm here," said Shepard. "The last punt, the last opportunity to show Coach Lovie. I'd had a pretty productive preseason, special teams-wise, but I hadn't made any tackles. I was told that, 'We want to see you tackle.' That play right there is probably the reason why I got this opportunity."
Shepard was a rookie when the Buccaneers claimed him off waivers at this time last year, after he had spent the preseason with the Philadelphia Eagles. He had signed with Philly as an undrafted free agent after spending his collegiate career at LSU as something of a jack-of-all-trades on offense. Playing 14 regular-season games after that path to the pros qualifies as a surprise, so perhaps making the roster again in 2014 should be considered less of one. He's a more experienced player now, and that helped him at the moment of truth on Thursday.
"I've had a lot of reps," said Shepard, channeling Malcolm Gladwell and his '10,000 Hours' rule. "That's the beautiful thing about playing. That's why people like Vincent Jackson and Gerald [McCoy] are so good, because they get the game reps. The good thing about last year is that I've been able to get these reps and I know how to make decisions that quick. I'm thankful for last year, my opportunities, but that last play, I think it was probably my last opportunity to show what I can do. It was a great opportunity."
Now that he's earned his spot once again, Shepard doesn't intend to merely repeat his performance from a year ago, when he finished third on the team with six kick-coverage stops (plus one forced fumble) despite missing the last two games. If special teams are what earned him his job, he's going to make sure that he helps make the Bucs' special teams a force.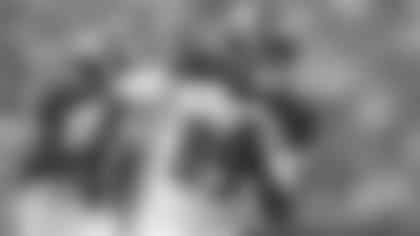 WR Russell Shepard intends to be one of the Bucs' core special teams players in 2014
"Last year, we had some very talented special teams guys – Adam Hayward, Dekoda [Watson], J.C. [Jonathan Casillas] – and I was asked just to not mess up," said Shepard. "This year, I'm being asked to be a core guy. I've got to go out there and make plays and show up on film. I think the biggest difference compared to last year is, I have to show up and I have to make a difference on special teams.
"We've got a lot of great leaders and I'm still a young player. I've still got a lot to learn. Hopefully throughout this season I can gain the confidence of my teammates and my coaches and I can feel like a leader. But right now I feel like my job is just to make plays and put us in a better position to win."
Patrick Murray signed with the Buccaneers on January 6, just a few days before Lovie Smith himself took over as Tampa Bay's new head coach. Later, as Smith's team was about to start its offseason program, Murray came to his coach with one simple question.
Earlier this year, Patrick Murray asked Lovie Smith point-blank, 'If I'm the best kicker, will I win the job?' Lovie told him, simply, 'Yes' — Scott Smith (@ScottSBucs) September 1, 2014
Having heard the answer he wanted to hear, and presumably taking Smith at his word, Murray set his approach to the Buccaneers' kicking competition and didn't waiver from it once over the next six months.
"I came in here and I believed I was going to be the starter," said the former Division II All-American at Fordham. "I believe if you come in thinking a different way it's just not going to happen. Credit to Connor – he pushed me every single day. He's a great kicker and I know he's going to land somewhere really soon.
"I came in from Day One with the same approach, that I was going to win the job and nobody was going to beat me no matter what they threw at me. Coach put me in some difficult situations and I excelled at them, and thankfully I'm a part of this organization."
Smith said he didn't know much about Murray the first time he saw him on the field, but it didn't take him long to be impressed. While many probably believed that the kicker battle was a competition only in name, Smith insists that Murray and Barth were on an even playing field. And, of course, the team's decision to cut ties with the veteran and rely on the kicker puts the truth to those words, as well as to the one word that Smith used to answer Murray's pressing question earlier in the year.
"He performed just about every day that he was on the field, simple as that," said Smith. "Connor Barth is an excellent kicker in the league. He'll be kicking for someone – we realize that. But for us, it was an open competition. And he proceeded to go out and put himself into position to be our kicker and we couldn't be happier to have him here."
Murray has an impressively well-rounded skill set. He is placekicker, first and foremost, but he also punted twice during the preseason, averaging 45.0 yards per boot, with a net of 41.0. And while punter Michael Koenen has handled the Bucs' kickoffs for the past three years, Murray is currently listed in that position on the depth chart. He kicked off twice against the Redskins last Thursday night and drove both of them deep enough to force touchbacks.
He'll be judged, of course, on how many of his field goal tries he makes. He's already done the toughest part, convincing an NFL coach to have enough confidence in an unproven kicker to let a veteran option go. That was in part a testament to Murray's will, and he is confident he'll be just as successful when the kicks start to count. He credits that innate mental toughness to his father, Aidan Murray.
"He's a hard-working man from Northern Ireland and we grew up pretty tough ourselves," said Murray of his father. "He wasn't easy on us, that's for sure, so I think that definitely helps and it's going to help me throughout my career."
Head Coach Lovie Smith revealed the team's 2014 team captains on Monday, and there wasn't a single surprise among the five choices.
The captains were chosen by player and coach votes, with no man's vote – including Smith's – counting for more than another's. While there were plenty of valid choices in all three phases of the team (offensive, defensive and special teams), the team hit upon the five veteran captains one would expect.
On offense, quarterback Josh McCown and wide receiver Vincent Jackson are the captains. McCown, of course, is new to the team but Jackson reprises his captaincy from last year.
"We had others, but you can see why [they were chosen]," said Smith. "They're both professionals that have done it since Day One and this is what the players have seen."
The defense will be captained by its two 2013 All-Pro selections, defensive tackle Gerald McCoy (the single least surprising choice of the bunch) and linebacker Lavonte David. In his third NFL season, David is a team captain for the first time. Smith called those two "easy choices." The special teams captain is punter Michael Koenen, the most tenured NFL player among those on the roster who will have a big role in the kick-and-return game.
Smith expects those five to be conduits of information between the rest of the roster and the coaching staff.
"I do lean on them for a lot of things," he said. "It's not a democracy, but when they come to me with stuff, we will [listen]. When we travel, they can't come and decide that we're going to wear shorts as we travel or anything like that – we'll be in a coat and tie and all of that – but some of the things we will listen to them on.