Every team in the NFL does some things better than others. Some teams are particularly good at one thing, maybe even the best in the league. Think the New England Patriots and their play-action seam pass to the tight end. Or the Pittsburgh Steelers with the counter run. Or the Carolina Panthers' goal-line QB keeper.
None of these signature strengths are a secret. Opponents prepare for them in the film room and on the practice field, and yet these teams continue to succeed with the same concepts. That is, of course, often due to the presence of some especially skilled players, like Rob Gronkowski in New England, Le'Veon Bell in Pittsburgh and Cam Newton in Carolina. Still, these well-known plays generally require precise execution by many of the 11 players on the field. And when they work, they are often a thing of beauty, at least to football fans.
Each game week during Tampa Bay's 2018 regular season, we are going to look at a "Signature Play" that the Buccaneers upcoming opponent utilizes often and particularly well. With the help of images of a sample play at various points during its execution, we're going to try to understand why this play commonly works so well. This week, the opponent is the Washington Redskins, who have helped Adrian Peterson regain his status as one of the NFL's most productive running backs behind a talented and athletic offensive line (albeit one currently dealing with multiple injuries).
WASHINGTON REDSKINS' SIGNATURE PLAY: ADRIAN PETERSON PIN & PULL RUN
Whenever an NFL team has to replace one or more key players in the middle of a season due to injury, there's always the question of how much it will also have to adjust its strategy. For example, if Carolina quarterback Cam Newton were unavailable this weekend and the Panthers had to turn to backup Taylor Heinicke, would the offense for that game include as many zone-reads, QB sweeps and naked bootlegs? Probably not.
The Washington Redskins are confronting a similar issue this week, not because quarterback Alex Smith is out but because most of the men who provide him protection are. The Redskins were already playing without Trent Williams, one of the best left tackles in football, and last Sunday they lost both starting guards, Brandon Scherff and Shawn Lauvao, to injured reserve. In addition, starting right tackle Morgan Moses is dealing with a knee injury and was not on the practice field to start the week.
The Redskins signed three new linemen on Monday and it seems likely that at least one of them will be starting on Sunday at Raymond James Stadium. Replacing Scherff is particularly difficult, as his athleticism made him one of the best right guards in the game. How well his replacement – perhaps usual starting center Chase Roullier, sliding over – is able to replicate Scherff's play could affect the team's play-calling.
In fact, it could determine whether or not Washington is able to employ one of their most effective running plays, the Pin & Pull with Adrian Peterson. Let's take a closer look at how Washington makes that play work, as it did on a game-clinching touchdown against the New York Giants two weeks ago.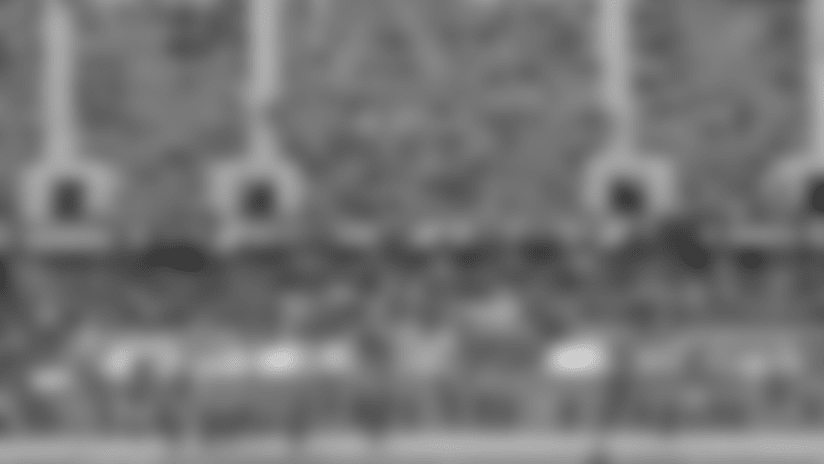 Washington will bring a 5-3 record to Tampa this weekend. The Redskins are in first place in the NFC East and have already won both of their intra-division games, at home against Dallas in Week Seven and on the road against the New York Giants in Week Eight. Though New York has struggled this year, it almost always proves to be a tough out for their division rivals. The two teams split last year and new York had won seven of the previous 10 meetings coming into the game in question. This was definitely one of the critical games on Washington's schedule in pursuit of a division title.
And, sure enough, it was a close one down to the end. With just over four minutes left, New York's Aldrick Rosas kicked a 21-yard field goal to make it a one-score game, 13-6. The Giants needed to get the ball back quickly for a chance to tie; the Redskins were in the classic "four-minute drill" situation: Get a couple first downs, bleed the clock and keep the ball out of New York's hands. Thanks to a perfectly executed Adrian Peterson run, they were able to do much better than that.
Washington gets one first down on a penalty to start the drive, then runs Peterson (#26) behind Scherff (#75) for four yards on first-and-10 from its own 32. On second down, the Redskins come out in "11" personnel, with Peterson alone in the backfield and tight end Jeremy Sprinkle (#87) lined up over right tackle Morgan Moses (#76). WR Maurice Harris (#13) lines up in the slot on the left side but, as shown in the picture above just before the snap, goes in motion and ends up flanking the left tackle, Ty Nsekhe (#79), who replaced Trent Williams earlier in the game after Williams suffered a thumb injury.
Given the Redskins' 11 personnel package, which suggests a passing play, the Giants respond with a nickel defense, with safety Sean Chandler (#36) replacing linebacker Nate Stupar and covering Harris in the slot. New York walks safety Landon Collins (#21) down to the line on the strong side and leaves Curtis Riley (#35) as the single-high safety. Riley will be the one defender that is not accounted for in Washington's blocking scheme.
At the snap, Alex hands off to Peterson going to the offense's right. Scherff and center Chase Roullier (#73), immediately "pull" from their positions, sprinting in tandem behind Moses and Sprinkle and in front of Peterson. Scherff, who can be seen on the right in the above shot, knows it his job to block the first unoccupied Giant he sees. This is likely to be either Collins or the cornerback on that side of the field, B.W. Webb (#23); and in this case it proves to be Collins.
Behind Scherff, Roullier comes around the corner and turns his head to the inside, looking to find one of the linebackers headed in his direction. That's exactly what he finds in Tae Davis (#58). Meanwhile Sprinkle and Moses fire off the line to push the two down linemen on that side of the line back towards the left. This is the "Pin" part of the Pin & Pull.
With Scherff and Roullier vacating the middle, it's the job of left guard Shawn Lauvao (#77) to slide over and slow down defensive tackle Dalvin Tomlinson (#94). Lauvao tries to do this by immediately diving to cut out the defender's legs, but Tomlinson manages to step over the blocker; still, the action does enough to slow Tomlinson down so that he can't catch Peterson in backside pursuit. Nsekhe is left one-on-one with LB B.J. Goodson (#93) and gets that block. Harris, a 200-pound receiver, has a tougher assignment on pass-rusher Olivier Vernon (#54) and doesn't slow him down much, but again, it's enough as the play develops quickly on the far side.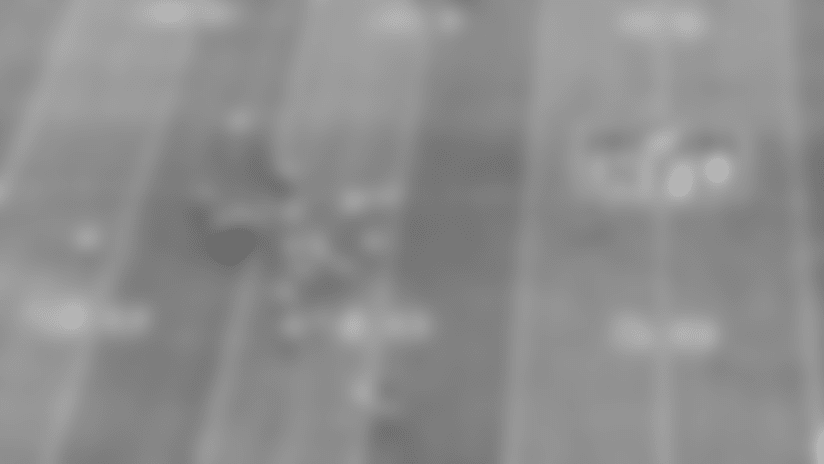 In the shot above, Peterson is just drawing even with his pulling blockers. Scherff has locked up Collins and Roullier has crashed into Davis hard enough to knock the linebacker momentarily off balance. The resulting running lane is wide and Peterson demonstrates that he has still has much of the speed that has made him perhaps the NFL's best running back of the last decade.
As noted earlier, safety Curtis Riley is the one unblocked defender on this run, though he is too far away from keeping Peterson from at least getting to the second level of the defense. Riley could prevent Peterson from breaking the run wide open, but he takes a bad initial angle and soon finds himself playing catchup. All of the defenders in the middle of the field are breaking off from their blockers and starting downfield in pursuit, but they need somebody – Riley, ideally – to slow Peterson down so they can catch him from behind.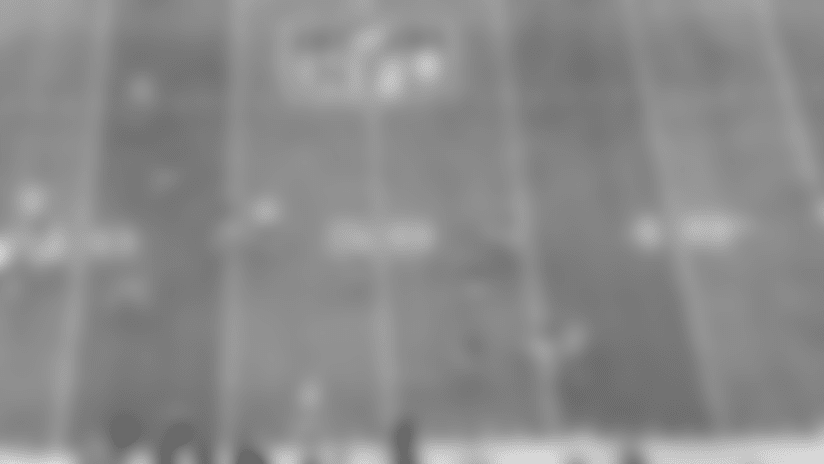 That doesn't happen. Riley's angle sends him on a bending run up towards the line and then behind Peterson. It's a foot race, and Peterson wins. In the next moment after this shot, Riley tries to dive at Peterson's legs in desperation, but misses.
The four other Giants still in close pursuit, as pictured above, do manage to catch up to Peterson, but not before he is reaching the goal line. Peterson makes it across for a 64-yard touchdown that proves particularly important when the Giants use the final three minutes of the game to drive for a touchdown of their own to make it a 20-13 final.
With a quarterback who has generally guided low-risk, short-passing offenses in his career and a wide receiver group that has been among the least productive in the NFL (and is now down a deep threat in Paul Richardson), the Redskins are a team that wants to keep the ball on the ground. They are rushing for 122 yards per game and 4.3 yards per carry, and their average time of possession (31:47) is third-best in the NFL. After losing rookie running back Derrius Guice to a season-ending injury in the preseason, the Redskins brought in the veteran Peterson, and he has reemerged as the perfect centerpiece to a power rushing game, ranking fifth in the NFL with 604 yards.
Whether or not the Redskins can continue to succeed in their ball-control offense after losing at least three starting offensive linemen remains to be seen. But they have plenty of effective runs in their playbook, including the Pin & Pull that sprung Peterson for his longest run since 2015.