STORY HIGHLIGHTS
QB Josh McCown's status for Week Four is unclear due to a thumb injury, but he remains the team's starter when he's healthy
Tampa Bay is still searching for a pass rush on defense and could get some help from the return of injured players
The Bucs obviously need to fix some issues but do not believe it's time to tear up the original plan

Lovie Smith met with the press on Friday afternoon, less than 24 hours after his Tampa Bay Buccaneers absorbed a tough, 56-14 defeat from the Atlanta Falcons on national television Thursday night. In the interim, Smith had an opportunity to review the tape from that game and gain a more detailed understanding of what unfolded during those three hours.
So, upon further review, here is what Lovie Smith and the rest of us learned from – and what new questions were raised by – the Buccaneers' third game of the year.
1. Josh McCown's injury status is still unclear, but his hold on the team's starting quarterback job is not.
If a quarterback always gets too much credit for wins and too much blame for losses, then you know Josh McCown is going to be under a lot of outside scrutiny after a 42-point loss that led to the Bucs' 0-3 overall record. Inside One Buccaneer Place, the only part of McCown that's under the microscope – or, more accurately, the MRI machine – is his right thumb.
"Josh is our starter," said Smith on Friday, noting that the quarterback's two quarters worth of struggles in Atlanta were far from the team's only serious issue that night. "We're looking at one game right now. It would be simple if Josh was the only guy to play bad, and it seems like that's the only guy I'm asked about. 'Is Josh your starter?' You could ask that about quite a few people, starting with me. 'Am I still the head coach based off of that effort?' But a little bit more goes into it than that."
It's not that it's unfair for McCown to face scrutiny for his play through three games (or 2.5 games, in his case); it's just that he shouldn't be alone. Smith said on Thursday night that an outcome like that one essentially demands some changes be made, but it's not likely that will entail wholesale starting lineup switches. And McCown, providing his thumb allows it, is almost certain to get more time to prove he's the quarterback the Bucs believe they were getting in free agency this past spring.
Analysts will point to McCown's four interceptions, and not unfairly, and that's obviously an issue the team needs to correct. It's not exactly unique, however. Atlanta's Matt Ryan is having a strong season so far – he threw for 286 yards and three scores on Thursday night – but he was also picked off three times in the Falcons first two outings. Seven other NFL quarterbacks had thrown at least three interceptions through the first two weeks of the season, including Andrew Luck, Colin Kaepernick and Tony Romo. The fact that McCown has turned the ball over in each of his starts so far this year isn't enough to put his job in jeopardy at this point.
"You can say that about most of the quarterbacks in the league," said Smith. "We wouldn't have any quarterbacks playing if you just went on that, so I think we can slow up a little bit on that. All of those we weren't even his, to be truthful."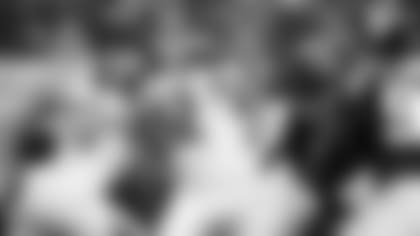 QB Josh McCown suffered a thumb injury late in the first half Thursday night and was given an MRI exam on Friday
Of course, McCown's injured thumb could do that. He was scheduled to get an MRI examination on Friday after hitting his throwing hand on a Falcon player's helmet late in the first half of Thursday's game. His status will likely not be clear until at least next Wednesday, but it's possible Mike Glennon will be stepping in against Pittsburgh no matter how confident the team is in McCown.
2. The pass rush is a work in progress, but healthier bodies would help.
Atlanta passers dropped back 29 times on Thursday night but took just one sack. On many plays, they had a significant amount of time to stand in the pocket and survey the field, which will stress any secondary playing any style of defense.
"When a pass is completed, normally, [it is because of] not a great pass rush and the coverage isn't good, whether it is zone or man," said Smith. "That's where we were at last night."
Like all NFL coaches, Smith doesn't try to use injuries as an excuse for poor team performance. It is not asking for pity, however, to suggest that the absences of three opening-day D-Line starters is affecting the Bucs' ability to get to the quarterback with a four-man rush. Adrian Clayborn is out for the year with a biceps injury, Gerald McCoy has been sidelined for one game so far with a hand fracture and Michael Johnson played sparingly on Thursday night due to the ankle injury that kept him out of Game Two.
Moreover, the two players who have been asked to pick up most of the slack with those three hurting are Da'Quan Bowers and William Gholston, and they too have been bitten by the injury bug this year. Bowers and Gholston both missed about a month, spanning a good portion of the preseason and Week One of the regular season, and they are both still rounding into form. They haven't really had a chance to take it slow, however.
"Both of those guys were injured for most of camp and both can play end and of course rush inside in passing situations," said Smith. "Both are getting better, both still have a long ways to go, like our football team."
Bowers actually started in McCoy's place as the three-technique tackle on Thursday, four days after starting in Johnson's place at right end against the St. Louis Rams. The Bucs are thankful for his versatility but still think he can be significantly more productive.
"He can of course play defensive end in run situations, but in passing situations we think he can give us some good help [inside]," said Smith. "You need a couple combination guys on your roster out of your seven or eight that you dress. He's one of those. He did a few good things, but he had opportunities to make some plays and he wasn't able to. But, again, he hasn't played an awful lot and he's still working himself into true shape [after] missing most of training camp."
3. Overcoming the Bucs' early-season struggles is likely a matter of many little fixes rather than any sort of major overhaul.
When Lovie Smith was named the 10th head coach in franchise history in January, the comparisons to Tony Dungy were inevitable. That stems largely from the fact that Smith was on Dungy's staff for four years, and that both men are known for their calm but firm demeanors.
Dungy's first Buccaneer team, in 1996, started out 0-5 and the new coach famously preached patience and the need to stick to the original plan. Those Bucs won six of their last 11 and then broke the franchise's 16-year playoff drought the very next season. The 2014 Bucs obviously don't want to duplicate that 0-5 start, and they might be facing a bit more injury adversity than their 1996 counterparts, so the comparison isn't necessarily exact. In fact, Smith has said that some changes are likely in the coming days.
In the larger sense, however, this is still a team, and a management team, that believes in the same things it believed in three weeks ago. The 2014 Buccaneers have already been overhauled; that happened during a very aggressive free agency period, as well as May's draft. The Bucs spent the first eight months of this year charting a specific course, and though some of the key elements to the plan have been sidelined, Smith and company still believe in that original path. Obviously, there are issues that need fixing within that plan, and that's what the coaching staff is working on right now.
"I don't think you tear it apart and start all over," said Smith. "We had a bad performance. What we need to do individually - each one of those players needs to look themselves in the mirror and see what he did, play-by-play. That's what we're doing right now, we're critiquing every play on what happened. Sometimes when you do that, you see that it's not 20 million things that they did right, just a few things that we did wrong and that's what we're seeing. We're not tearing everything down, anything like that. I believe in what we're trying to do, but sometimes when you are new it takes a little longer."