STORY HIGHLIGHTS
WR Karl Williams impressed Bucs coaches with his route-running in his 1996 rookie camp
TE Todd Yoder had to climb his way up a crowded depth chart to make the team in 2001
KR Clifton Smith went from tryout player to Pro Bowler thanks to his strong work in July and August

You've been hearing this all offseason: As important as OTA practices and mini-camps are, no Tampa Bay Buccaneers player can really win or lose a job in May or June.  No pads, no contact, no real depth chart…this offseason work was preparation, not competition.
That's about to change.  Roster spots and starting jobs absolutely will be won during training camp and the preseason.  There's no way around it; between the first camp practice on July 25 and the opening game of the regular season on September 7, the Buccaneers have to reduce their roster from 90 to 53 players and they have to figure out which 22 players will start.  Some of those decisions are obvious – Gerald McCoy will be the starting under tackle – but some are still far from settled, such as the two offensive guard spots.
And so it has been for four decades of Buccaneer training camps.  Roster spots and starting jobs are won every July and August, as it has to be.  In most cases, these decisions are unsurprising and easy to predict.  Every now and then, however, a player performs well enough in training camp and in preseason games to force the team's hand.  Below are 10 examples for current Buccaneer roster hopefuls to follow, players who were told they could win their way onto the roster or into a more significant role, and promptly did so.
1. Kicker Michael Husted, 1993
After a disastrous 12-of-22 season shared by young Ken Willis and veteran Eddie Murray in 1992, the Buccaneers threw a bunch of kicker options against the wall in the spring and summer of 1993, including eighth-round draft pick Daron Alcorn out of Akron.  One of those options was undrafted Virginia kicker Michael Husted, who was most definitely not the favorite to win the job when he arrived in Tampa.  Undrafted kickers make it in the NFL all the time – the Bucs' current #1, Connor Barth, is one of many – but they often have to bounce around a few camps before some coach decides to put his confidence in an untested player.  In this case, Husted looked good enough on the practice field that he got every single field goal rep during the preseason, making seven of nine attempts, including a 47-yarder.  He won the job and went on to score a team-record 502 points, though that was eventually surpassed by Martin Gramatica.  Scoff at this choice all you like, but Husted is one of only two undrafted rookie kickers – along with Steve Christie in 1990 – to win the Bucs' kicking job and hold onto it for at least an entire season.  He obviously looked quite good in January.
2. Wide Receiver Karl Williams, 1996
I wrote quite a bit about Karl "The Truth" Williams when I named him the top kick return man in team history in a One Buc Mailbag.  We don't really need to rehash all of that; suffice it to say he's earned a prominent spot in team history due to his work on special teams, which include more than a third of all of the kick-return touchdowns in team annals.  Those return skills aren't what earned Williams his initial spot in the NFL, however.  In the summer of 1996, he arrived at Tony Dungy's first Buccaneers training camp as an extremely unknown wideout from Texas A&M-Kingsville.  The Bucs' pu-pu platter of receivers that summer included Courtney Hawkins, Horace Copeland, Lamar Thomas, Alvin Harper, Charles Wilson and Robb Thomas.  No, that's not exactly a Murderer's Row, but it was a lot of holdover competition, and Williams quickly stood out with his precise route-running skills.  It didn't earn him a prominent job right away, but he made the team, and later in the season got a chance to shine on special teams.  The rest is history.
3. Linebacker Shelton Quarles, 1997.
After washing out in his first attempt to make it in the NFL with the Dolphins in 1995, Shelton Quarles ended up in the Canadian Football League, following an interlude in which he worked in a printing press in his hometown.  Mark Dominik, then a pro personnel assistant who would eventually become the team's general manager, found him in Canada and brought him to Tampa during Dungy's second Bucs training camp.  Quarles was an instant revelation.  Free agent addition Rufus Porter claimed the starting strongside linebacker job that year, and Jeff Gooch took over at that spot in 1998 after Quarles caught the injury bug in the summer, but there are observers from that era who say the CFL import could have stepped in immediately on defense.  Quarles had 14 tackles, a stop for a loss and two tackles on special teams that summer.  He didn't get the starting job, but he was so impressive in camp that he won a prominent role on special teams and promptly led the team in tackles in that phase of the game.
4. Running back Rabih Abdullah, 1998.
Not every player on this list ended up as a household Buccaneer name like Quarles or the Truth.  There is an entry still to come, in fact, whose final NFL outcome is unfortunate.  Unlike that player, Rabih Abdullah played six years in the league and even saw action in a Super Bowl with the New England Patriots after the 2004 season (that would be his last NFL game).  Still, only the more invested Buccaneer fans would remember the name of this Lehigh running back who came to camp as an undrafted free agent in 1998.  All a young player in such a situation wants is an opportunity, and oh did Abdullah get one.  In four preseason games he carried the ball 50 times for 280 yards, averaging a robust 5.5 yards per tote.  NFL.com's preseason statistics only go back reliably until about 2005, but there is only one player between then and 2013 who had more preseason rushing yards than Abdullah in 1998 (San Francisco's Anthony Dixon, with 300 yards in 2010).  Abdullah made the team as a rookie, and even though he was inactive for every game that season he had created a foothold that allowed him to stay with the Bucs for the next three seasons.
5. Defensive tackle Anthony McFarland, 2000.
This one's a little different than the rest because McFarland didn't come to camp in his second season worried about his roster spot.  Still, he had something to prove, and apparently he did so during the dog days at the University of Tampa.  From 1997-99, Brad Culpepper had 23.5 sacks as Warren Sapp's very productive running mate on the Buccaneers' interior line.  Tampa Bay drafted LSU's McFarland in the first round in 1999, but that didn't unseat Culpepper, who started all 16 games that season and produced six sacks.  It was a surprising final-cuts move, then, when the Buccaneers chose to say goodbye to Culpepper and give the Sapp sidecar seat to McFarland in 2000.  That McFarland would eventually replace Culpepper was not a shock, but the acceleration of the timetable was apparently due to the fact that the younger player had proved himself beyond a shadow of a doubt during camp and the preseason.
6. Tight end Todd Yoder, 2000.
Unlike McFarland, Yoder came into the Bucs' 2000 training camp with no buzz at all.  In fact, as an undrafted free agent out of Vanderbilt, he loped into his first Tampa Bay practice as the seventh tight end on the depth chart.  That's not an exaggeration.  Dave Moore and Patrick Hape were fairly well-established as the front-runners, and the team had spent a fifth-round pick on James Whalen that spring.  Lovett Purnell, who had four years in the league in New England and Baltimore, certainly seemed like a safer bet.  But Yoder just did everything right, catching four passes for 35 yards and a touchdown and adding two tackles on special teams during the preseason.  He earned the third spot behind Moore and Hape and eventually fashioned a nine-year NFL career, much of it as an outstanding special teams player.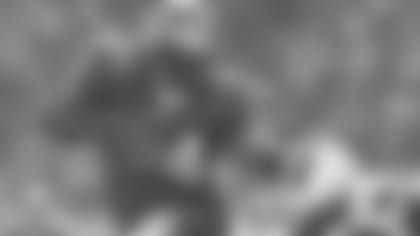 RB Earnest Graham's preseason exploits put him in position to take advantage of a golden opportunity during the regular season
7. Running back Earnest Graham, 2007.
Really, I could have chosen any number of outstanding summers for Graham, who at one point was affectionately known as, "Mr. Preseason."  It's easy to see how that could be a less-than-complimentary title, but Graham always wore it well.  He had a string of very strong preseason performances, all of which helped him make the Buccaneers' roster year after year in the mid-00s, after first arriving as an undrafted free agent.  Graham distinguished himself as an outstanding special teams player, over and over, but he never got more than 28 carries during the regular season until 2007.  That year, Graham ran 27 times for 126 yards (4.7 avg.) and also caught five passes for 52 yards and a touchdown during the preseason.  At this point, it wasn't a particular surprise to see Graham make the squad, but he was still the #3 back behind Cadillac Williams and Michael Pittman.  When both Williams and Pittman went down, and a midseason trade for Michael Bennett produced little of value, Graham stepped in and ran 222 times for 898 yards and 10 touchdowns.  Had he not done his typical jack-of-all-trades performance during camp, Graham might have never had that opportunity.
8. Defensive end Greg (Stylez G.) White, 2007.
Greg White was a defensive end out of Minnesota who had bounced around a lot after being drafted by Houston in the seventh round in 2002.  A couple of those bounces included practice squad stints with the Buccaneers during their '02 Super Bowl season.  White never really stuck in the NFL, however, and eventually ended up in the Arena League for a couple years, where he was a star.  In the summer of 2007, he was persuaded to give the NFL one more try by Jay Gruden, who had coached him with the Orlando Predators and was pulling double duty on his older brother's staff with the Buccaneers.  White had an eye-opening camp at Disney and made the team, upon which he promptly racked up an eight-sack season.  He would end up playing four seasons with the Bucs in his latter-day NFL tour, recording a total of 24.0 sacks.
9. Wide receiver Paris Warren, 2007.
Most of these are happy tales.  This one is bittersweet.  The Bucs drafted Utah wideout Paris Warren in the seventh round in 2005, and he spent most of the next two years on the practice squad or as a game-day ineligible.  Then, in the summer of 2007, everything clicked.  Warren caught 15 passes for 191 yards and four touchdowns during the '07 preseason, and nobody else on the team caught more than nine passes or scored more than one touchdown.  In the preseason finale against Houston, with the game tied at 24-all, Warren experienced what has to be one of the most conflicting moments in franchise history.  With three minutes to play, Warren caught a 31-yard pass over the middle of the field, just crossing the goal-line as he was tackled by the Texans defender.  Unfortunately, Warren suffered a broken leg on that very play, which would put him on injured reserve for the entire season.  Head Coach Jon Gruden explicitly said that Warren had done enough, before the injury, to earn a spot on the 53-man roster.  Warren would spend some time over the next two years on practice squads and in training camp with Tampa, Dallas and New Orleans but his NFL career never got back on track.
10. Kick returner Clifton Smith, 2008.
The Buccaneers signed diminutive Fresno State running back Clifton Smith after he participated in a rookie mini-camp on a tryout basis in the spring of 2008.  That's not exactly the preface to an all-star career, in most cases, but in this instance it was the start of something great.  The Buccaneers were clearly intrigued by Smith's talents, as they gave him 19 carries and completed a team-high 11 passes to him during the preseason.  They also tried him out in the return game, where he averaged 13.8 yards on four punt run-backs and 23.5 yards on two kickoff returns.  That wasn't enough to earn Smith a spot on the 53-man roster when the season began – he was tabbed for the practice squad instead – but it kept him in the conversation.  When second-round pick Dexter Jackson (not the Super Bowl MVP) flamed out miserably, Smith was called up and the rest is Buccaneers history.  Smith averaged 14.1 yards per punt return and 27.6 yards per kickoff return and was chosen for the Pro Bowl as a rookie.  Smith remains the only Buccaneers return man ever to make the all-star game, and he wouldn't have had the chance if he hadn't been so impressive in July and August.