Lovie Smith doesn't want to wait to find out how his team stacks up against the rest of the NFC South.  He won't have to.
The Tampa Bay Buccaneers will open their 2014 regular season – the first with Smith at the helm – at home against the Carolina Panthers on Sunday, September 7.  After testing themselves against the division champs, the Buccaneers will travel to Atlanta on Thursday, September 18 for a Week Three meeting against the Falcons.  Tampa Bay will have already completed half of its intra-division schedule by October 5, as Week Five brings a trip to New Orleans to play the Saints.
"As much as anything I can't wait to see when we play our divisional opponents," said Smith earlier on Wednesday.  "You kind of want to see how you match up against the division champs (Carolina), and of course Atlanta, New Orleans.  Those are the ones I really look to."
The Buccaneers will play host to St. Louis in Week Two between their games against the Panthers and Falcons.  Tampa Bay's final two games of the regular season will also take place in Tampa, against Green Bay and New Orleans, making for an unusual scheduling layout.  In fact, this marks the first time in the Buccaneers' 39-season history that they will start and finish a campaign with a pair of home games.
Of course, that means some significant road tests in the middle of the season, beginning with a three-game stretch away from home from Weeks 3-5.  The Thursday-nighter in Atlanta is followed by trips to Pittsburgh and New Orleans before the team returns home in Week Six to face the Baltimore Ravens.  There is also a stretch of four road games in five weeks from mid-November to mid-December, when the Buccaneers hope to be in the thick of a playoff race.
The dates and times of Tampa Bay's four preseason games were revealed previously and are included in the listing below, with one final bit of information: The Bucs' August 23 game at Buffalo will be televised nationally by NFL Network and will kick off at 4:30 p.m. ET.  It will be broadcast locally by WFLA-TV, the Buccaneers' preseason television partner.
Below is the Buccaneers' 2014 game schedule, followed by more notes:
All times Eastern and subject to change
All Sunday afternoon games in Weeks 5-17 are subject to time changes as part of NFL's flex scheduling format. Flex scheduling will not be applied to games airing on Thursday, Saturday or Monday nights.  From Weeks 5-10 games can only be moved in a total of two of those weeks.
The Buccaneers also announced on Wednesday the "Game Themes" for five of their 10 home dates, offering fans a chance to see which dates would be enhanced by such popular additions as breast cancer awareness activities and a salute to the military.  The following five home games have confirmed themes: Washington, Aug. 28 – NFL Heads Up Football; Baltimore, Oct. 12 – Crucial Catch and the Treasure Chests 5K (breast cancer awareness); Atlanta, Nov. 9 – Salute to Service; Cincinnati, Nov. 30 – NFL Play 60; New Orleans, Dec. 28 – Thank You Fans.  The rest of the Game Themes, including the Ring of Honor ceremony, will be announced at a later date.
The Buccaneers may have mostly dodged the threat of cold-weather games, particularly with the hop to Pittsburgh scheduled for Week Four and the Cleveland trip falling just two days into November.  There is the obvious threat of inclement weather in Charlotte on December 14 and Chicago just days before Thanksgiving, but the Week 14 game at Detroit will mercifully played in a dome.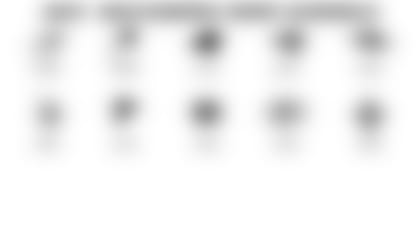 The Bucs' 2014 schedule both begins and ends with a pair of home games
While flex scheduling could create more prime-time opportunities for the Buccaneers if they prove to be a serious playoff contender, they are currently scheduled for only one night contest.  The trip to Atlanta is part of the new CBS/NFL Network joint Thursday Night Football package and will be broadcast on both stations (but only on CBS in the Bay area).  The opener against Carolina is set for a 4:25 p.m. kickoff, which means it will be made available to a wider national audience.  The Week Two game against the Rams kicks off at 4:00 p.m., as the NFL commonly schedules early-September games in Tampa with a later start time to avoid the hottest part of the day.
Fans may want to circle November 23rd on their calendar, as that is the day Smith will return to Soldier Field to lead the Buccaneers against his former team.  Smith was the Bears' head coach from 2004-12, leading the team to three division titles and one Super Bowl berth during that nine-year span.  Smith will also find himself matched up with opposing head coaches in their first seasons with their teams on four occasions: vs. Minnesota in Week Eight (Mike Zimmer), at Cleveland in Week Nine (Mike Pettine), at Washington in Week 11 (Jay Gruden) and at Detroit in Week 14 (Jim Caldwell).
But it is the games against division foes that most pique Smith's interest, and he will get a full run through the South in the season's first five weeks. The Buccaneers also finish with two intra-division games in the last three weeks – at Carolina in Week 15 and at home against New Orleans in Week 17 – and those could be matchups that decide the NFC South title.
Here are some additional notes regarding the Buccaneers' 2014 schedule:
The Buccaneers' bye falls in Week Seven, between a pair of home games against Baltimore and Minnesota.  That's the latest bye week the team has enjoyed since 2011, when their down time fell in Week Eight.  While a bye can be advantageous at any point in the season, depending upon overall roster health, a later off week is generally considered the better draw.
The Buccaneers will be making their first trip to Pittsburgh since 2006 and will be seeking their first-ever victory in that AFC North destination.  The Steelers lead the all-time series, 8-1, with Tampa Bay's lone victory coming at Raymond James Stadium in 1998.  The Bucs have also not been to Cleveland since '06, but they did leave Ohio with a 22-7 victory on that occasion.
Accordingly, Baltimore and Cincinnati will be making their first visits to Raymond James Stadium since that 2006 campaign.  While the Buccaneers and Ravens have split their all-time head-to-head series, 2-2, the Bengals will arrive in Tampa looking to break a long drought in the matchup.  Tampa Bay is riding a six-game winning streak against Cincinnati, dating back to 1995, matching a similar streak against Minnesota as the Bucs' longest against any opponent.
The Bucs have only drawn two consecutive home games to open a season three other times in team history, and this is the first such occurrence in 22 years.  Tampa Bay opened the 1992 season with home wins over the Phoenix Cardinals and Green Bay Packers in Sam Wyche's first season at the helm.  The Bucs were also at home in Weeks One and Two in 1986 and 1978, starting those campaigns 0-2.
Finishing with two at home has been twice as common in team history, happening six times previously and twice in the last nine seasons: 2008, 2005, 2001, 1985, 1984 and 1982.  In both 1982 and 2005, the Buccaneers won their last two games at home against division opponents in order to secure a playoff spot, including the team's last division title in '05.  The Buccaneers also won their final two games of the 1984 season, which were also the last two games in the tenure of inaugural Head Coach John McKay, a member of the team's Ring of Honor at Raymond James Stadium.  The Buccaneers finished with three straight home games in 2001, but only after a contest against Philadelphia scheduled for Week Two was moved to the end of the season as the result of the 9/11 terrorist attacks.
The Bucs' early-season jaunt through Atlanta, Pittsburgh and New Orleans marks the team's first run of three consecutive road games since 2005.  Tampa Bay won at New Orleans and Carolina in Weeks 13 and 14 and lost at New England in Week 15 en route to that aforementioned division title.  Such three-game road swings used to be more common – the Buccaneers had seven of them between 1978 and 1996, but this will be just their second one in 19 seasons.  One unusual side note: This will mark the first time the Bucs have ever played three straight away from home entirely during the first half of the season.  All of the previous eight occurrences started in Week Eight or later.