For me, Sunday afternoons in the fall are synonymous with one thing: Tampa Bay Buccaneers football. I have been fortunate enough to spend most of the last two decades' worth of autumn Sundays wherever the Bucs are playing ball.
This particular weekend, however, the Buccaneers are idle, having already plied their trade on Thursday night in Atlanta.  So when Sunday afternoon rolled around, I was like Ricky Bobby in front of the camera, not sure what to do with my hands.  Then I recalled a couple occasions last season in which I used these free weekends to check in on the NFL as a whole. Specifically, I located the couch that was facing the largest television in my home and sat down for an afternoon of simply being an NFL fan. I enjoyed it last year, so let's do it again.
Forthwith, what you'll find below is an observational timeline, beginning an hour before the games on Sunday and finishing up, oh, maybe halfway through the second round of action (I mean, I do have a few other things to accomplish this weekend). These are the things that struck me as interesting while engaging in that wonderful experience of sitting on the couch and letting a full day of NFL action wash over me.
1.Let me start by saying this: I'm not a big fan of pregame shows. I usually don't bother with them, but today, for you, I'm tuning in and…wow, what a mistake. I hope you're happy. "FOX NFL Sunday" opens with a poem that feels like it's straight out of 300, what with the "bitter rivalries" and "greatness" and "brutality." What I like best, though, is the ending, which suggests that some of the players we're about to see are so good, "it's hard to believe they are mere mortals." That is…well, that's just over the top.
2.Whether you're watching FOX or CBS at this point, you're getting a solid 10 minutes of the studio hosts taking turns excoriating the league office. Whether or not it's deserved, it's boring. At about 12:09, Curt Menefee says, in so many words, "Hey, maybe everyone just wants to watch some football today." You think?
3.Sorry, can't take it. There's a Law & Order marathon on TBS. That will do for the next 50 minutes. These are their stories, dun, dun!
4.I flip back over to football to see if I'm missing anything. There's Mike Pereira, distinguished former Vice President of Officiating for the NFL and current FOX expert on questionable calls. Like me, he's seated on a couch. His couch, however, is red and white and, apparently, a Kentucky Fried Chicken couch. That is really a rare kind of couch. There are chicken buckets built into the armrests. Presumably, there are buttery biscuits hidden between the cushions. Mike Pereira has a better couch for this afternoon than I do.
5. The Arizona Cardinals are talking and now it's official: "Next Man Up" is the most commonly-used cliché in the NFL. It's not wrong, it's not offensive, it's not mathematically ridiculous like "giving 110%," it's just…everywhere. It's the only thing a player or coach is contractually allowed to say when someone on the team gets hurt.
6. Never, ever, ever run sideways on a punt return. Unless it happens to work, like it just did for Randall Cobb. It feels like things are going to work out really well for the Packers today in Detroit. (Edit: Ha!)
7.So, I'm not really enjoying the Eddie Lacy Fantasy Football Experience to this point.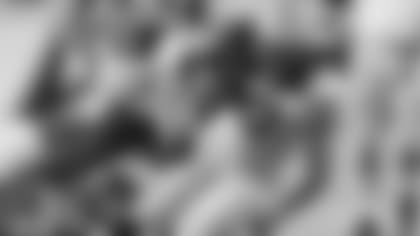 It will get better. It will get better. It will get better
8. Maybe somebody can check for me, but I'm willing to bet that Aaron Rodgers doesn't have a very good "tackling" rating in Madden.
9.Over on CBS, I just saw Oakland's Derek Carr take a sack. He learned everything he knows from his older brother.
10. Hey, don't you just love it when your team calls a timeout on offense; then comes back out and nearly lets the play clock run out; then runs a play that seems like it was designed to fail, while also committing an illegal formation penalty; then calls another timeout; then throws a pass that is batted down at the line of scrimmage? I know I do. I mean, I really love that. Oh, yeah, just before this sequence, the announcer said that Oakland was "dominating" this scoreless game because of their time-of-possession advantage.
11. This will obviously be prominently featured in the highlight shows, but Detroit LB Stephen Tulloch just injured his knee while celebrating a sack. In response, I hustled to my keyboard to type out a, "That's Bill Gramatica territory," joke, only to have color guy John Lynch beat me to the punch. Curse you, John Lynch!
12. I do not have an iPhone. I have never had one, so I'm not really tuned in to iPhone culture. Yet, somehow, I have a very vague feeling that there's a new version out. Is this true?
13:I've just realized what a novice I am at this, since I've spent most fall Sundays in a press box for the last 23 years. I say that because I'm suddenly hungry, and I'm surveying the table in front of me and there are no Frito Lay products and nary a single thing involving melted cheese. Now, this is actually a good thing, because more melted cheese in my life is not necessarily recommended. But, still.
14. Detroit QB Matt Stafford amazingly escapes a sure sack by two Green Bay linemen, rolls out to his right and…decides to stop dead and survey the field for open men. It's like he's on a stroll through the meadow and he's spotted a particularly interesting flower. This is not a good idea in a football game, however, as he is immediately turned into Wile E. Coyote by a blindside steamroller named Mike Neal.
15. Just got an update that Washington QB Kirk Cousins is 16-of-18 with two TDs so far against Philly. Hey, didn't we hear that Washington was going to trade Cousins to the Rams after Sam Bradford went down in the preseason? Well, right now Cousins is lighting it up for Jay Gruden and Rams third-stringer Austin Davis is having another impressive outing. Is this the bizarro no-trade version of the "trade where everybody wins?"
16. So it's my understanding that Matthew McConaughey has had a career transformation of late.  After years of being seen as a shirtless and mindless rom-com star, he's now a serious actor thanks to well-received roles in things like Dallas Buyers Club and TV's True Detective. It has been called a McConaissance, which is cute. Personally, I wasn't ready to buy into the McConaissance…until I saw these atmospheric Lincoln commercials where McConaughey can go home again. What gravitas. What depth. Okay, I'm a believer. Oops, I'm sorry.  What I mean is: Alright, alright, alright, I'm a believer.
17.I went to the grocery store during halftime. Did I miss anything important in the halftime shows? Just kidding.
18.That store run, by the way, was primarily for ice. Primarily. Let's just say I also solved that aforementioned melted-cheese deficiency. I did not pack any willpower for this particular couch-sitting assignment.
19. FOX play-by-play guy Kevin Burkhardt (who's very good, by the way), is making quite a bit out of the Detroit Lions' rash of injuries in the secondary. He seems stunned by how many Lion corners have been hurt at the same time. Um, Kevin? I've got the Buccaneers' defensive line on the phone for you.
20. GRONK RUN INTO END ZONE. GRONK HAVE BALL IN HANDS. GRONK DROP BALL. Field goal.
21. Okay, where are we on this Hans and Franz commercial with Aaron Rodgers? Nostalgia? Desperation? I have to say, I kind of like it. So sue me.
22. Buccaneer great John Lynch breaks out the Kent Tekulve reference. I approve. We would have also accepted "Dan Quisenberry." (Gosh, that was awfully Bill Simmonsy, wasn't it? As Simmons might say, that was the Homeless Man's version of a Bill Simmons riff.)
23. Lots of commercials right now. I have to say, I already wanted an Audi, but now I really do after that "Life is Scripted" commercial. That's the best ad I've seen all day.
24. The Packers trail 19-7 in Detroit with 10 minutes to play. Maybe it's just me, but that seems pretty dire. However, I'm told by the announcers that it's not as bad as it seems, and why?  Because Green Bay always beats Detroit. Oh, okay. I would have gone with Aaron Rodgers, Jordy Nelson, Randall Cobb, but whatever you say.
25. John Rocker is going to be on the new Survivor. We have obviously pleased the gods.
26. 0-2 Oakland is down, 16-9, in New England, with six minutes to play and a rookie quarterback at the helm. Is anyone really worried about this outcome? Well, yes: about four million people who picked the Patriots in their Last-Man-Standing NFL pools.
27. Speaking of which, calm down, everyone. As everyone knew would happen all along, this one was sealed by a Vince Wilfork interception.
28. Philadelphia breaks a 27-27 tie against Washington with a pretty 27-yard seam pass from Nick Foles to Jeremy Maclin for the score. Joe Buck is rightfully impressed, so much so that he says it is, "…literally the perfect pass." Literally? I mean, it was nice, but Maclin had to extend his arms and go into a tuck-and-roll after catching it. I think he would have been able to take the perfect pass into the end zone standing up. That said, what is the "perfect pass?" A 99-yarder from the one that settles into the receiver's hands like a downy-soft feather as he lopes effortlessly into the opposite end zone? We may never see the literal perfect pass.
29.Philly comes up with a big interception and we learn from the FOX graphics that this is their 15th straight game with a turnover. That's the longest current streak in the NFL. That's nice, but it also underscores how ridiculous the Buccaneers' defense was around the turn of the century. In case you forgot, Tampa Bay went 50 straight games during that time in which they had at least one takeaway AND at least one sack. It seemed normal at the time. Now it seems incredible.
30. Last year's Super Bowl began with the ball being snapped over Peyton Manning's head for a safety and ended with Seattle forcing four turnovers in a 43-8 route. The rematch happened on Sunday in Seattle, and I'm sure the Broncos came in chanting, "Things are going to be much better this time. Things are going to be much better this time." After all, the Broncos didn't commit a single turnover in their first two games. First play from scrimmage for Denver: Montee Ball fumble. Uh oh.
31. Seattle runs a play that involves QB Russell Wilson faking one handoff, flipping the ball to WR Jevon Kearse and going out for a pass. It works, for a gain of 17. Yawn. We've already seen this today, Russ. In the world of throwback-passes-to-the-quarterback, Andy Dalton is The Simpsons and you're Family Guy.
32.True story: I just missed the last 20 minutes because a neighbor knocked on my door asking for a jump for the dead battery in her minivan. I'm not going to lie – I was pretty excited. I am the opposite of a handyman; I can fix virtually nothing around the house. But I do know my way around some jumper cables. I know where you hook them up and everything. It's pretty impressive. So, anyway, I'm done playing neighborhood superhero (they will tell tales of me for years) and I'm back for more football snark.
33. I'm semi-convinced that the job description for 80% of the people in an NFL bench area is to wildly gesture "catch" (exaggerated and repeated fair catch signal) or "no-catch" (emphatic criss-crossing of arms) any time a pass nears the sideline.
34. More commercials for a new TV show called "Scorpion." I'm not getting it – I'm told it's about a team of "the five smartest people on the planet," so of course the whole preview is everybody in a Ferrari chasing a jet plane.
35. Phil Simms: "These punters punt the ball so far these days, it's hard to change field position." Um…
36. Jim Nantz: "[Denver punter Dustin] Colquitt is having a busy day." Well played, Jim. He's saying that the Broncos' offense is struggling, and that's the nicest euphemism I've heard since my boss said we would need to have some "extra days of action" over the weekend.
37. So I'm wrapping things up here with this experiment, and I just saw a commercial for Eliquis, a drug that is used to reduce the risk of stroke. Now, I know that making fun of drug ads is about as inventive as riffing on airplane food, but this one was still pretty remarkable. Remember when the slow-motion, soft-focused protagonists of these commercials were chopping wood or stringing up a hammock or taking bizarre side-by-side baths on the beach? Well, the main characters in this one, dig up a giant, rare fossil! I mean, this is a major archeological find, and we have Eliquis to thank for it!