STORY HIGHLIGHTS
DE Scott Solomon got a significant amount of playing time Saturday, including some with the first team
Undrafted rookie WR Solomon Patton handled his kick return opportunities well
Rashaan Melvin and Danny Gorrer could figure into the team's cornerback depth chart

If you attended the Tampa Bay Buccaneers' 2014 preseason opener against Miami on Saturday night, or watched it on local television or even read the various wrap-ups of the game, you're probably aware of the most obvious developments.  The Buccaneers lost, 20-14; defensive tackle Gerald McCoy was dominant again; Tampa Bay's offensive line performed better than it had the week before; the home team suffered a number of injuries that still need to be sorted out; rookie wide receiver Mike Evans made an eye-opening playbut fumbled away a potential touchdown; et cetera.
As with any preseason game, however, there were less apparent storylines woven into Saturday's play-by-play, some of which could significantly impact the Buccaneers' decision-making when it comes time to pare the roster down to 53 players. Here are five developments that you may or may not have noticed during the Bucs' game against the Dolphins.
1. DE Scott Solomon was the busiest man on the field.
The Buccaneers employed 83 different players against the Dolphins…not all at once, obviously. To get that many men into action, the team had to cycle through first, second, third and fourth-team units, and there wasn't much room for overlap. The biggest exception was second-year defensive end Scott Solomon.
In the first quarter, with the entire first-team defense still very much in play, Solomon came in to replace right end Michael Johnson for a handful of snaps. That alone was noteworthy, but it wasn't the end for the former Rice standout. While various levels of the Bucs' depth chart got their action and then retired, Solomon kept finding himself on the field, in the second, third and fourth quarters. It's pretty clear that the Bucs' coaching staff wanted to see exactly what it had in this unheralded pass-rusher.
"We want to take a look at him," said Head Coach Lovie Smith. "Last week, of course, he didn't play. Also, Larry English got some plays, too. We're just trying to give all the guys an opportunity to play, and not just necessarily late in the game. Early on, [we're] giving guys a chance to play against some of the top players to see what they can do. Scott has done some good things rushing. We want to make sure."
2. Rookie WR Solomon Patton made the most of his return-game opportunity.
There isn't anything particularly overwhelming about Solomon Patton's numbers in the return game on Saturday night. He averaged 10.7 yards per punt return and 30.3 yards per kickoff return, which is quite good without being anything that makes you immediately start shuffling the depth chart. There is another number that was far more important for the rookie out of the University of Florida on Saturday night: six. That's the number of combined punt and kickoff returns, out of a team total of 11, that went to Patton.
On the practice field, the Buccaneers give punt return reps to about four players, and kickoff return reps to about twice that many. The fact that the team devoted more than half of its return opportunities against the Dolphins to Patton indicates that the rookie is a viable option for the job…or at least that the Bucs want to know for sure one way or another. It might not be easy to keep a spot open for Solomon on the 53-man roster, so the Bucs want as much evidence as possible if they are going to consider doing just that.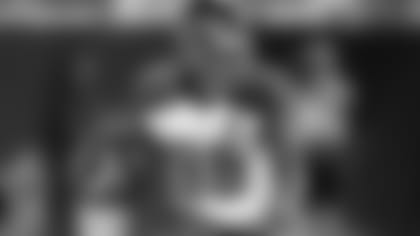 Rookie WR Solomon Patton got the majority of the kick-return chances on Saturday against Miami
Smith liked what he saw from Patton, who is trying to crack a deep but unsettled group of receiver candidates.
"I thought he did a great job the first time out," said Smith. "[People saw] him out at practice the first day and said, 'Who is that guy? What is he doing here?' I believe that was me saying that. Now, he definitely belongs. He caught the ball well, got it up in there on both returns."
3. Oniel Cousins is close to locking up a starting job on the offensive line.
We have been talking for quite some time about the Buccaneers' wide-open competition at the right and left guard spots. There are at least five viable candidates for the two jobs, not to mention a widespread belief that the Bucs are eventually going to look outside the current roster for other options.
All of those possibilities are still in play, but let's not lose sight of this fact: Oniel Cousins has started the first two preseason games at left guard and it's quite likely he'll make it three in a row on Saturday in Buffalo. If Cousins does start that game, one will have to consider him an overwhelming favorite to be on the field when the regular season starts on September 7, since the third preseason outing is usually the one that most closely resembles the real thing.
"As I've said all along, our plan is to let everyone have an opportunity, one way or another, as we go through," said Smith. "But as you get to the third preseason game, you're getting ready for the season. And the group we put out there right now, they've earned that right to get the majority of plays this week. So it will all be fairly clear what we're thinking this week."
4. LB Danny Lansanah could see his long-delayed dream come true.
Last year, Danny Lansanah played in one regular season NFL game, his first since the 2008 season. That's an interesting note, but Lansanah would prefer to be more than a piece of trivia. It looks like he has a real chance to stick with the Buccaneers in 2014 and see the most extensive playing time of his long-delayed professional career.
Lansanah played five games for the Green Bay Packers in 2008 after being signed as an undrafted free agent out of the University of Connecticut. He didn't make the Packers' squad in 2009, however, and after practice squad stints in Miami and Detroit he ended up in the short-lived United Football League. The New York Jets gave Lansanah another NFL shot last summer and he made their practice squad, before the Bucs plucked him off that crew last December.
Lansanah currently sits second on the Bucs' depth chart behind weakside linebacker starter Lavonte David. Obviously, nobody is unseating David at this point; he's an all-pro performer and a perfect fit for Lovie Smith's defense. But every position needs a competent back-up, if possible, and Lansanah could be that man. It's quite telling that he saw some action with the first-team defense on Saturday night. The Bucs have four locks on the roster at linebacker in David, Mason Foster, Jonathan Casillas and Dane Fletcher, but the rest of the depth chart is up for grabs. Lansanah's work with the first team against Miami is a strong sign that he'll be around for awhile.
5. Rashaan Melvin and Danny Gorrer have the coaches' confidence.
Alterraun Verner is the Buccaneers' starting left cornerback and there's a decent chance he'll return from his hamstring injury to see some playing time in this preseason. He didn't play on Saturday night, however, and neither did fellow 2014 free agency acquisition Mike Jenkins.
In their absence, the Buccaneers started second-year man Rashaan Melvin opposite right cornerback Johnthan Banks. That was in keeping with what has taken place on the practice field in recent days, as Melvin has seen a lot of first-team work. While he's not likely to overtake Verner or Banks, the former Northern Illinois standout could emerge as the team's primary backup to the two outside corner positions.
Of course, Melvin's problem last year, and early in this training camp, was health. As such, it was troubling to see him leave Saturday's game with an ankle injury. There's no reason to believe the injury will be a serious long-term concern, but it did cut off Melvin's opportunity to put his talents on display.
When Melvin left the game, Danny Gorrer was the next man in.  He ended up seeing significant playing time with the first-team defense, which only allowed a field goal in about a quarter-and-a-half of work.  Gorrer contributed two tackles and broke up a pass and generally looked like he could step in and provide solid cornerback play if necessary.  The Bucs are likely to keep at least six cornerbacks on their 53-man roster, and both Melvin and Gorrer made strong cases for inclusion on Saturday night.