The 4-9 Tampa Bay Buccaneers welcome the 8-5 Atlanta Falcons to town this Monday night for a prime-time rematch of their Week 12 meeting in Atlanta. The Falcons are the first of three division opponents the Buccaneers will play to conclude the season, and Atlanta is currently one game behind Carolina and New Orleans in the NFC South standings. Here are a few individual matchups that could be critical as the Buccaneers try to get their first division win of the season:
Falcons WR Julio Jones vs. Buccaneers CB Brent Grimes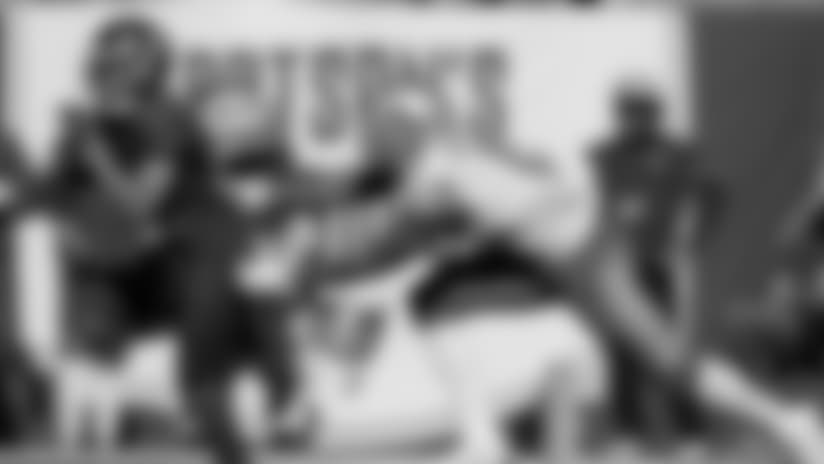 When the Buccaneers and Falcons squared off three weeks ago, we noted the challenge that Julio Jones presents but chose to highlight Mohamed Sanu in our Key Matchups. We won't make that mistake again. Jones torched Tampa Bay's defense for 253 yards and two touchdowns on 12 catches in that Week 12 game in Atlanta, an outcome the Bucs cannot allow to be repeated if they hope to split the season series. Jones is a unique threat, able to make contested catches like Mike Evans, get behind the defense like DeSean Jackson and rack up significant yards after the catch. The Bucs' best counter to Jones is Grimes; while the Bucs rarely "shadow" one specific opponent with their top corner, Grimes will surely get his fair share of Jones on Monday night. As demonstrated by his superb leaping interception against Detroit last Sunday, Grimes is able to use his surprising athleticism to make plays on even well-thrown balls downfield. Falcons QB Matt Ryan surprisingly threw three interceptions in Atlanta's narrow win over New Orleans last Thursday night; if the Bucs can force the same sort of performance on Monday night they'll have a better shot at beating their division rival. Grimes is tied for the Bucs' lead with three picks and is the only player in the NFL who has at least three interceptions in each of the last five seasons.
Buccaneers T Donovan Smith vs. Falcons CB Takkarist McKinley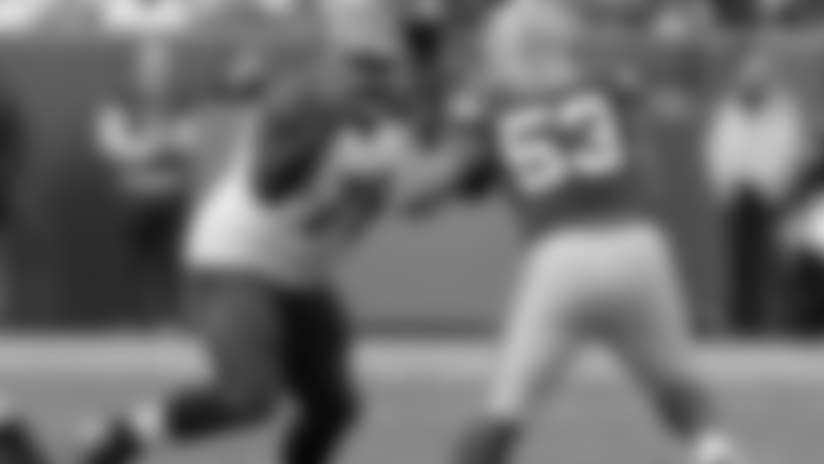 Adrian Clayborn is the Falcons' sack leader with nine QB takedowns thanks to one ridiculous six-sack performance against the Cowboys. Vic Beasley led the entire NFL in sacks in 2016, though he's been limited to four so far this year. But the pass-rusher who is really coming on for Atlanta down the stretch is rookie Takk McKinley. The 2017 first-round pick has three sacks in the Falcons' last four games and five on the season, thanks to a very quick first step and a good bend and body control getting around the outside of opposing tackles. McKinley has gotten most of his sacks in that manner, but his strength is underrated and he's capable of power moves as well. The rookie rusher usually lines up on the outside shoulder of the left tackle, so he'll be a challenge for Buccaneers' blocker Donovan Smith. Though the Buccaneers' pass protection has suffered in the past two weeks after the line lost right tackle Demar Dotson and center Ali Marpet, the team has overall done good work this season keeping its quarterbacks upright. The talented Smith has the foot quickness to counter McKinley's outside burst.
Falcons RB Devonta Freeman vs. Buccaneers LB Kwon Alexander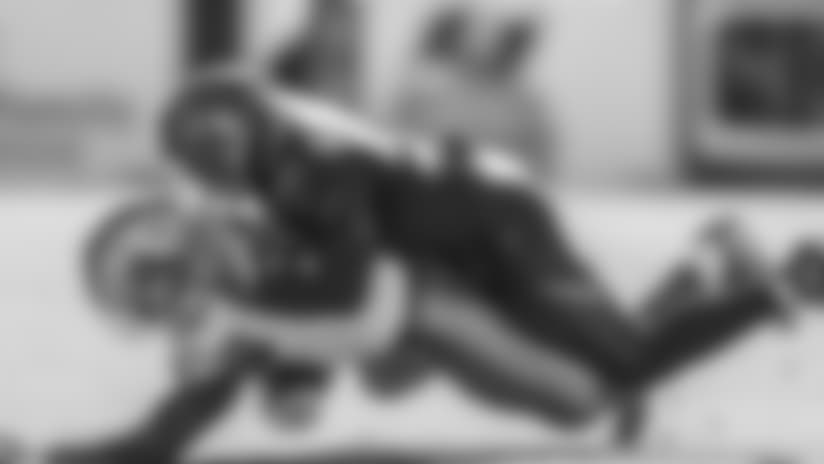 When the Buccaneers and Falcons met in Week 12, Atlanta was without its starting tailback, Devonta Freeman, due to a concussion. That wasn't a particularly big problem for the Falcons' offense as another talented back, Tevin Coleman, stepped in and rushed for 97 yards and two touchdowns. This week, Coleman is the Falcon back dealing with a concussion, but Freeman is back and coming off a 91-yard, one-touchdown outing in last Thursday's win over the Saints. Freeman is a good fit for a zone running scheme because he has the ability to be patient, use his eyes well and then hit the hole quickly, as he did on several outside runs against the Saints. The Buccaneers have a trio of rangy linebackers – Kwon Alexander, Lavonte David and Kendell Beckwith – who all have at least 60 tackles and seven stops for loss this year – but it's Alexander who has a history of strong performances against the Falcons. Alexander tied for the team lead in the Week 12 game in Atlanta with eight tackles and also had one stop for loss. Alexander is fast and a hard-hitter and a good option for the Buccaneers to match Freeman as he tries to stretch the play to either side.
Buccaneers TE O.J. Howard vs. Falcons S Keanu Neal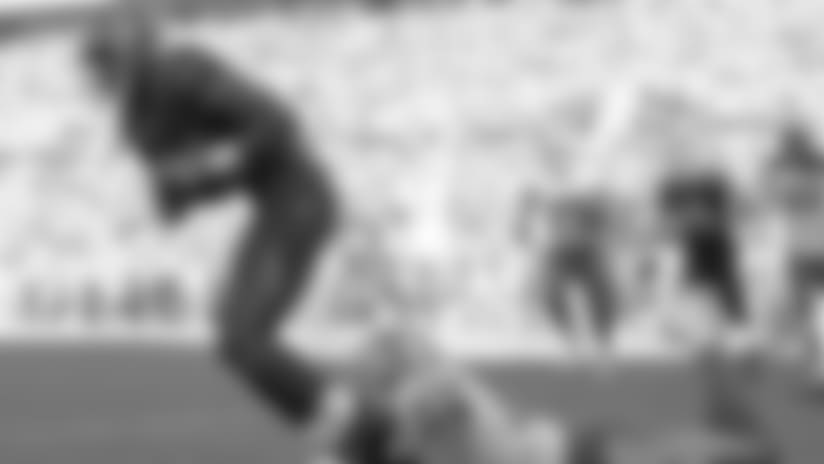 Rookie tight end O.J. Howard caught three passes for 52 yards in Mercedes-Benz Stadium in Week 12 and he has been coming on in the second half of his debut campaign. Howard has had three 50-plus-yard outings in the last four weeks and two touchdown receptions in that span as the Buccaneers have started to rely more on his athleticism and ability to stretch the middle of the field. Keanu Neal is a hard-hitting safety who is very good around the line of scrimmage and can often tie up tight ends with his press coverage. Atlanta's defense has been just about league-average in terms of covering tight ends, according to Football Outsiders, allowing roughly 50 yards per game to the position. When the two teams met in Week 12, then-starting quarterback Ryan Fitzpatrick threw frequently to outside receivers Mike Evans and DeSean Jackson, who caught a combined 14 passes for 138 yards. If the Falcons adjust and try to take those two away, as recent Buccaneer opponents have done, current starter Jameis Winston may choose to rely more heavily on his tight ends, including Howard.
Falcons T Jake Matthews vs. Buccaneers DE Robert Ayers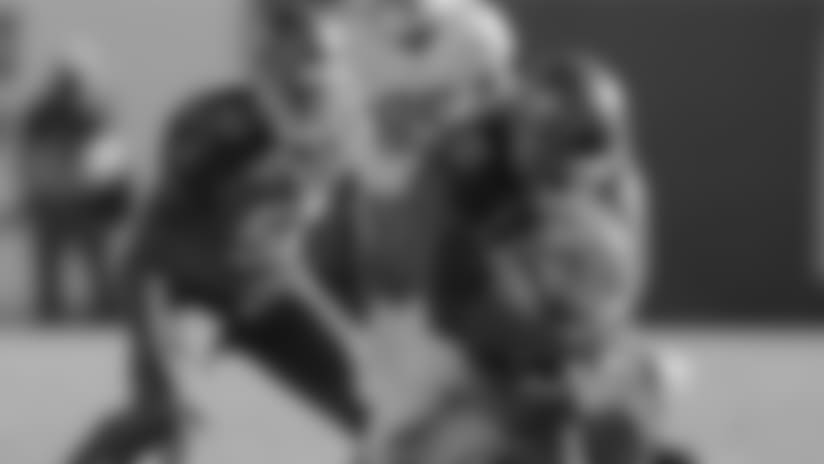 The Buccaneers have not generated much of a pass-rush this year. Last week against Detroit, Lions quarterback Matthew Stafford dropped back 44 times and was not sacked, only taking three hits in the game. Two of those, however, came from Robert Ayers, who has two sacks this season but is second on the team with 15 quarterback hits. The Bucs do not yet know if they'll have their leader in those two categories, Gerald McCoy, in action on Monday night due to a bicep injury. If McCoy is absent, even more of the burden of getting to Matt Ryan will fall on Ayers, who is capable of giving the team snaps at end or on the inside, as he did frequently against the Lions after McCoy was hurt. When he does rush off the Bucs' right edge, he'll be trying to beat left tackle Jake Matthews, a former first-round pick in 2014. Matthews has anchored the backside on a Falcons line that has only allowed 17 sacks all season, including none to Tampa Bay in Week 12 and only three in the last five weeks combined.
Buccaneers WR Mike Evans vs. Falcons CB Desmond Trufant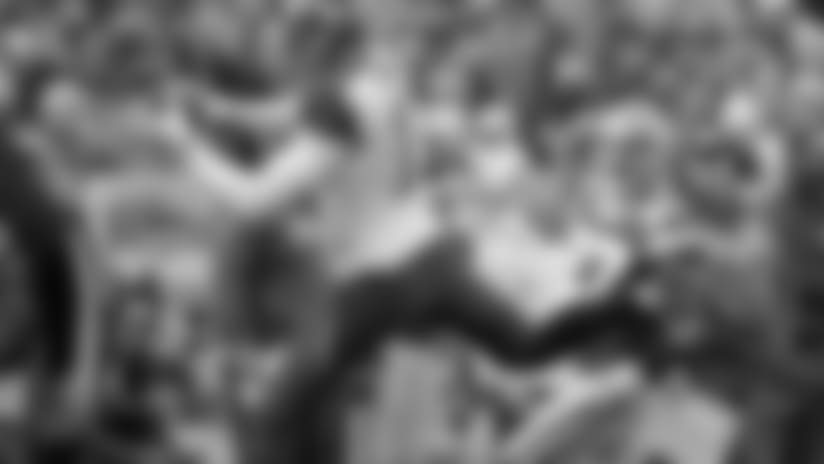 Mike Evans has had some big games against Atlanta in his four-year career, averaging six catches and 88 yards in seven meetings with the Falcons. He was good for six grabs and 78 yards in Week 12, but he didn't add to his total of five career touchdowns against Atlanta, his most against any opponent. In the two games since that contest in Atlanta, Evans has caught just four passes for 58 yards; look for the Buccaneers to work to get their top pass-catcher more involved in the last three weeks, even if teams are keying on him. Like the Buccaneers, the Falcons don't commonly use their top corner to shadow a specific player, but Desmond Trufant will have plenty of matchups with Evans. Trufant is tied for the Falcons' lead with two interceptions and he has seven pass-breakups in the last five games he's played. Trufant and the Falcons' entire secondary has been resistant to big plays this season – opposing teams have only 33 completions of 20 or more yards, tied for the sixth-lowest in the NFL. Teams have moved the ball relatively well against Atlanta's defense, but they haven't scored quickly – the Falcons haven't allowed a single scoring drive of fewer than three plays this year – and they haven't fared well in the red zone. If Evans can get past Trufant for a big play or two, the Buccaneers will have a better chance of getting revenge in the series rematch.