The 2-6 Tampa Bay Buccaneers return home for a Week 10 game against the 4-5 New York Jets on Sunday as they try to snap a five-game losing streak. Here are a few individual matchups that could be critical as the Buccaneers try to get their third home win of the season:
Buccaneers T/G Kevin Pamphile vs. Jets DE Leonard Williams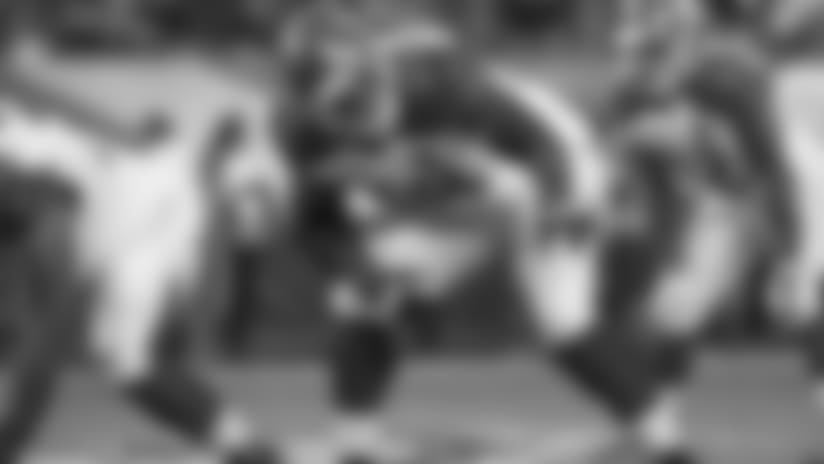 Last Sunday in New Orleans, Kevin Pamphile helped the Buccaneers with his versatility, starting the game at left guard and then sliding out to left tackle after Donovan Smith suffered a knee injury. How the left side of the Bucs' line is arranged on Sunday against the Jets will depend on whether Smith makes it back from his injury or not, but either way Pamphile will be getting a full dose of Leonard Williams. Williams plays on the right end of the Jets' 3-4 front line, which means he primarily lines up in the B gap and ends up battling either the left guard or the left tackle (or both). Williams is big (6-5, 302) and powerful and can drive blockers back into the quarterback's comfort zone. He has just a half-sack so far this year (recorded in the Jets' most recent game), but he had seven last season as well as two forced fumbles. Pamphile and the Buccaneers' offensive line have mostly given Tampa Bay's passers good protection this season, though last week in New Orleans (four sacks) was not their top effort.
Jets WR Robby Anderson vs. Buccaneers CB Robert McClain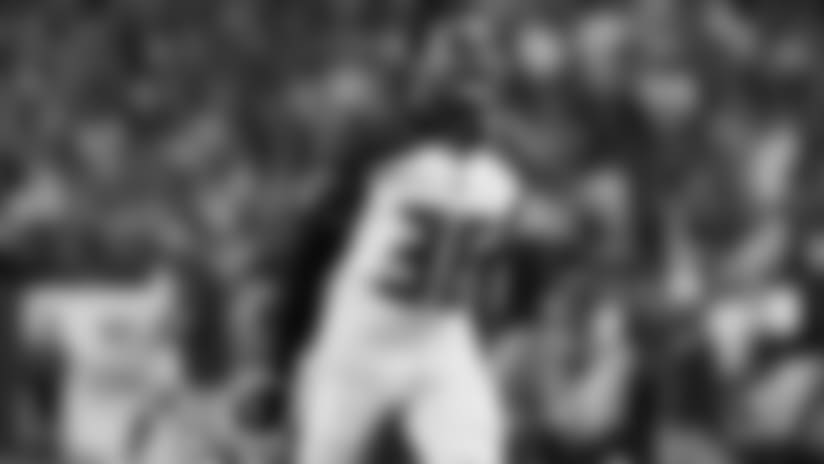 With Brandon Marshall and Eric Decker released in March and June, respectively, and Quincy Enunwa and Devin Smith landing on injured reserve without playing a snap this year, second-year man Robby Anderson became the clear number-one target in the Jets' passing attack. An undrafted free agent out Temple in 2016, Anderson had a productive rookie year but has been even better this season with 31 receptions for a team-high 483 yards and four touchdowns. Not even invited to the 2016 NFL Scouting Combine, Anderson ran a 4.36-second 40-yard dash at his Pro Day and has been able to translate that into functional speed in NFL games. He is good at double moves and is averaging 15.6 yards per reception. The Buccaneers' arrangement at cornerback could be altered by the possible return of Brent Grimes, but Tampa Bay usually leaves its corners on their respective sides and Anderson is moved around the formation, so at some point he should be Robert McClain's responsibility. The veteran McClain was originally brought in to compete for the nickel job (a competition he won) but has recently switched with Vernon Hargreaves and moved to the outside. Head Coach Dirk Koetter complemented the overall play of the Bucs' cornerbacks in an otherwise disappointing team performance in New Orleans, and McClain has one of the Bucs' five interceptions to go with three passes defensed and 27 tackles.
Buccaneers QB Ryan Fitzpatrick vs. Jets S Marcus May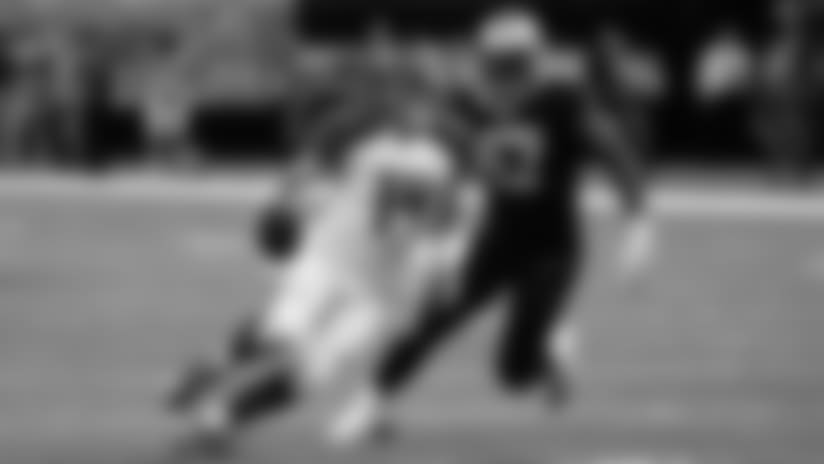 Ryan Fitzpatrick, who started 27 games over his previous two seasons in New York, should be familiar with much of the Jets' defensive personnel, but a glaring exception is the safety position. Fitzpatrick will make his first start as a Buccaneer on Sunday and will try to keep the ball away from the rookie tandem of Jamal Adams and Marcus Maye. The Jets used their first two 2017 draft picks on the position, taking Adams seventh overall and Maye 39th, and both were in the starting lineup on opening day. Adams may be the more physically gifted of the two but he spends more time closer to the line of scrimmage than does Maye. Maye, who is tied for the team lead with two interceptions is more likely to cover deep ground and keep his eyes on Fitzpatrick. Considering the difference in NFL experience – Fitzpatrick has 130 career games to nine for Maye – one might expect the veteran cornerback to outmaneuver his rookie opponent on occasion. That said, Maye is a both disciplined and instinctive in his play and has been a very steady performer this year. This should be an interesting battle of wits.
Jets G Brian Winters vs. Buccaneers DT Chris Baker
New York's offensive numbers suggest an offensive line that has had its ups and downs. Only the Colts' Jacoby Brissett has been sacked more often than Jets QB Josh McCown, who has gone down 26 times in nine games. However, the Jets are averaging a solid 4.1 yards per carry in the running game. Right guard Brian Winters is probably the top performer on that line. The 6-4, 320-pound blocker has quick feet and is a technically-sound blocker. It's worth noting that of the 26 sacks McCown has absorbed, only 4.5 belong to opposing defensive ends, with much more of the pressure coming off the edges. Baker will probably be most important to the Buccaneers in their run-defense efforts, holding the line against any or several of the Jets' three interior blockers. However, Baker did have a quarterback hit last week in New Orleans and he has three pressures on the season. Baker is still looking for his first sack as a Buccaneer and may have to beat Winters to get it.
Buccaneers T Demar Dotson vs. Jets LB Jordan Jenkins
The ends in New York's 3-4 front – Williams and Muhammad Wilkerson – are former first-round draft picks, but the pass-rushing outside linebackers in the starting unit include a third-round pick (Jordan Jenkins) and a former undrafted free agent (Josh Martin). Jenkins is one to watch. The Jets defense did not rack up a lot of sacks through its first eight games – 11 in total – but exploded for seven against mobile Bills QB Tyrod Taylor last Sunday. Jenkins had two of them, and while those were his first two sacks of the season, he has proved to be a very high-energy edge rusher. His 11 quarterback hits this season are second only to Williams' 13 among Jets defenders. Jenkins plays hard, can hold the edge against the run and has very long arms, which allows him to keep blockers off his body and disengage quickly. Of course, he generally rushes off the right edge of the opposing offensive line, which means he will sometimes find himself matched up against one of the tallest players in the NFL, 6-9 tackle Demar Dotson. Dotson has very long arms, as well, so he'll be a match for Jenkins in that category, and he has had a fine season so far in 2017. Again, the Bucs' offensive line didn't have its best game last Sunday but Dotson has mostly kept pressure out of the face of his quarterbacks this year.
Jets RB Matt Forte vs. Buccaneers LB Kwon Alexander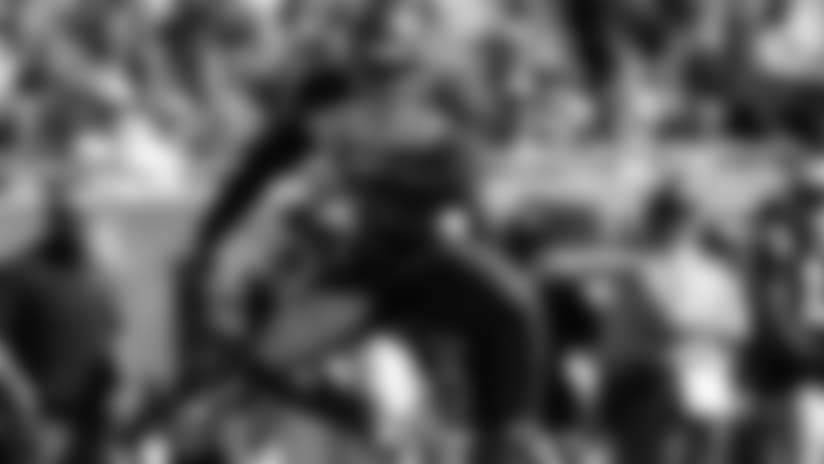 New York has something of a backfield committee this year with veterans Bilal Powell and Matt Forte plus rookie Elijah McGuire. All three have at least 57 carries and at least 237 rushing yards, and they've alternated from week to week this year as the most active ballcarrier. Last week it was Forte, who got 14 carries to 13 for McGuire and nine for Powell in the Jets' win over Buffalo. Even if that doesn't carry over into Week 10, Forte is probably the most dangerous of New York backs because he offers more in the passing game. Forte is fourth on the team with 29 receptions this year ,and that's only four behind leader Austin Seferian-Jenkins. Of course, most NFL fans are very familiar with Forte's excellent 10-year career, most of it spent in Chicago, in which he has racked up 546 career receptions. Though he perhaps has not yet hit his stride after missing most of the first five games with a hamstring injury, Alexander is an excellent weapon against versatile backs like Forte. He can make plays from sideline to sideline and excel against both the run and the pass. Last year, for example, Alexander led the Buccaneers with 145 tackles and also broke up seven passes.