The 4-11 Tampa Bay Buccaneers finish up their 2017 season with a home game against division foe New Orleans (11-4), with the NFC South title on the line for the Saints. Here a few individual matchups that could be critical as the Buccaneers try get their first intra-division victory of '17 and try to finish the year on a high note:
Saints RB Mark Ingram vs. Buccaneers LB Lavonte David
Prior to the first Bucs-Saints meeting of the year, in Week Nine, we highlighted New Orleans running back Alvin Kamara as a key concern for the Buccaneers' defense, and Kamara indeed had a big game in the Saints' victory. The rookie sensation ran for 68 yards, caught six passes for 84 more yards and scored twice. Kamara obviously remains a problem for the Bucs eight weeks later, but it's worth noting that he is secondon his team in yards from scrimmage. Veteran Mark Ingram, having his best season yet, leads Kamara in that category, 1,486 to 1,426. The Buccaneers generally prioritize stopping the opposing rushing attack first so that they can then more aggressively go after the passer, so keeping Ingram from getting off to a fast start is critical. The Bucs did fairly well against Carolina's very good rushing attack in Week 16, holding the Panthers to 3.7 yards per carry and only really giving up any big chunks to quarterback Cam Newton. Jonathan Stewart, the between-the-tackles runner, finished with just 19 yards on seven carries. It's no coincidence that the Buccaneers did so much better against the run in Week 16 than the game before, as linebacker Lavonte David returned after missing that Week 15 Atlanta contest with a hamstring injury. David leads the Buccaneers with 95 tackles and is also adept at forcing fumbles by opposing running backs; in fact, he did just that to Kamara in Week Nine.
Buccaneers T Caleb Benenoch vs. Saints DE Cameron Jordan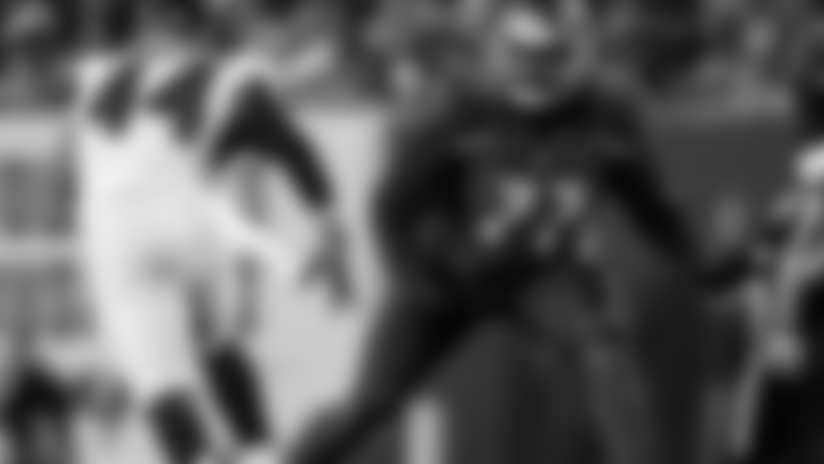 The Saints have a better overall pass rush in 2017 – part of a significant all-around improvement on that side of the ball – but defensive end Cameron Jordan remains their best pass-rusher. Jordan has 12 sacks to lead the team while no other New Orleans player has more than 4.5, and his 25 quarterback hits rank fourth in the league. The Saints move Jordan all over their front, rushing him off both ends and even inside against guards from time to time, searching for matchups they believe he can exploit. Several Buccaneer offensive linemen will certainly get the pleasure of blocking Jordan, and one who will certainly be in that position from time to time is Caleb Benenoch. A second-year player who can play guard or tackle, Benenoch has settled in at right tackle since Demar Dotson went on injured reserve, starting the last four games at that spot. The Buccaneers' pass protection has been inconsistent since three starting offensive linemen were lost to injured reserve, but it has been good enough to give Jameis Winston enough time to go on one of the hottest streaks of his young career (league-best 114.5 passer rating over the last four weeks). Jordan can beat blockers with both speed and power moves, both of which Benenoch will work to counter in order to keep Winston on his feet Sunday.
Saints WR Michael Thomas vs. Buccaneers CB Brent Grimes
While the Saints' still-powerful offense now runs heavily through the RB duo of Ingram and Kamara, second-year wideout Michael Thomas has become the latest beneficiary of being Drew Brees's top target. Thomas, in fact, has been targeted 141 times, which works out to about nine and a half per game and as a total ranks sixth in the NFL. He has caught 98 of those passes, fourth-best in the NFL, for 1,151 yards and five touchdowns. Thomas has replaced Brandin Cooks as the Saints' number-one wideout and become a high-volume target with fewer big plays (Thomas has an 11.7-yard per-catch average; Cooks was at 15.0 and 13.5 the previous two years). Grimes has been the Buccaneers' most effective cover corner this year, with three interceptions and 10 passes defensed, but he missed the first Saints-Bucs matchup due to injury. While the Buccaneers do not commonly match Grimes up against the opponents' top receiver, he's sure to see plenty of Thomas on Sunday and the Bucs' secondary should be more stout with him in there. Grimes and company held Cam Newton to 160 passing yards and no touchdown throws in Week 16.
Buccaneers TE Cameron Brate vs. Saints S Marcus Williams
The Buccaneers are the only team in the NFL with two tight ends who each have at least six touchdown receptions in 2017, but unfortunately one of those two is now on injured reserve. While it's rookie Antony Auclair who is getting the biggest uptick in playing time with O.J. Howard done for the year, it's Cameron Brate who should become more of a red zone focus in the passing attack. That's something Brate very much was in 2016 and through the first half of 2017 before opposing defenses started making him a priority around the goal line. After Mike Evans had his first 100-yard game of the season in Charlotte and such young pass-catchers as Chris Godwin and Freddie Martino started making big plays, the pendulum could swing back for Brate with so many other weapons for defenses to account for. New Orleans has been very good against tight ends this year, ranking fifth in the league in defending them, according to Football Outsiders. And while cornerback Marshon Lattimore has drawn a lot of attention for his outstanding rookie season, fellow rookie Marcus Williams has started the whole season at safety and has frequently been in coverage on tight ends. Williams is a former basketball player and high-jumper, so he has the necessary skills to win jump balls downfield against tight ends. In addition to ranking third on the team with 63 tackles, the rookie safety also has two interceptions and five passes defensed.
Saints G Larry Warford vs. Buccaneers DT Gerald McCoy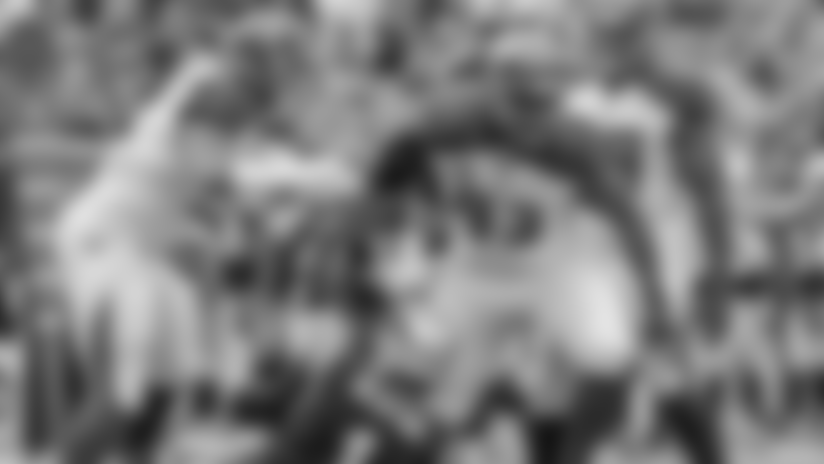 Like David, McCoy returned last Sunday against the Panthers after missing one game with an injury, and the difference was notable. McCoy had one of the Bucs' two sacks of Cam Newton and two quarterback hits, and he helped hold a Panthers' offense that had been humming for the previous month to just 255 yards of offense and one trip into the end zone. The last time the Buccaneers faced the Saints, in Week Nine, New Orleans was playing without starting right guard Larry Warford. Backup Senio Kelemete stepped in and the Saints' line still did a good job of protecting Drew Brees, allowing just one sack and two quarterback hits. This time Warford is back, which means he'll draw some matchups with the Bucs' best pass-rusher. Pressure up the middle is the most effective kind against Brees because it keeps him from stepping up into the pocket and finding more sight lanes and room to step into his throws. McCoy leads the Bucs with 24 quarterback hits, which is tied for sixth in the NFL and is second among all defensive tackles. Warford and the Saints' line has provided Brees with good protection, as is usually the case in New Orleans, allowing only 18 sacks.
Buccaneers WR Mike Evans vs. Saints CB Marshon Lattimore
While we've looked for new matchups the second time around with the Saints, this one is a repeat from Week Nine. That one went Marshon Lattimore's way, as Evans was held to one catch for 13 yards on the day. In addition, it was Lattimore who took the sideline hit that led to a one-game suspension for the Bucs' top receiver, which may add extra emotion to the competition in Week 17. Evans is trying to finish his fourth season on a surge following a two-game run of 11 catches for 186 yards and a touchdown, and if he gets at least 54 yards against the Saints he'll become the third player in league history to open his career with four consecutive 1,000-yard receiving seasons. Opposing teams occasionally shadow Evans with their top cornerback, which is something the Saints may choose to do with Lattimore, who has had a superb rookie season. Lattimore was voted into the Pro Bowl in his debut season, which has included 49 tackles, five interceptions and 17 passes defensed. New Orleans has gone from last in the league in pass defense in 2016 to 11th this year, and the play of Lattimore is one of the main reasons why. In the first matchup, Winston re-injured his throwing shoulder before halftime and sat out the second half. For the rematch, he comes in on a hot streak and is clearly making an effort to get Evans back at the center of the Bucs' passing attack. That can pose a challenge for any cornerback, even one of Lattimore's obvious talents.