5:30 AM: I wake up around 5:30 because I live about 30 minutes away from the facility. So I get here around 6:15 and immediately start watching some film until about 7. Then I get in the hot tub from 7 to about 7:15.
7:15 AM: It's time for breakfast, which is usually oatmeal with blackberries, raspberries, mango and pineapple with some orange juice.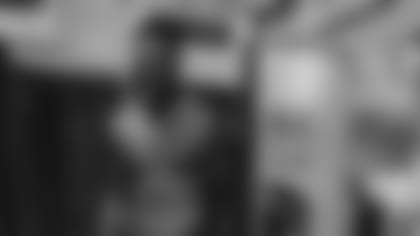 Louis Murphy exiting a cryotherapy chamber.
8:30 AM: After breakfast, we have position-specific meetings. We don't meet as a whole offense because we did that Wednesday and Thursday, so Friday is just with our wide receiver coach. We go over the final details of the game plan for the week.
10:30 AM: We have walk-through and then practice. This is where we implement the game plan we just spent the morning watching film on and discussed in our meetings. We try to get through all aspects of the game plan the first time. Friday is often called "Fast Friday" because of this.
1:00 PM: After practice we watch a quick film session with just the quarterbacks, wide receivers and tight ends for about 20-25 minutes.
2:00 PM: Fridays after leaving the facility are all about helping my body recover. I need to be feeling my best and ready to go for Sunday. So I go to the chiropractor every Friday and have my neck, back, hips, and anything else bothering me adjusted. There's also a cryotherapy chamber that I use at the chiropractor office.
5:00 PM: My massage therapist comes to my house and I get a massage for about an hour and a half. Then my barber comes over around 7 and knocks the haircut out.
8:00 PM: We usually have a receiver dinner about 8 at Ocean Prime. I get home around 9:30 or 10 and that's my day.