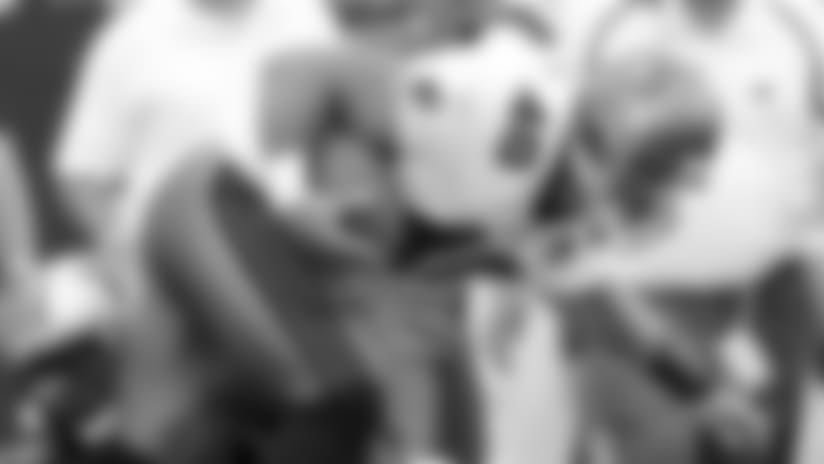 The Bucs struck gold at pick #35 in 1996 with FB Mike Alstott
Barring trades, the Tampa Bay Buccaneers will execute three of the first 42 picks in the rapidly-approaching 2010 NFL Draft. And though he likely won't realize it, the player chosen in the middle of those three picks will instantly join a club that also includes former Buccaneer great Mike Alstott.
That club has a growing membership in the Bucs' current locker room, as it turns out. The same thing presumably connecting that soon-to-be Tampa Bay draftee to the legendary Alstott will also tie him to current Buccaneers Aaron Sears and Reggie Brown.
All of them were chosen exactly 35th in the draft.
Now, the Buccaneers aren't purposely collecting members of the 35 Club. Still, that small group of players represents an interesting cross-section of what a team might hope to acquire out of that specific pick. Alstott turned into one of the best players in Buccaneer history and perhaps the most popular figure ever to don the pewter and red. Sears was an instant starter and a strong presence on Tampa Bay's young offensive line before his career was interrupted last year by a personal issue. And the Bucs recently traded for Brown with the notion that the former Philadelphia Eagle could, with a new opportunity, recapture the form that led him to average 50 receptions a season from 2005-07.
Of course, it's no particular surprise that a player picked high in the second round would go on to have a good NFL career. That general region has treated the Buccaneers quite well in the past - Barrett Ruud (36th overall), Errict Rhett (34th), Reggie Cobb (30th), Ricky Reynolds (36th), James Wilder (34th), Greg Roberts (33rd), Gordon Jones (34th) and David Lewis (29th), to name a few. (Note that the second round started a few picks earlier before the league expanded to 30, 31 and then 32 teams over the last 15 years.)
But we find it interesting, as an annual exercise, to find out just what the specific picks the Bucs are about to deploy have produced in the past. In February, for instance, we studied the the last 34 years of the #3 pick, since the Bucs had never held that spot in their first 34 years of existence. Tampa Bay is scheduled to pick third when the draft kicks off on the evening of Thursday, April 22.
They'll also pick third in Round Two, or 35th overall. Can they duplicate the scouting efforts that turned up such gems as Alstott and Sears? Moreover, can they continue the relatively impressive run the NFL as a whole has been on with pick #35. It's fair to say that not one 35th pick of the past decade was a total miss. Here are the last 20 players chosen at that spot:
35th Overall Draft Picks, 1990-2009*
| | | |
| --- | --- | --- |
| Year | Player, Drafting Team | NFL Career Notes |
| 1990 | DT Dan Owens, DET | 10 seasons for Lions, Falcons, 33 career sacks |
| 1991 | DT Esera Tuaolo, GB | 10 seasons with 5 teams, 12 career sacks |
| 1992 | DB Rod Smith, ATL | 3 seasons, 17 starts, 3 interceptions for Patriots |
| 1993 | DT Carl Simpson, CHI | 5 seasons in CHI, 2 years as starter, 7 sacks |
| 1994 | WR Kevin Lee, NE | 2 years, 7 games, 2 starts, 8 catches for NE |
| 1995 | DT Anthony Cook, HOU | 4 years with Oilers, 2.5 as starter, led team in sacks in '95 and '96 |
| 1996 | FB Mike Alstott, TB | Bucs all-time TD leader, 2nd in rushing yards, 6 Pro Bowls |
| 1997 | G Juan Roque, DET | A Lion for 3 years, never won starting job |
| 1998 | S Tony Parrish, CHI | 30 INTs in 10 NFL seasons, started first 112 games |
| 1999 | LB Barry Gardner, PHI | Played for four teams, mostly a special-teamer |
| 2000 | DE John Engelberger, SF | 9 seasons with SF/DEN, 20.5 sacks, 80 career starts |
| 2001 | TE Alge Crumpler, ATL | 4 Pro Bowls, 2 All-Pro, 367-4,691-37 career rec. |
| 2002 | DE Kalimba Edwards, DET | Mostly a reserve, but 31 sacks; didn't play last year |
| 2003 | CB Charles Tillman, CHI | Fixture in Bear's defense, 22 INTs |
| 2004 | DE Igor Olshansky, SD | 5 great yrs. in SD, then signed with DAL |
| 2005 | WR Reggie Brown, PHI | Led '05 rookies with 571 rec. yards, led PHI with 816 rec. yards in '06 |
| 2006 | LB Rocky McIntosh, WAS | 44 starts, almost 300 tackles from '07-09 |
| 2007 | G Arron Sears, TB | Started 31 gms. in '07-08 but missed last year |
| 2008 | CB Brandon Flowers, KC | 28 starts, 7 INTs, 36 PDs in 1st two yrs. |
| 2009 | LB James Laurinaitis, STL | 16 starts, 120 tackles, 2 sacks, 2 INTs as rookie |
*A few others of note from before 1990: RB Christian Okoye, Kansas City, 1987; S Wes Hopkins, Philadelphia, 1983; RB Robert Newhouse, Dallas, 1972. *
While we will begin with our usual stipulation that players drafted in the last two or three years have probably not had enough time to firmly establish which way their careers are headed, the early returns on Laurinaitis, Flowers and McIntosh are certainly quite good. All are firmly entrenched as starters for their teams and all have been productive to this point.
Brown, as mentioned above, got off to a very good start, too, and was among the most productive receivers to come out of the 2005 draft for his first three years. His stats fell off significantly over his last two seasons in Philadelphia, but the Buccaneers believe that was mostly a product of opportunity. With the spot-on drafting of the likes of DeSean Jackson, Jeremy Maclin and Jason Avant, the Eagles made Brown expendable in their system. If Brown can re-establish himself as a contributor in Tampa, that will be anotehr clear victory for pick #35.
Olshansky was clearly one of the best run-stopping defensive tackles during his tenure in San Diego, and that made him a very attractive free agent target for the Cowboys last year. Tillman has turned in several Pro Bowl-caliber seasons and remains the sure thing in a Chicago secondary that has seen a lot of upheaval in recent years.
Crumpler was a star in Atlanta and he'll continue his career this year in New England this year after spending one season with the Tennessee Titans. Crumpler made the Pro Bowl every year from 2003-06 and was the Falcons' go-to receiver during that entire stretch. He's bookended in the above list by Engelberger and Edwards, two defensive linemen who fell short of stardom but enjoyed relatively long careers. Engelberger was the more established starter of the two but Edwards finished with more sacks.
Philly's selection of Gardner in 1999 wasn't a complete miss, but they likely expected the Northwestern product to turn into a full-time starter. Instead, he spent most of his career on special teams for several different clubs. For Buc trivia buffs, however, there is this: Gardner was the linebacker attempting to cover Joe Jurevicius when the Tampa Bay receiver turned in a game-changing 71-yard catch-and-run against the Eagles in the 2002 NFC Championship Game.
Parrish never made the Pro Bowl, but that's a bit surprising given his seven and nine-interception campaigns in back-to-back seasons for the San Francisco 49ers (2002-03). Any player who starts every game for his first 12 seasons in the NFL is obviously a successful draft pick. Before Parrish is the first out-and-out bust on the above list, as Roque never worked his way into the starting lineup in Detroit.
Alstott needs no further description in this parts, and Cook was a good if not great performer for Houston. Lee, the 35th pick in 1994, is the other clear miss on this list, which finishes with four solid but unspectacular choices in Simpson, Smith, Tuaolo and Owens.
Can the Bucs find an instant starter at #35 this year, like they did three years ago and like the Rams and Chiefs have in the past two springs? Most observers consider this year's talent pool the deepest the draft has seen in decades, which would seem to give a high second-round pick the type of value usually returned by a first-rounder. Of course, the Bucs will still have to choose wisely, as this exercise has shown repeatedly over the years that potential busts are lurking at every spot in the draft.
But there is also the potential for greatness at every spot in the draft, and as the chart above indicates, it has frequently been found at pick number 35.