STORY HIGHLIGHTS
When the NFL has come to Raymond James Stadium on a Saturday, exciting football has ensued
Among the Bucs' best moments on Saturday include critical Week 16 wins over Baltimore in 2001 and Atlanta in 2005
The NFL did not play Saturday games in 2013 and hasn't played a Saturday afternoon game since 2006

On today's to-do list: Send a gift basket and a nice note to Howard Katz.  Address: NFL headquarters, 345 Park Avenue, Manhattan.
On the National Football League's organizational chart, Katz is the senior vice president of broadcasting.  He has another unofficial but important title, however: NFL scheduling guru.  The process of creating the league's 256-game regular-season schedule every year has been described as part art and part science, and Katz has been described as the artist.
This year, Katz and the rest of those involved in devising the weekly schedule for 2014 will have a few new wrinkles to contend with, most notably a slate of Thursday night games on CBS and a pair of Saturday games in December.  It is that latter note that has me thinking about sending a bribe friendly gesture in Katz's direction.
Essentially, I just would like Katz to have Tampa in mind when it gets around to Week 16 in its schedule-making this spring.  Call this an open letter to the NFL with one simple request: Please, if at all possible, could you bring Saturday football to Tampa in 2014?!
First, let's simply celebrate the return of Saturday NFL action this season.  There were no Saturday games in 2013, breaking a tradition that had stretched back to the 1970 merger.  There were no Saturday afternoon games in 2013, obviously, but that has unfortunately been the case since 2007.  With a double-header on the schedule this year, that means one of each – a game in the afternoon and a game in the evening.  Hallelujah!
There's a good and obvious reason that the league stays away from Saturday for most of the fall: That's college football's dominion.  But the league has traditionally stepped into the void between the end of the NCAA's regular season and the bulk of its bowl games around the New Year.  Some years, Saturday football is a necessity, when Christmas falls on a Sunday or a Monday.  Even when that isn't the case, there's usually at least one Saturday in December that is ripe for some NFL football.
In late December, the playoff races are reaching a climax.  Once the playoff begins, there are games on both Saturday and Sunday for the first two weeks, and those are undeniably two of the best weeks of football of the entire calendar year.  Playing on Saturday in December essentially feels like the beginning of those playoffs, especially because many Week 16 games pit two division foes against each other.  And the doubleheader format offers the best of both worlds.  If you're getting in some last-minute Christmas shopping during the afternoon, the night game is there to help you unwind and rest your feet.  And if Saturday is your night to hit the town, you can still watch the afternoon game before you head out.
And if you're an NFL junkie who can't get enough during the peak of the playoff chase, then you're in heaven: wall-to-wall football from Saturday afternoon through Monday night.  Simply put, Saturday NFL games are awesome.  Case closed.
The Buccaneers have tasted that awesomeness several times in the past.  I want to taste it again, in 2014, if at all possible Mr. Katz.
Now, I'm not going to sugarcoat this: Tampa Bay's all-time record in games played on Saturday does not sparkle.  In 38 seasons, the Buccaneers have played 16 Saturday games and compiled an overall record of 4-12.  The team's most recent Saturday outing was a product of that aforementioned Sunday Christmas situation and it resulted in a 48-16 loss to the Carolina Panthers during those forgettable last two months of the 2011 season.
So why do I want another Saturday game in Tampa, and why should all Buccaneer fans want the same?  Because when Saturday NFL football has come to Tampa, and especially to Raymond James Stadium, it has produced some thrilling moments for Tampa Bay fans.  It's time for another dose of that excitement on our home turf…hopefully in a game that has playoff implication for the Buccaneers.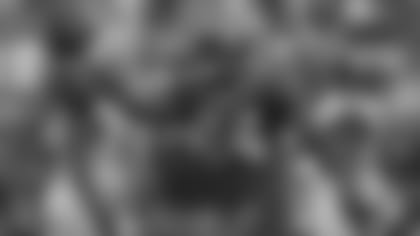 Cadillac William's fourth-down touchdown run to send the game against Atlanta into overtime in 2005 is one of the most exciting moments the bucs have generated in a Saturday game
First, a clarification as to why the Bucs seem to have an especially high number of Saturday games, roughly two of them for every five seasons.  The franchise began play at Tampa Stadium in 1976, and in the first few years its home games in early September were played on Saturday night in an effort to avoid the summer afternoon heat and humidity of the Bay area.  These were not nationally-televised games.  They were also frequently rough games for the Buccaneers, as were many outings in the early going for the expansion team in Tampa.  There was one Saturday gem in that era, a September 1 contest at Tampa Stadium against Detroit to open the 1979 season.  The Buccaneers won that one, 31-16, behind Jerry Eckwood's 121-yard rushing performance, kicking off a stunning five-game winning streak that finally brought national attention to the franchise.  Tampa Bay would go on to its first division title and its first playoff berth in 1979, reaching as far as the NFC Championship Game.
The first nationally-televised Saturday night game the Buccaneers took part in, however, did not occur until 2001, when Baltimore came to Raymond James Stadium in Week 16.  The game was played on December 29 and was officially part of the Monday Night Football season; the NFL did not want to hold it on New Year's Eve.  It was also originally the final game on the Buccaneers' regular-season schedule, but the 9/11 terrorist attacks had caused the NFL to postpone its Week Two games in September and eventually reschedule them for the first weekend of January.
Baltimore was making its first return trip to Raymond James Stadium since the previous January, when the Bucs' home stadium was the venue for Super Bowl XXXV.  The Ravens defeated the New York Giants, 34-7, in that game to take home the Lombardi Trophy, and they had another strong season in 2001, finishing 10-6 and earning a Wild Card berth.   Baltimore was 9-5 when it came to Tampa in late December; the Bucs were 8-6 and clinging to the fringes of the NFC playoff race.
Two very good defenses controlled the game, which featured just 470 total yards of offense between the two teams.  It was the Buccaneers' defense, however, that forced all three of the game's turnovers, including a Derrick Brooks interception that was returned 53 yards to the Baltimore one-yard line to set up Brad Johnson's TD sneak.  As Buccaneers.com put it at the time: "This one was billed as a heavyweight battle between two powerful defenses.  If so, the Baltimore Ravens' defense won the punch count but the Tampa Bay Buccaneers' squad delivered the knockout blows."
The Bucs also blocked a Baltimore punt to set up a field goal, sacked Elvis Grbac five times and held the Ravens' offense to just four conversions in 17 third-down tries.  The victory clinched a playoff spot for Tampa Bay and also rendered its Week 17 game against Philadelphia meaningless in the standings.  Basically, that Saturday night against the defending champs was the peak of the Buccaneers' 2001 campaign.
Saturday football came back to Raymond James Stadium just two years later, with Atlanta visiting on December 20, 2003.  This time, it was the Buccaneers who were the reigning Super Bowl Champions, but their title defense had been undermined by injuries and some painful last-minute losses.  The Buccaneers' playoff hopes were still alive in Week 16, but barely.
Unfortunately, the Falcons snuffed them out.  Atlanta brought the league's 32-ranked defense into the game but was able to intercept Brad Johnson four times in the first half while building a seemingly insurmountable 30-7 lead going into the fourth quarter.  At this point, however, the Buccaneers weren't quite ready to give up on their shot at a second straight title.  Johnson rebounded from  his rough first half to play a brilliant fourth quarter, throwing touchdown passes to Charles Lee, Keenan McCardell and Jameel Cook.  After McCardell's 76-yard scoring grab completed a 96-yard drive (the second-longest TD march in team history at that point), the Bucs successfully pulled off an onside kick with 2:18 left.  Johnson and Cook hooked up for an 11-yard score with 27 seconds to play to pull the home team within two points.  A two-point conversion would have tied the game but Falcons defensive tackle Travis Hall batted Johnson's pass down at the line of scrimmage and the playoffs slipped away.
Atlanta was the foe once again when the next Saturday night game was played at Raymond James Stadium on December 24, 2005.  Two weeks earlier, the Buccaneers had pulled off a rousing 20-10 win in Charlotte that had pulled them into a tie at the top of the NFC South with the Carolina Panthers.  The Bucs controlled their own division-title destiny when they welcomed the Falcons to town for what seemed like an annual December showdown between the two teams in Florida.  And then they very nearly gave that control away with one unfortunate mishandling of the football.
Michael Vick had a strong outing, completing 16 of 26 passes for 163 yards, two touchdowns and no interceptions and also running for 63 yards.  Bucs quarterback Chris Simms kept pace, however, throwing for 285 yards and two scores.  The game was tight throughout; on four different occasions, the trailing team scored to tie it up, the last time on Cadillac Williams' gripping six-yard TD run on fourth-and-one with 25 seconds left in the game.  That was the play that sent the game – and Tampa Bay's division title chances – into overtime.
It looked like the day would end disastrously for the Buccaneers, however, when Edell Shepherd fumbled the opening kickoff of the extra period, immediately putting the Falcons into field goal range.  Instead, the game would go on quite a bit further, stretching to nearly four hours before the final conclusion.  That extra playing time came courtesy of defensive end Dewayne White, who stunningly blocked the Falcons' 28-yard gimme of a field goal attempt after Shepherd's fumble.
With new life, the Buccaneers' rode Williams (who would finish with 150 yards) and a 30-yard Joey Galloway catch into point-blank field goal range.  Galloway's catch made it first-and-goal at the nine and the Bucs elected to bring the usually very reliable Matt Bryant onto the field at that point for a 27-yard try.  Incredibly, Bryant hooked his attempt outside the left upright, and the game remained tied.
It was still tied after one more drive each, with the overtime clock running out.  A tie would not have served the Bucs' title hopes well, but the Falcons believed that they would keep their playoff hopes alive with that result and an 8-6-1 record.  It was that belief that prompted Atlanta to punt on fourth-and-two from their own 24 with just over a minute left.  Mark Jones returned the kick 28 yards to the Atlanta 49, Chris Simms threw clutch completions of 15 and 11 yards and Bryant came back on to the field to calmly nail the 41-yard game-winner.
The Buccaneers did win the division that year, capping an 11-5 season with an easy win over New Orleans in Week 17.  They would have had to settle for a Wild Card berth had White not come up with one of the most timely special teams moments in franchise history, as the Panthers also finished the year 11-5.
Caddy's fourth-down run, White's block, Jones' big return…all thrilling moments.  All thrilling Saturday moments at Raymond James Stadium.  It's been too long; I want to experience Saturday football in Tampa once again, and I'm sure I'm not alone.
So, what do you say, Mr. Katz?  Can you help us out here?