STORY HIGHLIGHTS
The Bucs will turn to RB Bobby Rainey again with Doug Martin still out due to a knee injury
DT Gerald McCoy is also out with a hand fracture but the Bucs still hope to pressure Matt Ryan
The Falcons are without WR Roddy White but still feature a very strong passing attack

The Tampa Bay Buccaneers barely ran out of time on Sunday before they could take a shot at a last-minute victory over the St. Louis Rams. Fortunately, they haven't had much time to dwell on that unhappy ending in Week Two, because their Week Three game was right around the corner.
Thursday night football offers NFL teams national exposure but also drastically shortens the week of preparation, especially for the traveling team. The Buccaneers play the Atlanta Falcons in the Georgia Dome on Thursday night, and they had just one full-scale practice to get ready. As it turns out, though, the team was actually pleased about the abbreviated week.
"It has been a quick turnaround, but that's a good thing," said Head Coach Lovie Smith. "When you have a disappointing loss you want to get back out and play as soon as possible. You don't have a lot of time to worry about that last game. And that's what we've done. We've had two good practices and we're ready to play."
In a more practical sense, the short week gave both teams less time to heal their injured players, and that is a legitimate concern for the Buccaneers. Defensive tackle Gerald McCoy, middle linebacker Mason Foster and running back Doug Martin – all core starters – all suffered injuries against the Rams and all will have to be held out of Thursday's game. In addition, rookie tight end Austin Seferian-Jenkins will sit out for the second straight week after suffering an ankle sprain on opening day.
No team is spared injuries during an NFL season, and all of them are forced to adopt the "next man up" approach. In the case of Martin, at least, the Buccaneers have an exciting option as that next man up in Bobby Rainey. The team's master plan is to use both Martin and Rainey liberally in the same game, but while Martin is out the coaches have total confidence in Rainey. That's not surprising after Rainey ran for 144 yards and 22 carries on Sunday.
"Starting the season, we talked about needing depth and playing at least two tailbacks each game, and that's what we tried to do," said Smith. "Losing Doug Martin did hurt our running game this past week, but Bobby did step up. He stepped up and had a great game for us, the offensive line did a super job. Bobby of course will continue to get reps for us; we'll keep those two guys playing when they can. Doug right now is still a little banged up."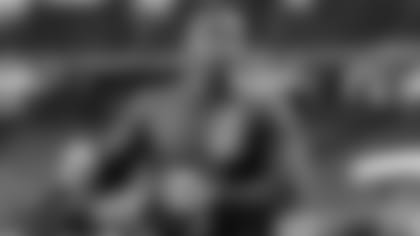 RB Bobby Rainey ran for 144 yards in Week Two against St. Louis and could have another big night against an Atlanta defense that has struggled against the run
Rainey stands 5-8 but like Martin is solid and powerful. After he got his third 100-yard rushing game in nine regular-season weeks against the Rams, he has begun to draw some comparisons to Warrick Dunn, the diminutive back who rushed for just under 11,000 yards while splitting his NFL career between the two teams playing Thursday night. It's not a perfect comparison – Dunn was slighter and perhaps faster than Rainey – but both are definitely dynamic runners.
"Bobby will tell you that he's short, but he's not a small guy," said Smith. "He's not a little guy; he definitely doesn't like to be described that way. And the way he played last week, we won't describe him that way. But to be compared to a great player like Warrick Dunn – I did have the privilege to watch him and to compete against him on the other side – is quite a bit. We're not going to start making those comparisons yet, but that was a definite great start for Bobby."
Practically speaking, the absence of McCoy is probably a more difficult hurdle for the Bucs on Thursday night, because they're facing the NFL's top-ranked passing attack. Getting pressure on the always-poised Matt Ryan would definitely help keep the game from turning into a shootout. Obviously, McCoy's presence would have helped that cause greatly, especially with Adrian Clayborn already on injured reserve and Michael Johnson trying to come back from an ankle injury. Clinton McDonald will move over from the nose to man McCoy's three-technique spot and second-year player Akeem Spence will step in as the starting nose tackle. Versatile lineman Da'Quan Bowers is expected to round out the inside-rush rotation.
"We talk a lot about being able to get pressure, no matter who we're playing, and we'll need that this week," said Smith. "As far as Matt Ryan is concerned, he's one of the best quarterbacks in the league. Unfortunately, I've been on the other side of a lot of his great games. He can make every throw, intelligent quarterback, just a great leader. Right now, Atlanta's number one in the league in total offense for a reason, behind his leadership. He's got a lot of great receivers and he's distributing the ball to all for the guys – really, you could say the tight end, also."
The Bucs declared Martin, McCoy, Foster, Seferian-Jenkins, T Kevin Pamphile, G Rishaw Johnson and G Kadeem Edwards inactive for the game. In addition, they are also heading into their Week Three contest without the play-calling services of Offensive Coordinator Jeff Tedford, who did not accompany the team on its trip to Atlanta. Tedford is still recovering from a recent medical procedure and is not expected to miss any more games.
"Jeff continues to get better but he did not make the trip with us," said Smith. "He'll be watching, of course, biting his nails, trying to get things through the TV. But he should be good to go Monday; he's already getting work in on Pittsburgh. Monday he should be good to go full-speed."
The Falcons will be without wide receiver Roddy White, who is inactive due to a hamstring injury. Harry Douglas, who had two good games against the Buccaneers last year while Julio Jones was sidelined, will start in his place. The Falcons also deactivated QB Sean Renfree, CB Javier Arenas, LB Tyler Starr, C James Stone, T Ryan Schraeder and DT Cliff Matthews.
The Buccaneers face the Atlanta Falcons in Week Three of the 2014 season on Thursday night, with kickoff scheduled for 8:30 p.m. at the Georgia Dome. The game will be broadcast on television by CBS and the NFL Network and on radio through the Buccaneers Radio Network and its flagship station, US 103.5 FM. That radio broadcast will also be carried live on Buccaneers.com.