STORY HIGHLIGHTS
The Bucs won't be certain about the playing status of RB Doug Martin and G Logan Mankins until Sunday
After a rough start in the ground game in Week One, the Bucs are seeking a more balanced offense
A more effective rushing attack early in the game will help the team avoid difficult passing situations

The Tampa Bay Buccaneers head into Week Two of the 2014 season seeking greater balance on offense. A more effective running game is the answer, but one that comes with several more questions of its own. The biggest two: Will Doug Martin and Logan Mankins play?
The Buccaneers' starting running back and starting left guard are both questionable for Sunday's game against the St. Louis Rams after sustaining knee injuries in last weekend's opener. Mankins' injury took him out in the first quarter last Sunday and initially appeared serious, but he pressed to come back into the game and has progressed steadily during the current week of practice. After not practicing on Wednesday, he was limited on Thursday and a full participant on Friday…though Head Coach Lovie Smith cautions that "full participation" isn't quite as meaningful on Friday, generally a less physical practice.
Of course, Mankins came to the Buccaneers from the New England Patriots with a reputation for being able to play through injuries, which has fueled optimism that he won't miss a start. Smith said he and the Bucs' medical staff had to hold the eager Mankins back a bit, but he felt optimistic by the end of the week.
"I think we definitely saw [Mankins' toughness] this week, and even in that game," said Smith during his exclusive end-of-the-week Q&A session with Buccaneers.com. "It's not like he wanted to shut it down right away. As an NFL player, I think you have to know the difference between pain and injury. Sometimes you have to pull guys back, like Logan, who look at it like, 'Oh, it's just pain.' We feel like he's right on course to have a full recovery before long, and I feel pretty good about him playing this week."
Martin had just nine yards on nine carries against the Panthers before he, too, had to leave the game. The early injury to Mankins and some obvious struggles by a new-look offensive line didn't help, but Smith expects Martin, his "bell cow" back, to have significantly better performances this season. Whether or not that begins in Week Two remains to be seen.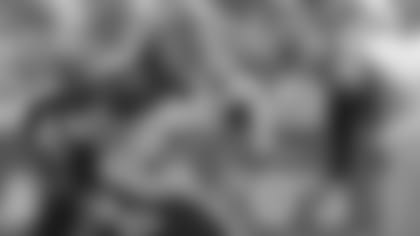 G Logan Mankins practiced with the team on Friday and has a good chance to play on Sunday against the Rams
"It starts up front, of course, but it's on the running back too to make guys miss from time to time," said Smith. "Doug didn't have his best game last week, like none of us did. He's practiced on a limited basis this week and it will be a game-time decision as to whether he plays this week or not."
With the running game producing little early and Carolina building a 17-0 lead by the third quarter, the Bucs were pressed into difficult situations that didn't help a slow-starting offense. Quarterback Josh McCown's first start as a Buccaneer included two interceptions on plays that he has admitted were poor decisions. McCown is not likely to make those types of mistakes often – he had 14 touchdown passes against just one interception last season in Chicago – but he'll also be in more favorable passing situations if the Bucs can run the ball better.
"We say we want balance, we didn't have balance," said Smith. "Of course, when you can't run, you become a one-dimensional team. Then, we had most of our bad plays in the passing game, so it has a trickle-down effect. We have to do a lot of things different this week, and we will."