Last week, we told you that Mike Evans was off to one heck of a November. With 249 yards and three touchdowns in his first two games of November, he was on pace for 622 yards, which would be the 11th highest single-month total in NFL history.
We also noted that, while an incredible two-game achievement, it was unlikely that he would keep that pace. Technically, we weren't wrong.
Mike Evans went off again on Sunday with 209 yards and two touchdowns, bringing his three-game November total to 21 receptions, 458 yards and five touchdowns. Not only did his performance earn praise and multiple rookie, of the week and of the month award considerations, but a slew of tweets comparing Evans's three-game streak to the best in NFL history.
The game against Washington easily puts Evans into the list of best Buccaneers three-game performances. We dug through the archives and found some of the other top efforts over a three-game span in Bucs history. Take a look.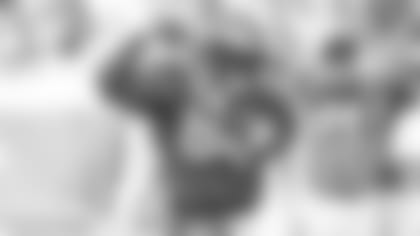 Joey Galloway
Dec. 12-Dec. 26, 2004194 receiving yards, 4 receiving TDs, 64 punt return yards, 1 PR TD
While the yardage tallies are modest (at least when compared to this list), Galloway's five touchdowns are enough to make this three-game streak noteworthy. Within the streak, he posted back-to-back games with two touchdowns, making him one of six Bucs to ever accomplish that feat.
Cadillac Williams
Sept. 11-Sept. 25, 2005434 rushing yards, 4.93 yards per carry, 2 TDs
We mentioned Williams last week as one of the best individual-performance months, so Williams certainly falls into the three-week category. His 434 yards to start his rookie season were the most by any player in NFL history through their first three games.
Mark Carrier
Dec. 10-Dec. 24, 198920 receptions, 367 yards, 3 TDs
Carrier holds the record that Mike Evans will be looking to tie next week. Prior to the 367-yard three-game stretch highlighted above, Carrier had a 104-yard game, making him the only Buccaneers receiver with four-straight game with 100 or more yards.
Antonio Bryant
Dec. 8-Dec. 21, 200823 receptions, 435 yards, 4 TDs
Antonio Bryant's name can be found in many tweets this week about Mike Evans. Bryant was the first Buccaneer to register three consecutive games with 100 receiving yards and 1 touchdown. Before Evans's blockbuster on Sunday, this Bryant streak was the Buccaneers record for yards over three games.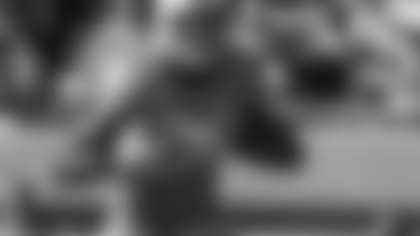 Vincent  Jackson
Sept. 30-Oct. 21, 201217 rec, 382 yards, 4 TDs, 22.5 ypc
Jackson's three-game stretch ended in the Buccaneers record books. In front of a home audience, Jackson put up 216 yards, the highest single-game total in team history.
James Wilder
Dec. 9, 1984-Sept. 8, 1985394 rush yards, 4 TDs, 87 rec yards
Sept. 8-Sept. 22, 1985 1985393 rush yards, 2 TDs, 116 rec yards
This stretch of incredible running games spanned two NFL seasons. He capped off 1984 with two games totaling 228 yards and three scores and put up 166 with a TD in the 1985 opener. Wilder's streak of 100-yard rushing games lasted three more games, giving him a Buccaneers record six-straight games with 100 on the ground. He also holds the record for consecutives games with 100 yards from scrimmage with nine games spanning from Nov. 1984-Sept. 1985.
Josh Freeman
Oct. 14-Oct. 25, 201258 completions, 1,010 yards, 9 TDs, 1 INT
Freeman is one of two Bucs QBs to throw three touchdown passes in three straight games. In Week Seven, he threw for 420 yards, 216 of them going to Vincent Jackson on his record-setting day. Freeman posted passer ratings of 124.7, 115.2 and 104.2 in these three performances and would have two more 100 passer rating games in the following two weeks.
Donnie Abraham
Nov. 21-Dec. 6, 199912 tackles, 4 passes defensed, 1 sack, 5 INTs, 2 touchdowns
Abraham and two multi-INT games in a span of just three weeks and returned two of his five interceptions for scores. He would end the season tied for the NFL lead in interceptions and interceptions returned for touchdowns.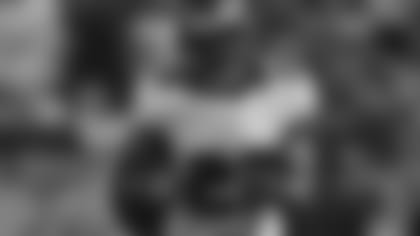 Doug  Martin
Oct. 21-Nov. 4, 2012471 rush yards, 6 rush TDs, 137 rec yards, 1 rec TD
Many will remember Martin's "Welcome to the NFL" series from his rookie season. In Week Nine against the Raiders, he became one of 12 players in NFL history to rush for 250 yards in a single game. In 2012, he put together a string of six games with 100 yards from scrimmage. In those games he racked up 1,019 total yards.
Simeon Rice
Nov. 17-Dec. 1, 20027 tackles, 7 sacks, 2 forced fumbles
In the Buccaneers Super Bowl season, Rice posted an incredible five straight games with at least two sacks. He ended the season with 15.5 sacks, a Pro Bowl appearance, a First-Team AP All-Pro selection and, of course, a ring.